The Trick Tutar Used To Keep From Laughing In Borat 2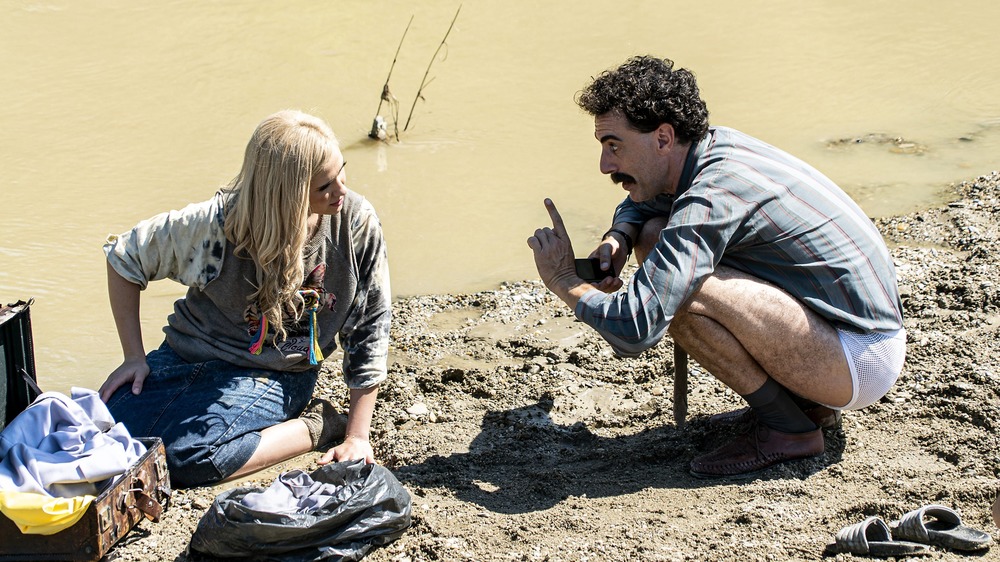 Amazon Studios
The breakout star of the Borat sequel had a secret technique to keep her cool during some of the film's most outrageous scenes.
When the unexpected Borat sequel — which bears the wordy full title Borat Subsequent Moviefilm: Delivery of Prodigious Bribe to American Regime for Make Benefit Once Glorious Nation of Kazakhstan — hit Amazon Prime in October of 2020, viewers were immediately drawn in by Maria Bakalova, the breakout star who plays Borat's (Sacha Baron Cohen) daughter Tutar. As Tutar, the Bulgarian actress plays a meek, submissive Kazakhstan girl who dreams of nothing more than finding a husband who will provide her with a beautiful cage where she can live, but as she spends more time in America, she realizes there may be more to life than being essentially owned by a man.
Considering how bold and outrageous Borat creator Cohen can get in characters, fans were blown away by Bakalova's apparent sense of ease alongside the comedic tour de force and understandably impressed by her considerable comedy chops. However, as it turns out, acting alongside Cohen presented a unique set of challenges. Here's the trick Bakalova employed in Borat 2 to stop herself from laughing out loud.
Maria Bakalova learned a trick to stop laughter in its tracks from Sacha Baron Cohen himself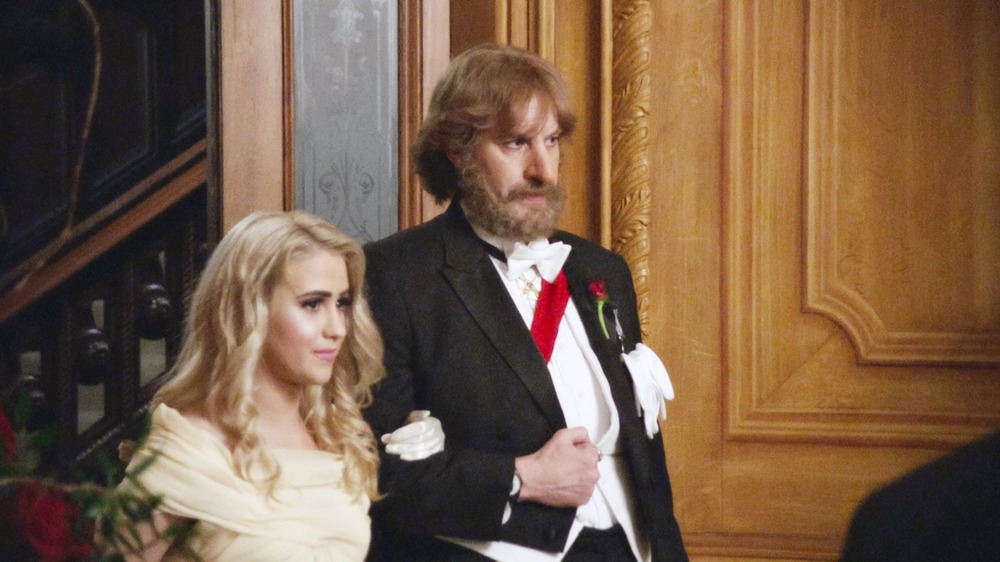 Amazon Studios
In conversation with The New York Times, the young actress admitted that it was pretty tough to not simply laugh during some of Tutar and Borat's more ridiculous interactions. However, since these interactions are always with unsuspecting strangers, keeping a straight face is super important; luckily, Cohen taught Bakalova an incredible trick.
When Sacha starts doing his thing, and you're right next to him, he has this super serious face," Bakalova said, discussing how difficult it was to stay cool around Cohen. "I have to act like it's the most normal thing ever. But he's so funny. There were moments when the scene was extremely funny and you just can't stop laughing. It's bad, because people were able to realize that it's a joke.
So how did Bakalova handle this hurdle? Unsurprisingly, Cohen saved the day by teaching her an invaluable trick, as Bakalova recalled: "He taught me a trick to cross my fingers, to put pressure on my fingers, to stop laughing."
Throughout Borat Subsequent Moviefilm, Bakalova and Cohen end up in some pretty far-fetched situations, including a now-infamous scene with former New York City mayor Rudy Giuliani — so it makes sense that Bakalova needed to find a trick to stop herself from laughing at the sheer ridiculousness of it all. Borat Subsequent Moviefilm is available to stream on Amazon Prime now.