Amazon Reveals Eye-Opening Details About Borat 2's Success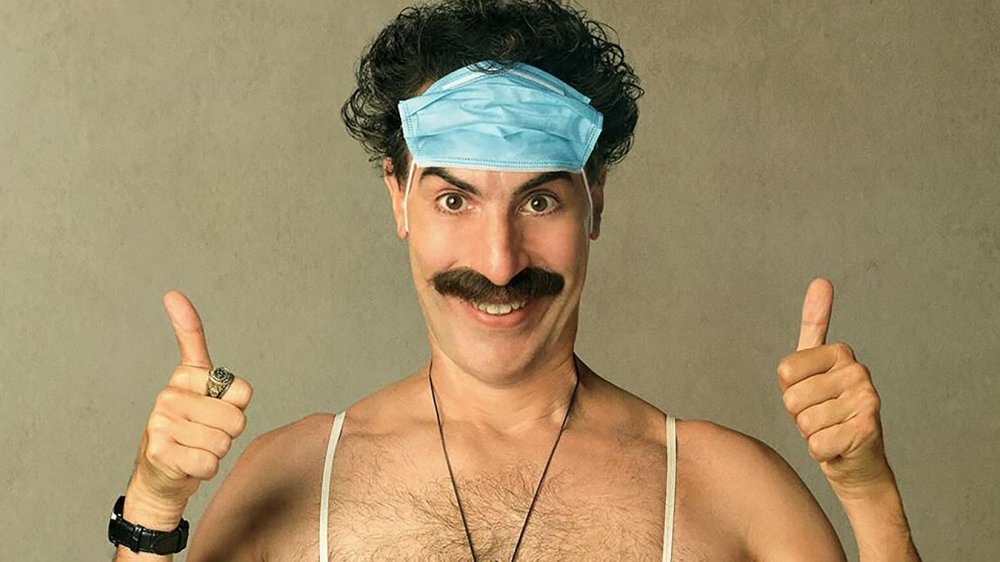 Amazon Studios
Common knowledge might well have dictated that, of all the films produced in the past 15 years or so, chameleonic actor Sacha Baron Cohen's unexpected 2006 blockbuster Borat: Cultural Leranings of America for Make Benefit Glorious Nation of Kazakhstan was the one least likely to ever see a sequel. That's not so much a reflection of the film itself (which became a comic and cultural landmark upon release) as much as it is a reflection on the fact that in reality, Baron Cohen's faux-doc Borat schtick really shouldn't have worked a second time around.
Yet here we are, in the relentlessly bizarre, often soul-crushing year that is 2020, and Borat is indeed back in the U.S. and A. for more socially-eviscerating pranks. Perhaps more surprising is that the tragically title-shortened Borat: Subsequent Moviefilm is every bit as funny, insightful, relevant, and stomach-churning as the original. And if reports coming out of Amazon Studios are any indication, the streaming film is every bit as big a hit.
As reported by Deadline, studio bosses made a rare move in discussing viewership numbers this week, claiming "huge engagement" led to "tens of millions" of views for Borat 2 since it hit Amazon Prime Video on October 23. Amazon Studios Head Jennifer Salke further added, "Sacha has masterfully created one of the most well received films of these unprecedented times — showcasing some of the best and the worst of us, wrapped in one outrageous moment after another. But at its core, Borat 2 is a heartwarming story of a father daughter relationship and of female empowerment seen through a hysterical, satirical lens."
Clearly, Amazon Prime's 150 million subscribers agree, as Borat 2 continues to earn raves among audiences and critics alike, currently boasting 71% and 85% Fresh ratings on Rotten Tomatoes, respectively.
Words of praise from celebrities has helped fuel Borat 2's 'great success'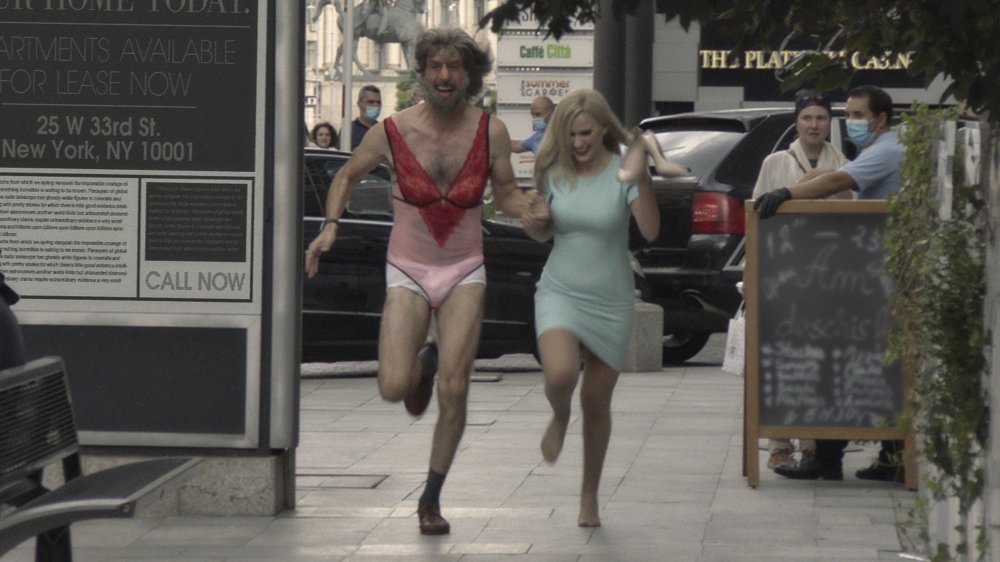 Amazon Studios
If you're not yet among those who've experienced the genuinely bonkers (and truly disturbing) ride that is Borat 2, the sequel essentially follows the same concept as the first, with Baron Cohen's fake Kazakhtan journalist making a trip to America — this time with his teen daughter Tutar (scene stealer Maria Bakalova) in tow — for the purposes of exploring American culture. In the process, he holds a mirror to the corruption, racism, and willful ignorance that plague our increasingly nationalistic culture from top to bottom. 
More than the original, however, Baron Cohen infuses Borat's second American adventure with an unexpectedly tender underbelly that adores what the country could become with the right guidance. That savvy mix of the savage and the sentimental is part of why the film is inspiring passionate responses in viewers, including a swathe of celebrities who've been beating the Borat 2 drum on social media. 
Funnyman Seth Rogen is among them, with the actor, writer, and producer recently tweeting, "I've seen #Borat2 around six times over the last few months, and I can't wait to watch it a seventh. It's crazy and wonderful and couldn't be more timely. It also has a few of the funniest scenes I've ever seen in a movie. I'm excited for you to see it." Comedian Sarah Silverman seconded Rogen's thoughts with a follow-up tweet: "I concur please marvel at what @SachaBaronCohen has done and how up to the second relevant it is. Movies don't work that way but somehow he did it."
The Big Short helmer Adam McKay offered even higher praise, admitting the film elicited "embarrassing sounds" from him. "I laughed so hard I made embarrassing sounds when I saw #Borat2. And on top of that it gets to the twisted insane clown car heart of America in a way that nothing else has."
Word of contempt from Borat 2's pranked are also fueling that success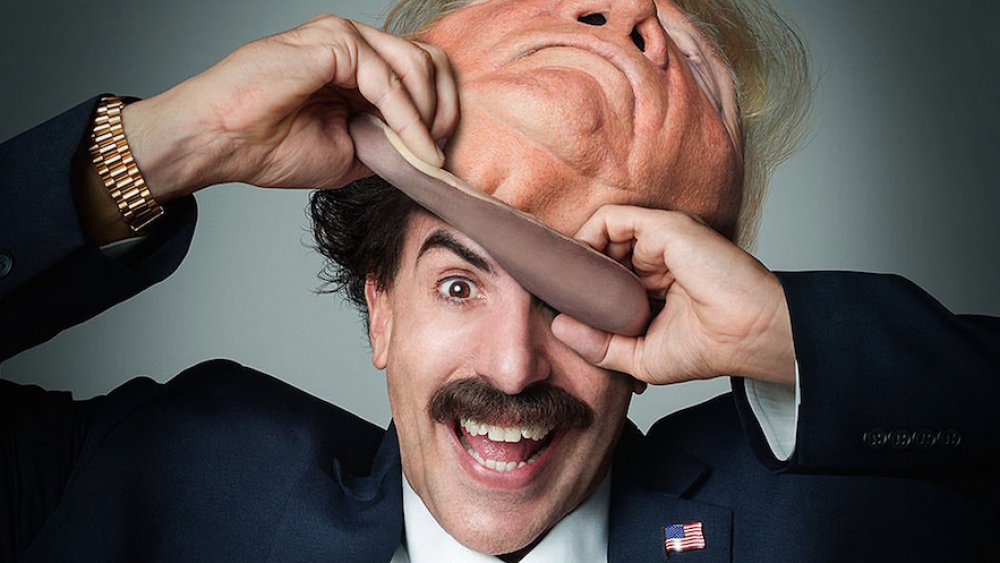 Amazon Studios
With celebrity endorsements continuing to roll in, it seems even Borat 2's haters are helping the film gain notoriety. And that list of haters is as long as you might expect, with Baron Cohen and Bakalova setting their sites on unsuspecting celebrities, common citizens, and high-ranking political figures alike.   
Presidential attorney Rudy Giuliani is among those officials, and he's become one of the most vocal detractors of Borat 2, mainly because he features prominently (and disgustingly) in one of the film's biggest pranks. Said prank sees the former New York Mayor granting an interview to Bakalova's Tutar in a hotel room. Moments after the interview ends, the pair adjourn to the bedroom where Tutar proceeds to remove Guiliani's microphone. 
In the moment, Giuliani can be seen pawing at the young woman's waist, and heard asking for her address and phone number. He then lays back and places his hand inside his pants. The unnerving scene is eventually interrupted by Baron Cohen as Borat, and Giuliani quickly gathers himself as the pranksters make a run for it. The scene is obviously quite damning for Giuliani, and he's been more than vocal about it since, calling the embarrassing prank "a hit job" and claiming he was merely tucking in his shirt; even as the actual footage appears to paint a very different picture.
Whatever the case, the scene has left people on both sides of the political spectrum buzzing just days ahead of the coming Presidential election, with the President himself even chiming in to call Baron Cohen a "creep." But even the negative publicity appears to be driving people to watch Borat 2 for themselves; a fact that led Baron Cohen to Tweet his thanks for the free publicity. To that cheeky tactic, one can only respond, "Very nice."