The Part Of WandaVision That Terrified Paul Bettany And Elizabeth Olsen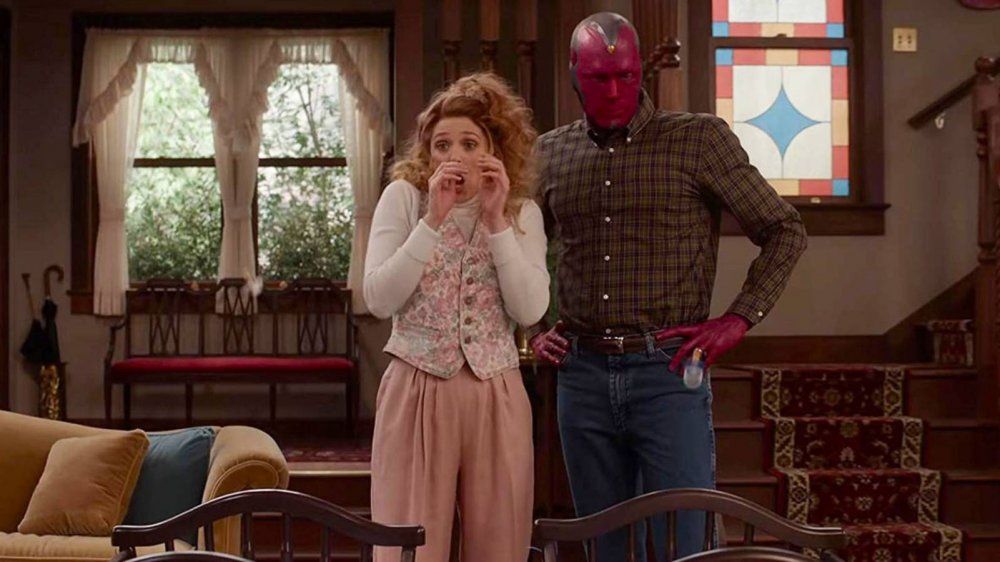 Disney+
It was incredibly exciting when Marvel Studios announced it would create several Disney+ original series based on beloved characters from the Marvel Cinematic Universe. While other series like Daredevil and Jessica Jones technically exist in the same universe, they are predominantly separate entities with what happened in the movies having minimal impact on the series and vice versa. That was all set to change when the first of these new Disney+ series, The Falcon and the Winter Soldier, was originally supposed to debut back in August of 2020. 
Of course, the COVID-19 pandemic delayed production, meaning we won't see Anthony Mackie and Sebastian Stan suit up as their MCU characters until 2021. That means the first Marvel Disney+ series to come out will be WandaVision, which looks like it will provide Marvel fans with a surreal experience as Wanda Maximoff (Elizabeth Olsen) and Vision (Paul Bettany) travel through sitcom history, visiting some of the format's most infamous tropes. 
It's an ambitious undertaking as it's unlike anything Marvel Studios has done before. While there will undoubtedly be plenty of action, it also seems like the show will really stick to its sitcom influences, drawing inspiration from great sitcoms of the past like The Dick Van Dyke Show and Full House. As it turns out, that unique spin on the superhero genre is what intimidated the two leads the most. 

Olsen and Bettany were terrified to perform in front of a live audience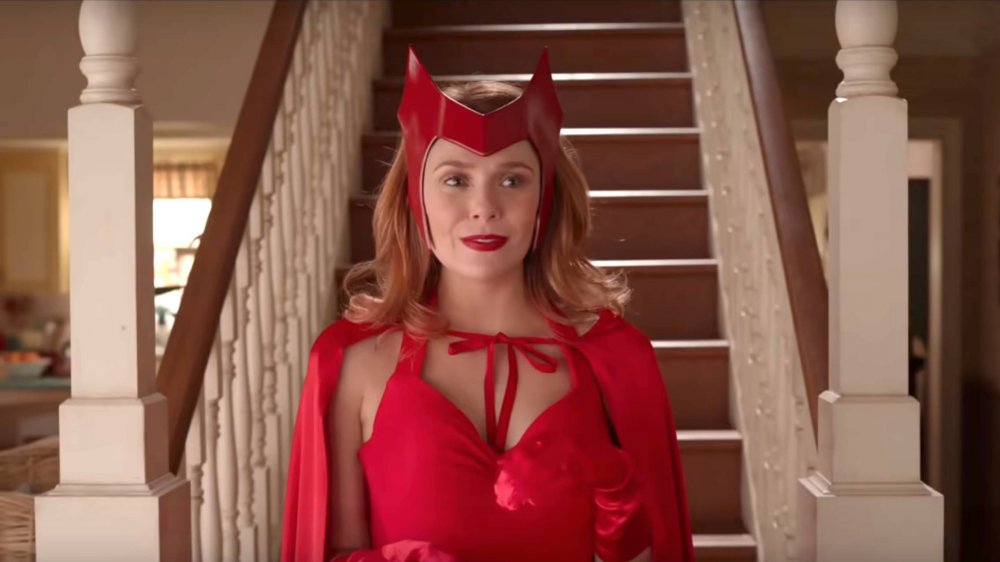 Disney+
One way in which WandaVision will differentiate itself from other Marvel properties is by having an episode that was filmed entirely in front of a live studio audience. While it sounds like a fun, little gimmick, the prospect of filming in front of actual people, as opposed to on a closed movie set, terrified Olsen and Bettany at first. 
An exclusive cover story published by Entertainment Weekly details how the two leads prepared for this new kind of challenge, stating, "Bettany and Olsen rehearsed their entrances and exits as if putting on a play, and at first, they say the notion of live performance terrified them more than any Marvel supervillain. But by the time they secured their first audience chuckle, the pair realized they might have missed their calling as sitcom stars."
Olsen went on to explain how it was somewhat nostalgic being on a sitcom stage once again, saying, "There was something very meta for my own life because I would visit those tapings as a kid, where my sisters were working [on Full House]." Even Bettany found something to love about this new way of filming by adding, "We were all so high by the end of it, we wanted to keep on running the show. Maybe take it out on tour or something. WandaVision on ice."
With EW's cover story hitting newsstands as well as rumors circulating that the show has officially finished production, it's entirely possible for WandaVision to debut on Disney+ before 2020 ends. Keep checking back with Looper to learn more about when you'll be able to see the innovative pilot episode of what's bound to be a crazy, wonderful series.