The Truth About How WandaVision's Premiere Episode Came Together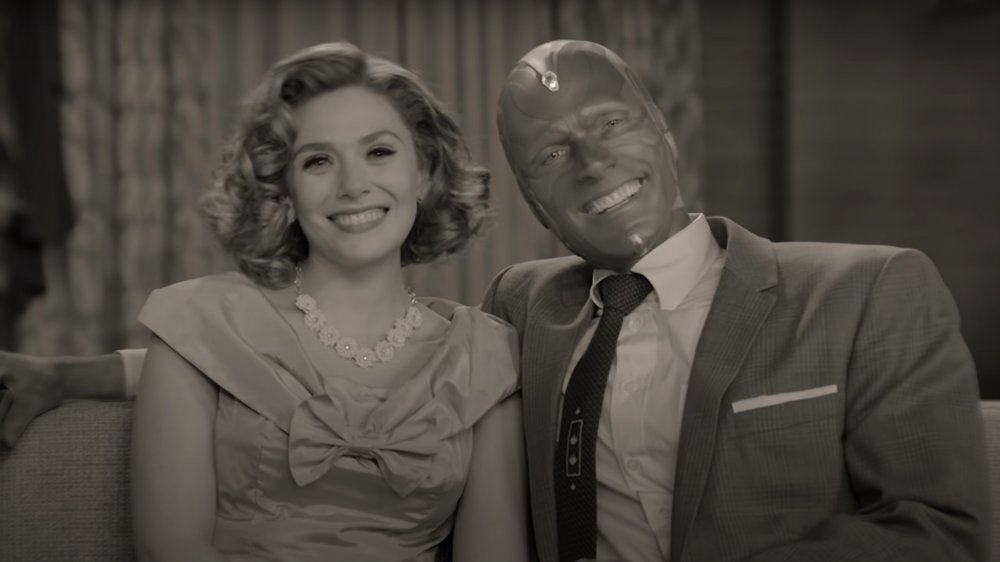 Disney+
The last thing anyone would expect from a Marvel project would be it filming before a live studio audience, but, at least for one episode, that's exactly what WandaVision did.
WandaVision, the first Marvel show made for Disney+, will star Elizabeth Olsen and Paul Bettany as married couple Wanda Maximoff and Vision as they try to lay low in an idyllic suburb, experiencing all the classic sitcom tropes. Of course, there's something strange afoot, and things aren't as perfect as they seem. While the trailer dropped a few months ago, most of the story is still mysterious.
According to Entertainment Weekly, the weird, reality bending series went full '50s sitcom for their first episode. The highly secretive Marvel Studios brought in a live studio audience, all beholden to strict NDAs, for the classic background laughter that every black-and-white sitcom once featured. Vision was painted blue, rather than his usual maroon, to account for the coloring differences from the grayscale.
The crew wore period attire to match all the classic practical effects trickery employed by the crew: vintage lighting and lenses, along with camera tricks and wires to make items like wine bottles float. Because for all their effort to appear like a normal couple, Wanda and Vision are still a witch and an android.
It was hard for the cast at first, but turned out to be quite fun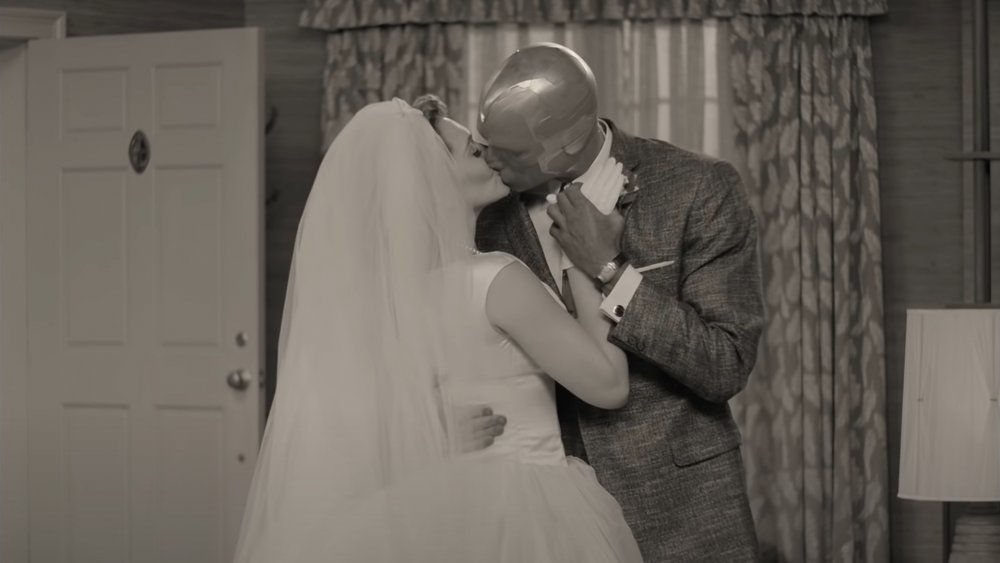 Disney+
The live recording was unnerving at first for the actors. They had to rehearse their entrances and exits, but it turned out to be a terrifically rewarding experience. "I thought, God, I've ruined my whole life," Bettany told EW. "I should have been doing sitcoms all this time."
Meanwhile, Olsen was reminded of her childhood: "It was insanity," she said. "There was something very meta for my own life because I would visit those tapings as a kid, where my sisters were working [on Full House]."
The series will be a six-hour dive into the characters of Wanda and Vision post-Avengers: Endgame that will directly lead into 2021's Doctor Strange and the Multiverse of Madness. With Wanda featuring heavily in the Doctor Strange sequel and Doctor Strange (Benedict Cumberbatch) appearing in the untitled Spider-Man 3, theories are flying about how the three might connect via multiple realities. Before that, we'll see some other familiar characters from past Marvel movies in WandaVision, including Kat Dennings as Thor's Darcy Lewis and Teyonah Parris as a grownup Monica Rambeau (the young girl from Captain Marvel).
With delays in Black Widow, Eternals, and Falcon and the Winter Soldier, WandaVision will be the first new Marvel project to hit screens since last year's Spider-Man: Far From Home (unless you're one of the few people playing the Marvel's Avengers game). WandaVision is slated to debut on Disney+ by the end of the year.