Alex Trebek's Final On-Screen Appearance Might Not Be Jeopardy!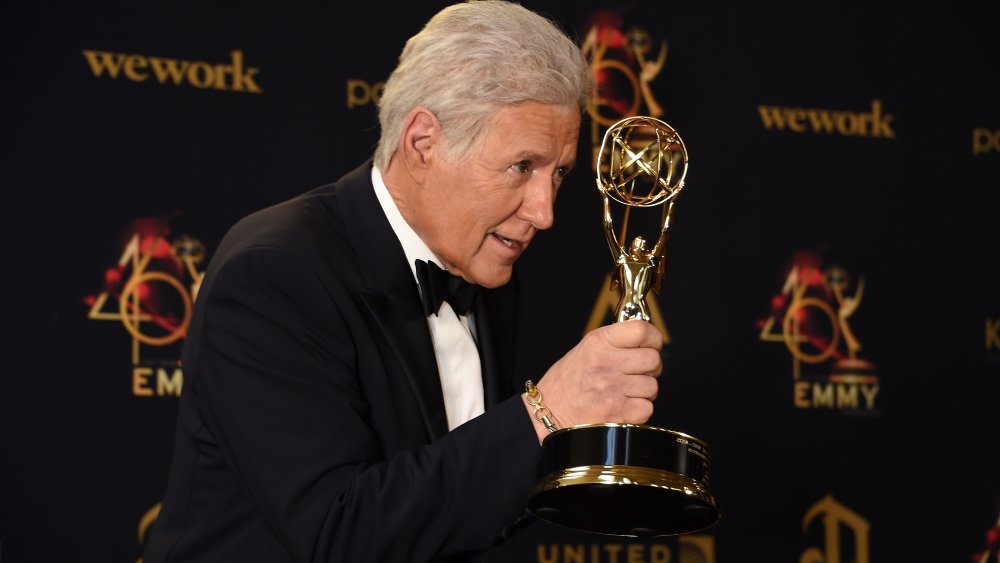 Gregg Deguire/Getty Images
In a tragic capstone to a week that has been an emotional rollercoaster for so many, beloved television personality and long-time gameshow host Alex Trebek has passed away at the age of 80. Trebek had been diagnosed with stage four pancreatic cancer back in 2019, but defied the grim prognosis to survive 18 months before eventually succumbing to the universally fatal disease.
The genial and erudite Jeopardy! host became a television icon, inspiring legions of devotees and other celebrity aspirants who regularly cite his hosting style as the gold standard within the format. In acknowledgment of his passing, and in honor of "America's favorite quiz show," which he nobly led for 36 years, many fans have been cueing up a binge-worthy list of classic Jeopardy! episodes. While that's a perfectly respectable way to honor the man and his career, reruns may not be the last you'll get see of Alex Trebek.
As pointed out by SurvivorNet, the trailer for the forthcoming Ryan Reynolds' film Free Guy features a cameo from none other than Alex Trebek himself. Pop-cultural icon that he is, Trebek has appeared in dozens of similar cameos, but this one is unique as it will likely mark the host's final on-screen appearance.
What is an unexpected punctuation mark on a storied career?
The answer is: a sci-fi Ryan Reynolds flick about a man who realizes he lives in a video game.
Free Guy follows the titular "Guy" (played by Reynolds), who slowly comes to the realization that his nonsensically violent and crime-riddled universe might actually be a video game in which he is nothing more than an unwitting NPC. Apparently, after Guy achieves self-awareness, he makes the important plot-driving decision to bring the game down from the inside.
The trailer offers a brief look at Trebek playing — who else? — Jeopardy! host Alex Trebek. We even have a sneak peak at one of his lines of dialogue: "This character in the video game Free City has been turning heads by being the good guy," Trebek states from the set of his famous quiz show.
Who is Ryan Reynolds?
After experiencing the requisite suite of COVID-19 complications, Free Guy's release date has been indefinitely delayed after it was originally slotted for December. Even though you can no longer make a holiday outing of it, consider catching the flick when it eventually does come out as one way of paying homage to the late, great Alex Trebek.