The Classic TV Show You Probably Forgot Alex Trebek Appeared In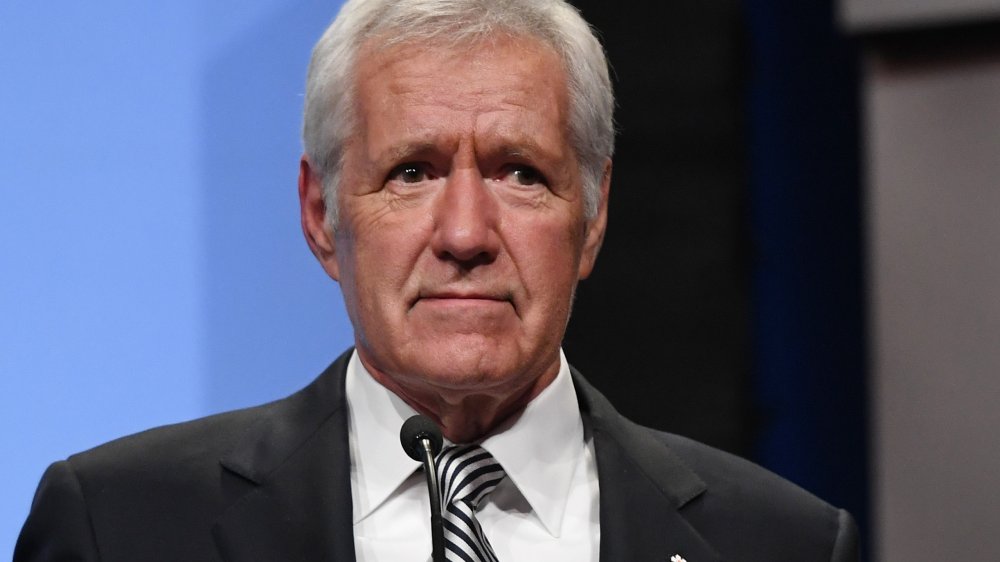 Ethan Miller/Getty Images
Millions of people across the world remember the late Alex Trebek, who passed away at the age of 80 following a battle with pancreatic cancer, as the unflappable host of the quiz show Jeopardy!, which he commandeered for over 35 years. Trebek has become so synonymous with Jeopardy!, in fact, that many may not remember his appearance on a classic television series.
In 1990, Trebek popped up in a cameo appearance on the sitcom Cheers. It was the 14th episode of season 8, entitled "What is... Cliff Clavin?", that Trebek took part in — and any Jeopardy! fan worth their weight in salt will immediately glean the episode's premise from the title alone. 
"What is... Cliff Clavin?" sees the Jeopardy! crew heading to Boston for a special one-time taping. Cliff Clavin (John Ratzenberger) competes on the game show as its Boston-based contestant, and manages to accumulate $22,000 in winnings by the time the Double Jeopardy! segment concludes. Going into Final Jeopardy!, where the category is "Movies," Cliff is confident he's secured a win considering his score was more than double that of the contestant in second place. However, he ends up losing everything when he wagers all his money on a bone-headed response to the clue "Archibald Leach, Bernard Schwartz, and Lucille LeSueur." Cliff is crushed and pleads for his answer ("Who are three people who've never been in my kitchen?") to be accepted.
Later in the episode, Trebek shows up at the Cheers Beacon Hill bar and chats with Cliff, telling him that he should have accepted his response and that he's going to resign as Jeopardy!'s host. After some back-and-forth, Cliff "convinces" Trebek to remain as the host and feels like he's saved Jeopardy! — but, hilariously, Trebek later admits to Norm Peterson (George Wendt) that he's terrified of Cliff and lied about wanting to quit Jeopardy! so Cliff wouldn't lash out again.
Alex Trebek had a fantastic time filming Cheers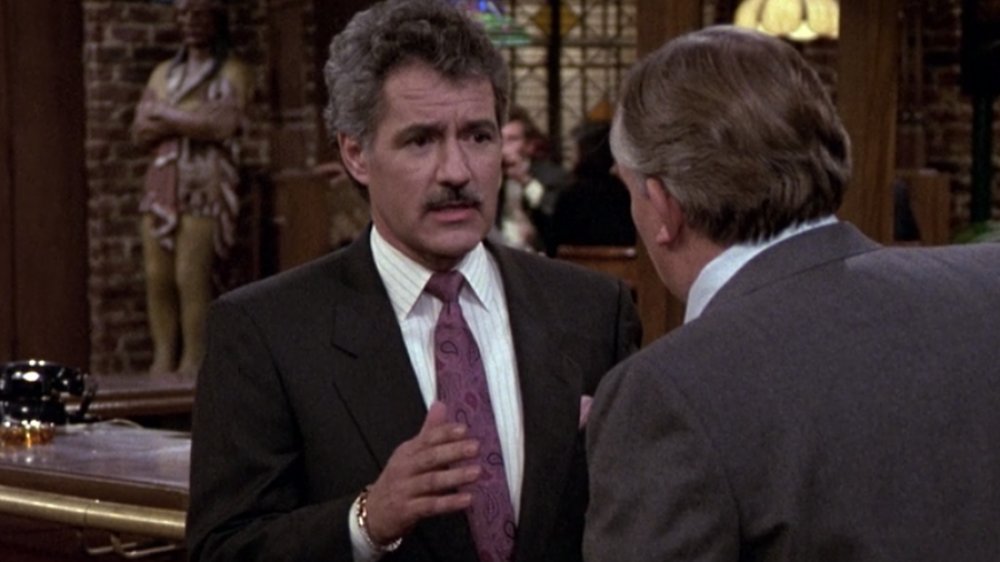 During the Television Critics Association panel for Jeopardy: The Greatest of All Time in January 2020, Trebek reflected on his Cheers cameo, sharing that it was a truly wonderful experience. 
"It was one of the first times that I had been asked to do a cameo on a popular sitcom. We read through that script and then went home and shortly afterwards, a few hours later, a script arrived with a number of changes that were added lines for me. They had discovered that I could handle lines, and so each day they added a few lines. And they were so friendly," said Trebek (via CheatSheet). He added that the entire Cheers cast was "so friendly" and "so kind." 
Trebek concluded, "The way they wrote the ending, 'Three people who have never appeared in my kitchen,' and Norm and, 'Hey, I saved Jeopardy,' and all those moments, it just it is a special appearance."