How The Umbrella Academy's David Castaneda Almost Missed Playing Diego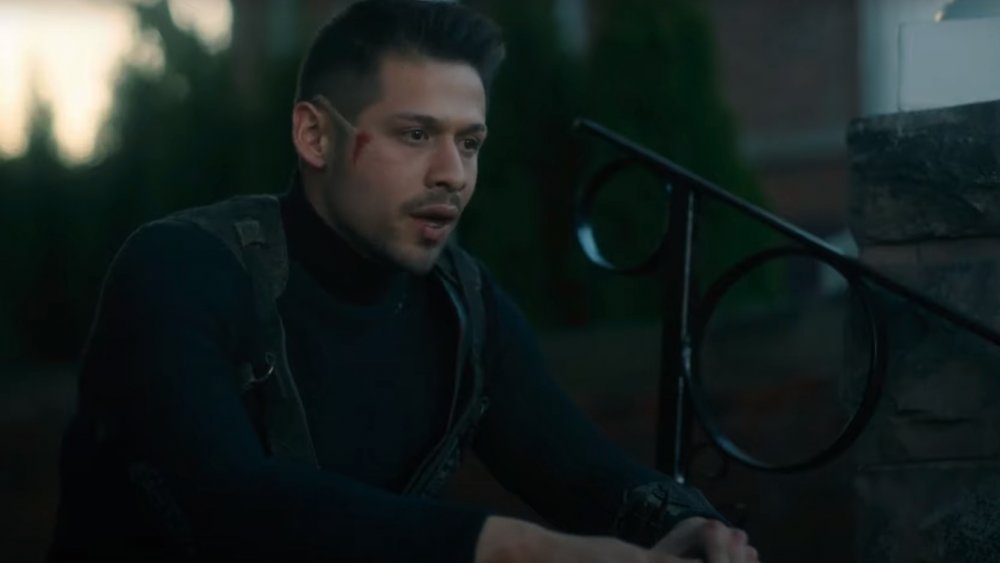 Netflix
Released on Netflix in February 2019, The Umbrella Academy quickly won viewers over with its irreverent brand of superhero shenanigans, time travel, and good old fashioned family dysfunction.
The story follows a group of adopted siblings with strange superpowers who grew up under the tutelage of their adoptive father, a billionaire who taught them to fight crime and who called them by numbers rather than names. The series is based on the comic book series of the same name by artist (and My Chemical Romance frontman) Gerard Way, and stars an ensemble cast that includes well-known names like Ellen Page, who portrays Vanya, the lone sibling who was born without superpowers (seemingly, anyway).
Actor David Castañeda stars in the show as Diego Hargreeves — or, Number Two, as his father called him — a skilled fighter who has the power to control the trajectory of things he throws, curving them in mid-air to defeat his enemies. As an adult, he becomes a vigilante and is the rebellious, angsty sibling that the fans have come to love. But while it may be hard to imagine anyone but Castañeda portraying the vigilante with a heart of gold, that's what would have happened, had the 31-year-old actor taken a different path earlier in life.
Castañeda almost missed out on the role of Diego to be an engineer
Netflix
Castañeda — a graduate of California State University, Fullerton — almost went into a completely different field than acting. In a recent interview with his alma mater, the Netflix star explained that he initially was going to go into the family business and be a civil engineer until he decided to pursue a career in the arts.
"I went into civil engineering, and I had this image of what I was going to do: be a civil engineer, work at my dad's construction company, take over, make money, have a family," he said. "While I was studying civil engineering, I was auditioning for short films or student films on the side. I realized at some point that I was on the wrong trajectory. I told my parents that acting and directing was something I wanted to do, so I went into RTVF [radio, TV and film]."
Castañeda began auditioning for roles while still in school, and began landing roles in 2009 on shows like Lie to Me, Southland, and, in 2014, ABC Family's Switched at Birth. He also appeared in films like 2018's Sicario: Day of the Soldado, which, as he told the CSUF News Center, was the role that made him feel like he'd made it. Needless to say, if he'd followed his original career path, he never would have been cast as Diego.
Thankfully for Castañeda, his choice to follow his dreams obviously paid off. Fans are already eager to find out where his character will end up in season three.