Breakout Star Jaeden Martell On Working With Hollywood's Biggest Names - Exclusive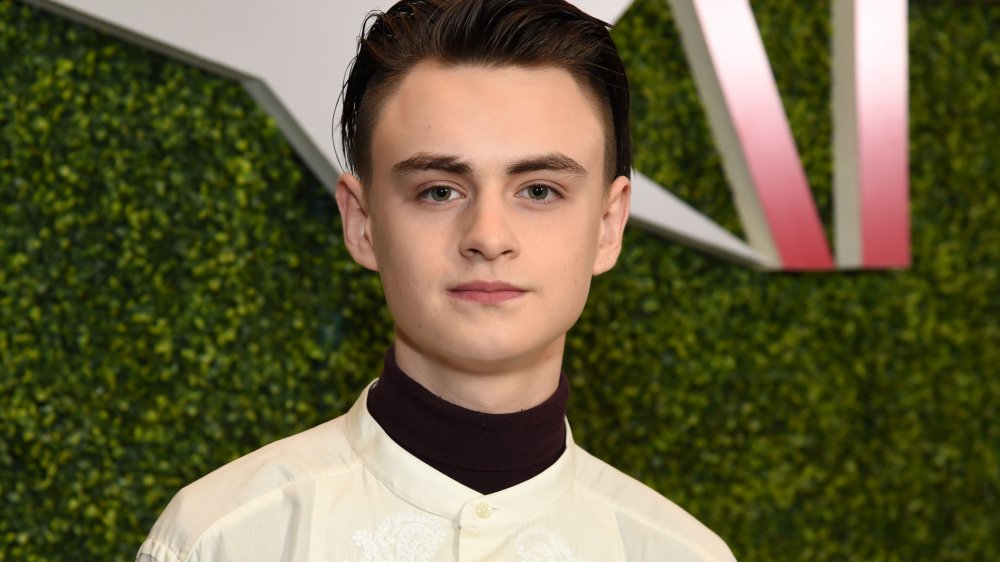 Michael Kovac/Getty Images
Although his career only began in 2014, actor Jaeden Martell has undoubtedly amassed one of the most impressive résumés among his fellow teen actors in the past six years, with notable appearances in 12 feature films and two television series. Of course, Martell's biggest films at the box office include It and It: Chapter Two in 2017 and 2019 (in which he starred as young Bill Denbrough), but before and during the time he was shooting those blockbusters, Martell was honing his acting skills in such films as St. Vincent, Midnight Special, and Knives Out.
Martell's impressive streak continues with his new film The True Adventures of Wolf Boy, in which he plays the title role opposite John Turturro, Chris Messina, Sophie Giannamore, Eve Hewson, and Chloe Sevigny. In an exclusive interview with Looper, Martell opens up about what's he's taken away from the stars he's worked with over the past half-dozen years, which began on the big screen with his pivotal role in St. Vincent opposite Bill Murray, Melissa McCarthy, and Naomi Watts.
"That was the first movie that I did, and it was one of the most amazing experiences that I'll never forget, just watching them work," Martell tells Looper. "Being in one scene with Bill Murray is an incredible learning experience, but doing a whole movie and working with him every day for three months is worth a whole college education. So, I really appreciated it."
Bill Murray and Melissa McCarthy brought emotion to comedy, says Jaeden Martell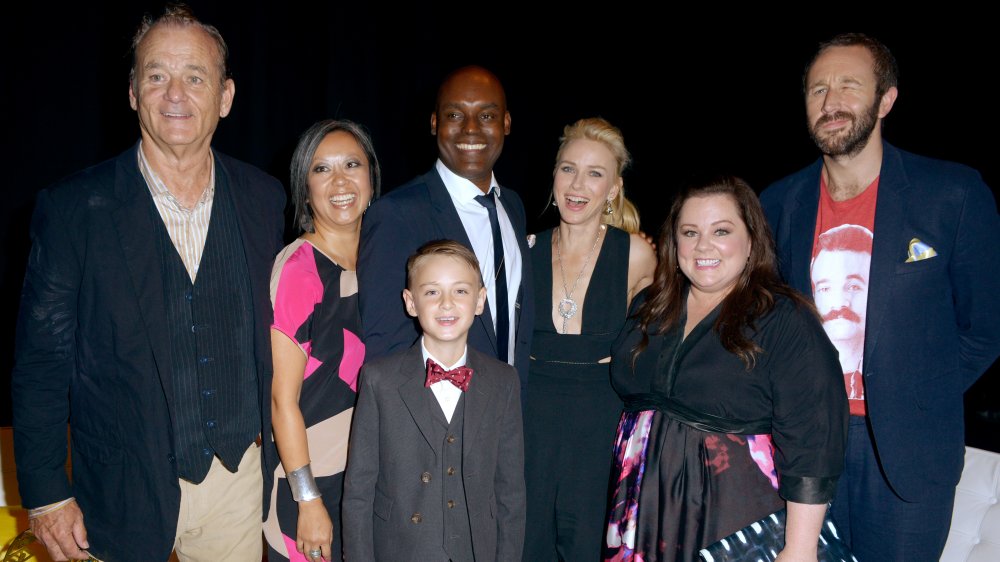 Jeff Vespa/Getty Images
While Martell's résumé spans several movie genres, he says he doesn't favor one type of movie over the other. However, partly because of what he learned from Murray and McCarthy while filming St. Vincent, Martell wants to do more comedies in an effort to get better in the genre.
"I don't feel entirely comfortable with comedy, but I think what they do is more than comedy. They're talented people and they work very, very hard, and I think that's the greatest thing that I took away from them: how much effort they put into acting," Martell shares. "Because, for my first movie, if I worked with someone who didn't work as hard, that's what I would've expected out of all actors, and maybe that would have affected how I work. But I got to see these people, and everyone on that set put everything they had into their roles and their jobs, so I had to keep up with them."
One of the most important things Martell took away from working with Murray and McCarthy is that the characters they play have a range of emotions and there's more to them than just laughs. "They don't just crack jokes all the time," Martell says. "They have control over their emotions, like any great actor does."
Knives Out stars treated Jaeden Martell as an equal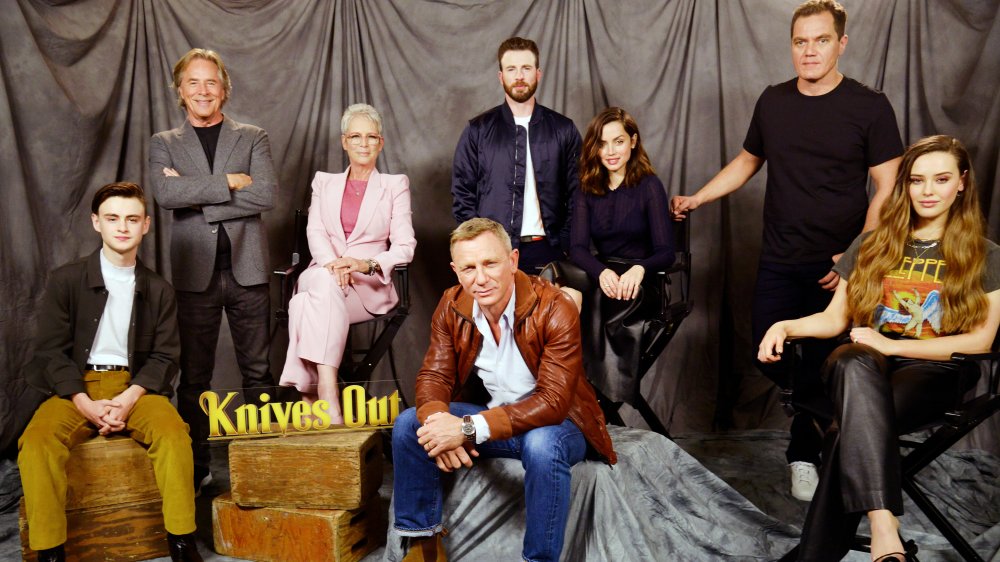 Chelsea Guglielmino/Getty Images
Released in 2019, Knives Out gave Martell the opportunity to work in tandem with a large group of actors — including Chris Evans, Jamie Lee Curtis, Michael Shannon, Toni Collette, Katherine Langford, Don Johnson, Riki Lindhome, Ana de Armas, Daniel Craig, Lakeith Stanfield, and Christopher Plummer — following the It films. And while he didn't quite have the years of experience the bulk of the Knives Out cast did, Martell says the stars of writer-director Rian Johnson's hit murder mystery always treated him as an equal.
"The awesome thing is it felt like a similar experience shooting Knives Out and shooting It. I didn't feel younger than everyone. I didn't feel like I was respected less or anything," Martell tells Looper. "They were all so kind and humble, and I mean, they're all legends. So, I got to learn so much from them just by watching them."
In Knives Out, Martell plays Jacob Thrombey, one of the several suspects in the Thrombey family who's being investigated by Detective Benoit Blanc (Craig) and Detective Lt. Elliott (Stanfield) in connection with the suspicious death of family patriarch Harlan Thrombey (Plummer), an ultra-wealthy mystery novelist. 
While Martell didn't have as many lines in Knives Out as he did in other films, he says he wasn't going to waste the opportunity "to just watch all of these incredible legends do their jobs, and also watch how they work when they're not saying the lines ... to watch the little things they do."
"It was an incredible experience, and they all are just kind, special people, and you wouldn't expect that on a movie like that," Martell observes. "You figure there'd be some sort of headbutting with egos, but there wasn't any of that."
Jaeden Martell on assembling film and TV projects with Chris Evans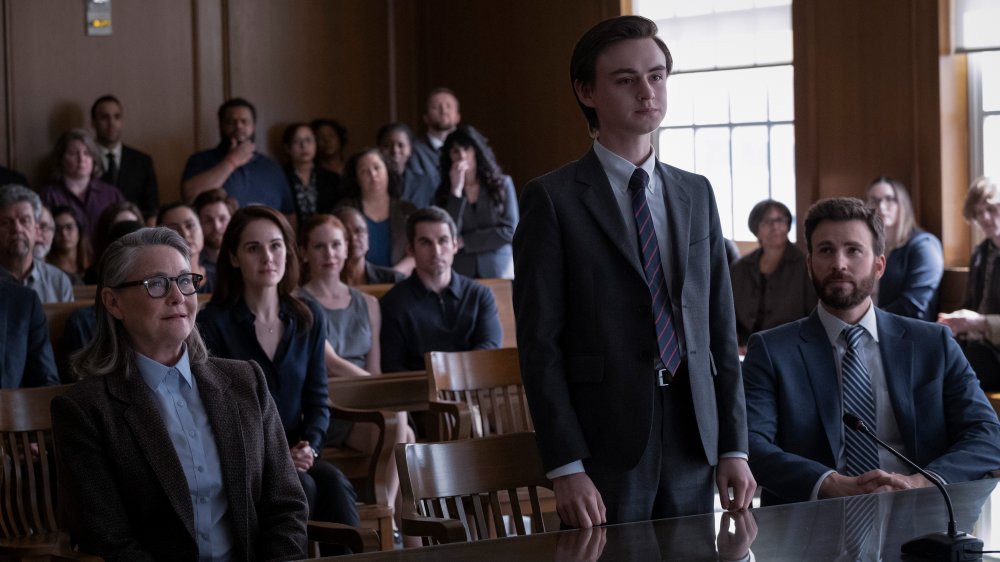 Apple TV+
Martell again teamed with Evans (along with Michelle Dockery) for the Apple TV+ streaming series Defending Jacob, which premiered in April 2020. Martell says that while working on the series, he discovered what many people are probably wondering: Is Evans as much of a Captain America/Steve Rogers good guy off screen as he is in the Avengers movies?
"Yeah, but he's cooler," Martell tells Looper with a smile. "He's less of a goody two-shoes, but he's still a good guy."
Martell says he also took the opportunity to ask Evans a bit about working on the Avengers films, in particular about a funny scene in the final film in the series, Avengers: Endgame.
"I think the newest one came out sometime around when we were shooting, and we had to talk about this one scene, the 'that's America's a**' scene," the actor says with a laugh. "It's a classic. He was doing press for Avengers during Defending Jacob."
John Turturro helped Jaeden Martell up his game in The True Adventures of Wolfboy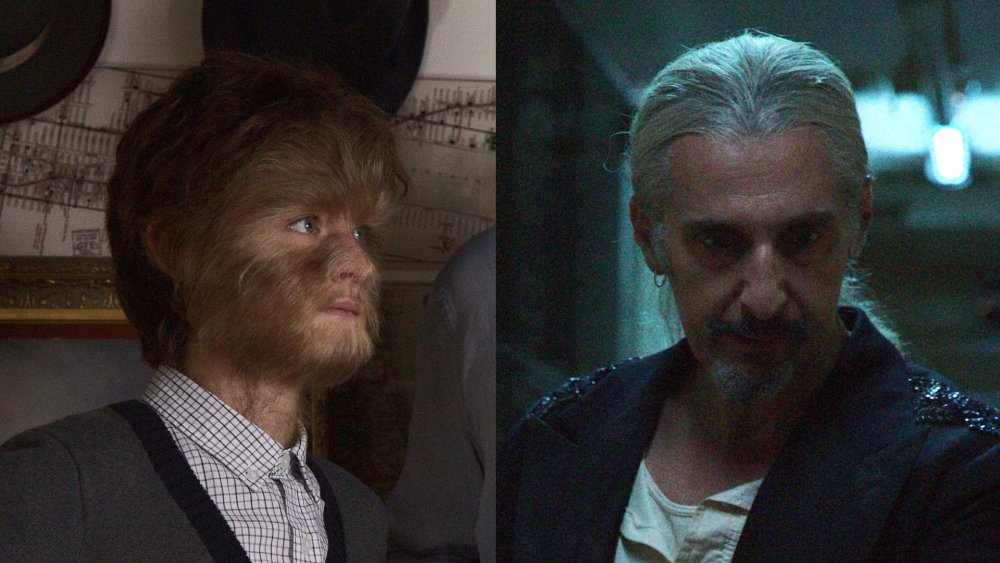 Vertical Entertainment
In The True Adventures of Wolf Boy, Martell plays Paul, a teen who has been afflicted with congenital hypertrichosis, a condition that causes him to have excessive hair growth and gives him a wolf-like appearance. John Turturro, who also served as an executive producer on the film, stars as carnival owner Mr. Silk, who's trying to exploit Paul's rare malady for financial gain.
Martell says Turturro's boundless sense of creativity brought The True Adventures of Wolfboy to a whole new level.
"It was incredible. I mean, he would come on set and completely change the whole tone, and his character was so out of this world," Martell enthuses. "Seeing him delve into that, seeing him make every take different, and seeing how he reacts to the scenario that he's put in, and the way he's constantly changing and thinking, I found [it to be] very awesome. I want to be more like that and be able to think on the fly ... I don't know if he was trained or not, but he's the definition of a professional actor. I feel like I learned a lot."
Martell adds that as much as Turturro poured into his performance, he was always about being a team player and was very generous in their scenes together.
"He definitely wanted everyone to succeed ... his tone was infectious to everybody," Martell says. "By him being louder, it made me louder and angrier, and it sort of heightened my emotions just by being in the room with him and by him screaming and yelling. His character's so intimidating, but it had a real impact on me and my performance."
Written by Olivia Dufault (TV's Legion and Preacher) and directed by Martin Krejci, The True Adventures of Wolfboy is available on video on demand now.