The Untold Truth Of Chris Evans' New Show Defending Jacob - Exclusive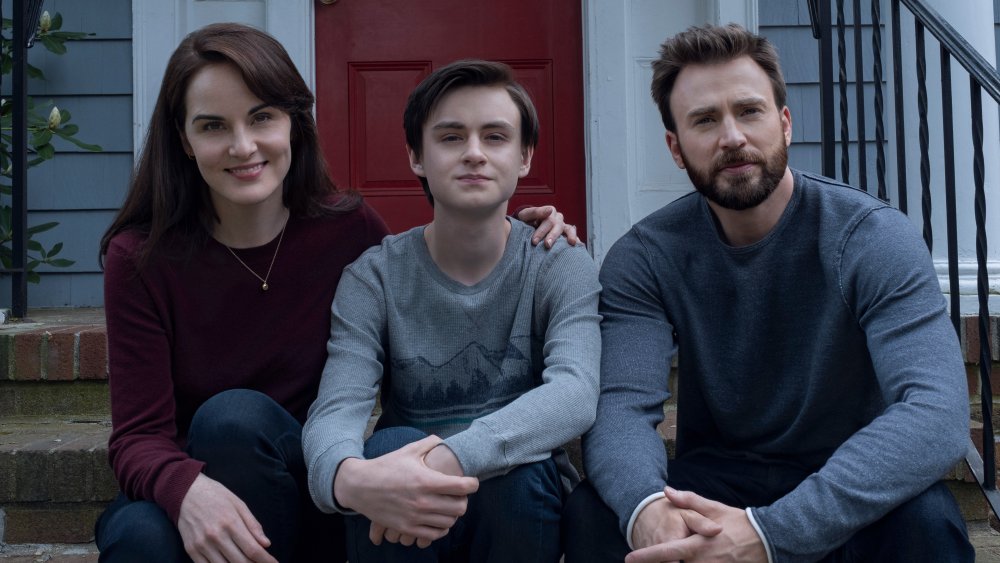 Apple Inc.
Movie fans across the globe likely best know Chris Evans as the bad-guy-fighting Steve Rogers — Captain America when he's all suited up in his red and blue costume. The actor, who made his debut as the patriotic superhero in 2011's Captain America: The First Avenger, has appeared in 11 films throughout the Marvel Cinematic Universe, stepping down from the mantle and handing over his shield in 2019's Avengers: Endgame. 
But the end of Evans' long-running stint in the MCU doesn't mean the end of his career as a whole. That began over 20 years ago, and is showing no signs of slowing down now. Evans is continuing to flex his acting chops in exciting new projects — but instead of resting on his superhero laurels post-Endgame, he's quickly climbed back on the horse and changed course, diving into a dramatic role on the Apple TV+ miniseries Defending Jacob, which premiered on Friday, April 24. 
Here's the untold truth of Chris Evans' new show.
Defending Jacob is based on a book, and some story changes had to be made when adapting it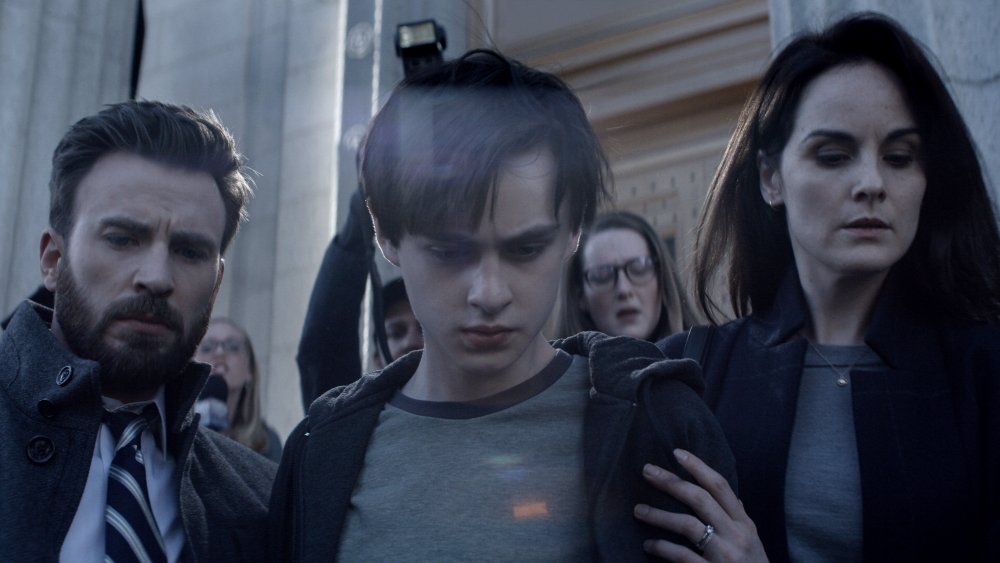 Apple Inc.
Like plenty of other television series and even movies, Defending Jacob is a book-to-screen adaptation. The series is based upon the 2012 novel of the same name by William Landay, about a couple dealing with the accusation that their 14-year-old son, Jacob, committed murder. Prolific screenwriter Mark Bomback adapted Defending Jacob into a miniseries, writing and executive producing all eight episodes. On Defending Jacob, It actor Jaeden Martell stars as Jacob Barber; Chris Evans plays his father, Andy Barber, a local assistant district attorney; and Downton Abbey's Michelle Dockery plays as his wife, Laurie Barber. (Defending Jacob marks a reunion between Martell and Evans, who shared the screen in Rian Johnson's Knives Out.)
Bomback stuck as close to the book's original story as possible when creating Defending Jacob, but adapting a novel into a miniseries means some things have to change. For instance, the book is written in the first person from Andy's point of view, which didn't quite make for compelling TV.
"A TV show has a different style of storytelling," Bomback tells Looper in an exclusive interview. "In the book, Andy is present in every scene, so part of my job was to retell the story in a way that felt like more of a kaleidoscope of characters. Also in the book, Jacob's character was a lot darker. But I thought it would be more compelling if he was more of a typical kid who has his dark moments and his upbeat moments, and is sometimes very reachable and other times very remote."
He continued, "Then there are some storylines that aren't in the book that I invented, which begged the question, how do I thread those in so that they feel organic and more like an enhancement than padding? So, it's a different experience, but it's true to the spirit of the book."
Chris Evans was cast before the whole series was written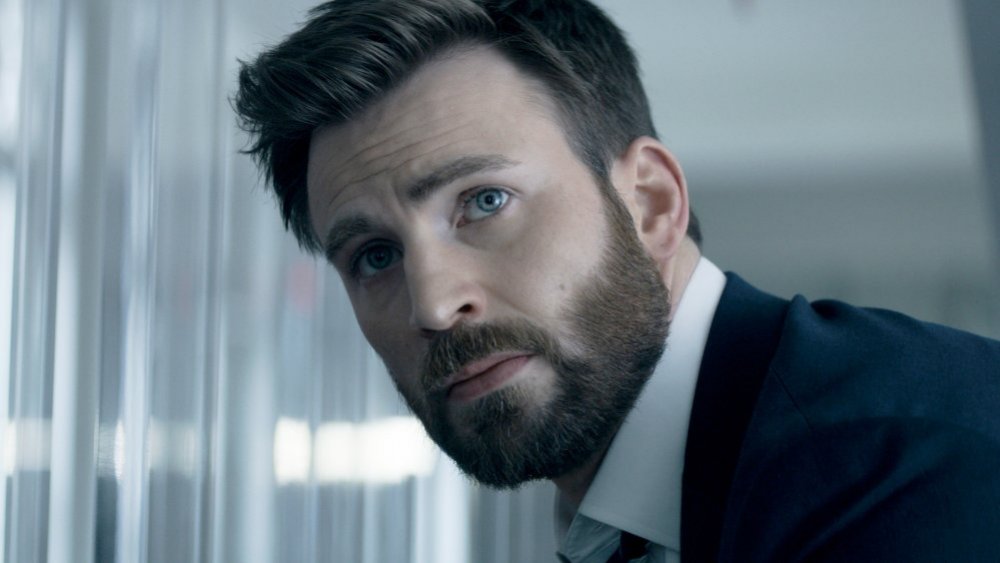 Apple Inc.
Evans was cast as Jacob's father while Bomback was writing the second episode of the miniseries, so Bomback didn't specifically write the part for the actor. "I've been a screenwriter for a long time, so I've learned the hard way not to fall in love with the idea of any one actor playing a character," Bomback tells Looper.
Portraying a suburban dad and state prosecutor is a far cry from playing Captain America, but Evans took to the role immediately and with total ease.
"He embodied the character in a way that I was hoping for but didn't know was actually possible. Chris, as a human being, is a very interesting guy. He exudes a certain amount of warmth, but there's also a bit of distance with him. And that was a very useful way of seeing the character," shares Bomback. "He also exudes a very sharp intelligence, which was something that we wanted to really lock in on. Another interesting thing is, he doesn't have kids, but he's very close to his family, and I think he was really excited about the prospect of playing a dad."
Defending Jacob was different from anything Mark Bomback had worked on before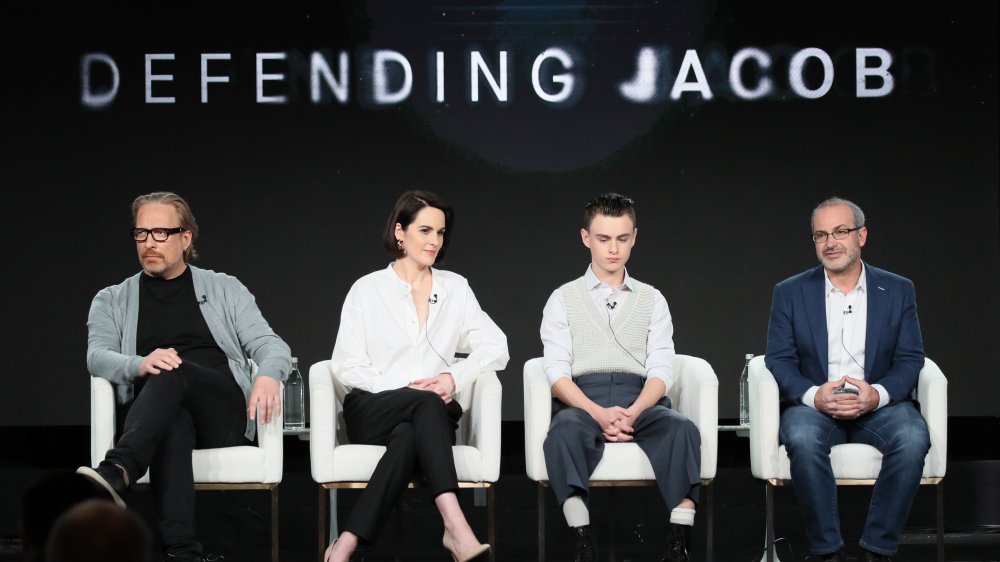 David Livingston/Getty Images
The methodical crime drama Defending Jacob is a different direction for Mark Bomback — who has written high-profile blockbuster films like Live Free or Die Hard, The Wolverine, and Dawn of the Planet of the Apes — and he admits that it was challenging to write what's essentially a segmented eight-hour movie. "One of the biggest things was figuring out when an episode was over," Bomback tells Looper. "So the pacing was something I thought a lot about."
Despite that, Bomback found the process gave him a lot more freedom than he's used to when he's writing for a film. "With a screenplay, you're aiming for a 120-page script, about a page a minute," he says. "I constantly feel this race against the clock. I'll look at the page number — I'm on page 40 and I'm still in act one, which is a problem, so I need to go back and see where it's overwritten. When you have a bigger canvas to work on, there's less of that time crunch."
Plus, there's more room for set up and storytelling. "When you're writing for movies, the first thing that gets sacrificed is character, because you need to keep the plot moving and keep the narrative front and center," Bomback notes. "So, with Defending Jacob, I was really inspired by how much time I could devote to character and theme and have it not feel like it was gumming up the plot. There are a lot of moments in there where I would say, 'in a movie this would be the first thing to get cut,' and it was such a pleasure [that that didn't happen]."
The movies and TV series that influenced Defending Jacob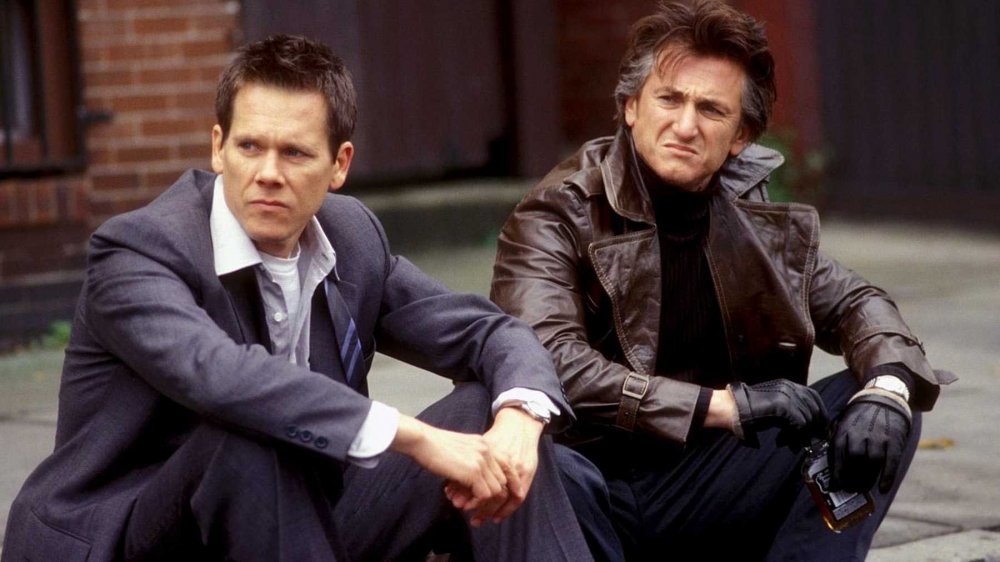 The biggest influence behind Defending Jacob, according to Mark Bomback, was the Boston-based crime-novel-turned-film Mystic River.
"That movie is the biggest touchstone for this show," Bomback exclusively shares with Looper. "When I was explaining to my agents what I wanted to do, I used Mystic River as a reference, which is a very intense twisty-turny thriller where you get really invested in what's going on with the characters. And when I sent the script to director Morton Tyldum, unprompted he said, 'This felt a little like Mystic River to me.' And right there, we knew we were trying to make the same show."
Michael Clayton was another film influential in the creation of Defending Jacob — along with series such as the British crime dramas Broadchurch and The Fall, and the American drama Rectify. But when it came to TV, the real game-changer for Bomback was season 1 of True Detective. "This is like saying your favorite film is The Godfather, but I loved that first season of True Detective. It was really such a game changer for me," he says. "It was almost like learning about a new medium, you suddenly realize what TV was capable of."
When it comes to why he chose to adapt Defending Jacob from a novel to a miniseries, Bomback says the emotional tale of a family under extreme duress appealed to him as a father of four children.
"Being a dad is my central preoccupation, and what kind of a job I'm doing keeps me up at night, so I really connected to this dilemma," he notes. "It's a very particular kind of nightmare, and the story has something to say about what it means to be a parent, a child, a spouse. Delving into that experience enhances the thrills of the mystery because you care that much more. Between writing and shooting I've been with this show for almost three years now, so you have to really care about the subject matter. And I did."
Defending Jacob was filmed in Chris Evans' home state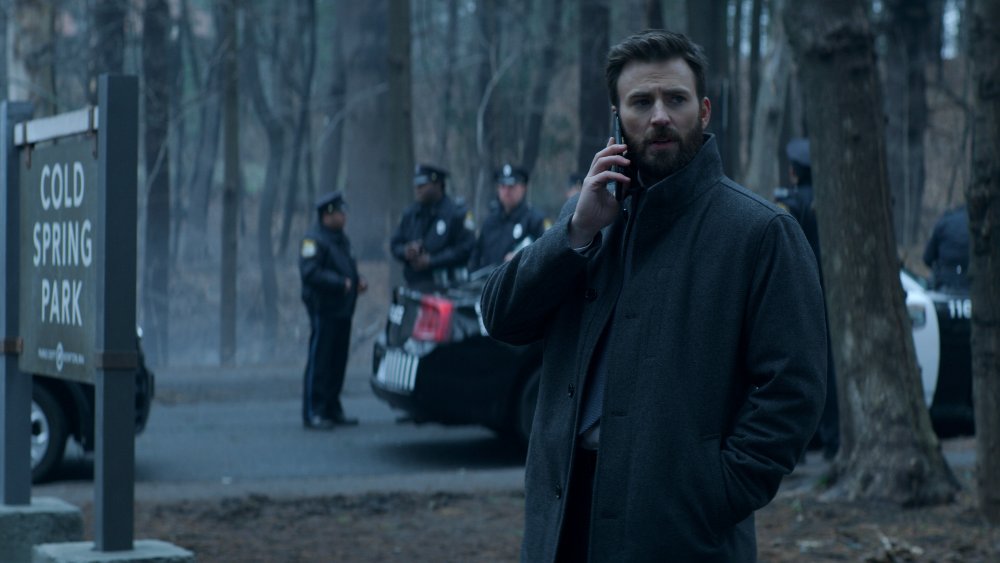 Apple Inc.
William Landay set his novel in his hometown of Newton, Massachusetts, an upper-middle class suburb of Boston. For that reason, it was important to Bomback to film the series in the state — where Evans, a Massachusetts native himself, actually still has a home.
"The town is a character," Bomback tells Looper, adding that the idea of filming in Hollywood staples like Vancouver or suburban New York didn't interest him. "I live in Westchester County, and it feels very similar to suburban Boston. But I wasn't interested [in filming there], and I've shot a lot of movies in Vancouver and it's awesome. It gives you a sense of place — if your sense of place wants to be Seattle."
Bomback's main concern about filming in small-town Massachusetts was avoiding the pitfall of coming across as a caricature of suburbia — or, worse, poking fun at it.
"I live in suburbia, and there are things about it that are certainly worthy of derision, but there are also things that give you a real sense of community and security. But sometimes that security can be dangerous. And there are some coded things going on there that are, to me, interesting," he shares. "There's sincerity in the decision to move there. Oftentimes it's people who started out in the city and then moved there because they had kids. They want to have better lives, but it can be very insular. [With Defending Jacob], I was interested in the idea that when those kinds of places turn on one of their own, it's even more isolating than if you lived in a city."
The most memorable moments from the set of Defending Jacob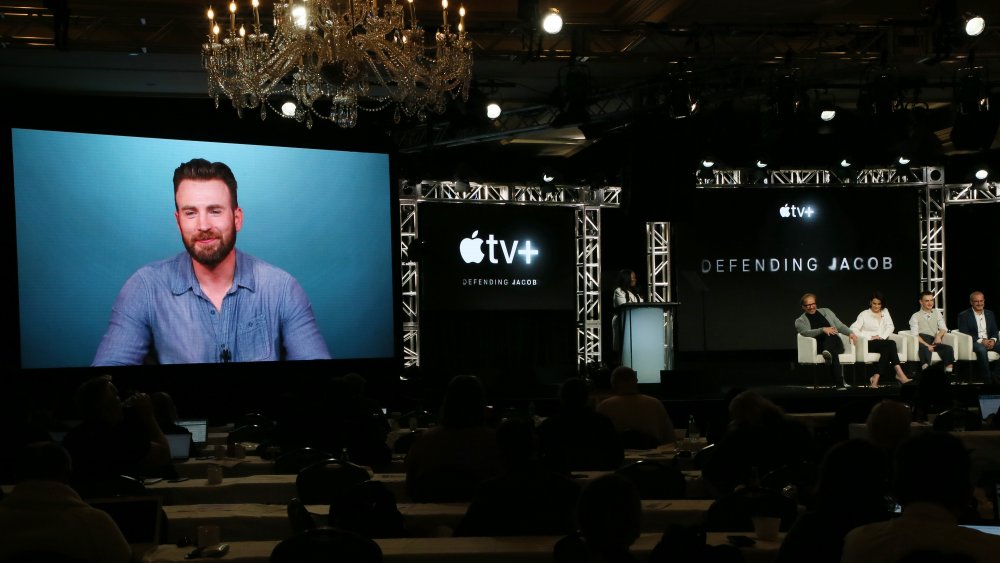 David Livingston/Getty Images
For Bomback, Evans was an invaluable collaborator on the set of Defending Jacob, often helping to rewrite the story as the series was being shot. "I would run a lot of things by him because I felt he understood the character in ways that even I didn't sometimes," Bomback shares with Looper. "He was really perceptive. If I had written the character to get a little angry in a certain scene, he would say, 'I'm not too sure that's what he would do here; let me try it this way.' And he was inevitably right. He just had really great instincts."
But Bomback's favorite moments came off the set, when Evans would invite the cast and crew to his home in suburban Massachusetts. "We shot for 115 days and he was incredibly generous to the cast and crew," Bomback recalls. "He has a house not far from where we shot and he would have everyone over who worked on this show, from production assistants who were just out of college and everyone in between. In many ways he functioned as the ambassador for suburban Boston for us. He was the local. And he just couldn't have been a more gracious host."
The first three episodes of Defending Jacob are available to stream now on Apple TV+. New episodes premiere on Fridays.