What The Cast Of Tremors Is Doing Now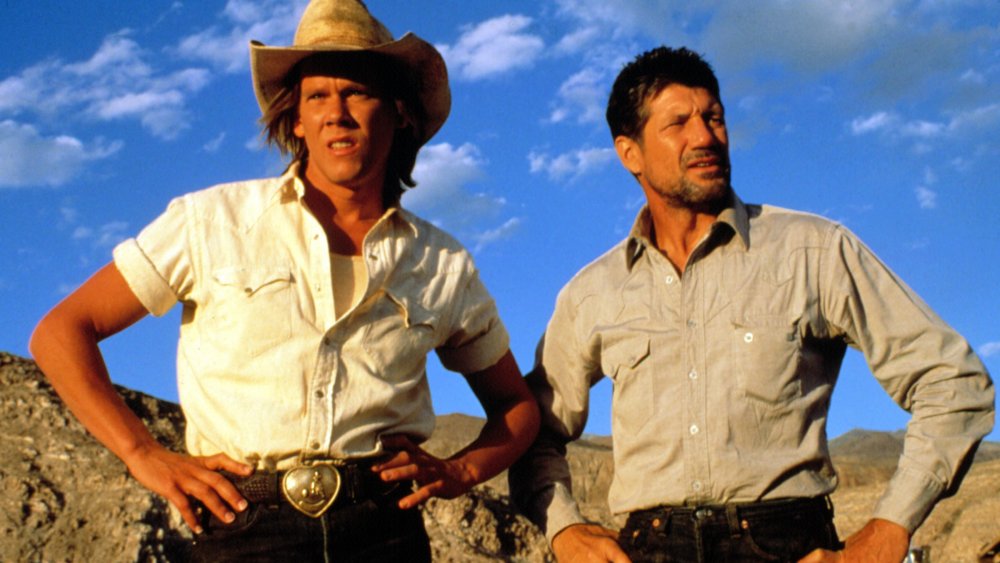 Horror boasts literally dozens of sub-genres and genre-adjacent niches. But if you're looking for one that gets its kicks with a monstrous fix, look no further than the creature feature — and few creature features have ever had as many delightfully bloody kicks as Ron Underwood's 1990 classic Tremors.
That film, of course, found the rag-tag citizens of an isolated Nevada town under siege from, and forced to make a desperate stand against, vicious subterranean beasts who prey on them from below. And from that classic setup, Underwood and company crafted a crackling B-movie bonanza told with an impeccable mix of true blue horror tropes and gonzo special effects — not to mention a wonderful sense of humor.
Tremors was all but ignored during its theatrical release, but luckily, it found favor in the home video/cable television market and has become a legit cult classic in the decades since. These days, some fervid fans hail it as one of the greatest creature features ever produced, citing the work of a brilliant ensemble cast for elevating it above its B-movie roots.
Comprised of beloved character actors, career supporting players, and at least one A-lister, the Tremors cast really is as solid as any the genre has ever seen. Here's what that cast is up to today.
Kevin Bacon is still doing that Kevin Bacon thing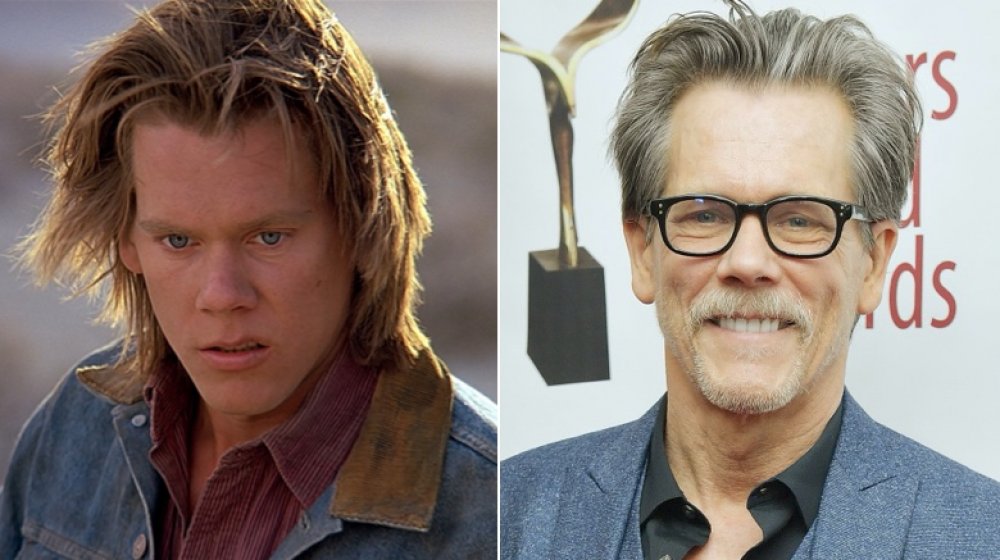 Kevin Bacon spent much of the 1980s working himself onto (see Footloose) and off (see Quicksilver) Hollywood's unofficial list of leading men. And while we'll never know exactly what drew Bacon to Tremors to begin with, there was little reason to think a role in a B-movie creature feature would do much to raise his profile, even if it was a starring role.
Bacon made the most of the moment, however, delivering a charismatic, screen-chewing performance as Perfection's most eligible handyman and, coupled with an equally impressive turn in Flatliners (released a few months after Tremors) found himself once again on the rise in Hollywood.
The years since have found Kevin Bacon becoming one of the most revered talents in showbiz, delivering memorable performances in film and television projects too numerous to recount here. But he's been admirably busy — there's a reason "Six Degrees of Kevin Bacon" became a thing, after all. And if that weren't enough, he's made quite a name for himself in the music world as well, touring the country and releasing several albums as one half of the Bacon Brothers, the band he fronts alongside his brother.
Fred Ward has remained one of Hollywood's best supporting players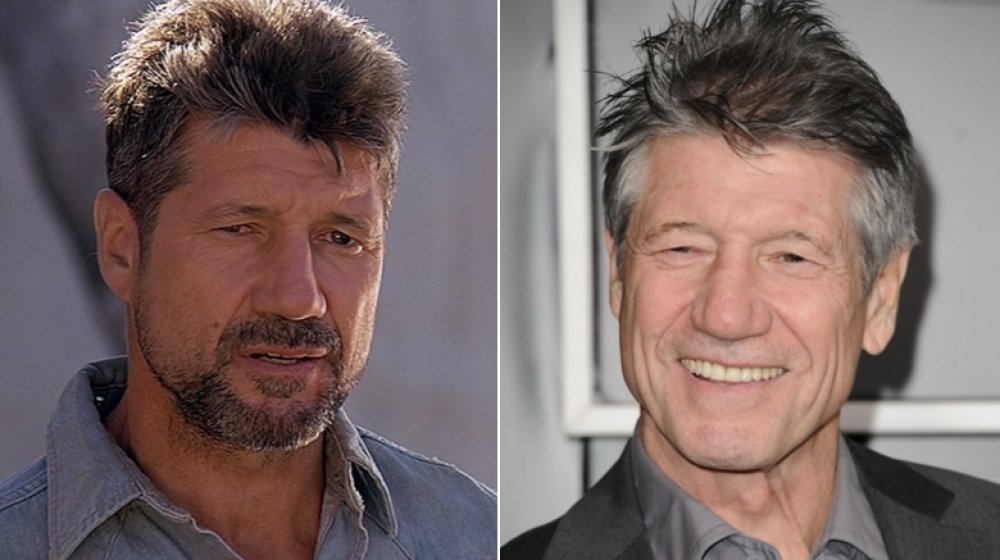 By the time he charted a path to the Nevada desert to portray Earl Bass in Tremors, Fred Ward had already become a steady presence in the film and television industry. He'd even earned raves in 1983 for portraying Mercury 7 astronaut Gus Grissom in Philip Kaufman's Oscar-winning bio-drama The Right Stuff.
In spite of his successes, Ward had yet to land a breakthrough role. Tremors obviously didn't provide that breakthrough, but it certainly didn't hurt his growing reputation for giving the most thinly-scripted characters a grounded, everyman appeal. And Ward's turn as Earl in Tremors is the picture of grounded, with the actor's no-nonsense work anchoring the film in reality no matter how skewed it became. (He also has some of the best one-liners in the film.)
In the years following Tremors' release, Ward continued to deliver brilliant supporting work in films and TV projects of all shapes and sizes, most memorably stealing scenes in two of Robert Altman's most successful '90s works (1992's The Player and 1993's Short Cuts).
Those years also saw Ward returning to the realm of Graboid fiction (this time as the star of the show) for 1996's straight-to-video and tragically underrated Tremors II: Aftershocks. And while Ward kept delivering the goods throughout the 2000s, there's little question the world will likely forever know him as Earl from Tremors.
Michael Gross became the unlikeliest face of a franchise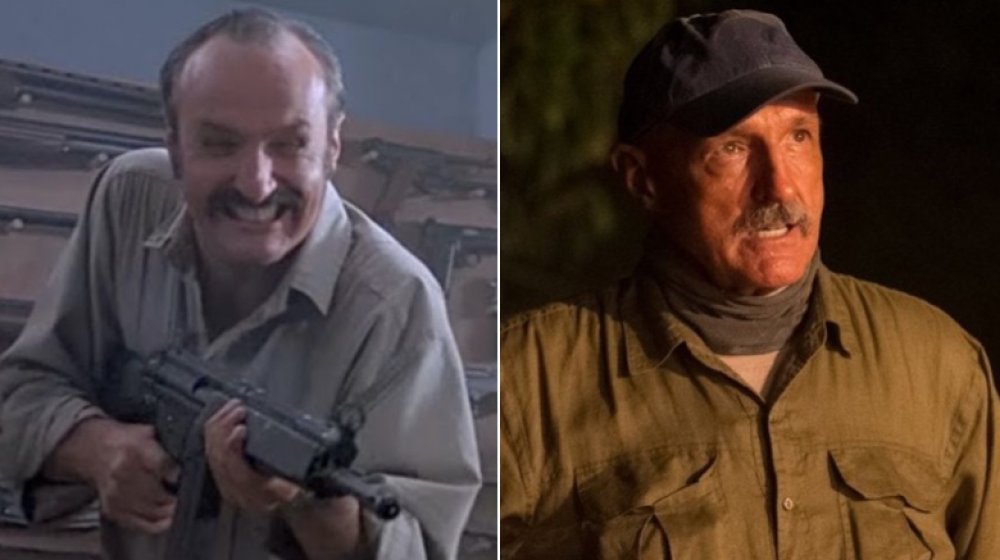 Fred Ward wasn't the only O.G. Tremors star to make a return to action in Tremors II: Aftershocks, by the way. He was joined about halfway through the film by Michael Gross, who stole every single scene he was in as Tremors' gun-loving survivalist Burt Gummer. And of all the bizarro twists and turns that came throughout the original Tremors, it's safe to say that Gross' maniacal work as Burt was among the film's biggest surprises.
That's largely because, prior to appearing in Tremors, Gross was best known as the tender-hearted patriarch of the Keaton clan in the beloved '80s sitcom Family Ties. As such, not many of his fans had ever seen him deliver such a deliciously over-the-top performance. Needless to say, Gross' Tremors bosses were more than impressed, because after another manic supporting turn in Tremors II, the actor became the face of cinema's most unexpected franchise thereafter, starring in all the ensuing Tremors flicks.
As far as cinematic legacies go, some actors would likely want to avoid such a title, but Gross has leaned giddily into his role atop the Tremors franchise. And at this point, it's safe to say he's one of the few reasons fans keep going back for more gore-tastic Graboid shenanigans.
Reba McEntire has kept busy on stage and screen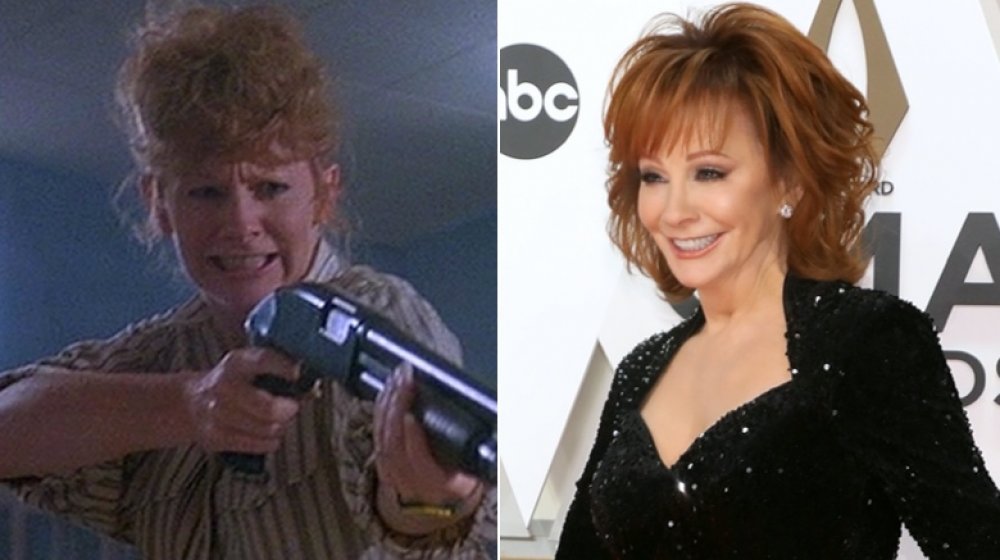 While few could successfully argue Michael Gross wasn't the biggest scene-stealer in 1990's Tremors, they'd likely be quick to remind you that the actor who portrayed his pistol (and elephant gun)-packing onscreen paramour stole more than a few scenes of her own. They'd probably also tell you that fact was every bit as shocking as Gross' wildly-against-type turn too, because she wasn't really an actor prior to appearing in Tremors.
Reba McEntire was, of course, a beloved country music star before catching the acting bug for Tremors; one who'd sold millions of records and claimed numerous awards for her work. Given her background as a performer, it wasn't entirely surprising that Reba held her own in Tremors, and it no doubt helped that she had simmering screen chemistry with Gross, but her tough-as-nails turn as Heather Gummer remains one of its strongest and most surprising elements.
Less surprising is that McEntire didn't go all in on her acting career after Tremors, and has continued to be a major presence on the country music scene. She has, however, continued to rack up on screen work, and even fronted the hit WB series Reba in the early 2000s. Sadly, she never returned to the Tremors fold for any of the subsequent sequels, which remains the franchise's most egregious oversight.
Finn Carter has essentially left acting behind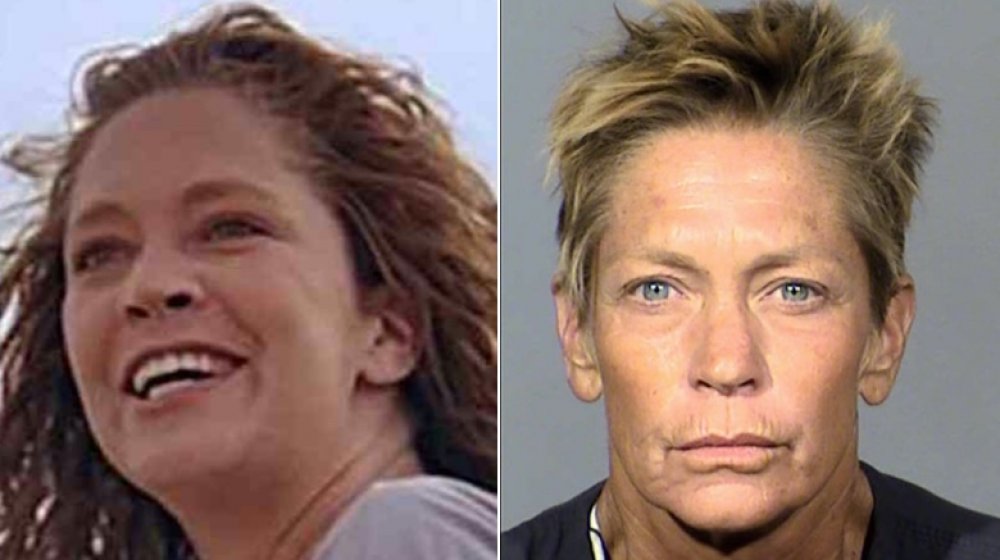 Some of the biggest names in Hollywood (Kevin Bacon included) got their first big break in a daytime soap opera. Though she never made it quite as big as her Tremors co-star, Finn Carter can count herself among them. The actor earned her first screen credit in 1985, scoring a role on CBS' As the World Turns.
Carter spent three full seasons portraying Sierra Montgomery on the show before landing a role in 1989's How I Got Into College opposite the likes of Anthony Edwards (ER) and Lara Flynn Boyle (Twin Peaks), which most likely landed her on the radar of Tremors producers.
Carter's turn as Tremors' seismology-studying grad student (and Bacon's love interest) Rhonda LeBeck didn't exactly earn her an Oscar, but it certainly immortalized her as a cult cinema star who will be known to B-movie lovers for all eternity. As it happens, it likely also helped raise her profile enough that she was able to land dozens of supporting roles in some of the best series on television throughout the '90s, including China Beach, Law & Order, ER, and NYPD Blue. 
Sadly, Carter has all but left her acting career behind these days, having not appeared in any film or television projects since 2005's indie comedy Halfway Decent. And given her recent legal troubles in Las Vegas, she may never find her way back to acting.
Robert Jayne has been as busy after Tremors as he was before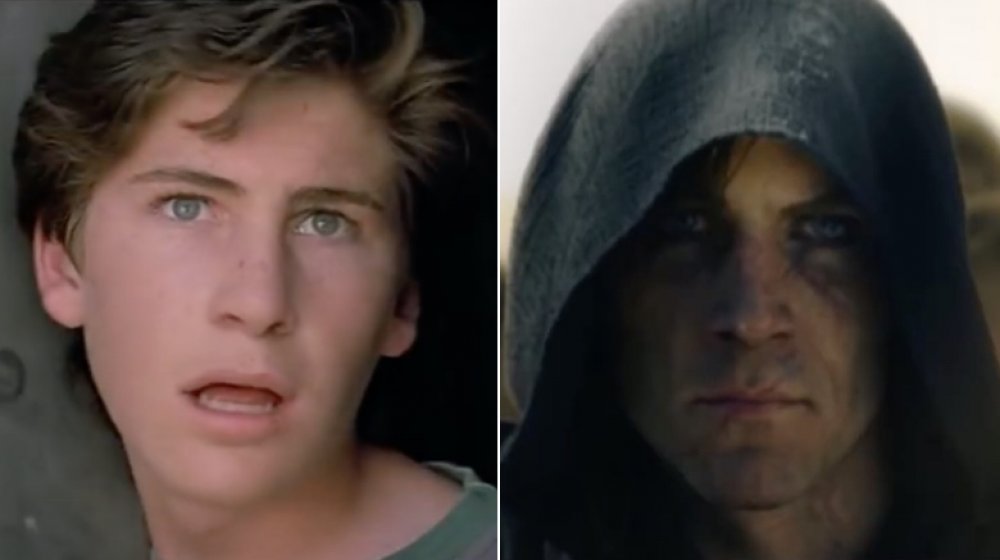 Like many of his Tremors co-stars, Robert Jayne had a face that was almost certainly familiar to most viewers, because the then teen-aged Jayne had already had a full career in show business before. And Jayne's '80s small screen resume boasts a veritable who's who of the decade's finest shows including St. Elsewhere, Murder She Wrote, Hill Street Blues, Diff'rent Strokes, The A-Team, Who's the Boss, and more.
While Jayne's TV credits were extensive, the young actor hadn't had quite as much luck landing big-screen work, with a supporting appearance in 1986's Top Gun knockoff Iron Eagle serving as his biggest movie. One can only imagine what it must've felt like for Jayne to walk onto the Tremors set to trade scenes with the likes of Bacon, Ward, Wong, and Gross. Though he doesn't have much screen time, Jayne more than held his own with those established talents.
He's continued to hold his own in the years since as well, having worked extensively in television, landing one-off gigs on Party of Five, Boy Meets World, and Baywatch. He's also kept his cult cred intact with roles in Meet the Applegates, Night of the Demons 2, and a return to Graboid land in Tremors 3: Back to Perfection. More recently, Jayne played a key role in the Mythica fantasy franchise opposite another cult figure in Kevin Sorbo.
Ariana Richards appeared in one of the biggest movies in history, but not much else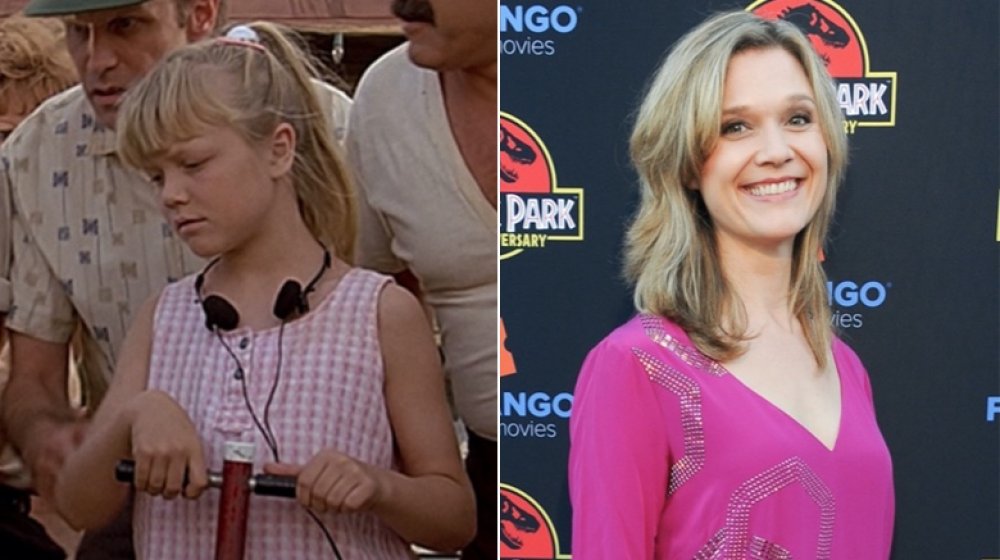 While movie lovers almost certainly recognized much of the Tremors cast for their work prior to the film, it's far more likely you recognize that of the film's pogo-sticking Mindy for one of her post-Tremors roles. It belongs to one Ariana Richards who, just a couple of years after Tremors, would appear in another creature feature that would go on to rank among the biggest movies ever made.
That flick was none other than Steven Spielberg's 1993 blockbuster Jurassic Park, and yes, that was the former Tremors star playing the precocious, goat-loving "hacker" Lex opposite Sam Niell and Laura Dern in the film. Jurassic Park is clearly the high point of Richards' post-Tremors acting career, though she delivered memorable turns in 1995's charming teen dramedy Angus and even returned to Perfection for an appearance in Tremors 3. She also starred in the video for Ben Folds Five's "Brick" in 1997, which was a massive hit that year.
As it is, Richards left acting behind altogether in 2013. She now makes her living as a painter, and you can see her work online via the Gallery Ariana — where you can also pick up Jurassic Park-inspired lithographs and autographed Lex photographs.
Charlotte Stewart carved out a niche career on the fringes of Hollywood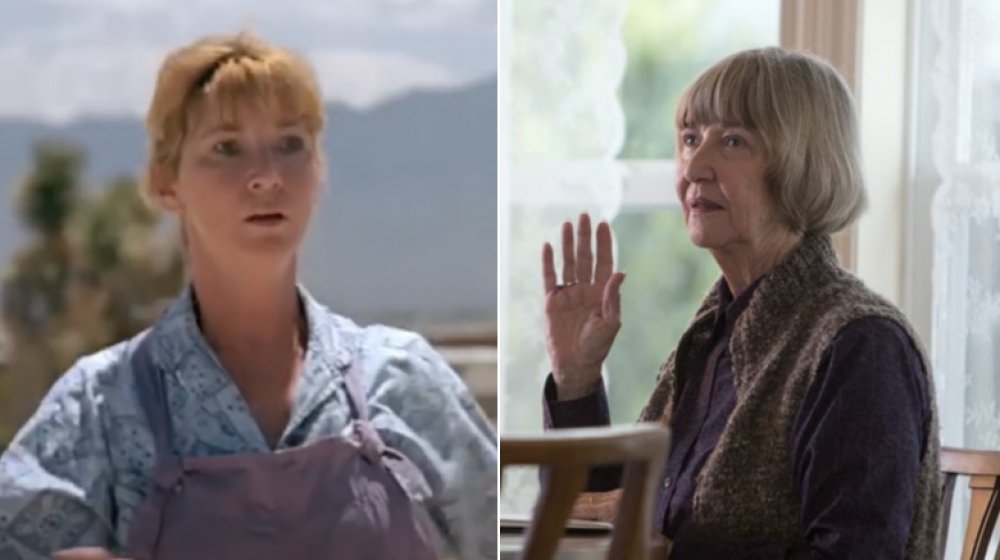 One might look at the cast list for Tremors and think, "wow, Ron Underwood scored a major coup landing the likes of Kevin Bacon and Fred Ward." Upon closer inspection, some might say that landing Charlotte Stewart was equally impressive. Particularly as her character (she played Mindy's mom Nancy) was of the sub-supporting level in terms of screen time. Still, Underwood was likely over the moon to have her on board, if only because her pre-Tremors resume was so impressive.
That resume included spots on small-screen delights like Bonanza, Gunsmoke, and My Three Sons. It also included a four-season stint on Little House on the Prairie — not to mention a starring role in David Lynch's no-budget creeper Eraserhead. And while Stewart's work as Nancy erred far more on the side of Little House, having the star of Eraserhead in your little B-movie is the very definition of "casting coup."
Of late, Stewart has slowed her roll a bit in terms of working, but the years after Tremors found her quite busy, with the actor re-teaming with Lynch for his groundbreaking series Twin Peaks, landing recurring roles on Coach and Life Goes On, and scoring a season 3 appearance on The Office. And yes, it also featured a return to Perfection for Tremors 3 (seriously, nobody moved after the Graboid invasion?).
Victor Wong became a cult film icon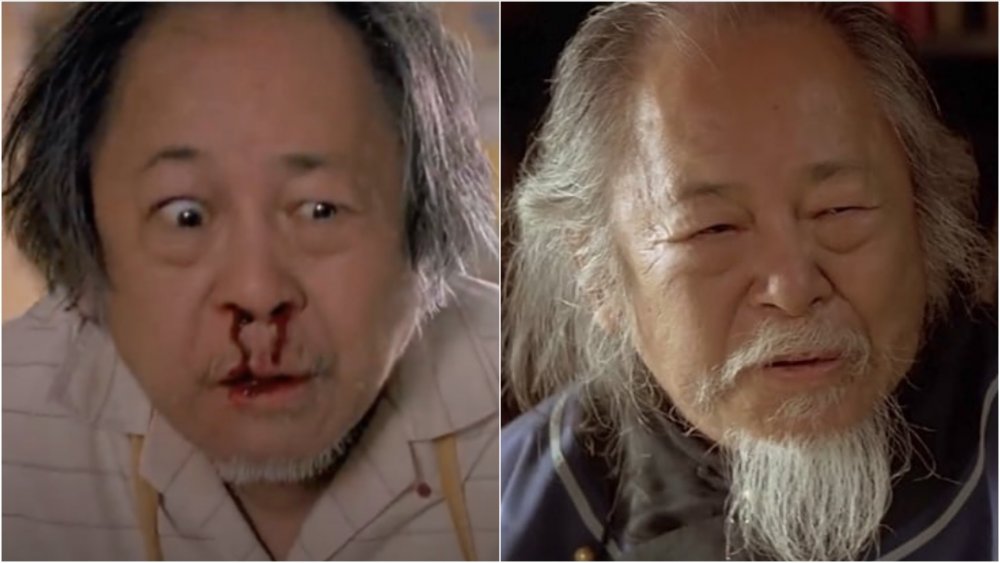 For what, at least on paper, must've seemed like a schlocky, straight-to-video project, there are definitely a surprising amount of familiar faces in the Tremors cast — including, for a savvy set of genre-loving cineastes, the perpetually cock-eyed visage of the great Victor Wong.
Prior to his memorable turn as Perfection, Nevada's shifty shop owner Walter Chang, Wong had been seen hamming it up in the likes of John Carpenter's campy classic Big Trouble In Little China (with Kurt Russell), and opposite Eddie Murphy in The Golden Child. They'd also seen him deliver soulful turns in Carpenter's Prince of Darkness (alongside Donald Pleasance) and in Bernardo Bertulocci's Oscar-winning historical epic The Last Emperor.
Wong's comedic chops were on full display in Tremors, of course, as was his often underrated flair for drama, with Ron Underwood making equally effective use of the actor's ever-expressive face (particularly in his unforgettable death scene).
As for where movie lovers saw Wong's face after Tremors, he was a mainstay in Hollywood until his death in 2001, with the Chinese-American actor appearing in such disparate projects as 1991's Ethan Hawke-led Mystery Date, Wayne Wang's glorious 1993 adaptation of The Joy Luck Club, and 1997's Brad Pitt dramatic vehicle Seven Years In Tibet. He eventually landed his own franchise too, portraying Grandpa Mori in all four family-friendly 3 Ninjas films.
Tony Genaro was a regular on the big screen before his 2013 passing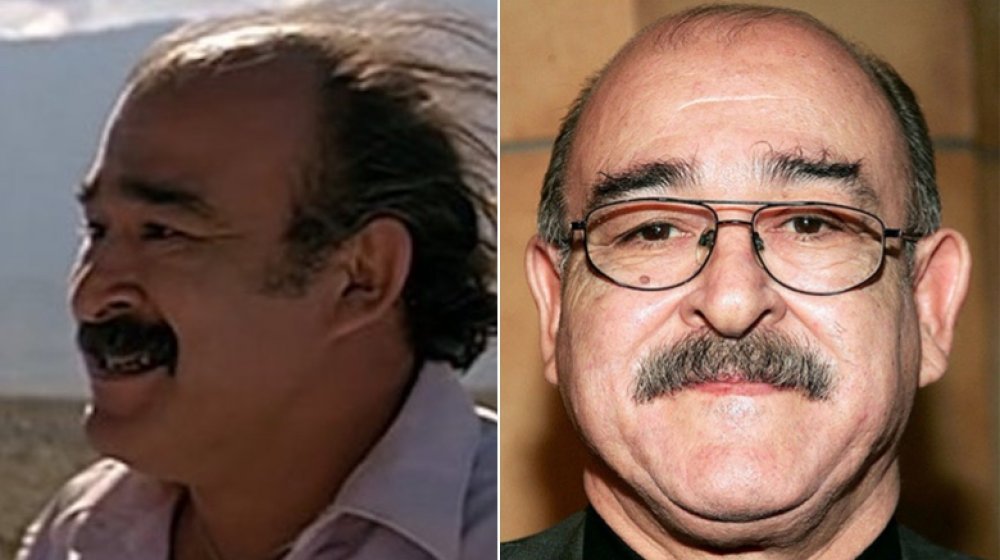 Of all the actors in Tremors' oddly impressive cast, Tony Genaro's is one that you maybe wouldn't have known. That's not because he hadn't made any appearances before landing the role of Miguel in the film, but more because he hadn't done anything quite big enough. Still, if you saw the 1987 Richie Valens biopic La Bamba, you may well have recognized him as Mr. Caballero. And just FYI — Genaro also made a memorable appearance in Robert Redford's 1988 Oscar-winner The Milagro Beanfield War, which remains a tragically underseen gem.
As for Genaro's work in Tremors, well, it's beyond humanizing, with the talented character actor turning what may well have become an infuriatingly stereotypical character into a three-dimensional individual.
Not surprisingly, Genaro brought that same sort of grounded humanity to every role he claimed after as well. And while many of this roles came on the fringes of Hollywood, fans are almost certain to recognize Genaro from appearances in The Craft, Phenomenon, The Mask of Zorro, The Shield, and World Trade Center, not to mention his return to Perfection in Tremors 3.
Sadly, Genaro's final screen appearance came in the 2013 TV movie Snow Bride, with the actor passing away just a year later. While his screen presence is surely missed, it will live forever via Tremors.
Richard Marcus landed a few choice roles after his Tremors exposure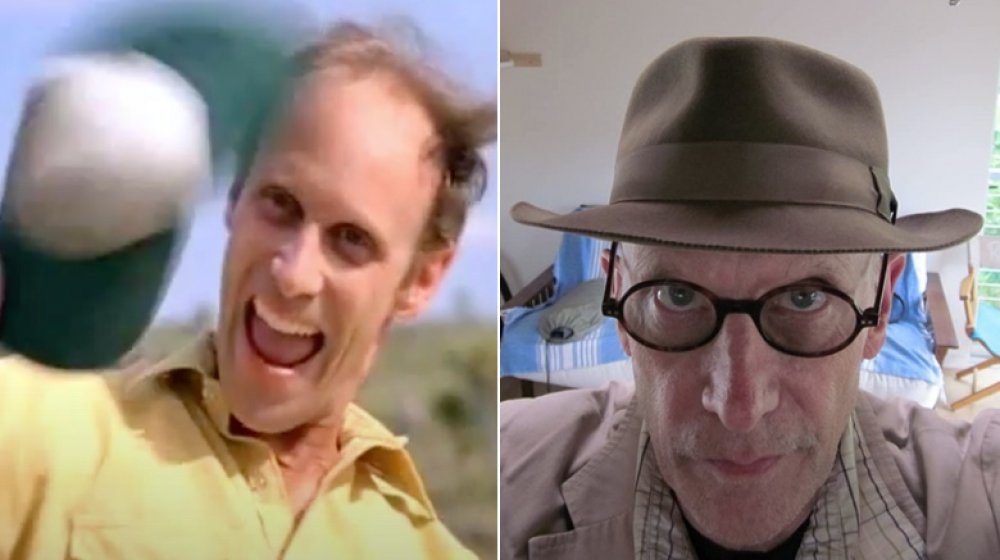 His hat-waving moment in Tremors has been gif-ed and meme-d in recent years, and we can't help think Richard Marcus is A-ok with that, because he clearly had a ton of fun playing the simple-minded Nestor in the film. Unfortunately, his character is also frequently mocked in the film as his death was, while tragic, utterly avoidable. 
If you're struggling to place that death, Nestor is the guy who meets his end when he fails to realize a tire is really not high enough off the ground to escape a Graboid attack. And while Nestor is basically one of those minor creature feature characters who sort of just exist to die a horrible death at the hands (or tentacles) of said creature, that hat-waving moment has immortalized the character in cult cinema canon. 
As for Marcus himself, he does have some seriously impressive credits to his name, having appeared in Hill Street Blues, Alfred Hitchcock Presents, Enemy Mine, St. Elsewhere, and Highway to Heaven before heading to Perfection. And while the actor hasn't made a screen appearance since 2009, he still delivered the dramatic goods in the likes of L.A. Law, Melrose Place, The Pretender, and 24.
Tom Woodruff Jr. has become one of the premiere effects guys in Tinseltown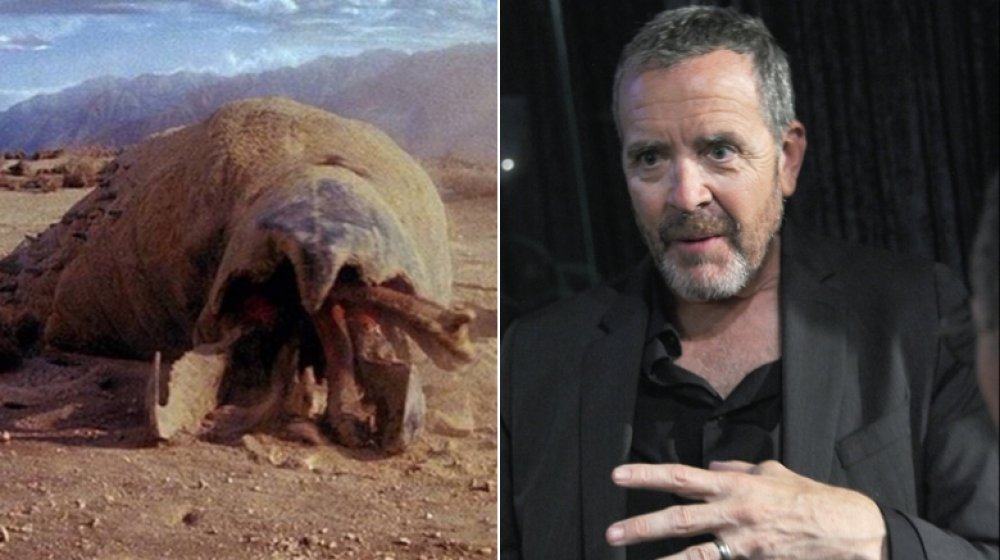 Okay, you didn't actually see Tom Woodruff Jr.'s face in Tremors. But trust us when we say you are more than familiar with his work, and it just seemed criminal to assemble this list without his name being mentioned, because his Graboids are as central a character in Tremors as any actor, and he brought them to life.
You can take "brought the Graboids to life" literally, by the way, as Woodruff Jr. was operating the animatronic beasts in the film. He was more than qualified for that role as well, because he was also the special effects guru who designed the creatures. And just for wow factor, we'll go ahead and tell you he'd performed similar roles for The Terminator (terminator special effects), Aliens (creature effects coordinator), and The Monster Squad (head monster maker).
As far as Woodruff Jr.'s post-Tremors resume, well, it's every bit as impressive: the effects man has taken point on high-profile projects like Jumanji, Starship Troopers, It, and Jurassic World: Fallen Kingdom, with his Amalgamated Dynamics effects house also set to bring more creatures to life in 2021's Godzilla vs. Kong. And you'll undoubtedly be seeing Tom Woodruff Jr.'s stunning effects work on big screens for years to come.