The John Cena Comedy That's Hot On Hulu Right Now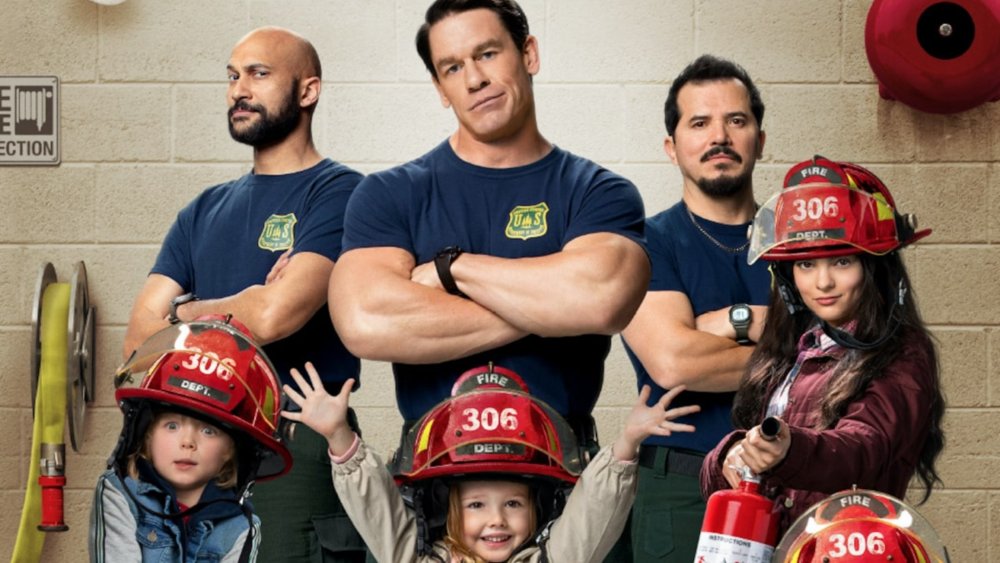 Paramount Pictures
Look, there's no way around it, 2020 has been an exhausting year, and in this era of peak stress it's more than okay to turn to purely silly films to keep you going in your downtime. One such film that's currently heating things up on Hulu is the 2019 comedy Playing with Fire starring John Cena as a beleaguered smokejumper who learns how to get in touch with his softer side after rescuing a trio of kids from a burning house in the mountains. 
The movie was savaged by critics upon its release, but let's be real here, this movie isn't designed for critics or film snobs. It's made for kids and kids at heart, and it's that segment of the audience that made the movie a modest box office success (it raked in $60.4 million at the box office, and only cost 29.9 million to make, as reported by The-Numbers.com). Now, Playing with Fire appears to be finding a second life on Hulu, where viewers are discovering lots to love about watching Cena engage in slapstick antics alongside a strong cast that's rounded out by Judy Greer, John Leguizamo, Keegan-Michael Key, and Tyler Mane.
Playing with Fire continues Hollywood's time-honored tradition of pairing wrestlers and strongmen with cute kids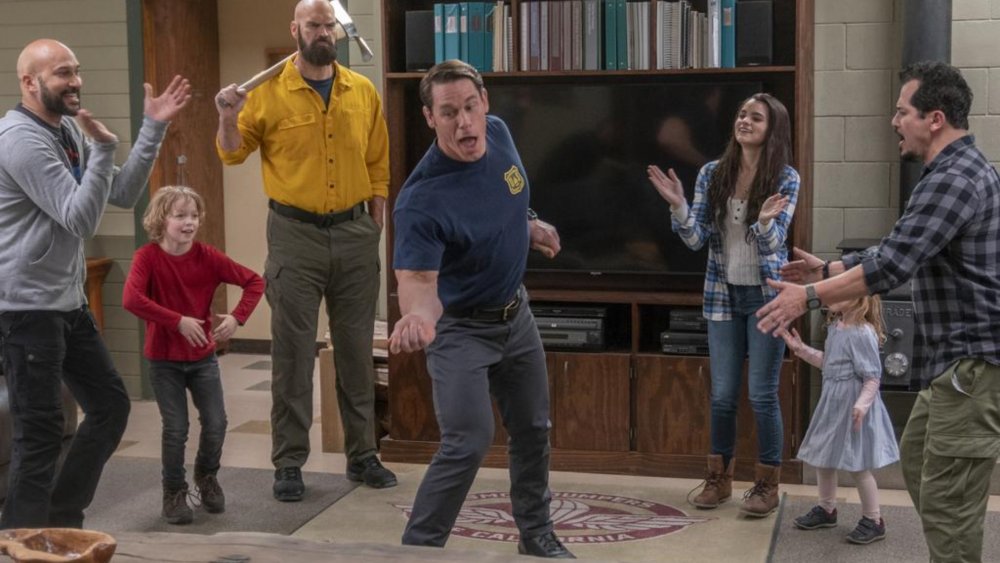 Paramount Pictures
At some point, movies starring wrestlers and-or generic tough guys who have their cold hearts melted by cute kids became an actual genre in Hollywood. Within that genre, Kindergarten Cop and Mr. Nanny remain the gold standard, and Playing with Fire definitely doesn't measure up to those films. Still, this sweet movie will likely keep kids entertained, and it might even surprise a few adults, as long as you can overlook an abundance of poop-centric jokes.
Cena stars as Superintendent Jake Carson, whose commitment to his job is so unwavering that he doesn't have a life beyond the smokejumpers headquarters. Carson's team is rounded out by Mark (Key), Rodrigo (Leguizamo), and Axe (Mane), while Greer stars as Doctor Amy Hicks, who is protesting the firejumpers taking water from endangered toads to put out forest fires. The sparks between Amy and Carson are apparent right from the start, even though they, in typical Hollywood fashion, are the last to realize that they're falling for each other.
Before he rescues a trio of siblings trapped in a cabin — Brynn (Brianna Hildebrand), Will (Christian Convery), and Zoey (Finley Rose Slater) — Carson is doggedly pursuing a promotion, but it's no spoiler to reveal that being tasked with watching the kids until their parents can pick them up leaves him a changed man. That's just how these movies go. Along the way, he finds himself involved in all manner of hijinks including filling the station with bubbles, going on a toy shopping spree, and avoiding being shot with flares by a kid who thinks he's discovered a pair of Nerf guns.
Should you stream Playing with Fire on Hulu?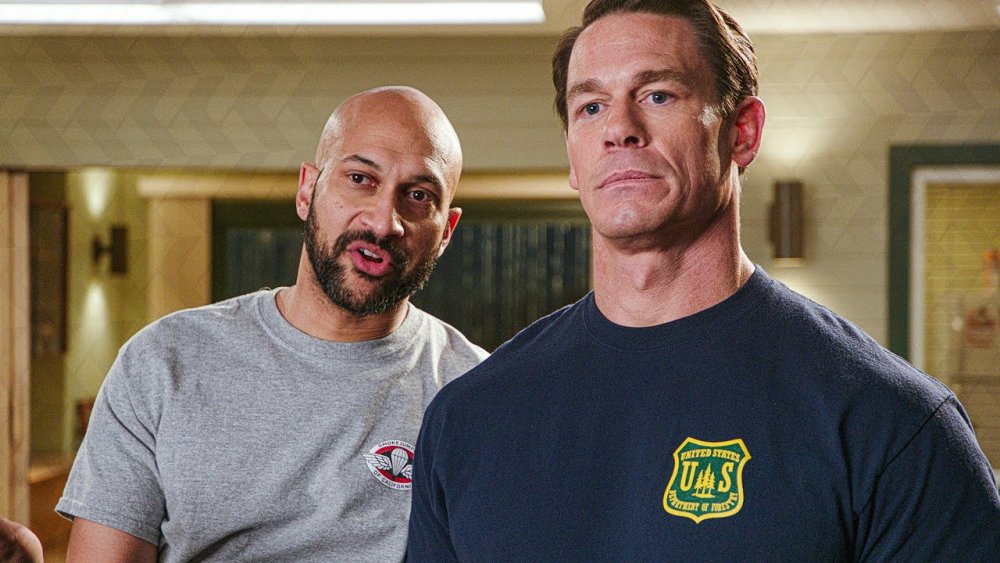 Paramount Pictures
Playing with Fire isn't doing anything that viewers haven't seen before, but it's a gentle movie with a stellar cast and a good heart. In a CinemaBlend interview with Key, the comedian made it clear that everyone involved in the movie was well aware that it was a goofy project aimed at making kids laugh, and that's exactly why they had so much fun with it. "One of the most important things is to keep tone in mind," Key said. "With this kind of movie, it's okay to know what kind of movie you're in. And I think if you want the audience to have fun, you have to make it infectious. So it's important to create an environment where you're having fun."
On that point, the cast definitely succeeds, and as a result Playing with Fire has the potential to charm viewers of any age, especially those who are looking for an easy laugh.