The Recent Outrage Over Kindergarten Cop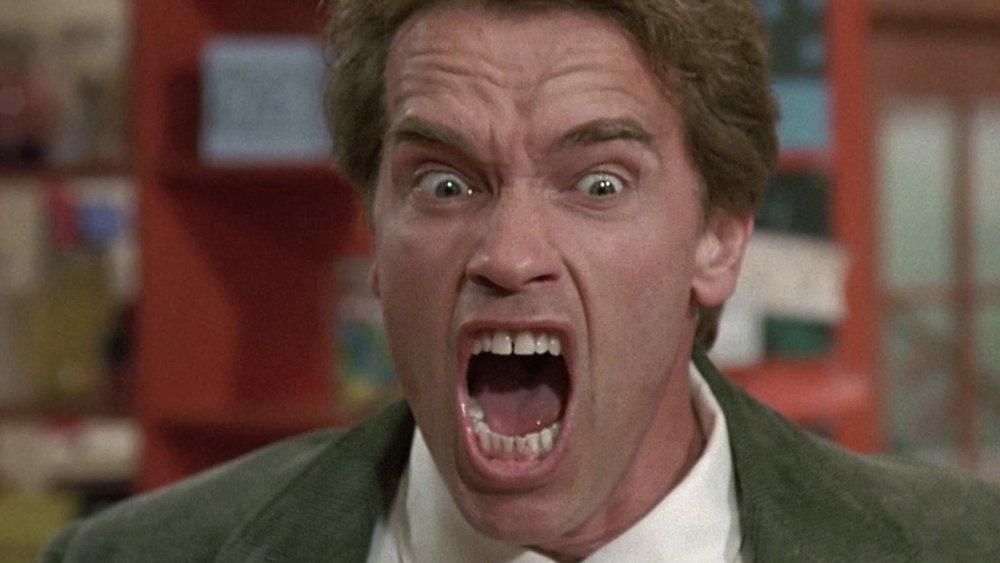 Universal Pictures
Why is a 30-year-old Arnold Schwarzenegger flick suddenly in the news in August 2020? It's complicated.
Deadline confirmed on Wednesday, August 5 that the Northwest Film Center's Cinema Unbound Drive-In Theater — located in Portland, Oregon – has pulled Kindergarten Cop, Arnie's 1990 action-comedy, from the lineup of its summer Drive-In movie series following complaints from staff and members of the community. 
At issue is the perception that the film takes a lighthearted approach to policing in schools during a time of national introspection on the presence of law enforcement in educational institutions, as well as law enforcement's relationship to communities predominantly populated by people of color and its role in society in general.
On the surface, it may seem like Kindergarten Cop is an odd choice to fill the series' opening slot in the first place, but it turns out that the film is a significant one in the history of Oregon film production. Much of the movie takes place in Astoria, Oregon, and a great deal of it was shot in various locations around the small town of about 10,000. The furor over its screening began with a tweet by author Lois Leveen, who hails from Portland and specializes in non-fiction and critical essays.
"National reckoning on overpolicing is a weird time to revive Kindergarten Cop," Leveen posted to her account, which has since been made private. "[In real life], we are trying to end the school-to-prison pipeline. There's nothing entertaining about the presence of police in schools, which feeds the 'school-to-prison' pipeline in which African American, Latinx and other kids of color are criminalized rather than educated. Five- and 6-year-olds are handcuffed and hauled off to jail routinely in this country. And this criminalizing of children increases dramatically when cops are assigned to work in schools."
Thereafter, Leveen wrote a letter to a local Oregon paper, Willamette Week. "It's true Kindergarten Cop is only a movie," the letter reads in part. "So are Birth of a Nation and Gone With the Wind, but we recognize films like those are not 'good family fun.' They are relics of how pop culture feeds racist assumptions. Because despite what the movie shows, in reality, schools don't transform cops. Cops transform schools, and in an extremely detrimental way."
What is Kindergarten Cop about?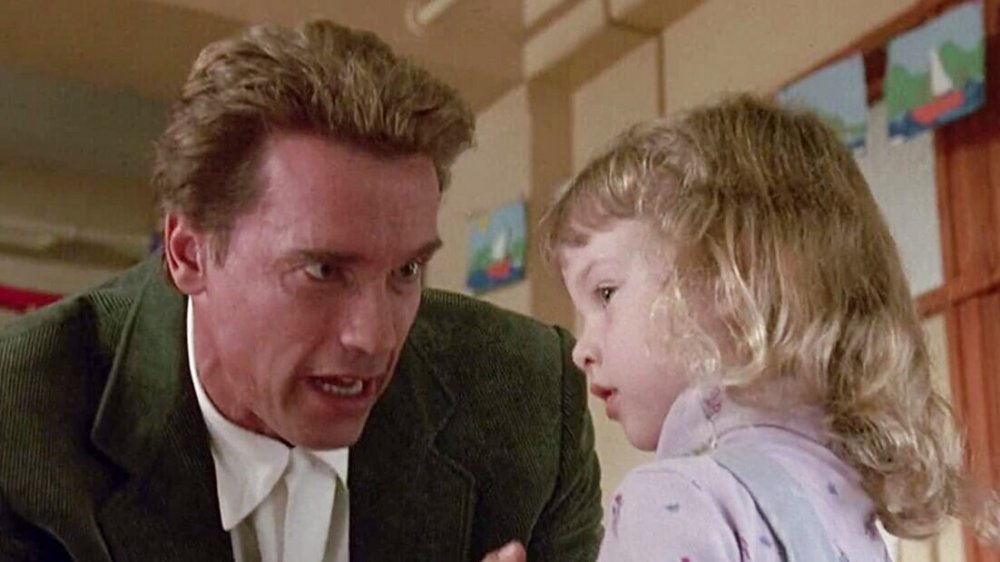 Universal Pictures
In Kindergarten Cop, Schwarzenegger portrays police detective John Kimble, who, as the film opens, has just made the arrest of his career. He's slapped the cuffs on Cullen Crisp (Richard Tyson), a murderous drug lord who had been in pursuit of his ex-wife Rachel (Penelope Ann Miller) and their son, Cullen Jr., whom he is determined to reclaim. Knowing that Rachel's testimony could put Crisp away for good, Kimble resolves to track her down — but all that's known is that the little boy is enrolled under the name "Dominic" in kindergarten at a small school in Astoria, Oregon.
Kimble and his partner Phoebe (Pamela Reed), a former teacher, hatch a plan: Phoebe will go undercover as a substitute teacher for that class in order to locate the boy's mother, who has taken on an assumed name of her own. But when Phoebe falls ill with severe food poisoning, Kimble must take her place. Of course, he's able to find Rachel — and when Crisp escapes from prison, Kimble must protect both her and the boy from his wrath.
Much of the film's humor comes from seeing Schwarzenegger, at the time the biggest action star in the world, figuratively and often literally brought to his knees by the boundless energy and nonsensical ravings of a classroom full of kindergartners. One could argue that even by the standards of 1990, Kindergarten Cop isn't exactly an accurate representation of school policing, and that its premise is pure Hollywood. That being said, Leveen certainly has a point about this particular time being an odd one to revisit the film. The Northwest Film Center agreed, choosing instead to open the Drive-In series with a film that's a bit more in step with current events.
The movie replacing Kindergarten Cop is a must-see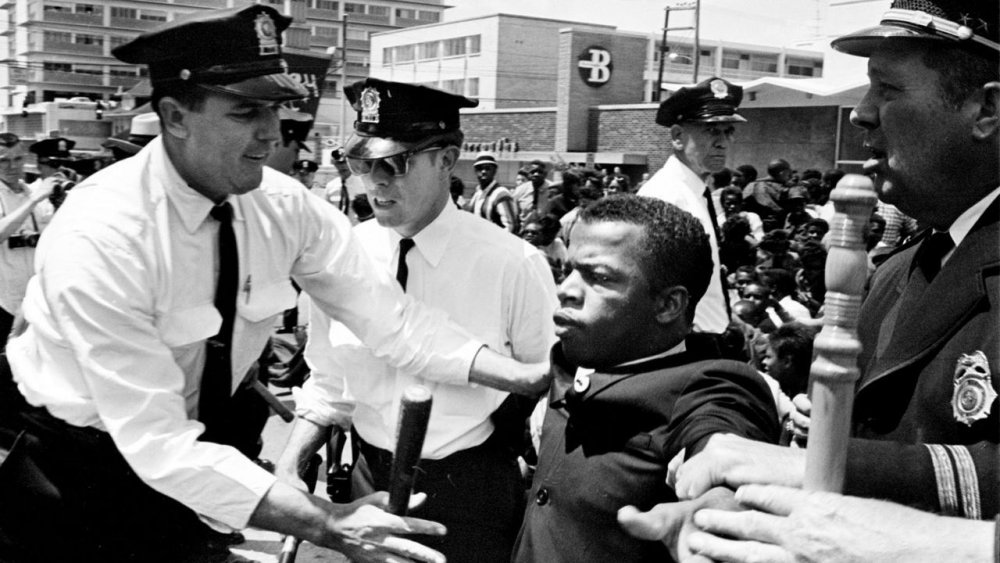 PBS
The series kicked off with John Lewis: Good Trouble, an examination of the life and legacy of the recently deceased Congressman who spent decades fighting for civil rights in America. Lewis was key to the organization of the 1963 March on Washington along with Martin Luther King Jr. and others, and had been a tireless champion of voting rights throughout his entire distinguished career. President Barack Obama awarded Lewis the Presidential Medal of Freedom in 2011, one of many such honors he deservedly earned in his lifetime. 
The film's title comes from a tweet the late Congressman posted in 2018, which read, "Do not get lost in a sea of despair. Be hopeful, be optimistic. Our struggle is not the struggle of a day, a week, a month, or a year, it is the struggle of a lifetime. Never, ever be afraid to make some noise and get in good trouble, necessary trouble."
John Lewis: Good Trouble opened the summer Drive-In series on August 6 — which was good news for many hoping to catch the flick, as the previously scheduled August 7 showing sold out. In a statement, the Northwest Film Center said, "Due to overwhelming demand, the Northwest Film Center has added a second showing of John Lewis: Good Trouble to the Cinema Unbound Drive-In at Zidell Yards. The additional showing on August 6 replaces Kindergarten Cop, which had been chosen for its importance in Oregon filmmaking history. After discussion with staff and community members, however, we agreed that at this moment in history, John Lewis: Good Trouble is the right film to open this year's Drive-In series" (via Washington Times).
While it's up for debate whether Kindergarten Cop belongs in the discussion about overpolicing of schools in America, it can hardly be argued that the flick simply isn't very good, and that John Lewis: Good Trouble should really be seen by everyone.