Former Walking Dead Showrunner Reveals His Biggest Regret - Exclusive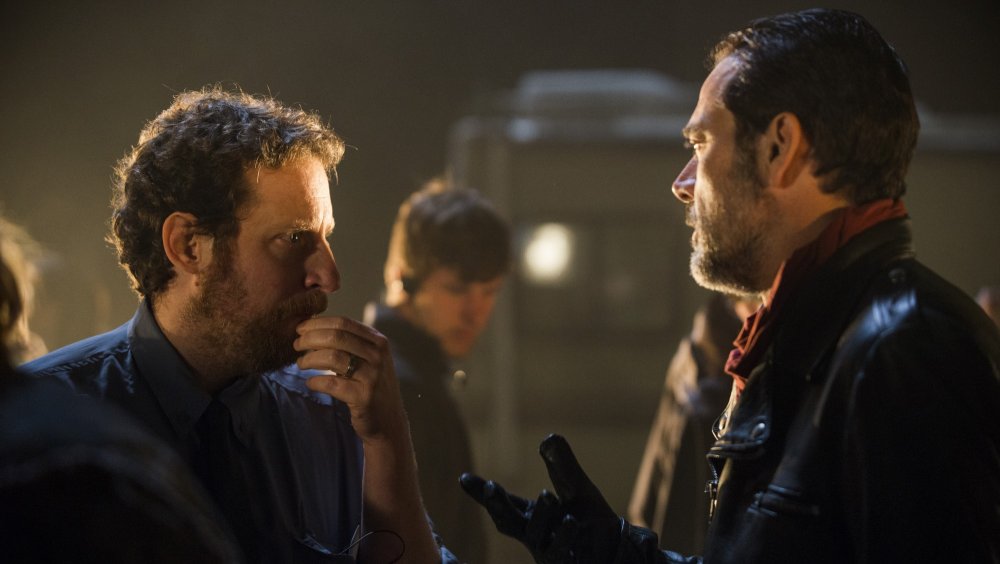 Gene Page/AMC
He started out as a co-producer and writer, and eventually moved on to become a showrunner for arguably one of the biggest horror sensations in television history. His name is Scott Gimple, and now he's at the helm as executive producer and Chief Content Officer of the ever-growing empire known as The Walking Dead universe.
Gimple has been associated with the brand since 2011, and he's inching his way to a ten-year anniversary. Today, The Walking Dead universe consists of three major television series, including the all-new spin-off World Beyond, which premiered earlier this month. However, the epic finale of The Walking Dead flagship series is just over the horizon. Its 11th and final season is currently in production, but don't fret — the walkers will continue walking for the foreseeable future. AMC recently announced a new spin-off featuring fan favorites Daryl Dixon (Noman Reedus) and Carol Peletier (Melissa McBride). Not only that, but we still have the triumphant return of Rick Grimes to look forward to — he's set to make a comeback in a trilogy of theatrically released movies.
With nearly ten years of creative decisions and showrunning under his belt, does Gimple have any regrets? Does he ever look back and wish certain storylines played out differently, or perhaps think that maybe a certain character bit the dust a little too soon? That was one of the burning questions Looper asked him during a recent exclusive interview.
"I was showrunner for 80 episodes of the show. We do 16 episodes a year, so there's no way that you could not have some regrets," explained Gimple when asked if he's ever wrestled with past narrative decisions. "But I'm also unbelievably astounded by the stuff that we did and that we continue to do. I'm blown away at what [current showrunner] Angela Kang and the writers have cooked up for these six episodes coming up."
After a brief pause, Gimple opened up about how tight-knit the cast is. To him, it's like one big family on set, and that makes it even harder to let certain characters go. Killing any of them off results in breaking up the happy clan. 
"I'll tell you this: It was amazing for this show that everyone was so in, everybody who was doing the show wanted to do the show, and it's like the greatest summer camp on Earth," said Gimple. "And it's amazing for a show that depended so much on death that nobody wanted to go and on top of that, no one was a jerk. There was no one who was like, 'Oh yeah, that person has to die.' I never believed in anybody dying outside of story reasons."
Scott Gimple on The Walking Dead's many deaths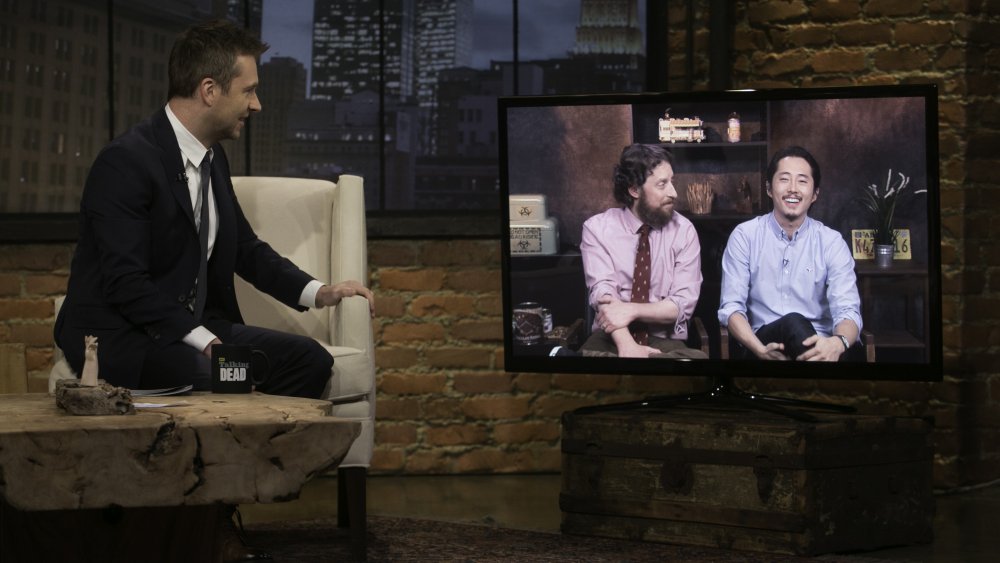 Jordin Althaus/AMC
As many fans already know, The Walking Dead is a revolving door of death. We've had to say goodbye to some beloved characters throughout the past ten seasons, and many of them have been a punch to the gut, to say the least. Who could forget season 2's tear-jerking reveal when a walker-turned Sophia limped out of that barn? Or the savage way the Governor put down poor old Hershel in the midseason finale of season 4?  The most-hyped, guessing-game deaths of all were the grisly final moments of Glenn and Abraham when Negan introduced them to Lucille, his barbed wire-wrapped bat, during the major spectacle that was the season 7 premiere. 
The Walking Dead doesn't take these deaths lightly. Traditionally, after a character has met their end, they're often treated to a touching and emotional send-off during the post-episode talk show Talking Dead, complete with a montage tribute.
It seems a lot of these farewells have struck a chord with Gimple — and not just because the onscreen deaths are so emotionally stirring. It all links back to how close the cast is even when they're off set. 
"I sort of regret all of the deaths in as much as that I loved working with these people," revealed Gimple. "And it was a very tough show in as much as it's so warm, so familial, and yet, death was such a part of it — and still is such a part of it. I have friends to this day [whose characters] I have killed [on the show], and it's always in the back of my mind when we're hanging out — granted, on Zoom more often than not. It's like, 'Oh, it would have been so much fun to do so much more with them.' And I hope to work with a lot of the people who have been on The Walking Dead on different things, because it's just amazing how wonderful this cast is. I know it sounds ridiculous, that isn't how it works in Hollywood. But unfortunately for The Walking Dead, a show that kills people, it's uniformly wonderful people."
So, out of all the great characters who have come and gone during The Walking Dead's run so far, which death was the most difficult for Gimple to handle? 
"Oh gosh. The Glenn one. I would say Glenn — and Abraham — I'm not leaving Abraham out of that," said Gimple, without hesitation. "That episode was really painful to write, and I think I was going through it from Rick, Maggie, and Sasha's perspective, and Rosita's as well — feeling it from their side of things."
Gimple then elaborated on what type of mindset he has when writing out scenes that lead up to a character's demise. He pretty much lives out the scene in his head, gruesome details and all, and it's an emotionally draining task. In a warped sort of way, it's as if he's killing off his own dear friends. 
"On a script like that, everything is shut down in life and you're just working on that. You're just getting inside of that, and that was, from a writing perspective, very difficult to go down that road," he explained. "To live inside that episode and then to shoot that episode and feel it — it was traumatic for me especially because I'm close with Steven Yeun and Michael Cudlitz. Even to write that episode correctly, I think you had to feel it, and it was pretty traumatizing. All of the deaths have been very hard, extremely hard. But that one, I kind of lived through it to write it."