Scott Gimple Teases Rick Grimes Movie Update - Exclusive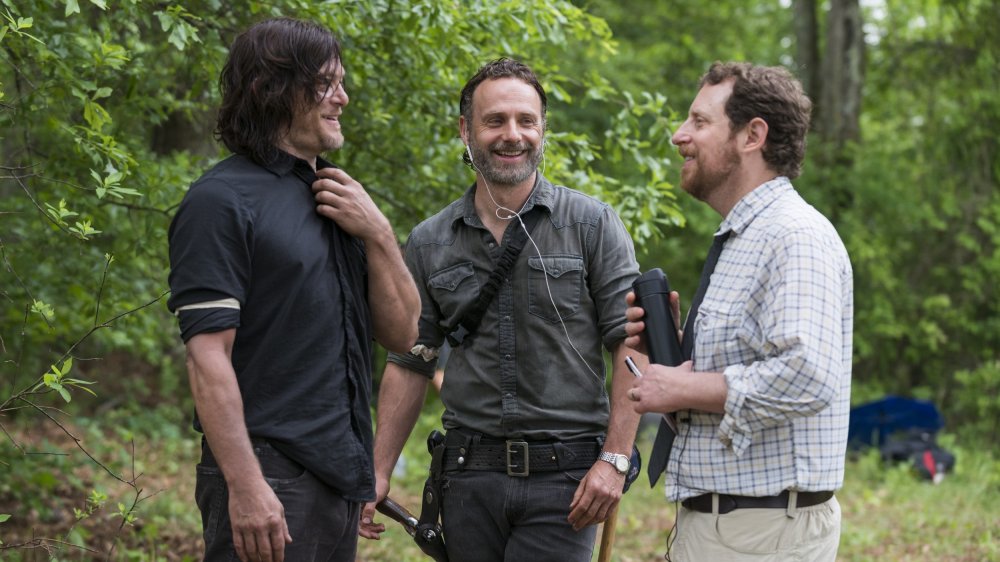 Gene Page/AMC
It's October, Halloween season has arrived, and traditionally, horror fans are spoiled by a sudden flux of spooky content. Every year, like clockwork, we celebrate the season with new episodes of coveted horror shows like American Horror Story and The Walking Dead — but unfortunately, that's not the case this year. Thanks to the ongoing pandemic, Hollywood was struck with a major curveball, and COVID-19 caused a ripple effect that disrupted and reshaped the industry as we know it. Major films slated for release in 2020 were either delayed or pulled from release entirely, putting their fates in a state of limbo. Many film and television productions were suspended, while others were tossed to the back burner.
In the case of AMC's The Walking Dead, the hit flagship series had to temporarily halt all productions — but according to The Walking Dead's Chief Content Officer Scott Gimple, the machine has been recalibrated and things are finally starting to gear up. In other words, the walkers are walking again. 
"It's been such a weird year in general, even October doesn't feel like October," Gimple said in an exclusive interview with Looper when asked about how he was adjusting to the repercussions of the pandemic. "There's so much strangeness going on, but we're ramping up again. We're getting started again – which we never did at this time of year, we were usually ending at this time of year. So, I don't know, there's been a lot of distraction from the amount of work on all those shows."
This year would've marked the premiere of the The Walking Dead's 11th (and final) season, but now we won't see that until next year. Thankfully, the sixth season of Fear the Walking Dead and the premiere of the brand-new spin-off The Walking Dead: World Beyond were mostly in the can and slated for earlier this year. Both shows now have the honor of filling the October void. 
World Beyond will lay the groundwork for the Rick Grimes films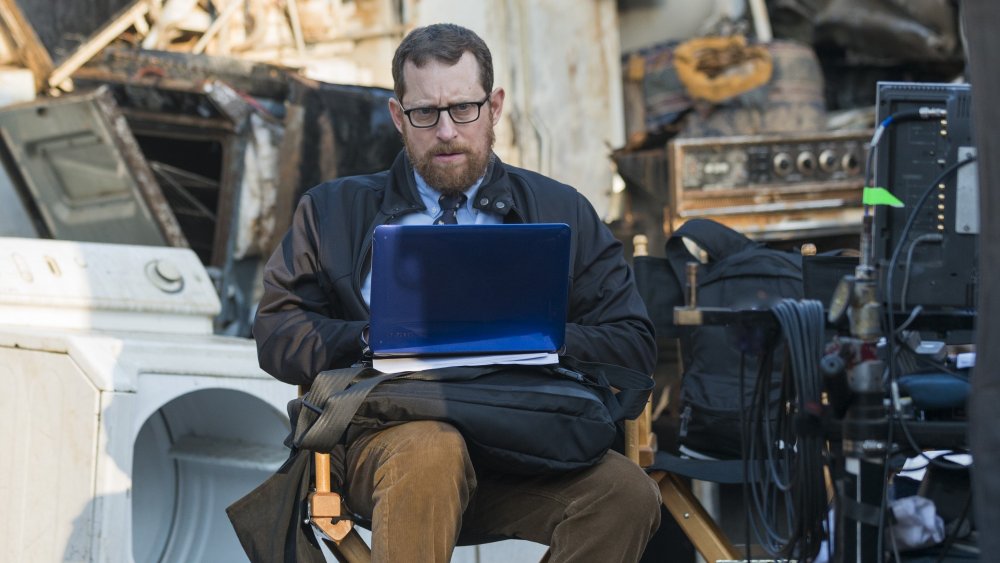 Gene Page/AMC
Gimple has been a part of The Walking Dead family since 2011. He started out as a co-producer and writer, then held the mantle of showrunner by the time the show premiered with its fourth season. During Gimple's tenure as showrunner, The Walking Dead arguably finally found its stride, not only receiving massive critical acclaim, but also experiencing record-breaking spikes in its ratings.
By 2018, he became Chief Content Officer, making him the overseer of the entire Walking Dead universe. That empire now consists two additional shows: Fear the Walking Dead, and its latest addition to the undead family, World Beyond. There's even a major Rick Grimes movie trilogy in the works, as well as the anthology series Tales of the Walking Dead and a spin-off centered on Daryl Dixon and Carol Peletier. 
As you can imagine, Gimple is like the conductor of a massive orchestra, and he's busier than ever.
"It's a hell of a juggling act," he said when asked about his laundry list of duties. "Luckily, the showrunners themselves are a huge source of support, and then there's all of the other people I'm working with. But yeah, it's crazy, and so many things shift. And then this year, everything shifted. The juggling act was like you were juggling those pins and then they threw in a couple of chainsaws just to make it interesting. It's an incredible juggling act, but I will say, in my position, it's extremely helpful to be dancing between all these things because you can see the connective tissue and you can see those stories. Whether they go in and out of every show or some of the shows, whether it has to do with the movies or things we're doing in the future, it is cool to be in the middle of it all."
Speaking of the Walking Dead movies, what's going on with them? World Beyond was originally announced as a two-season limited series that will pave the way for the long-awaited Rick Grimes movies, but with the recent shifts in the production schedule, is that still the case? 
"That's absolutely still the plan," Gimple confirmed — but he then hinted that World Beyond could possibly stretch further, if necessary. "Everything is changing all over the place, so you never know. But we're working on it and moving forward. If we need to make more, we will. This is the first one that we've done in such a short way. I mean, granted, a lot of shows do this now, but we had a lot of story and have a lot of story to get to, so we'll see happens."
In World Beyond, we learn a lot more about the mysterious CRM (Civil Republic Military), the group who abducted Rick Grimes during season 9. Is it possible that these new characters will spill over into the new movies? 
"Anything is possible," shared Gimple, who has a reputation for treading carefully around spoilers. "I think it's probable not to see much crossover in these first movies — but, again, everything's changing. And this is taking a lot longer now than we expected. I'm just talking from a COVID-19 point of view, this big chunk of time we didn't anticipate. I think Robert Kirkman said it best: We're using this time to really go over it and really road test it and really consider all the different directions we're going in. So, we're still in the lab in some ways. We've done a lot of work on it, but we're trying to perfect it at the moment."