Mission: Impossible 7 Returns To Filming With The Most Epic Stunt Teased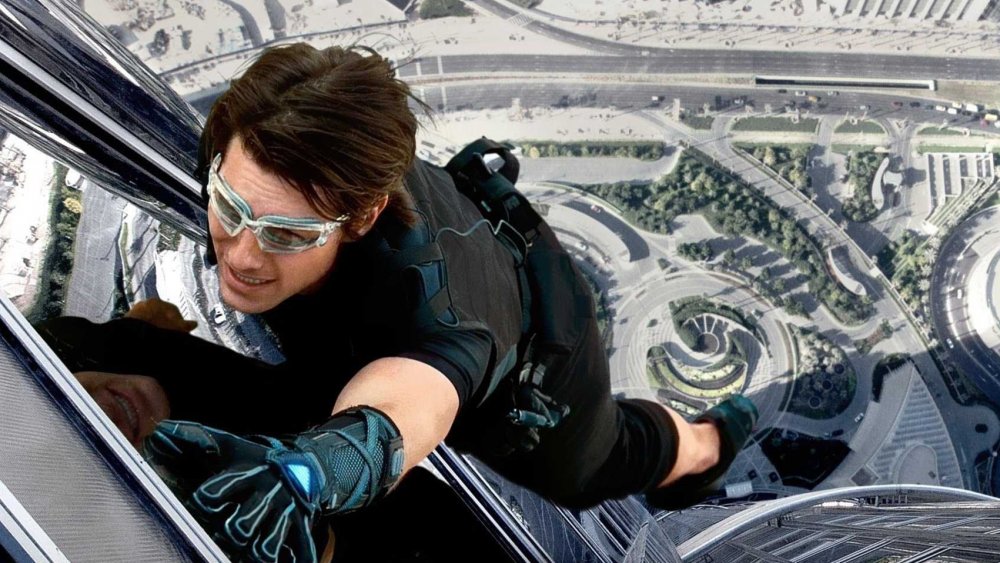 Paramount Pictures
Today's high-stakes action film landscape — where seemingly every new film, irrespective of franchise, outdoes both itself and its competitors — means you have to put in special effort to turn heads. Mission: Impossible 7's production, then, seeks to do it in the most eye-popping way possible. 
The newest Tom Cruise spy jaunt is officially back on the filming horse, as demonstrated by an impressive Instagram post from the film's writer-director, Christopher McQuarrie, which displays a massive ramp construction, soaring easily fifty feet up, built at the edge of a cliff in a mountain valley. If you're already feeling the vertigo, just from thinking about the immense scale of it all ... well, just imagine what that will be like for whoever's on the hook to ride the car, motorcycle, or whatever other vehicle has to zoom off the edge of it. 
For now, there's no clue as to which character might be doing a sick flip off that grandiose ramp, but it almost doesn't matter, considering the sheer boldness of the stunt, and the questions it creates. For instance, what happens once you drive off? Pop a parachute, and write off whatever vehicle you just sent to a fiery destruction on your tax return? Even crazier, it's hard to shake the sense that this might not even be the biggest stunt of the movie. After all, remember the airplane stunt in Mission: Impossible – Rogue Nation? This is just a Tuesday for these people, at this point.
Big stunts, big holdups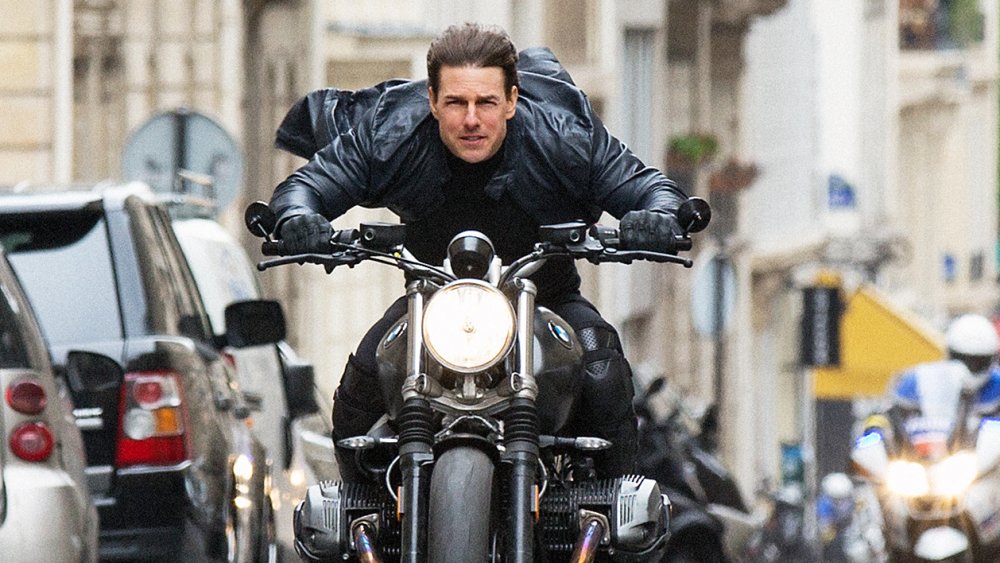 Paramount Pictures
McQuarrie has good reasons to announce the return to filming with such style. Mission: Impossible 7 has had a bumpy road through production, so far, and everyone needs a bit of a morale boost to drum up fan interest. 
The film's production was one of many that were shut down in the late spring, by COVID-19 concerns. Mission: Impossible 7, though, eventually wrangled special permission from the U.K. (where they had been working when they shut down) to continue filming in July. That tentative return was hit with another major delay when a motorcycle stunt off a building went awry in Oxfordshire, just a few weeks later. Thankfully, the stunt double was not hurt, but reportedly the footage is unusable ... and the stunt, already very expensive, completely destroyed the motorcycle. 
COVID-19 still looms large over all movie productions right now, in general — look at what just happened with The Batman — but Cruise is allegedly making an effort to circumvent the pandemic. According to the Independent, he has rented an entire cruise ship to house his cast and crew in a bubble-like environment, much like the NBA is doing in Orlando. He is determined to avoid further delays, hoping that the release date will not be moved again. We certainly can't wait to see how these insane stunts come together in the final cut, either, whenever that should happen. 
For now, the film is still scheduled for a November 2021 release.