The Eric And Donna Scene From That '70s Show That Means More Than You Think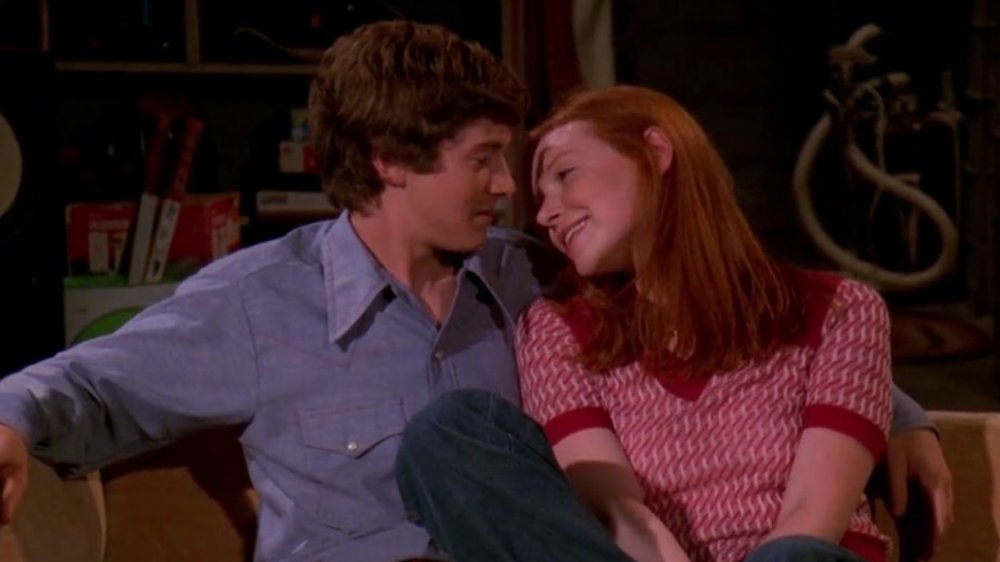 20th Television
When you set a '90s sitcom around teenagers in the 1970s, it's hard to avoid taking a jab at disco. But That '70s Show devoted an entire episode to the music genre, and in doing so, created one of the most meaningful scenes for two of its main characters.
On season 1's "That Disco Episode," the gang learns there's a new disco that opened up in Kinosha, not far from their fictional small town of Point Place, Wisconsin. Each character has their own motivation for going: Kelso (Ashton Kutcher) wants to flirt, even though he's dating Jackie (Mila Kunis); Fez (Wilmer Valderrama) and Jackie want to dance; and Eric (Topher Grace) wants to go to be near Donna (Laura Prepon).
But Hyde (Danny Masterson) has no interest in joining, because, as he tells Eric's dad Red (Kurtwood Smith), he doesn't want to listen to "phony people listening to crappy music." However, Red soon realizes Hyde's decision not to go lies in the latter's inability to dance. Red assures Hyde that women always want to dance, and gets his wife Kitty (Debra Jo Rupp) to teach Hyde some steps.
Donna and Hyde get very close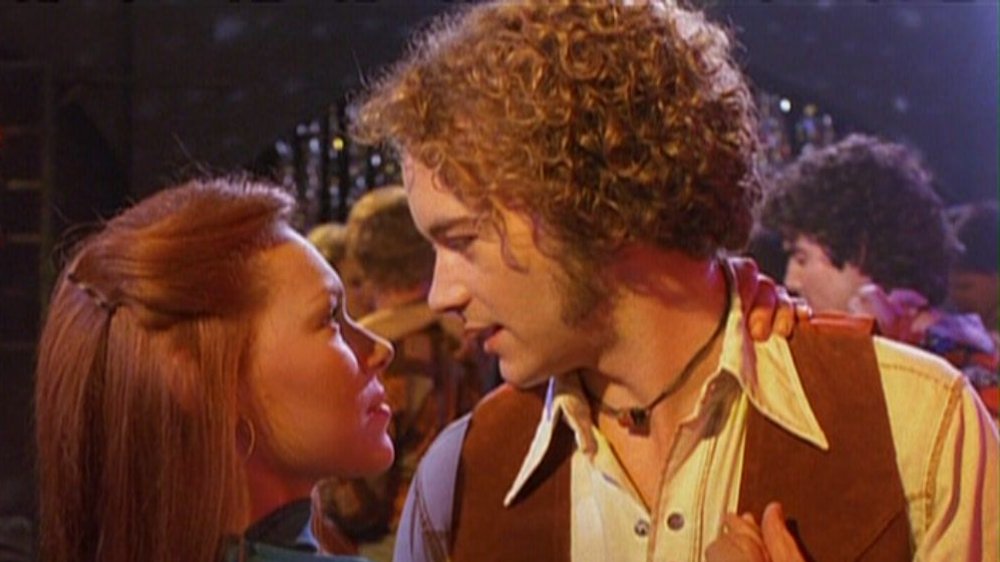 20th Television
Hyde and Kitty practice dancing in her living room, and as Hyde improves, the nosy Bob Pinciotti (Donna's father), stopping by to drop off his thermos, mistakes Hyde and Kitty's dancing lessons for a romantic affair.
When the gang finally gets to the disco, Fez and Jackie steal the show with an impressive dance routine, simultaneously making bad dancer Kelso jealous. Donna sees the routine and wants to dance too. Eric doesn't have much motivation to get on the dance floor, so Hyde offers to dance with Donna. Suddenly, we see the two of them closely dancing to ABBA's "Fernando."
"This is a side of you I've never seen," Donna tells Hyde, impressed with his moves. Hyde then reveals he wants to kiss Donna — but instead of accepting his offer, Donna tells Hyde to "shut up and dance" instead. No kiss for Hyde, clearly disappointed. 
Eric admits he really likes Donna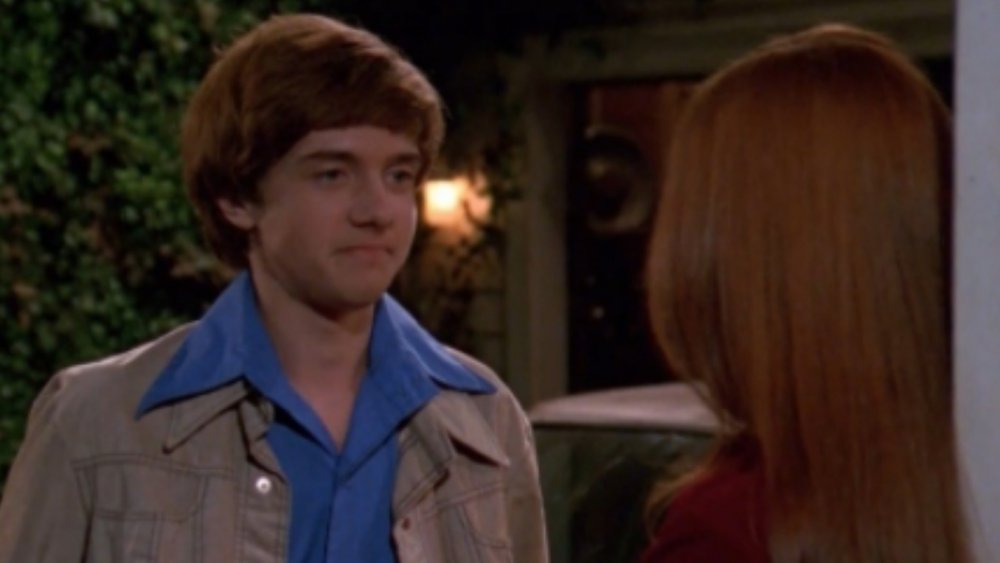 20th Television
At the end of the episode, we get one of the most meaningful scenes of the show. When Eric and Donna recount the night, making various "remember when...?" statements, Eric jokingly sing-talks the opening lines of "Fernando" to her. Eric admits he hates dance music, prompting Donna to ask him why he went to the disco in the first place. "I like you," he tells her. Donna then asks if he's in "like" with her, and the two kiss.
Then, Eric admits he can't dance. Donna says, "You'll learn." When Eric says he wants to kiss Donna again, she tells him to "shut up and dance" — echoing what she told Hyde earlier, but now in a reciprocated context.
Reddit user u/laurenlamas notes that this scene "mirrors the scene with Hyde earlier." They point out how Hyde made an "effort to learn how to dance," but "Eric didn't." Even with the effort he put in, Hyde fails to get a kiss from Donna. In contrast, even with his awkward dancing and admitted hatred of dance music, Eric got his kiss — revealing that Donna and Eric, even this early on in the series, felt a spark for one another.
That same Reddit thread is filled with words like "cute," "iconic," and "legendary" to sum up the scene. Various users praise the moment for so aptly showing the chemistry between two characters who would go on to date throughout the show and eventually end up together on the series' finale.