The Cobra Kai Scene That Hints At Daniel And Johnny's Partnership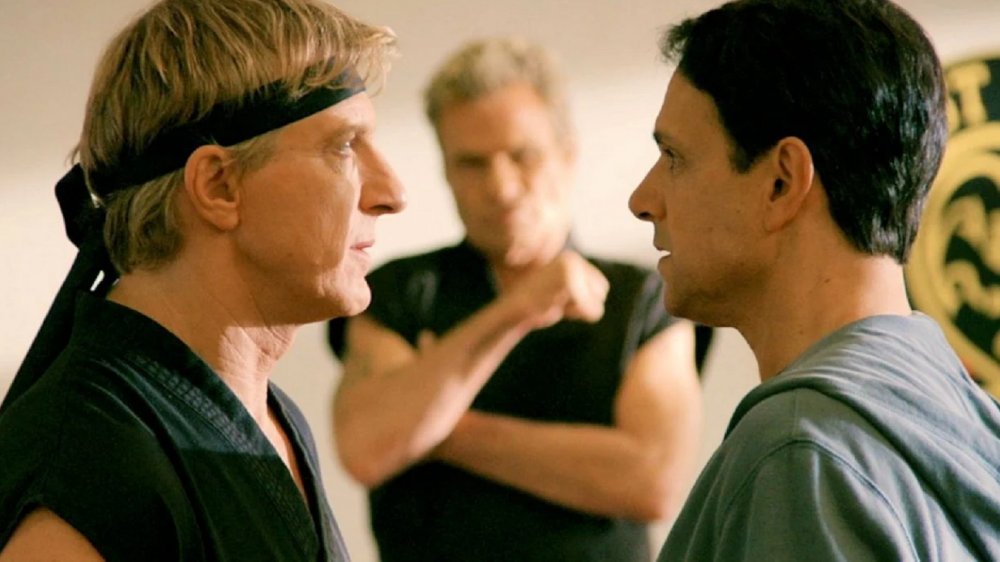 Netflix
Of all the complicated relationships on the hit Netflix series Cobra Kai, none is more contentious than the one at its center between Johnny Lawrence (William Zabka) and Daniel LaRusso (Ralph Macchio). Ever since the latter famously defeated the former in the All-Valley Under 18 Karate Championship at the conclusion of 1984's The Karate Kid, the two rivals have cultivated very different ideas about just who was the aggressor during their high school days when they competed not only in karate, but for the affections of the beautiful Ali (Elisabeth Shue), who was Johnny's girl until New Jersey transplant Daniel rolled into their Reseda, California neighborhood. 
During Cobra Kai's first season, Daniel responded to Johnny's revival of the infamous titular dojo by establishing his own: Miyagi-Do Karate, based on the teachings of his dearly departed, beloved sensei, Nariyoshi Miyagi (the late Pat Morita). That season concluded with Cobra Kai's Miguel (Xolo Maridueña) defeating Miyago-Do's Robby (Tanner Buchanan), Johnny's estranged son and Daniel's student, at the All-Valley Championship's 50th Anniversary tournament — and with the surprise return of John Kreese (Martin Kove), Johnny's own tough-as-nails former sensei. 
The series' second season saw tensions between the two dojos — fueled by Kreese's slow takeover of Cobra Kai, as well as the love triangle between Miguel, Robby, and Daniel's daughter Samantha (Mary Mouser) — reach a boiling point. At its end, Kreese had succeeded in ousting Johnny from his own dojo, Miguel was left with a serious back injury after a brawl with Robby in the halls of their high school, and Daniel's wife Amanda (Courtney Henggeler) had issued her husband a stern proclamation: "No more karate!"
Judging by the recently-dropped trailer for Cobra Kai's third season, things look to only be getting more tense between Daniel and Johnny in the aftermath of Miguel's horrific injury. But one scene in the show's first season suggests that the two bitter foes just might find some common ground.
Cobra Kai's tale of two cars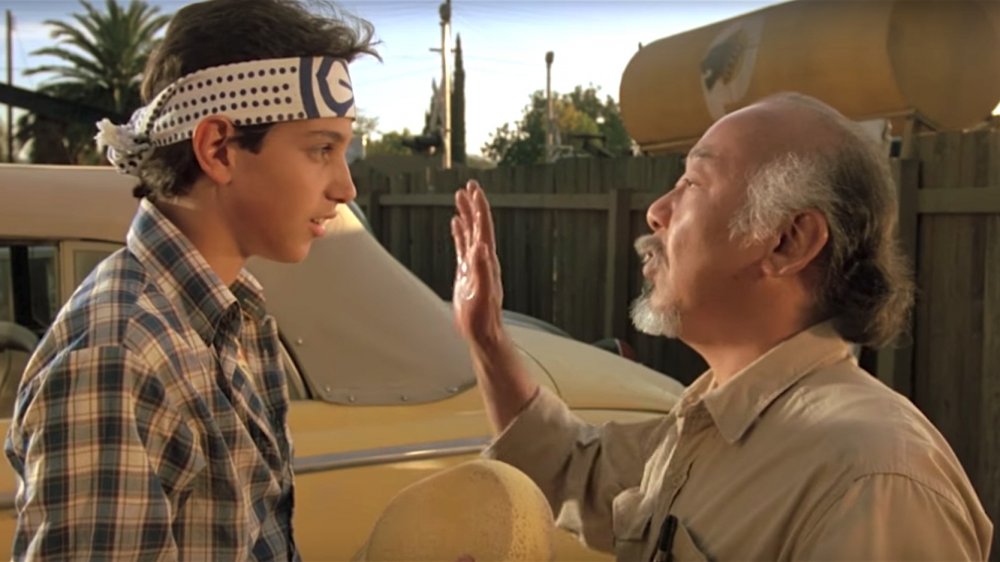 Columbia Pictures
In that season's tellingly-titled ninth episode, "Different but Same," an enraged Johnny shows up at Daniel's house after having his car trashed by Daniel's thuggish cousin Louie and his buddies. The situation threatens to quickly become violent, but it's expertly defused by Amanda, who invites Johnny to come in and have breakfast. Daniel, of course, is disgusted with Louie's actions, and after breakfast, he drives Johnny to his car dealership, where he allows his long-time rival to pick out a new ride from his used car lot. After he does, the pair actually seem to bond, jamming out to an old REO Speedwagon tune and talking about their lives before their rivalry began.
Alas, the truce is short-lived. Upon arriving back at Daniel's house, Johnny discovers that Daniel has been training Robby, who had neglected to tell Daniel that he was Johnny's son. Once again, Johnny feels that someone he loves has betrayed him in favor of Daniel, and the tenuous bond they had begun to form is shattered. 
There's a lot going on here, not the least of which is the suggestion that if they could just put the past behind them, Johnny and Daniel might not be rivals — they might, indeed, even be friends, despite their differences. That's certainly one reading of the episode's title ... which, incidentally, is how Mr. Miyagi described Daniel and Ali, the source of Daniel and Johnny's decades-long beef, in The Karate Kid. Also, recall that in the movie, Miyagi allowed Daniel to choose a classic car from his own collection as a birthday gift — an occurrence that is echoed by Daniel's peace offering to Johnny. Could this episode actually be one extra-long instance of foreshadowing? Could Johnny and Daniel, as Robby even suggested, find that they have a lot to learn from each other?
Daniel and Johnny could team up to take down Kreese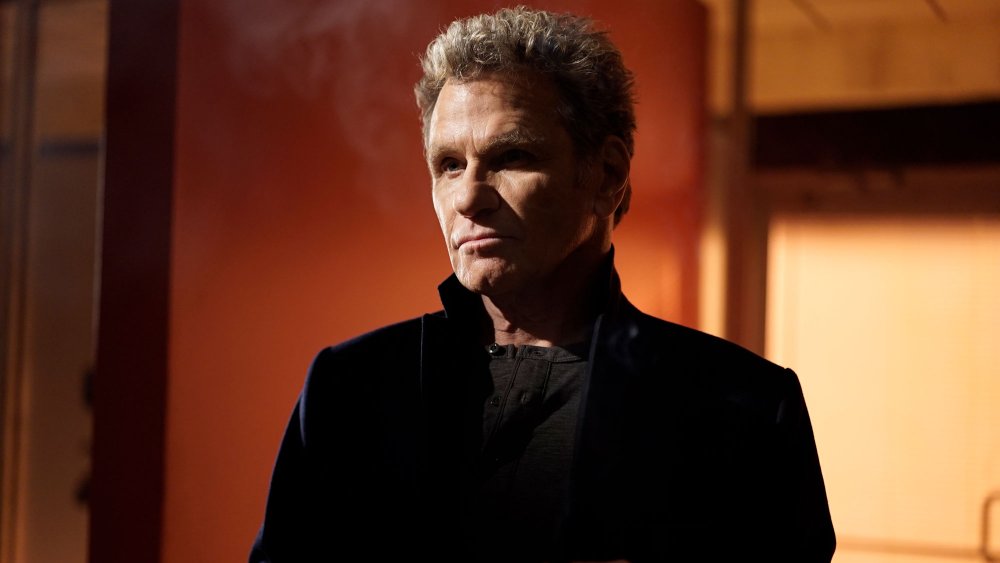 Netflix
It's pretty tough to imagine Daniel and Johnny actually working together for any reason, except perhaps one: To oppose Kreese, who has now made enemies of them both. Kreese was violently antagonistic toward Miyagi when the latter was alive, and dismissive of him after his death, even mockingly telling Daniel to give his deceased sensei his regards, and it goes without saying that Daniel would like nothing more than to see Kreese, and Cobra Kai, run out of town forever.
Due to Johnny's perceived softening of his "Strike First, Strike Hard, No Mercy" credo, Kreese spent the entirety of Cobra Kai's second season subtly manipulating Johnny's students in an effort to shift their loyalty away from Johnny and toward him, with a shocking degree of success. By the season's final episode, Kreese has convinced Johnny's landlord to turn the dojo over to him, and seemingly converted Johnny's students — who even encircle Kreese to protect him from an assault by Johnny — to his supremely unethical style of karate.
One thing that Cobra Kai has made clear is that Johnny, at the end of the day, isn't such a bad guy. He may be at times severely misguided, and the show has strongly suggested that this is due at least in part to childhood abuse, but he has shown a willingness to change, and even to reconsider his feelings toward Daniel. It's probably no coincidence that the second season's ninth episode, "Pulpo," also featured a bonding moment between the two when they ran into each other at a Mexican restaurant with their respective dates in a moment that was, once again, likely ruined by the season-ending brawl between their respective students.
Ironically, it just might be Kreese who inadvertently brings the lifelong enemies together for a common cause: Taking him down, wiping out his influence, and bringing a modicum of the honor that Johnny had been diligently working to restore to Cobra Kai. We'll see how it plays out when Cobra Kai season 3 debuts on Netflix on January 8, 2021.