Small Details You Missed In The Cobra Kai Season 3 Announcement Teaser
Netflix's Cobra Kai started as a fun look into the grown-up lives of The Karate Kid's Johnny Lawrence (William Zabka) and Daniel LaRusso (Ralph Macchio). However, it soon expanded into a fascinating look at generational trauma, the difficulty of growing up, and the hurtful effects of enmity — with plenty of kicking and karate chops thrown in for good measure. The fast-striking, yet deep approach has been a winning combination, to the point that Cobra Kai fans just got the best news ever when Netflix renewed the show for a fourth season. What's more, the streaming service just dropped a season 3 release date announcement teaser, which  confirms that the third season will drop on January 8, 2021.
It's a good thing, too, because season 2 ended pretty badly for everyone involved. Johnny's best student, Miguel Diaz (Xolo Maridueña), had a climactic fight with Daniel's protege — and Johnny's son — Robby Keene (Tanner Buchanan). Miguel ultimately embraced Johnny's teachings and showed the beaten Robby mercy, but Robby countered by knocking Miguel over a railing, sending him to hospital in critical condition. As such, season 3 sees both Daniel and Johnny in a position where their teachings have failed their students and, in a strange way, each other. Oh, and the Cobra Kai dojo is now under the control of John Kreese (Martin Kove), who seems intent on corrupting yet another batch of impressionable youngsters into merciless attack machines. 
January 8 is still a long time away, but fortunately the season 3 teaser offers plenty of clues about the shape of things to come. Let's take a look at the small details you missed in Cobra Kai's season 3 trailer.
"What did you think would happen?"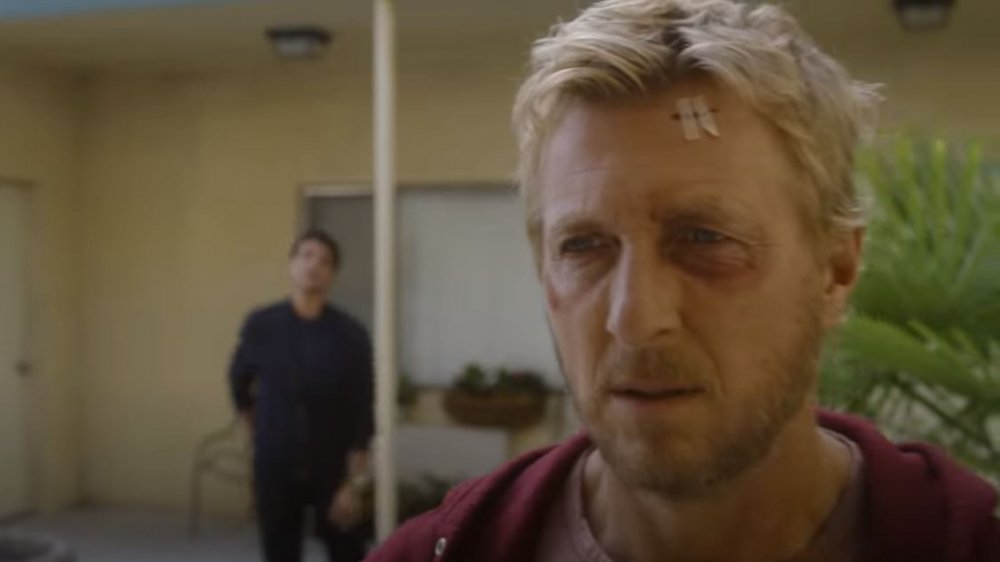 Netflix
Apart from a furious "Cobra Kai" chant, the only spoken words in the Cobra Kai season 3 announcement trailer come from Daniel, who asks Johnny: "What did you think would happen?" It's surprising to see the two on speaking terms after coming to blows near the end of season 2. Clearly, something has happened to make them join forces, or at least to discuss things without reflexively attempting to spin-kick each other to oblivion.
Daniel's heavily loaded question could mean any number of things. Like so many others, Daniel may blame Johnny for Miguel's injury, though he's not exactly blameless himself. Daniel might also question Johnny's decisions to reopen Cobra Kai and to bring Kreese back in the mix. Then again, it's worth noting that Johnny is significantly worse for wear than he was at the end of season 2, with a busted face and a nasty cut in his forehead. Who could beat him up so badly? Did Johnny go back to the Cobra Kai dojo to confront Kreese?
Incidentally, Daniel appears to be wearing the same clothes here as he does later in the teaser, where we see him looking extremely worried. Obviously, the man has a lot to worry about after the events of season 2, but it looks like whatever this particular trouble is, it happens on the same day as the meeting between him and Johnny. 
Which side of the bars is Johnny on?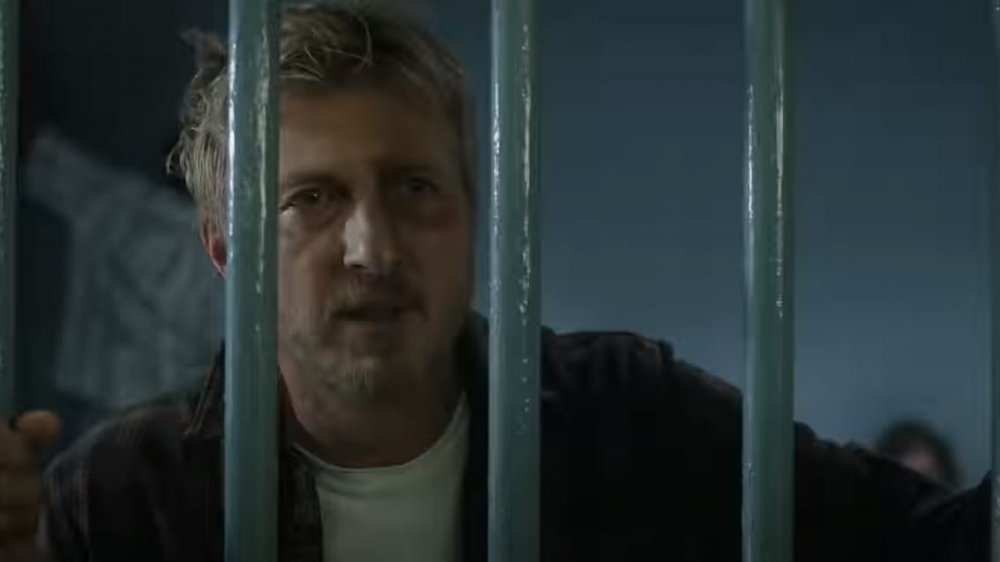 Netflix
Next up, we see Johnny in different clothes and without the cut on his forehead, though he does already seem pretty busted up. It looks like the poor guy will take more than one beating this season! 
More importantly, though, Johnny seems to be either behind the bars himself, or visiting someone in jail. If Johnny managed to get himself arrested, this might set up the meeting between him and Daniel, seeing as his old adversary is pretty much the only connection Johnny has left with enough funds and potential good will to bail him out. But why would Daniel do so? Is that why he was worried? And at which point does Johnny receive his forehead cut? Does ... does Daniel give him that? 
A much more likely situation here is that Johnny's simply visiting someone. Said someone would most likely be Robby, the far and away most likely person to find himself behind bars in season 3, courtesy of the injury he caused to Miguel. Whenever Johnny's personally in trouble, his default expression tends to be detached grumpiness. As such, his vulnerable face here does makes it seem like he's in worried father mode, doesn't it?
Miguel's tragic fall will impact everyone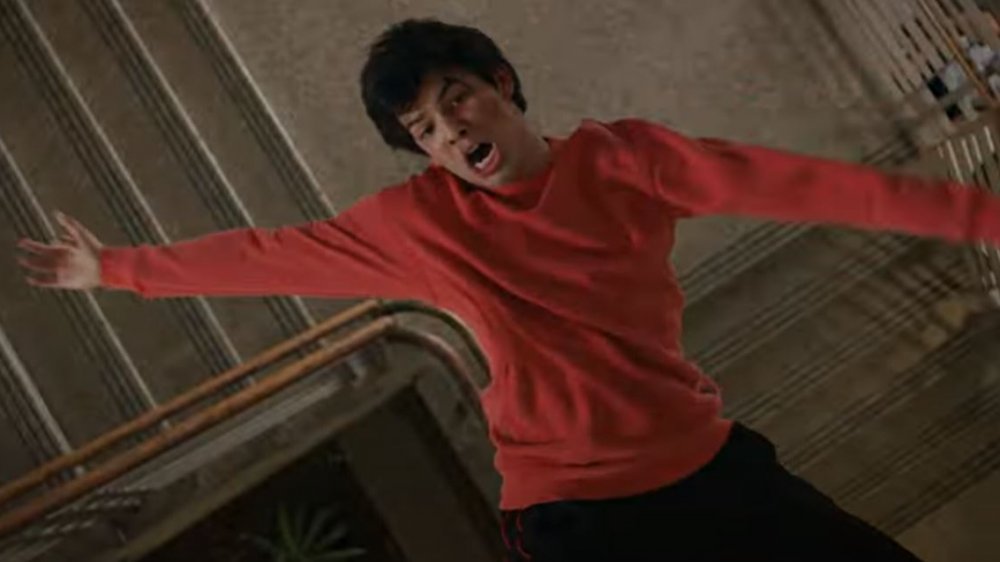 Netflix
The season 2 finale of Cobra Kai ends in the climactic school hallway fight between Miguel and Robby — as well as Sam (Mary Mouser) and Tory (Peyton List), and everyone else in Cobra Kai and Miyagi-Do. This disastrous face-off features heavily in the teaser, with multiple bits and pieces of Robby and Miguel's furious battle intercut with the new clips. Unfortunately, we also see the tragic outcome of said fight, in which Robby kicks Miguel over a railing and the Cobra Kai youngster falls down, injuring his back. 
It was always obvious that season 3 would have to deal with this tragic incident in some way, but the trailer makes it seem that it'll turn into the focal point of the entire season. In fact, the vast majority of the teaser seems to be devoted to either the fight itself or people dealing with its tragic aftermath. If the impact of Miguel's fall was ever in question, it most certainly isn't anymore. From the looks of it, there isn't a single Cobra Kai character whose life won't be completely and utterly upended by this one tragic event. 
Amanda and Sam are having a bad time of it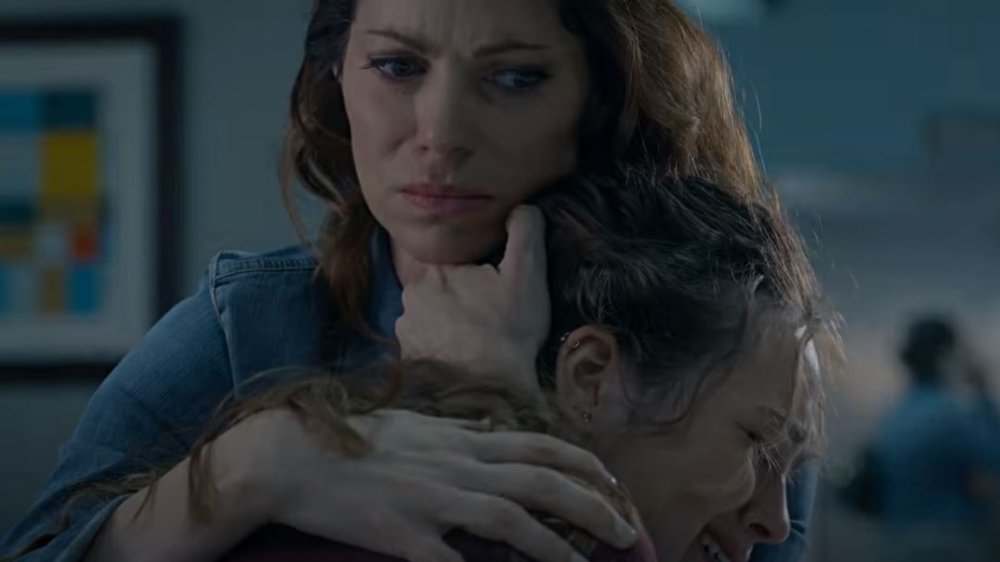 Netflix
The focus turns on the ladies of the LaRusso family, as we see Amanda (Courtney Henggeler) holding an inconsolable Sam. Based on the colors of their surroundings, this sad moment might happen in the same place where we see Johnny in the "behind the bars" scene, or perhaps the hospital where they keep Miguel. Since it's unlikely that either lady would look that sad over the arrest of Mr. Lawrence, it's probably safe to assume that they're either visiting Miguel, or perhaps Robby in whatever correctional facility he finds himself. It's not clear precisely why Sam is crying, but it's pretty likely that she's still blaming herself over the events of the season 2 finale. 
After this, the teaser shows a melancholic Sam examining her wounds from her fight with Tory. Based on the way they've healed, it's probably been at least a few weeks — so, at the very least, we know that season 3 won't exclusively focus on a few days after the dramatic events of season 2.
The law catches up with Robby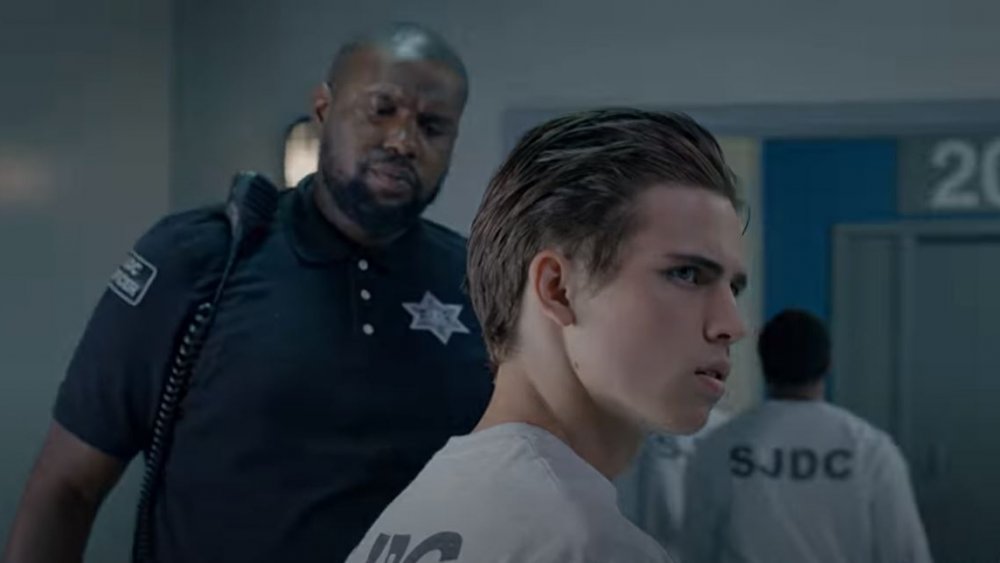 Netflix
Robby Keene may not have wanted to injure Miguel quite as badly as he did, but the road to hell is paved with good intentions. Our first look at Johnny's wayward son sees him with a considerably shorter haircut, courtesy of the juvenile detention center he seems to be incarcerated in. The situation looks a lot like the end of a tense visiting hour, and based on Robby's less-than-pleased expression, his visitor just might be either Johnny or Sam. 
Apart from Miguel, Robby is the character whose life is most seriously impacted by the events of the season 2 finale. It's unlikely that he spends the rest of his days behind bars, but it's hard to see him waltzing out of "SJDC" in a hurry. Robby is a good kid with a lot of demons, and now that he's in a place where he's bound to end up in some pretty shady company, it will be interesting to see if he's able to learn from his mistakes and become a better man — or if he gives in to the dark side and embraces a more antagonistic role, much like his father did in The Karate Kid.   
Tory's back, but where?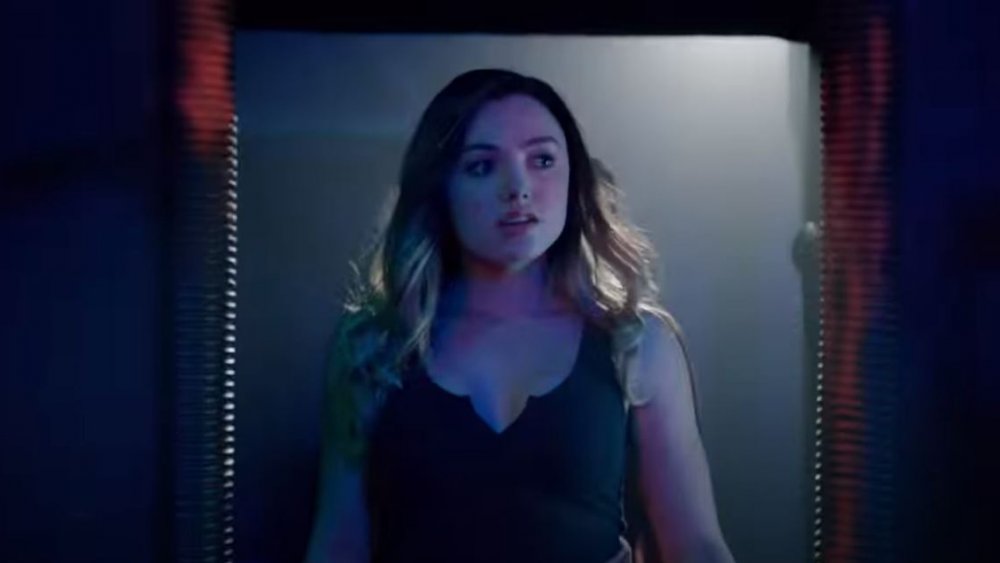 Netflix
It's Tory, and the look on her face makes it clear that she's not out to play. Judging by the way she scans the area as she walks in the room, she's looking for someone specific — but where is she? We see someone move behind her, so she's not hanging out in some shady, dark place all by herself. The doorway and the strange, ribbed, pipe-like pillars make it seem like this could be a bar or a club of some sort, but high schoolers aren't generally welcome in such places. 
Then again, it doesn't look like Tory's about to ask permission from anyone. She walks in the room almost like she's looking for a fight, and knows exactly where she's going to find it. Is she out to confront Sam once again? Or is she looking for someone else? Perhaps a certain someone who likes to hang around in seedy bars, and used to train her before Kreese ousted him from Cobra Kai? 
A bloody good time at Cobra Kai?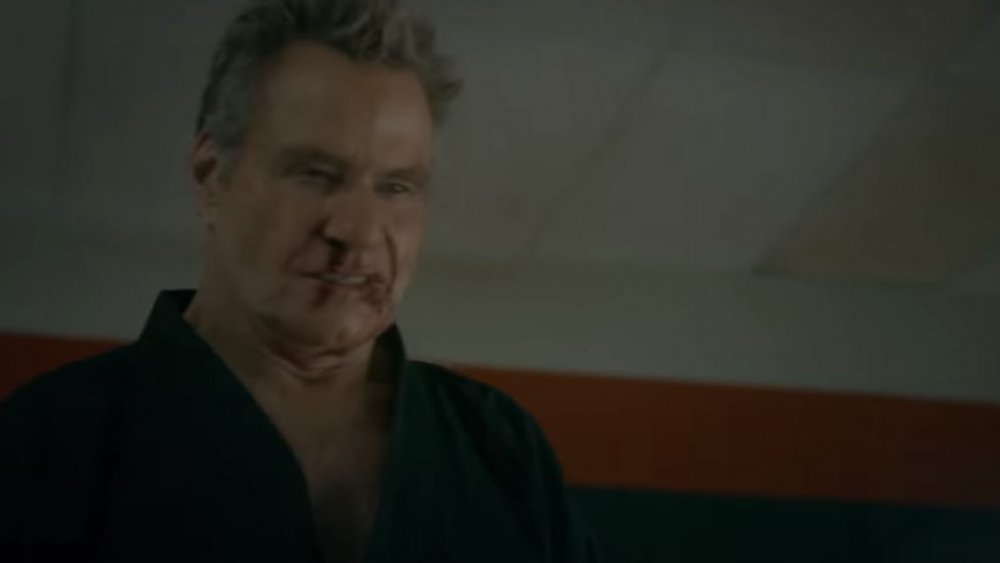 Netflix
John Kreese is looking as intimidating as ever, but when you take a closer look at him, you'll notice that someone has taken the time to point out a few weaknesses in his karate. The glowering sensei stands tall in his dojo, but his bloodied face makes it clear that he's taken some hits. The most likely culprit is, of course, Johnny, whose students blocked him from getting at Kreese when the old sensei took over the studio at the end of season 2. It doesn't seem out of the realm of possibility that Kreese's former star student gives it another shot in season 3. 
Unfortunately, this probably won't go too well for Johnny. Apart from the fact that we see his busted face earlier in the trailer, Kreese is also clearly sneering at someone who's lying on the floor. What's more, the trailer also shows a shirtless Hawk (Jacob Bertrand) at the dojo, with no shirt and bloody hands. The trailer's cut in a way that makes it seem like he might be helping Kreese in the confrontation with Johnny, possibly because he still blames his former sensei for Miguel's injury. Could Hawk be responsible for Johnny's facial injuries? 
Cobra Kai never dies, but what about walking?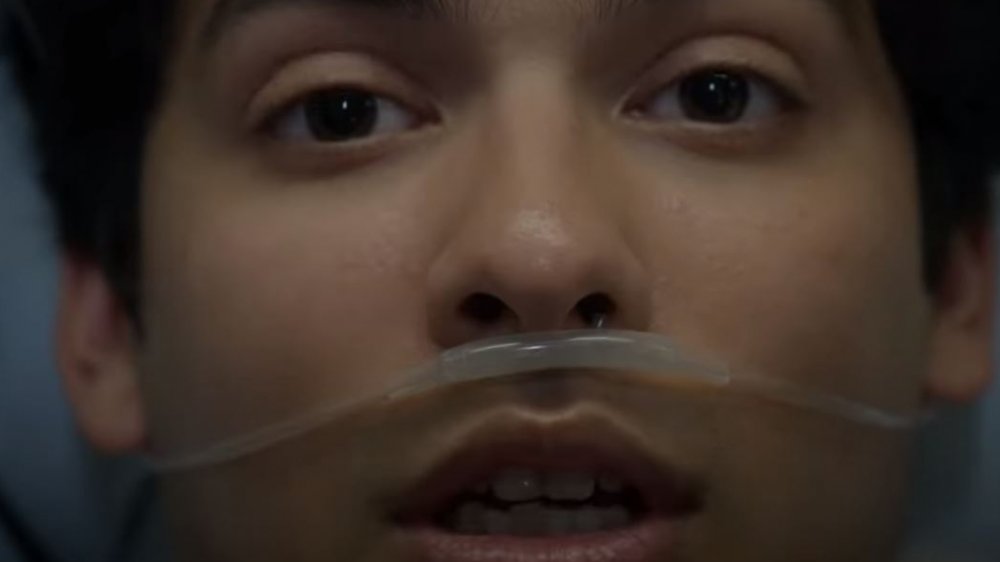 Netflix
The biggest takeaway from the trailer is that Miguel opens his eyes in the very end. After all, as the clip helpfully tells us, Cobra Kai never dies. However, many of the things you see before this makes you think that while he might be in the land of the living, his physical condition may still be pretty bad. After the trailer shows us his nasty fall, we see several snippets of scenes where he's being treated by multiple medical professionals. We also see him wearing a brace contraption that indicates the possibility of a significant spine or neck injury. The seriousness of the situation is further driven home when we see a brief shot of a shocked Johnny in his room, already sporting his facial bruises and forehead cut. 
So, while it's now clear that Miguel will live to fight another day, the teaser sure makes it seem like he might sport some serious spinal injuries. We can only hope that both he and Robby can eventually overcome their respective problems — hopefully, with the help of a cool training montage. 
Netflix's Cobra Kai season 3 resumes the fight on January 8, 2021.