The Hilarious Emily In Paris Line That Was Completely Improvised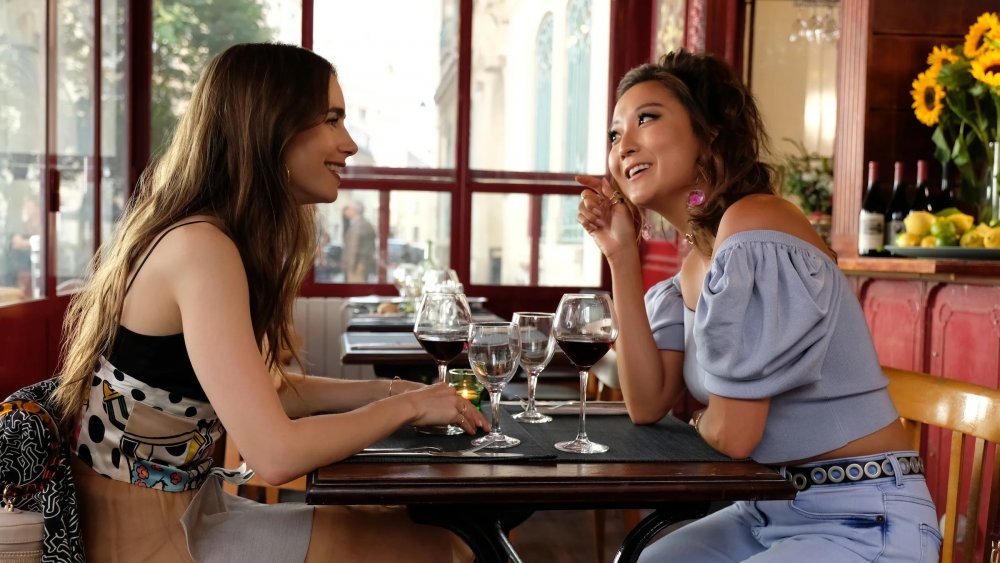 Netflix
Moving to another country where you don't speak the language or understand the customs (or the food) is a challenge on many people's bucket lists. Netflix's Emily in Paris is giving those of us for whom international travel — let alone migration — is impossible right now the chance to live vicariously through its titular character and all her cultural faux pas (as the French would say.)
Fortunately Emily (Lily Collins) has help navigating life in the French capital from her new friend Mindy (Ashley Park). The two expats quickly bond over wine, the city's tourist hot spots (the untold truth of the Moulin Rouge is that most visitors are foreign) and Instagram shoots, and it's their friendship that forms the true heart of the story.
According to Park, the relationship between her and Collins that you see on screen continued behind the scenes, too. She also credits creator Darren Star — of Beverly Hill, 90210 and Sex and the City fame — with giving the actors the chance to improvise during filming, resulting in some of the show's funniest lines. This is the hilarious Emily in Paris line that was completely improvised — and the real story behind Collins' and Park's friendship.
Ashley Park improvised this double entendre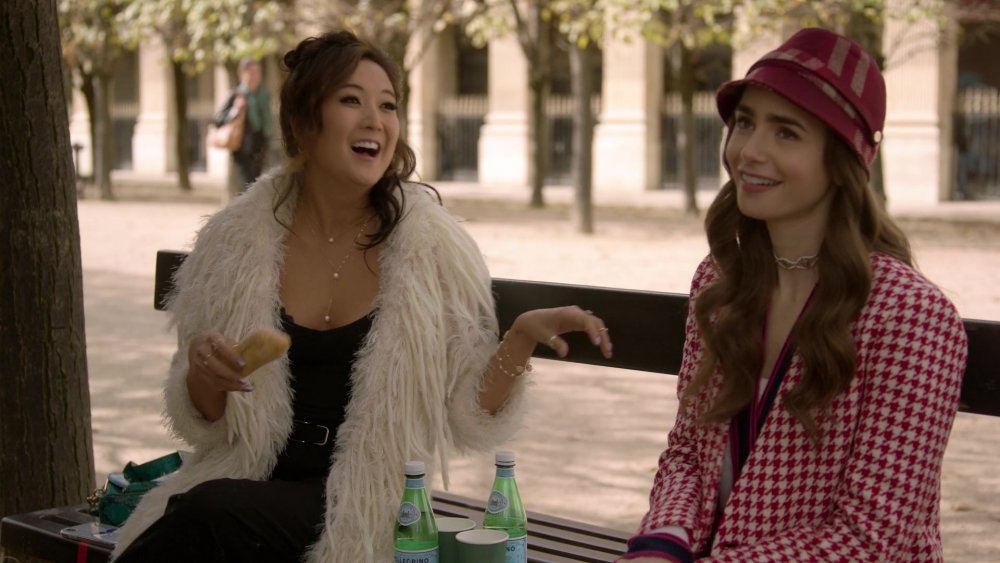 Netflix
From the moment Mindy and Emily meet on a bench near the Louvre, Mindy's forthrightness and eagerness to help her fellow expat set the two on the path to becoming meilleurs amis pour toujours (that's best friends forever au Français). The two meet up for steak and wine, and it's in the restaurant that Mindy drops a double entendre that actually made Collins and Park giggle for real.
As Park explained to Inquirer Lifestyle, shooting a scene typically involved a few takes that were strictly by the book, followed by several in which the actors were allowed to improvise with each other. Her favorite example of this happened in the restaurant scene — which also happened to be Lucas Bravo's first day on set as Emily's gorgeous love interest and neighbor Gabriel (if you think he's great in the role, just know that Lucas Bravo's Emily in Paris audition story makes us love him even more).
Park recalled that after Bravo's character walked away from her and Collins, "I said to Lily, not even thinking ... 'I'd bon appetit him,'" — apparently not realizing just how close that came to another word that includes all the letters of bon and ends in e. The two women's reactions were real. "So that laugh that we share there, that was only one take that we did that but they used it because we just couldn't stop laughing," Park added.
The actors' off-screen chemistry influenced their scenes together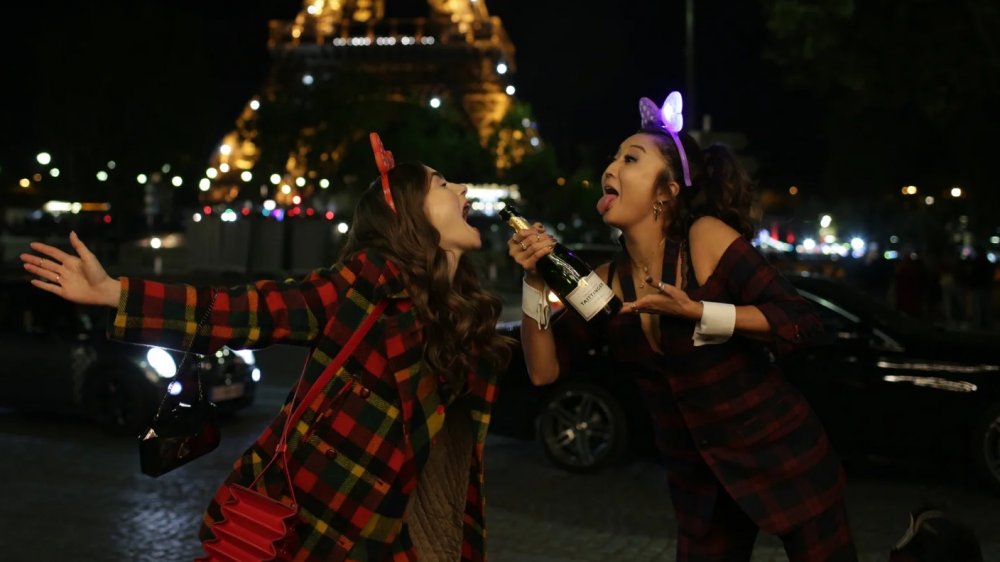 Netflix
Park credits moments like this between herself, Collins and the rest of the cast to their genuinely warm relationships off screen.
She told Inquirer Lifestyle that moving to New York City without any friends for her career on Broadway set her up to forge a community in a home away from home — this time in Paris (if Park looks familiar, it could be because she was part of the cast of Mean Girls in the musical adaptation of the movie). Spending long hours in theaters during rehearsals or shows prepared her to make fast friends with her colleagues, and the gang on Emily in Paris was no different. And that showed in her scenes with Collins, which she described as "bantery and so fast and fun." 
"So there's a lot of those little things especially with scenes with me and Lily ... as we became comfortable with each other, we knew how to work off each other," Park said.
The rest of the cast also became her new community, even if you never get to see their chemistry in the show. Park said, "some of my best friends from the show I don't have a single scene with. We were all like roommates." And contrary to Mindy's assertion that "French people are mean to your face," Park credits her French castmates Lucas Bravo, Samuel Arnold (who plays Julien) and Camille Razat (who plays Camille) with being "my Mindys," guiding her around the Paris way of life (speaking of the show's French actors, Homeland fans might be wondering why Antoine from Emily in Paris looks so familiar). 
Maybe we'll get to see more interactions in season 2.