Fear The Walking Dead Drops Big News About Season 6
Be afraid ... be very afraid.
Well, at least if you're a character trying to escape the flesh-eating walkers in the world of Fear the Walking Dead. If you're a regular ol' human at home, then you likely have little to fear at this very moment. In fact, you should celebrate: AMC has announced some big news for the upcoming sixth season of Fear the Walking Dead, the long-running spin-off of the network's flagship zombie series. 
During the show's panel at San Diego Comic-Con@Home on Friday, July 24, 2020, a new trailer for Fear the Walking Dead season 6 was released. The footage begins with Morgan Jones (Lennie James) — an OG Walking Dead character and former member of Rick Grimes' (Andrew Lincoln) survivors crew who crossed over to Fear on season 4 — sending a message over a radio. 
"If any of you are listening, if any of you can hear me, what we were doing out here, it wasn't just about doing right. We fought for the future," Morgan says in voiceover as various shots of tense and gruesome scenes are shown. We see walkers closing in on survivors, dogs gnashing their teeth in anger, Garret Dillahunt's John Dorie cocking a shotgun as more undead monsters approach, survivors attacking one another, people stepping on walkers' organs, and more. Morgan then continues, "We made the hard call for all of us. If you're listening to me, live — all of you. If you can hear me, just live." 
The trailer ends with Virginia (Colby Minifie), aka Ginny, contacting a bounty hunter to hunt down Morgan. Ginny's objective is to find out whether Morgan is dead or alive — and based on the hunter's past services, an alive Morgan runs the risk of being decapitated. 
To go along with the Fear the Walking Dead season 6 trailer drop, AMC also announced the premiere date for the new season: Sunday, October 11.
What to expect from Fear the Walking Dead season 6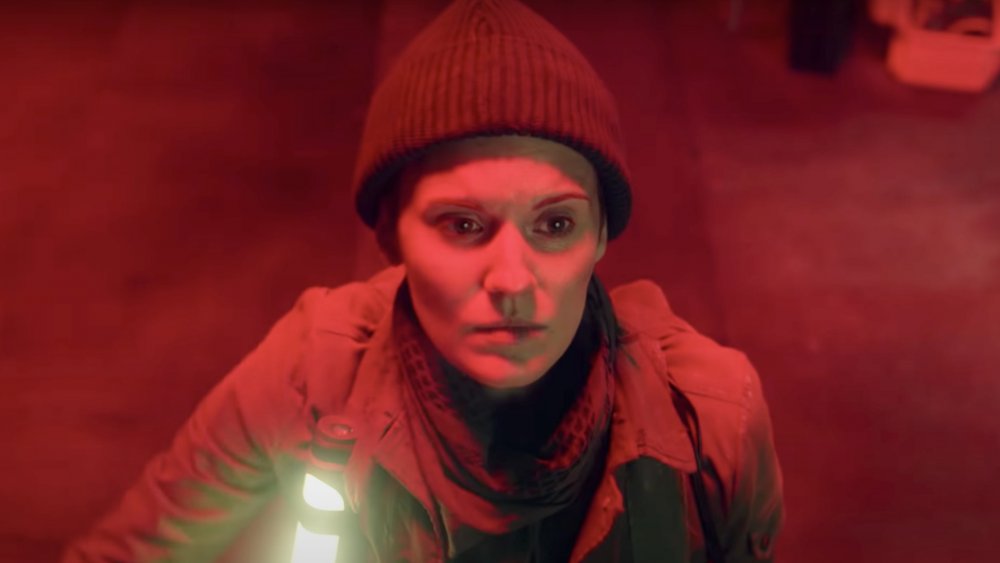 AMC
From this new trailer and from past details revealed about the upcoming bundle of episodes, fans have a fairly good idea of what's in store on the next season of Fear the Walking Dead. The stakes will be higher, the violence will be more frequent, and heads will possibly roll. And it's all due in large part to Ginny, who forced groups apart on the season 5 finale. That will be the jumping-off point, so to speak, for Fear the Walking Dead season 6.
And that tension and complication will make for a rousing new season. Back in September 2019, following the Fear season 5 finale, showrunner Andrew Chambliss spoke to Entertainment Weekly about where things will go on season 6.
"I think what we're really excited for in season 6 is the fact that everyone got split up and we've already heard Ginny reference the fact that she has quite a few settlements under her control. She is like a colonizer. She is like someone who franchises these settlements and comes in and fixes things and then kind of seizes control," he said. "But it means we're going to see a lot of different places and get a lot of different flavors, and we're going to be able to dive in really deeply with our characters."
He added, "As you know, we watched them struggle to be apart, as we watched them fight to get back together. We will see whether or not some people buy into Ginny's philosophy, or if they will try to hold onto those words that Morgan's spoke out over the walkie. We're really trying to set the stage for a different kind of storytelling than we've done before on the show."
Season 6 of Fear the Walking Dead will also feature a new format. As co-showrunner Ian Goldberg explained during the Comic-Con@Home panel, the upcoming episodes will be anthological. 
"The other thing we're really excited about is that we're going to have an anthology structure to the episodes, where we get to deep dive into exactly what these characters are going through within Virginia's communities, within the style of episodes we've done in the past that we've loved," said Goldberg. "You're going to see a lot more of that kind of storytelling in season 6." 
He also shared that fans will be "very surprised by the way these characters react in these new circumstances," that season 6 will be "darker" than seasons past, and that the characters are "going to be tested" in many ways.
Fear the Walking Dead will return with the first episode of season 6 on Sunday, October 11.