The Freddy Krueger Easter Egg You Might Have Missed In Hubie Halloween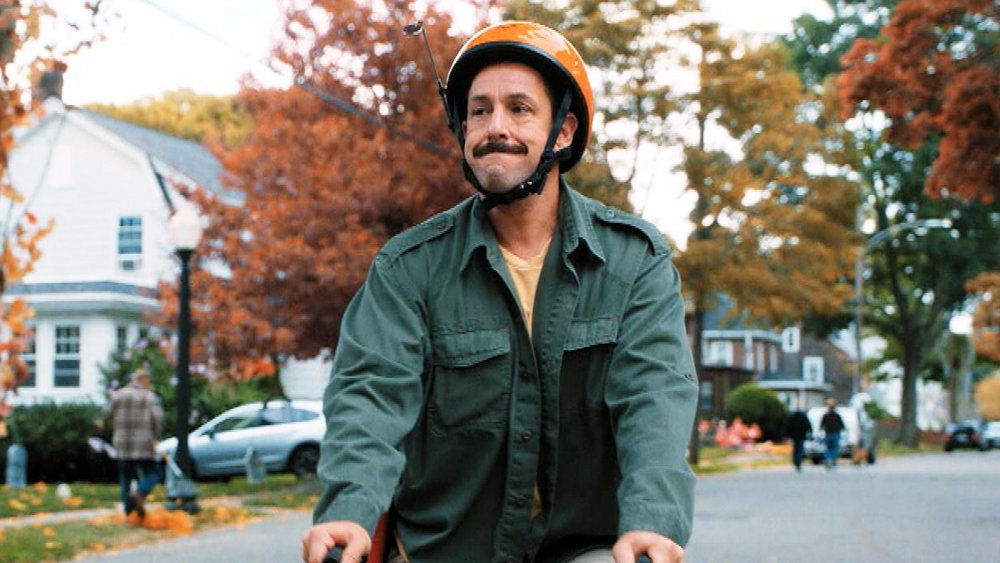 Netflix
There's a new number one movie sitting atop Netflix's vaunted Top Ten list. And to the surprise of virtually no one, it stars one of the reigning kings of Netflix originals, Adam Sandler, whose movies continue to earn robust viewership on the platform.
The latest venture finds Sandler portraying an oddball in Salem, Massachusetts, tasked with saving the titular holiday when a supernatural mystery threatens to undercut the town's legendary Halloween festivities. Directed by frequent Sandler collaborator Steven Brill (Little Nicky, Mr. Deeds, The Do-Over), the new flick is called Hubie Halloween, and Adam Sandler is in vintage Adam Sandler mode throughout as the titular sleuth, sharing the screen with a stacked cast of supporting players that includes Julie Bowen, Ben Stiller, Kevin James, Maya Rudolph, Ray Liotta, Steve Buscemi, and more.
It also finds Sandler and co-screenwriter Tim Herlihy dipping a toe into the horror realm, slipping a few hearty jump-scares into a film that cleverly utilizes the framework of the genre to fuel what's essentially a Scooby-Doo-tinged family comedy. Along the way, the Hubie Halloween team also pays homage to several horror classics that came before, including the film which conjured one of the most iconic villains in horror history. 
Freddy Krueger is the iconic villain in question, which means the film is none other than Wes Craven's macabre slasher masterpiece A Nightmare on Elm Street. The Elm Street nod comes about halfway through Hubie Halloween, when Hubie gives Salem's finest the address of his mysterious (and possibly villainous) neighbor Walter Lambert (Buscemi). Turns out, Walter lives at 59 Elm Street, which is, of course, the very street Freddy himself terrorized in Craven's 1984 classic.
And as far as Easter eggs go, this sly nod to the Freddy Krueger classic is one only true fans will spot.  
There's another nod to a Wes Craven classic in Hubie Halloween, too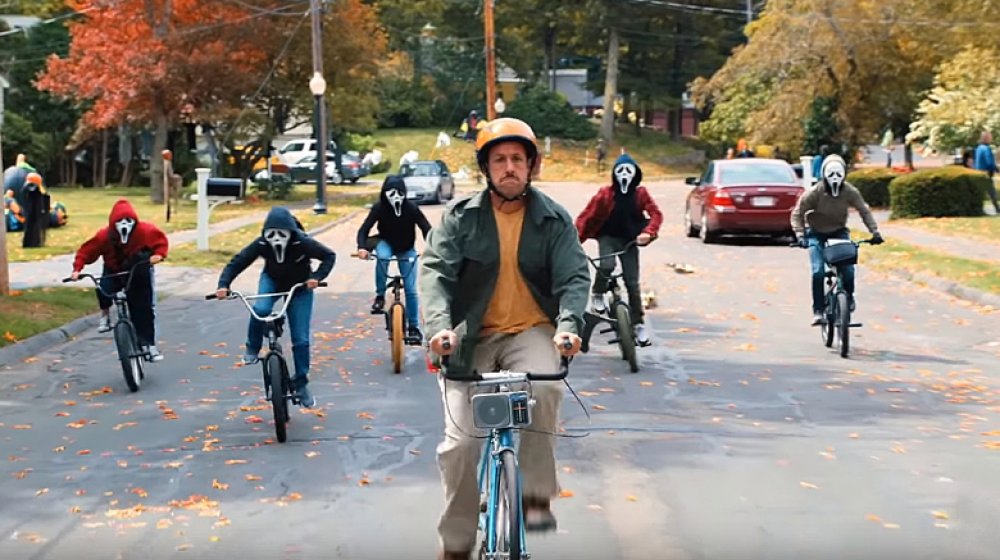 Netflix
As it happens, A Nightmare on Elm Street isn't the only Wes Craven classic to get a little love via a clever Hubie Halloween Easter egg, though the other errs a little more on the side of the obvious. Still, it's not hard to imagine the current generation of filmgoers hasn't yet experienced the manic meta mastery of the maestro's masked killer slashic Scream. It has, after all, been nearly 30 years since the original slashed its way to box office glory in 1996, and nearly a decade since Scream 4 donned.
Luckily, there's a fresh new Scream flick in the works, so the never-ending battle between Sidney Prescott (Neve Campbell), Gail Weathers (Courtney Cox), and Dewey Riley (David Arquette) and the ever-shifting personas behind that ghastly Ghostface getup are once again set to terrify horror lovers in the very near future.
Regarding that Ghostface mask, since debuting in the O.G. Scream flick, it's become a legit icon of the genre in and of itself, and is worn even today by trick or treaters young and old whether they've even seen a Scream flick or not. It also happens to feature prominently in one of Hubie Halloween's funnier scenes, in which Sandler's perpetually antagonized do-gooding goofball is chased around the neighborhood by a masked gang of adolescent dirt-bikers. 
Yes, every single one of those bikers is sporting their very own Ghostface mask. And yes, even if the scene is mostly played for laughs, it's still creepy to see the Ghostfaced ghouls running down their prey in the broad light of day via a sort of anti-E.T. motif. 
Laughs or not, the moment serves as another loving wink at a true horror legend, and we sincerely hope Hubie Halloween fans appreciate the gesture.