Small Details You Missed In Hubie Halloween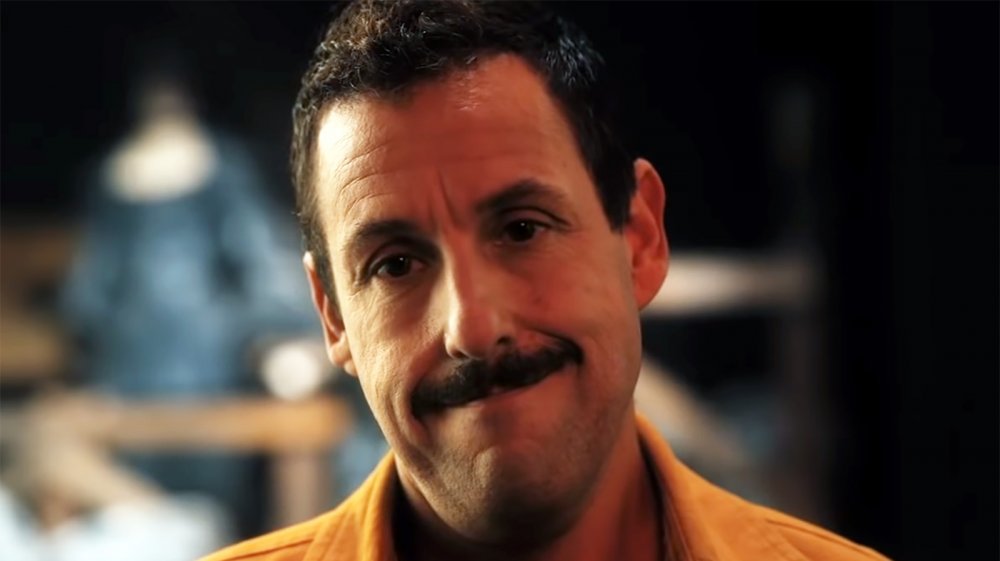 Hubie Halloween, Adam Sandler and director Steven Brill's feature-length tribute to the spookiest holiday of them all, gets at least one thing right: It is full of tricks, and it's full of treats. Not only does Hubie Halloween have plenty of unexpected plot twists, unforeseen jokes, and more surprise cameos than you can possibly imagine, but it's also crammed full of small details that bring its absurd version of Salem, Massachusetts to vibrant life.
In Hubie Halloween, Sandler stars as Salem's self-appointed Official Volunteer Halloween Helper, whose job it is to make sure that everyone has a safe and fun Halloween. That's easier said than done. Not only are all kinds of bullies out to ruin Hubie's night, but all kinds of sinister characters are wandering around, abducting Salem residents and causing some not-so-good-natured mischief. If the city is going to survive this Halloween, Hubie has his work cut out for him.
Thankfully, that means there's plenty of room for action, laughs, Easter eggs, and more. If you're a diehard fan of Sandler's work, or if you just love Halloween, Hubie Halloween has lots for you to enjoy. Here are a few examples.
Working in the lab, late one night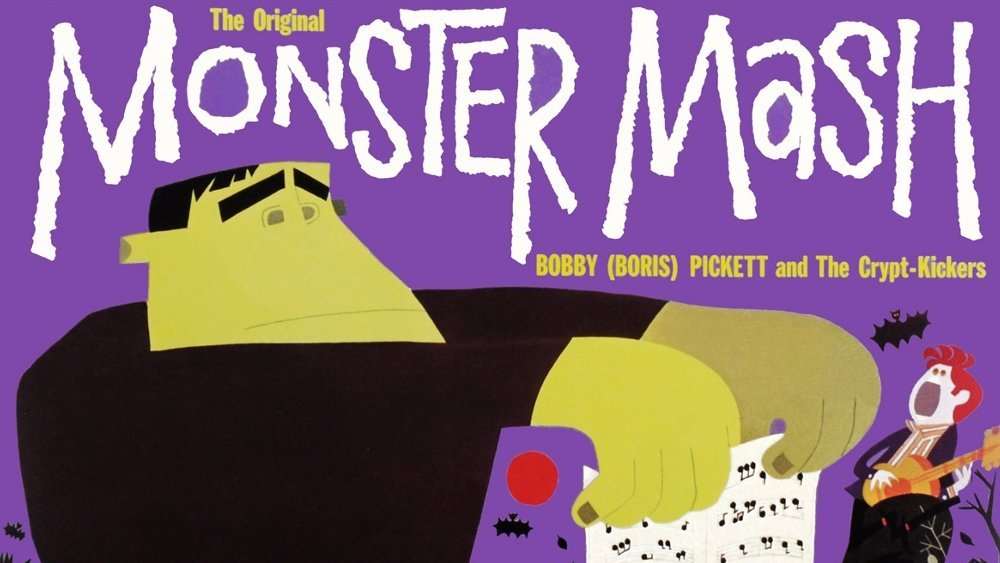 From the Ghostbusters theme song to Sheb Wooley's "The Purple People Eater" to Warren Zevon's classic "Werewolves of London," Hubie Halloween's soundtrack is crammed full of spine-tingling tunes that'll get you in the mood for Hubie's signature day. Still, "Monster Mash" deserves some special attention. Not only does Bobby Pickett's novelty hit open and close the movie, but you'll see Pickett's 1962 record, The Original Monster Mash, hanging on the wall of Salem's local radio station, WTCH.
Yes, that's right: While "Monster Mash" is Pickett's biggest hit, the musician and his backing band, The Crypt-Keepers, produced an entire album of Halloween-friendly songs. As Pickett tells the story, "Monster Mash" was an immediate hit, quickly vaulting to the number one position on the charts. Naturally, the publisher wanted more. Pickett obliged. In addition to "Monster Mash," Pickett produced two spinoffs, "Monster's Holiday" and "Monster Motion." He then spent three days with his co-writer putting together a full LP, which included monster-themed parodies of contemporary hits. It was, unsurprisingly, a huge success. Over the next few decades, Pickett released more supernatural singles, including "Werewolf Watusi," "Monster Swim," and an 1985 update of his original hit called "Monster Rap."
Amazingly, The Original Monster Mash isn't the only Halloween-adjacent album displayed at WTCH, either. Hanging next to The Original Monster Mash, you'll find a copy of Jackie Wilson's Higher and Higher, the title track of which appears prominently in Ghostbusters 2. You know the song that makes the Statue of Liberty come to life and walk down the streets of Manhattan? Yep, that's the one.
All witches, all the time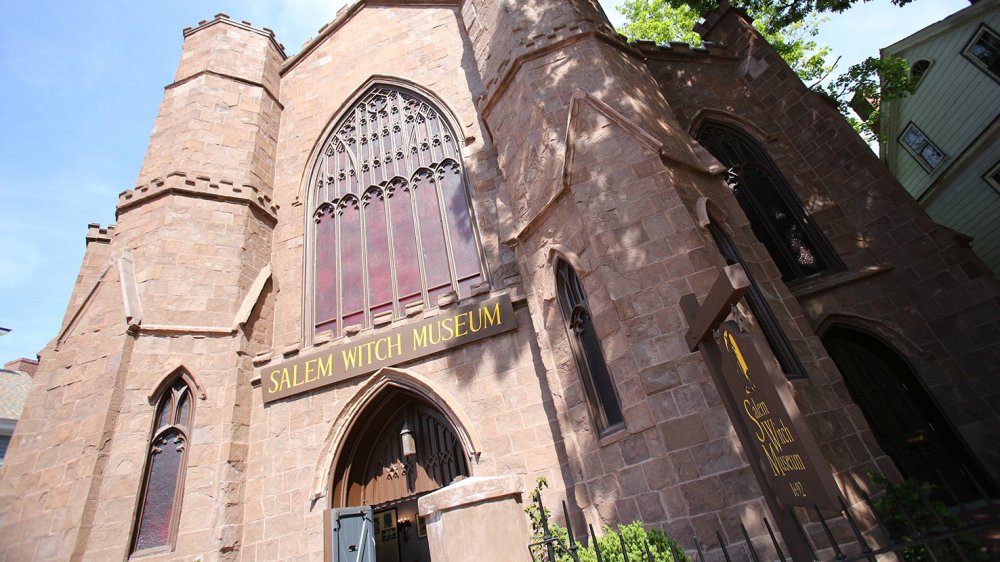 If you're going to make a movie about Halloween, you'd be hard pressed to find a better setting than Salem, Massachusetts, where the infamous Salem Witch Trials claimed the lives of 19 colonial Americans in 1692 and 1693. Hubie Halloween milks this unique locale for all that it's worth, too. Look closely, and you'll see witches all over the place, from the local radio station — call sign WTCH, of course — to Hubie's high school yearbook (that's not just a Hubie Halloween creation, either — at the real-life Salem High School, witches have been the official mascots for years).
Hubie Halloween doesn't just take place in Salem, though. It was also filmed there, and a few prominent Salem landmarks ended up making their way into the film. The Salem Witch museum is probably the most notable. Established in 1972 as the one-two punch of Arthur Miller's play The Crucible and the TV sitcom Bewitched increased interest in the Salem Witch Trials, the museum is dedicated to educating the public about life in colonial America, clearing up some of the misconceptions surrounding the trials' history, and illuminating the country's long history of scapegoating and persecution. Every October, the museum also hosts a monthlong "Haunted Happenings" event, which attracts hundreds of visitors to the city every year.
So yes, that's the actual museum you see when Hubie and Violet reunite. If you study the scenery, you may actually learn a little history. As the museum's displays show, men were tried for witchcraft in addition to women, and the victims were hanged, not burned at the stake. Hubie is wrong about one thing, though: according to the historical record, none of Salem's witches were actually named "Danglin' Dave."
Something is coming to get them in their dreams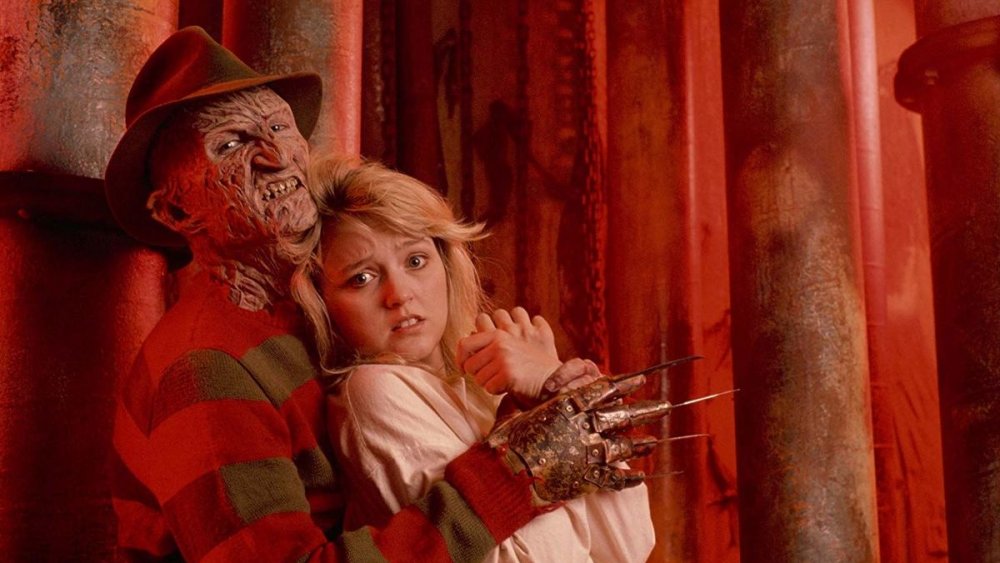 Hubie Halloween isn't a horror movie, but it's structured like one, and it has a lot of fun playing on traditional horror movie tropes. It has an escaped mental patient, a werewolf, a serial killer — or serial kidnapper, anyway — and more than a few jump scares.
As such, it's only natural that Hubie Halloween also pays homage to some of the classic horror movies that inspired it. The kids who torment Hubie wear Ghostface masks, as made famous by Scream. Violet's oldest daughter watches The Creature from the Black Lagoon. Mayor Benson's refusal to cancel Salem's Halloween festivities, which would deprive the city of sweet, sweet cash, even while there's an emergency unfolding recalls the behavior of Amity mayor Larry Vaughn in Jaws. When the residents of Salem take to the streets to party, many of them are dressed like Frankenstein's monster, or vampires, or countless other horror movie creatures.
Hubie Halloween's best horror movie reference, however, is one that's remarkably easy to miss. While chatting with the cops, Hubie notes that Walter Lambert, his mysterious next door neighbor, lives at 59 Elm Street, meaning that Hubie and his mother live on the same road. Anyone who knows anything about slasher movies should catch the nod immediately. As you probably know, Elm Street is also the hunting grounds of one Freddy Krueger, who made his feature film debut in 1984's A Nightmare on Elm Street and who went on to become one of the most iconic horror villains ever. This time, though, Freddy better watch out: With Hubie on the case, not even supernatural dream-hunters are safe.
Hoo, hoo to you!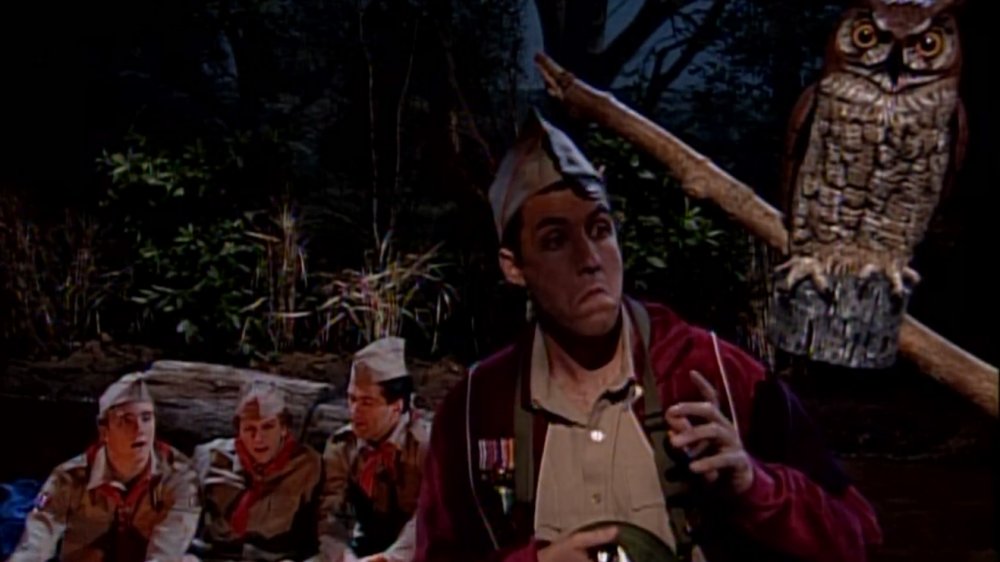 You don't need to be familiar with Adam Sandler's past work to enjoy Hubie Halloween — this holiday-themed comedy was made for everyone — but if you're an old-school Sandler fan, you'll find plenty of references to the comedian's past work scattered throughout the movie. Not only is Hubie Halloween's cast stacked with Sandler's past collaborators, but many of the jokes in the film recall classic moments from the actor's past projects, including fan favorites like Billy Madison, Happy Gilmore, and The Waterboy.
In fact, there's even a bit of Sandler's stint on Saturday Night Live baked into Hubie Halloween's DNA, especially when it comes to Hubie himself. In 1993, when Mr. DuBois was naught but a twinkle in Adam Sandler's eye, the comedian debuted Canteen Boy, a 27-year-old man who's still inexplicably in the Boy Scouts, on the late night sketch program. Canteen Boy was a big influence on Bobby Boucher, the hero of The Waterboy, and his legacy lives on in Hubie DuBois, too.
It's not just both characters' permanent state of arrested development, their mushy-mouthed accents, or their fondness for beverage containers, either. Early in Hubie Halloween, Hubie mentions that he built his thermos while he was a Scout, and his high school yearbook photo shows him in full Boy Scout regalia. He still has the uniform, too — in a montage, a middle-aged Hubie bursts into the police station, still wearing his Scout get-up.
Hubie and Canteen Boy aren't the same, of course. Hubie is kinder, more heroic, infinitely more self-aware, and has much more psychological depth. Still, if you want to close your eyes and pretend that Hubie is just Canteen Boy, all grown up? It works surprisingly well.
Dead, young, reckless, and in love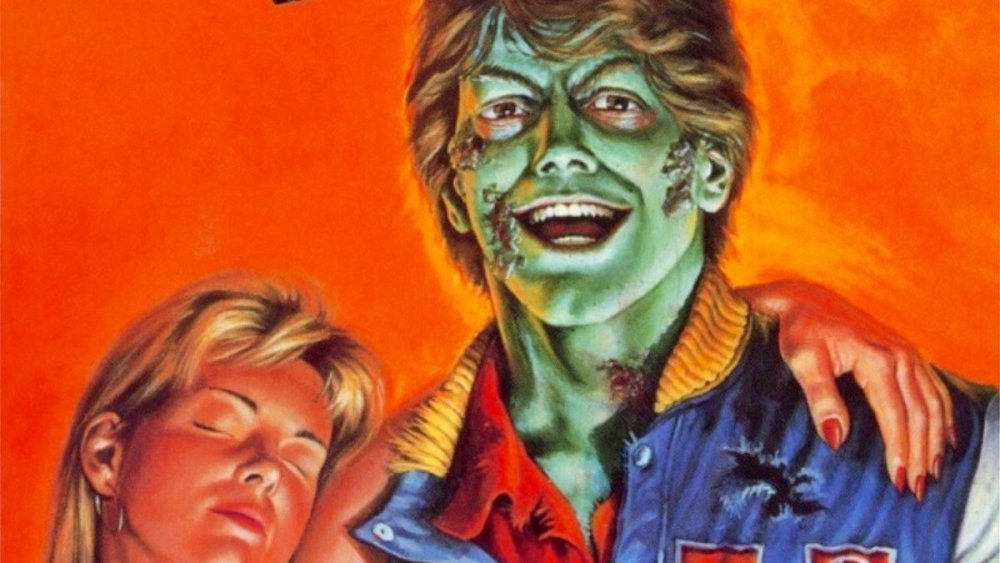 Eventually, Hubie's investigation leads him to the local drive-in theater, where many of Salem's residents are enjoying a spooky double feature. Hubie isn't there to watch a movie, of course. He's looking for the person who abducted Mike Mundy. Still, when the scene begins, we get a quick glimpse of the movies playing at the outdoor theater, and one of them is very much an actual film.
Well, sort of, anyway. The version of I Was a Teenage Zombie that appears in Hubie Halloween is a parody starring sketch comedian Martin Herlihy as the titular undead teen, frequent Adam Sandler and Happy Madison collaborator Allen Covert as his father, and Sandler's longtime assistant J.D. Donaruma as the ill-fated milkman. However, a real feature with the same name came out in 1987. That film, which was directed by John Elias Michalakis, begins like a typical '80s teen comedy — Sixteen Candles has been used as a reference point — about some kids trying to buy marijuana, only to take a more horrific (and extremely tongue-in-cheek) turn when the drug dealer's body is dumped into a river overflowing with toxic waste, bringing him back to life.
I Was a Teenage Zombie is a mostly amateur effort, and is mostly notable for its soundtrack, which includes tracks by the Fleshtones, who provided the title theme, the Del Fuegos, and the Violent Femmes. Still, if you like no-budget horror-comedies, it's worth checking out. Just don't go looking for the other half of the Salem drive-in's double-feature, My Hairy Baby. That one, alas, is pure fantasy.
You could have saved them. I gave you all the clues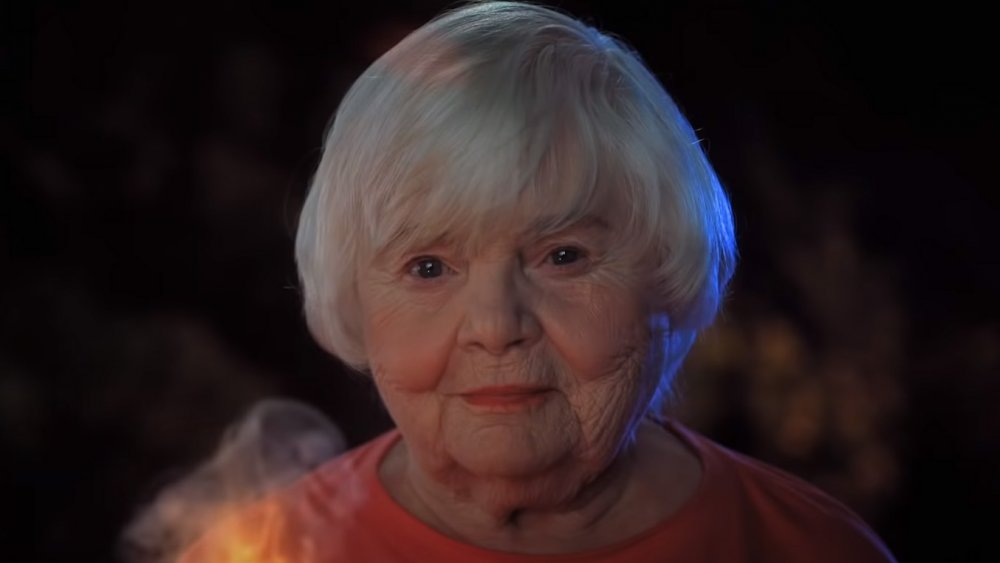 Hubie Halloween is a comedy first and foremost, but there's more than a little mystery baked into its plot, too. As Hubie tries to figure out who's abducting Salem's residents, he runs across a number of suspects. There's his next-door neighbor, Walter Lambert, whose proclivities tend towards the lycanthropic. There's Hubie's childhood friend Richie Lambert, who recently escaped from a nearby asylum and has made his way back to his hometown. There's Hubie's longtime crush, Violet Valentine, who shares the kidnapper's love of chardonnay, and there's also Hubie himself. After all, the people who go missing all love to bully the self-proclaimed Halloween monitor.
Ultimately, those are all red herrings. The real criminal ends up being Hubie's mother, who's simply trying to protect her sweet little boy. It's a twist ending, but there are a few hints throughout the movie that Ma DuBois is behind the whole thing. Early on, Hubie needs help opening a jar of frosting. His mother handles it with ease. Yes, that's a joke about how weak Hubie is, but it's also an indication that Hubie's mother is phenomenally strong for her age, a trait she needs if she's going to abduct multiple full-grown adults. You can also see that her mask is different from Richie Hartman's. While the asylum resident wears a pig mask with round eyes, the point-of-view shots that appear during the abduction scenes feature triangle-shaped eye holes, letting us know that Hartman isn't the culprit.
The biggest clue, however, comes early in the movie, when Walter and Hubie first meet. As they chit-chat, Walter points to a bed of chrysanthemums on Hubie's lawn. "Look at those purple mums," he exclaims. Mum is, of course, another way of saying "Mom." As it turns out, all the clues were there. Hubie really should've seen it coming.
What's in a name, anyway?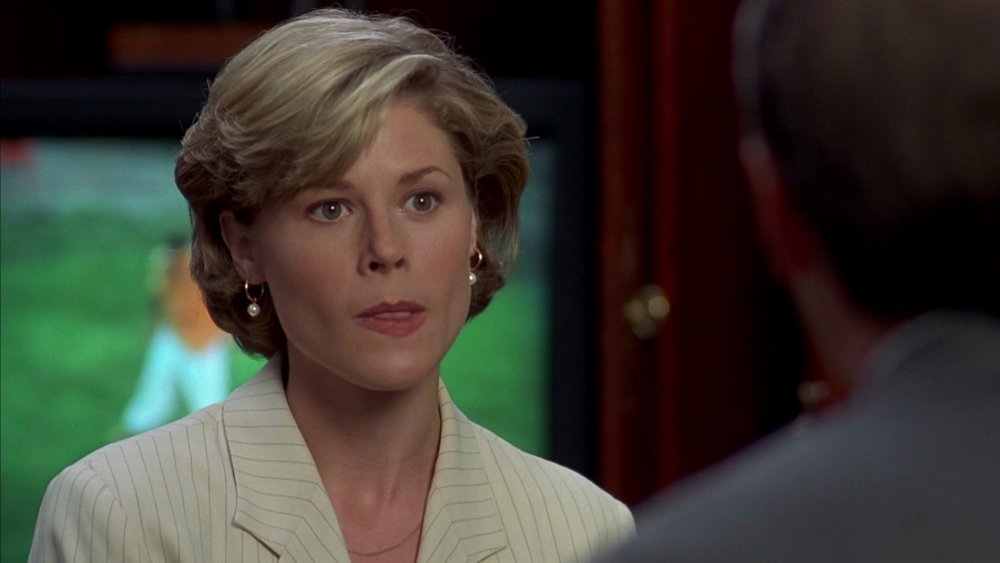 For longtime Adam Sandler fans, seeing him reunite with Ed and Modern Family star Julie Bowen, who plays Hubie's love interest, Violet Valentine, is a real treat. See, 24 years ago, Bowen starred with Sandler in Happy Gilmore, which was her feature film debut. In that movie, Bowen played Virginia Venit, head of the Pro Golf Tour's PR team and love interest to Sandler's Happy, an aspiring hockey pro who finds he has better luck on the driving range than the rink.
In Happy Gilmore, Bowen also started a tradition that's followed Sandler through many of his movies, including Hubie Halloween: Quite often, Sandler's onscreen romantic partners have the initials V. V. There's Violet and Virginia, of course, but that's just the beginning. In Billy Madison, the first movie that Sandler headlined, Bridgette Wilson plays Veronica Vaughn, a teacher who helps Billy when he re-enrolls in elementary school as an adult. In The Waterboy, Fairuza Balk stars as Vicki Vallencourt, an ex-con and Bobby Boucher's longtime crush. Patricia Arquette shows up in Little Nicky as Valerie Veran, a design student who falls for Sandler's son-of-Satan.
That's not the only name-related pattern that pops up in Sandler's movies, either. Many of his characters have names that end in a "y" or "ie" sound. Happy Gilmore, Billy Madison, Robbie Hart, Sonny Koufax, Little Nicky, Henry Roth, Larry Feder, and now Hubie DuBois. The list goes on and on.
The descendant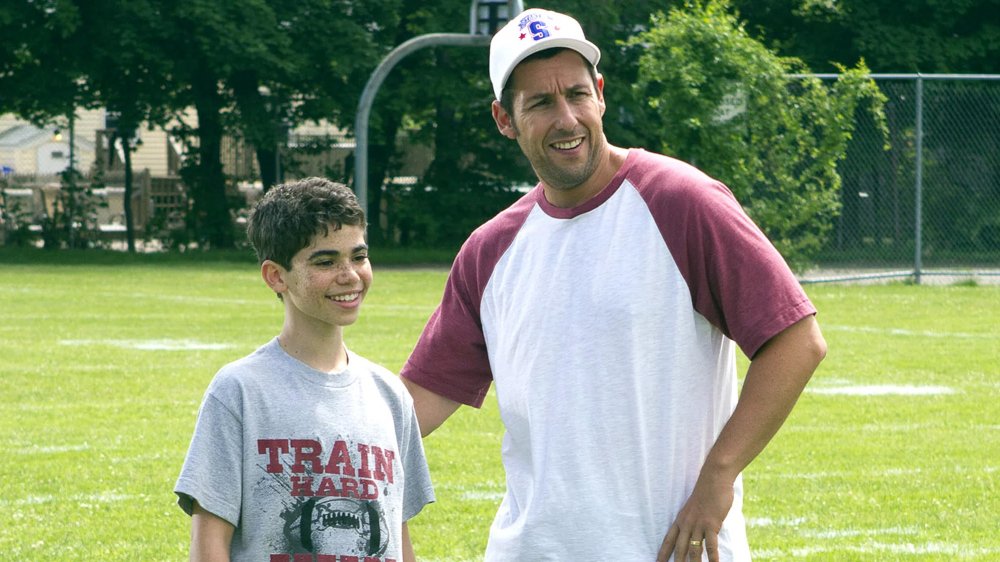 Hubie Halloween is a very funny movie with an appropriately happy ending, but it hits a somber note right before the credits roll. If you watch the movie through to the very, very end, you'll find a brief but extremely heartfelt tribute to Cameron Bryce, a young and extremely talented actor who passed away unexpectedly in July 2019.
If you're familiar with Boyce, it's probably through his work on the Disney Channel, where he was already a major star. Some of Boyce's earliest roles included guest appearances on the Disney sitcoms, and he later spent four seasons on Jessie, where he co-starred alongside fellow Disney Channel mainstay Debby Ryan and Hubie Halloween's very own Peyton List. Boyce went on to lead Disney XD's Gamer's Guide to Pretty Much Everything, in which he played a former esports pro known as Kid Fury, but it was Disney's Descendants franchise that really put Boyce on the map. In that series, Boyce appeared as Carlos, the son of 101 Dalmatians big bad Cruella de Vil (naturally, Carlos was deathly afraid of dogs).
In addition to all of the Disney work, Boyce was also part of the Happy Madison family: In Grown Ups and Grown Ups 2, Boyce appeared as Keith Feder, son of Adam Sandler's Lenny and Salma Hayak's Roxanne. Even with a cast as stacked as Grown Ups', Boyce managed to steal every scene he was in, and he and Sandler seemed to have a very close relationship. It's only fitting that Hubie Halloween, Happy Madison's first movie since Boyce's tragic death, pays tribute to the young actor. He's greatly missed.