The Parks And Recreation Relationship Hint That Everyone Missed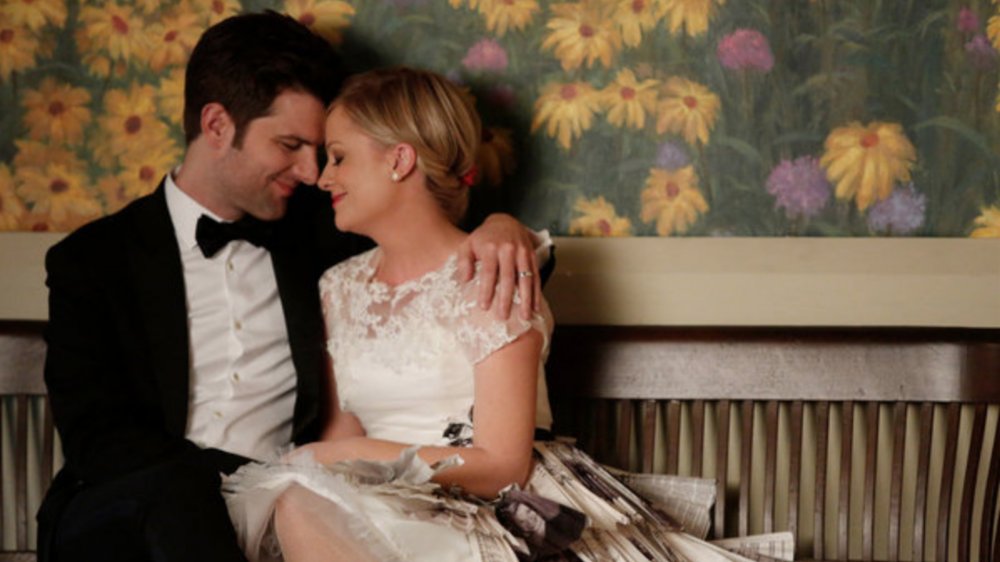 NBC
One of Parks and Recreation's central relationships was foreshadowed way earlier than you probably thought.
Throughout Michael Schur's sunny, sweet series that aired on NBC from 2009 to 2015, this beloved government-based mockumentary tells several great love stories, creating some of the small screen's most iconic couples. By the end of the series, pretty much everybody at Pawnee's Parks and Recreation department has adorably paired off. April Ludgate (Aubrey Plaza) and Andy Dwyer (Chris Pratt), two crazy kids who get married on a whim, end up staying together for the long haul, while on-again, off-again lovers Chris Traeger (Rob Lowe) and Ann Perkins (Rashida Jones) start a family together.
Perhaps the most iconic couple from Parks and Rec, however, is the power duo made up of leading lady Leslie Knope (Amy Poehler) and Ben Wyatt (Adam Scott). This super supportive couple are both political powerhouses, and after a fraught courtship, they finally find their way to romance. Their relationship is marked by an undying commitment to always support each other's hopes and dreams — a fresh and rewarding sentiment in a TV couple.
As it turns out, there's a huge hint about Ben and Leslie's future relationship hidden in the scene where they first meet. Here's the Parks and Recreation relationship hint that even die-hard fans probably missed.
Ben and Leslie's relationship has a pretty big buildup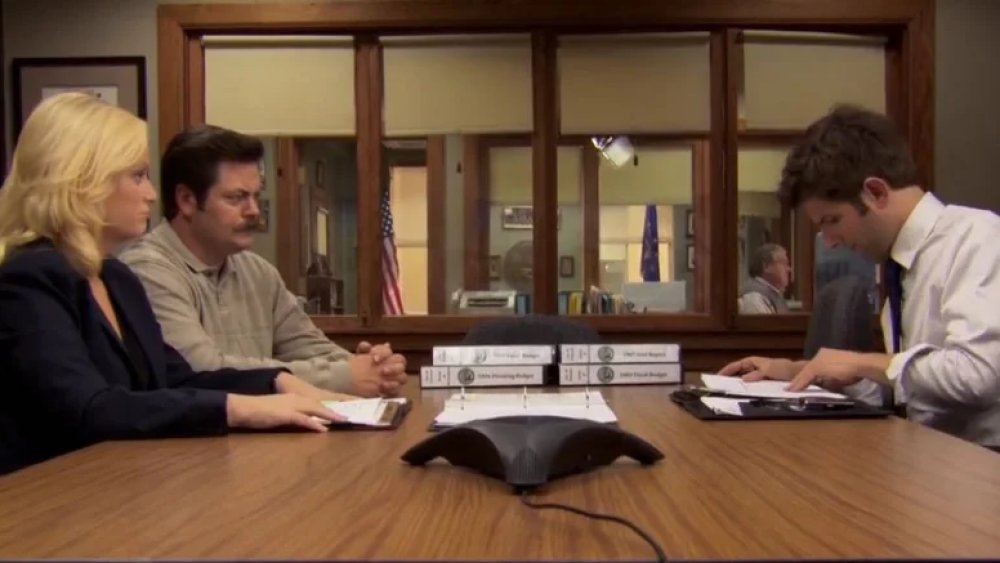 NBC
Ben and Leslie are definitely kismet on Parks and Recreation, and one eagle-eyed viewer spotted a major hint about their relationship super early in the show.
As Reddit user W3dd1e points out, just before Ben arrives on the scene at the end of Parks and Rec's second season, Ann breaks up with her longtime boyfriend Mark Brendanawicz (Paul Schneider), telling Leslie that there's just no spark in the relationship and the two never, ever fight. In the very next scene, Ben and Chris show up to help Pawnee balance the city budget, and right off the bat, he and Leslie start arguing about how the small Indiana town should use its money.
After the two are kept apart by their jobs and Chris' strict rules about inter-office dating, Ben and Leslie are never apart again, and throughout their supportive and successful relationship, they still get in plenty of arguments. They always manage to resolve their issues, but it does make perfect sense that these two fiercely smart people began their relationship by butting heads.
Parks and Recreation is available to stream on Hulu and Peacock now.