What Disney's 28,000 Layoffs Mean For Its Theme Parks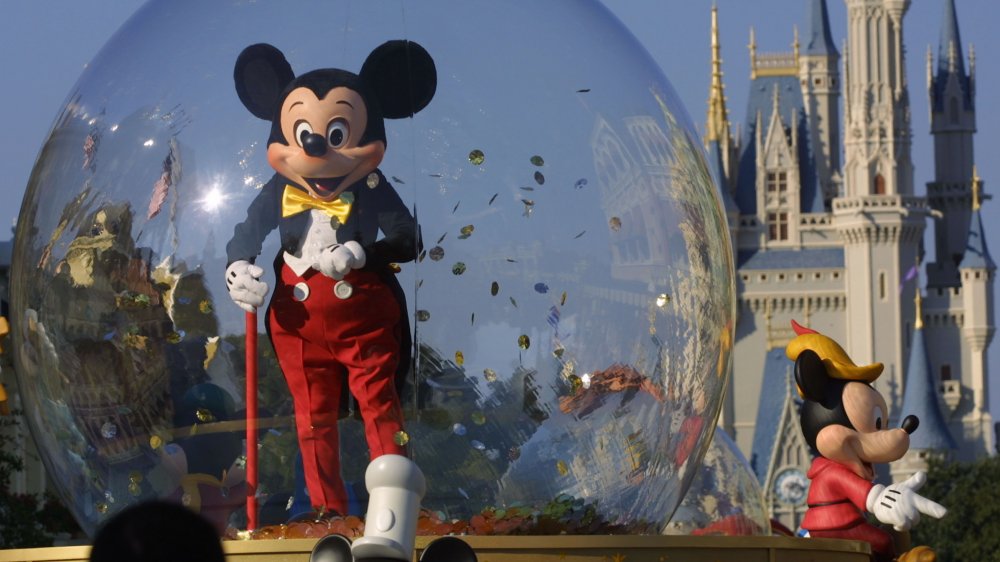 Joe Raedle/Getty Images
The COVID-19 pandemic has hit many businesses hard, and as a corporate juggernaut that focuses on entertainment, Disney has taken more than its share of severe blows. Unfortunately, things have reached a point where the pandemic has affected the company's theme park employees on a massive scale. 
As CNN reports, Disney's Parks, Experiences, and Products unit is laying off 28,000 of its 100,000 US employees in order to cope with the pandemic, with an estimated 67 percent of the affected employees being part-time workers. 
This unfortunately isn't the first major employment-themed cost cutting measure the company has taken during the COVID-19 crisis. In April 2020, it already imposed a furlough on employees whose jobs weren't "necessary" at the time (via CNN). 
According to a statement by Josh D'Amaro, the chairman of Disney Parks, the layoffs weren't an easy call to make. However, he also noted that the company hopes to be able to re-hire at least some of the people impacted by the decision: "We look forward to providing opportunities where we can for them to return."
So, where does this radical maneuver leave the company? Here's what Disney's 28,000 layoffs mean for its theme parks. 
Disney's theme parks are hurting, and Disneyland won't be open for a while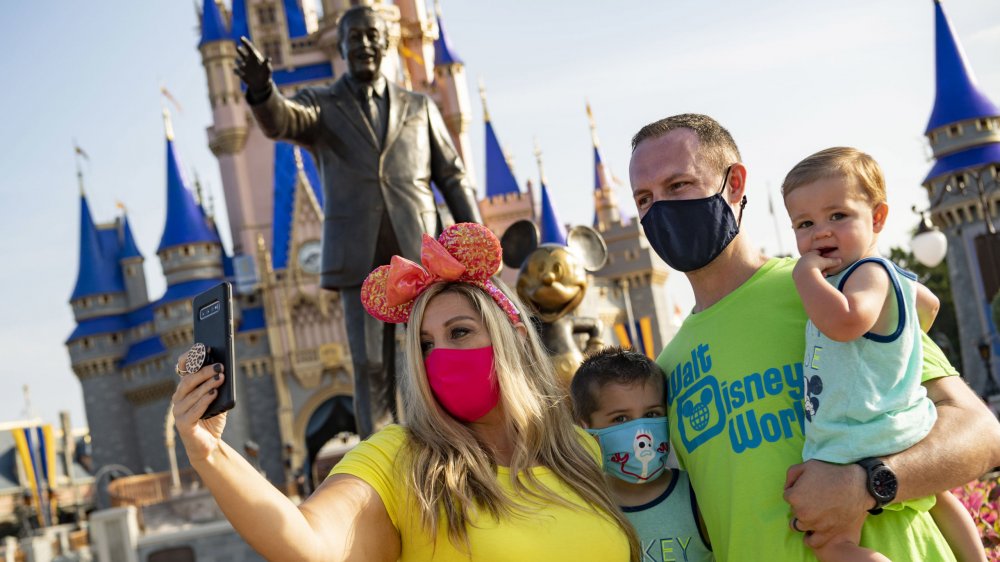 Handout/Getty Images
Disney's layoffs are both a sign of just how much the pandemic has hurt the company and an attempt to cope with the crisis. 
While the House of Mouse is notorious for its blockbuster movies and quality TV shows, it's easy to forget what a giant business the company's theme park unit is. In fact, CNN notes that Disney's parks unit may well be the company's most financially important asset — and also the one the pandemic hit the hardest. In 2019, it earned over $26 billion, but by the second quarter of 2020, its operating profits fell a whopping 58 percent, according to CNN.
When the pandemic started, all of the company's theme parks shut down. Many destinations — such as Disney World in Florida — have been able to reopen at a reduced capacity and with strict health protocols, but the company's still struggling to reopen Disneyland and Disney California Adventure Park, its theme parks in Anaheim, California. The state's strict restrictions have prevented all attempts to get Disney's Orange County assets back in the game, and D'Amato even noted in his statement that California's "unwillingness to lift restrictions that would allow Disneyland to reopen" played a part in the circumstances that led to the layoff decision. 
Disney's core business is in such dire straits that it has to operate with far fewer hands on deck. With this enormous round of layoffs in the US, Disney World in Orlando, Florida will now be running with even fewer employees than it had been since it reopened (in phases) in July 2020. Disneyland in California and Disney California Adventure Park remain closed, and with over a quarter of its US employees now without their jobs, Disney no longer has the workforce it would need to run those parks at an optimal level should they reopen soon.
While D'Amato admitted that the situation is grim, he sees the layoffs as a necessary move in order to streamline the operation and steer it toward a brighter future. "As difficult as this decision is today, we believe that the steps we are taking will enable us to emerge a more effective and efficient operation when we return to normal," he stated.