Bloopers That Make Us Love Enola Holmes Even More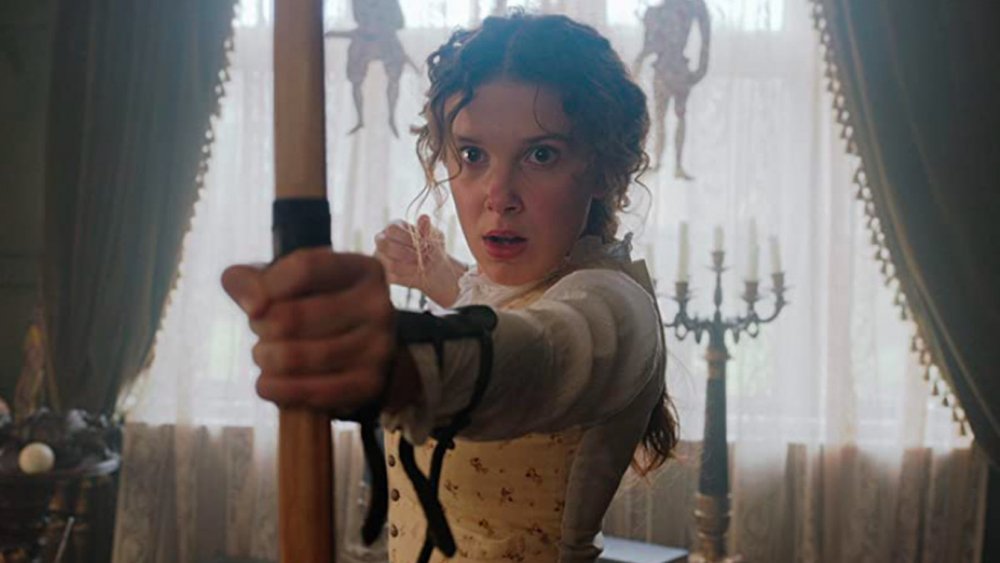 Netflix
Though it only just made its streaming debut, Enola Holmes is already proving another big hit for Netflix.
Starring Stranger Things breakout Millie Bobby Brown, the new film (based on Nancy Springer's best-selling series of young adult novels) follows Brown's titular character through a crackling mystery-adventure in turn-of-the-century London. Said adventure is, of course, complicated by the fact that Enola is the kid sister of the famed sleuth known as Sherlock Holmes (Henry Cavill) — not to mention their equally brilliant brother Mycroft (Sam Claflin). As it happens, the trademark Holmesian wit and intelligence did not skip the lone female Holmes kid, though her particular skill-set was fostered in decidedly offbeat ways by the family's eccentric matriarch Eudoria (Helena Bonham Carter). 
The Enola Holmes story begins when Eudoria goes missing. The teenage Enola sets out to find her missing mum, frequently outwitting her famous brothers in the process. Equal parts coming-of-age drama, witty period piece, and classic Holmesian mystery, Enola Holmes is rapidly becoming a legitimate blockbuster in the streaming realm, earning raves from critics and viewers alike.
Many of those raves have rightfully been heaped upon Millie Bobby Brown, who delivers a star-making, scene-devouring turn as Enola, imbuing the film with a breezy, youthful charm that's complemented by the equally endearing work of Cavill, Claflin, and the always brilliant Carter. And yes, it's clear throughout the film that the entire cast of Enola Holmes was having an absolute blast making the movie.
That fact was more than confirmed by Netflix's recent release of the Enola Holmes blooper reel. Here's a look at some behind-the-scenes silliness that makes us love Enola Holmes even more.
There were apparently laughs aplenty behind the scenes on Enola Holmes
It should hardly come as a surprise that so much fun was had on the Enola Holmes set. Sure, the film largely plays as a whip-smart mystery-thriller, but there's a certain light-heartedness in Springer's source material that is fully on display in the film. That kooky, effervescent energy is even more on display in the not-quite three-minute blooper reel just released by Netflix, which finds Brown and the rest of the film's cast flubbing lines, losing props, and generally wreaking a giddy sort of havoc during production.
Millie Bobby Brown is understandably front and center for much of the fun. And just from the looks of things, nobody on the Enola Holmes set had quite as much fun as she did. The reel opens with Brown flashing a couple of crazy faces, and having outlandish pretend "girl fights" with her co-stars. She continues to vamp throughout, and hilariously spends much of the video "flossing" per the now-infamous dance craze. In one slyly funny scene, she appears to have a lot of trouble making do with Sam Claflin's dramatic mustache. We beg you not to chuckle as Brown totally loses her cool opposite her esteemed co-star Fiona Shaw (Killing Eve). 
Henry Cavill has a couple of priceless miscues in the reel as well, dealing with some serious floppy hair problems in one outtake and dramatically flubbing a line in another. The blooper that takes the cake, though, comes via the ever-animated Helena Bonham Carter, who just can't seem to get her line out as she's simultaneously reading a paper and smoking a pipe.
Here's hoping you get as big a kick out of those bloopers as we did. And here's hoping they drive you to watch Enola Holmes, 'cause it's an utter cinematic delight.