Small Details You Missed In Enola Holmes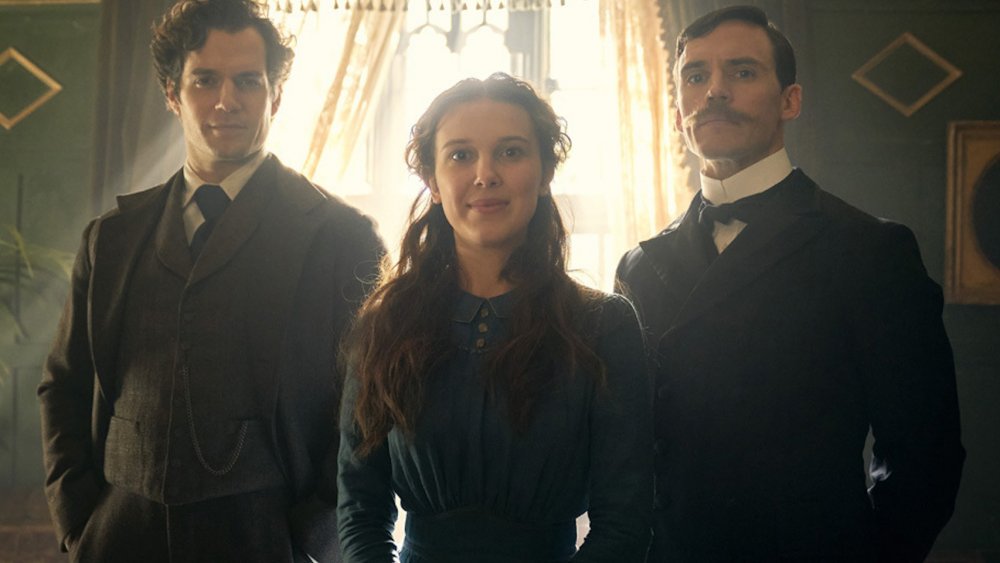 Certain characters — and the unique, rich worlds they inhabit — have so captured the attention of audiences that Hollywood often revisits them, presenting new iterations on the extremely familiar material. Take Sherlock Holmes, the master detective concocted by author Arthur Conan Doyle in the 1800s. Sherlock is intelligent and inscrutable, and audiences love to watch him work. In the last few years alone, Robert Downey, Jr. played Sherlock in the hit Sherlock Holmes film series, Jonny Lee Miller starred in the Sherlock CBS procedural drama Elementary, and Benedict Cumberbatch portrayed the idiosyncratic sleuth in the BBC-produced Sherlock. In 2020, Netflix added to the Sherlock mythology with Enola Holmes, which finds the detective's teenage sister (Millie Bobby Brown) in search of her missing mother.
Enola Holmes is a mystery, so it's full of clues, but not just ones that help Enola save the day. There are many clever allusions and references in the film that can be hard to spot. Here are some of the more amusing and smaller morsels in Enola Holmes.
Enola Holmes is a family-friendly Fleabag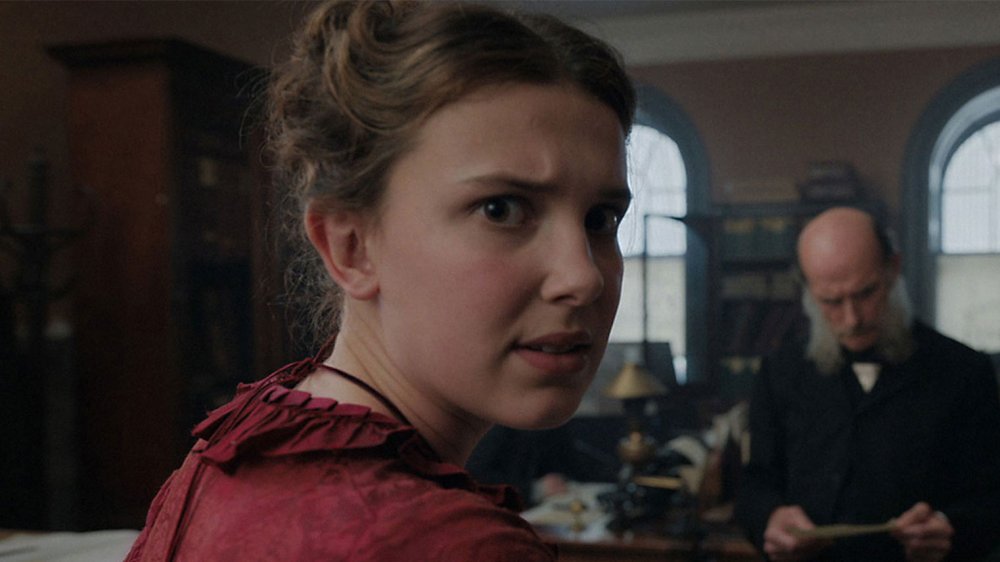 Enola Holmes is based in the Sherlock Holmes universe, created in the late 19th century by English author Arthur Conan Doyle. It takes place in the same Victorian-era London setting as Doyle's Sherlock books and stories while maintaining a distinctively modern feel. Enola Holmes operates from a feminist and female-centric perspective, told from the point of view of Sherlock's sister Enola. It's so feminist and female-centric that it's extremely reminiscent of Fleabag, Phoebe Waller-Bridge's Emmy-winning, era-defining hit about the messy life of a young English woman dealing with grief, self-loathing, and family issues. The title character (portrayed by Waller-Bridge) constantly breaks the fourth wall and talks to the camera to deliver exposition, reflect on plot developments, and make fun of others. Enola Holmes features its title character doing all those things, astutely keeping the audience well informed of her thoughts throughout the film. 
The Fleabag connections to Enola Holmes run deeper than a casual disregard for the fourth wall. The film was directed by Harry Bradbeer, who also helmed 11 episodes of Fleabag — a series which, like Enola Holmes, co-starred actor Fiona Shaw.
Sherlock sure is a super man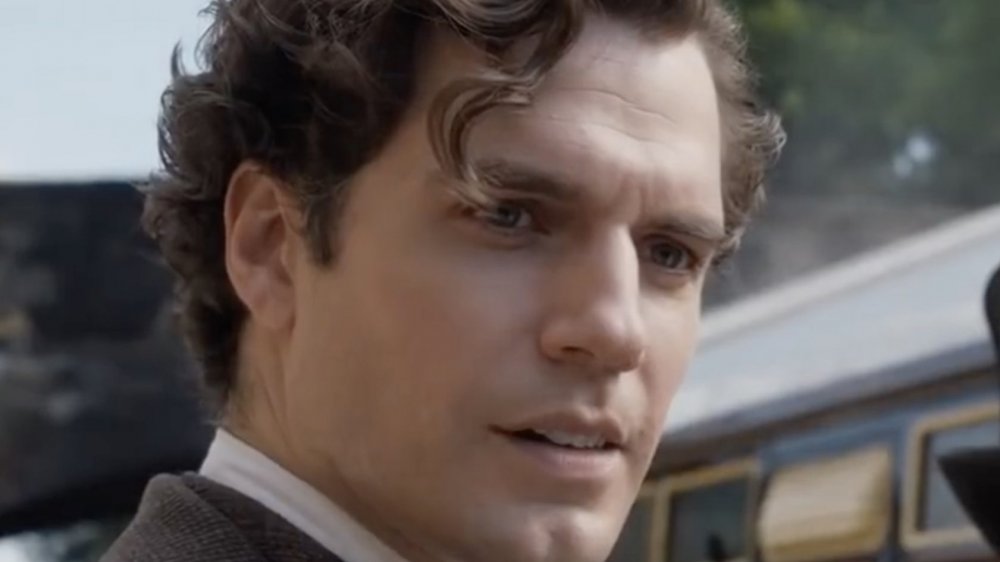 Sherlock Holmes was one of the western literary canon's first fictional characters turned cultural icons. Arthur Conan Doyle debuted the character in print with the story "A Study in Scarlet" in 1887. Just over 50 years later, another enduring, larger-than-life character made his first appearance in an issue of Action Comics: Superman, an alien who comes to Earth and becomes a flying, extra-strong, seemingly indestructible superhero. 
Over the decades, both Sherlock and Superman have been the centerpiece of numerous books, television shows, and movies. Most recently, Superman has figured prominently in movies like Justice League and Batman vs. Superman: Dawn of Justice — both of which saw him portrayed by Henry Cavill. The same actor co-stars in Enola Holmes, a new look at the Sherlock Holmes universe from the point of view of the famed detective's younger sister. 
Cavill takes on a supporting role as the supportive Sherlock, but when his character is announced and introduced early in the film, it's done so via a splashy montage explaining the man's many accomplishments and celebrity status. It's reminiscent of the announcer's breathless description of Superman from the 1950s TV series Adventures of Superman. While the superhero is "faster than a speeding bullet" and "able to leap tall buildings in a single bound," Sherlock is lauded as a "famous detective, scholar, chemist, virtuoso violinist, expert marksman, swordsman, singlestick fighter, pugilist, and brilliant deductive thinker." He is, in other words, pretty much the Superman of the 19th century.
Enola Holmes goes to Eleven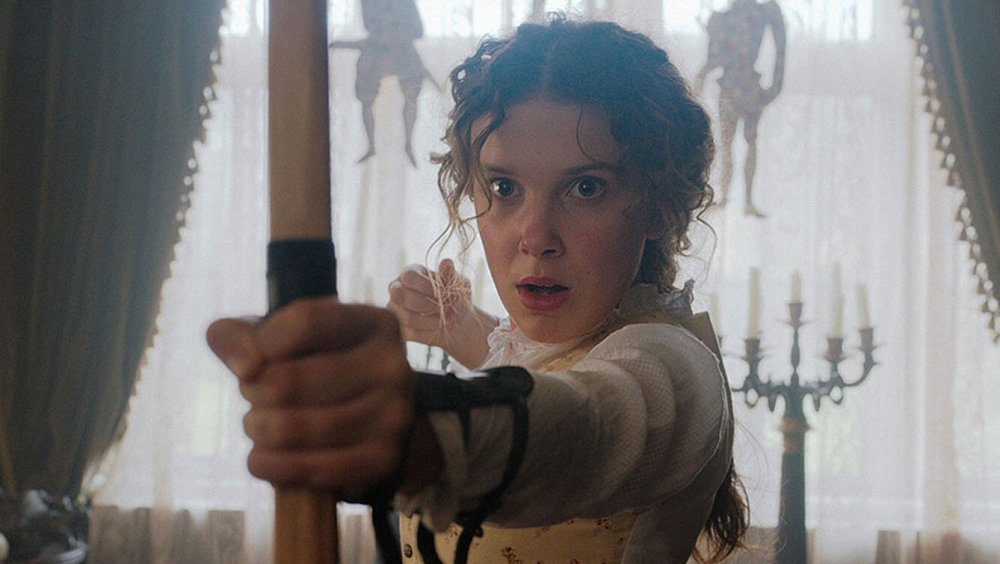 Enola Holmes reimagines the mystery-solving world of Sherlock Holmes through the eyes of his teenage sister Enola. To preemptively answer the audience's question of "How have we never heard of Sherlock Holmes' sister before?" the film (and the books upon which it is based) explain that Enola is much younger than her previously fictionally established brothers Sherlock and Mycroft, raised on the family's remote country estate by their widowed mother. 
It's a clever bit of casting to place Brown in the role. The actor is best known for her role as tween-age telekinetic test subject Eleven on Netflix's Stranger Things. After escaping from a secret government institution, she falls under the care of small-town sheriff Jim Hopper (David Harbour). He becomes her de facto father but also has to keep her safe from the forces who previously imprisoned her (and took advantage of her advanced superhuman abilities), so just the two of them live in Hopper's cozy, remote cabin in the woods outside of Hawkins, Indiana. Portraying the character of Eleven, a kid bristling against parental control while keeping herself occupied at home out in the country, turned out to be a great way to prepare Brown for Enola Holmes.
The wizarding world of Enola Holmes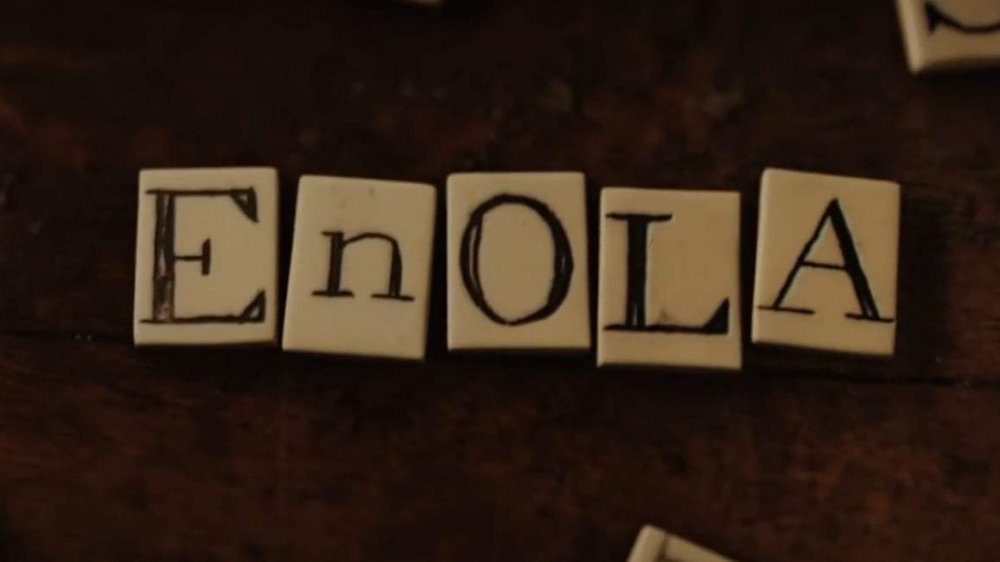 While it's explicitly connected to the world of Sherlock Holmes and his late 19th century adventures in crime-solving, Enola Holmes also boasts multiple links to another franchise of English and literary origin about a male character with mysterious and baffling abilities: the Harry Potter books and movies. 
Anagrams are an important plot device in Enola Holmes — the titular teen detective states early on that her name is, fatefully, the word "alone" spelled backward. Later, when her mother disappears and uses ciphers as clues to her whereabouts, Enola uses Scrabble-like letter tiles to unscramble the letters and clarify the message. An anagram is also the method by which Harry Potter author J.K. Rowling reveals the origin of the series' villain, Voldemort. Harry Potter and the Chamber of Secrets explains that the letters in "I am Lord Voldemort" are the same ones, rearranged, that appear in "Tom Marvolo Riddle," a former Hogwarts student who took a dark and evil path. He grows up to lead a dark army of wizards, among them Bellatrix Lestrange, portrayed in the Harry Potter movies by Helena Bonham Carter... who plays Eudoria Holmes in Enola Holmes, a film written by Jack Thorne, co-author of the hit play Harry Potter and the Cursed Child.
Didn't Sherlock Holmes have a sister before?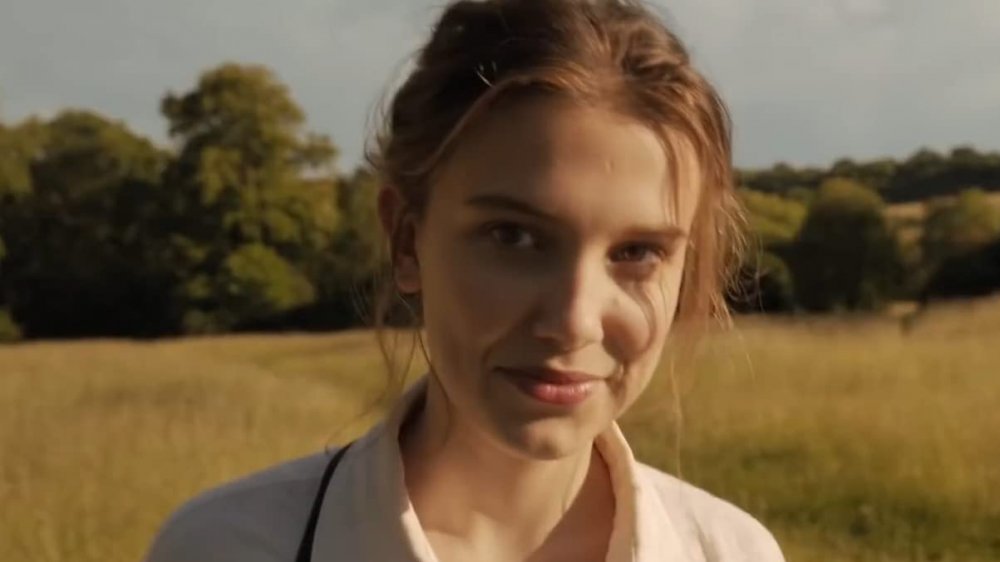 The central mystery of Enola Holmes concerns the sudden disappearance of Eudoria Holmes (Helena Bonham Carter), matriarch of the Holmes clan, mother of detective Sherlock, police consultant Mycroft, and budding mystery-solver Enola. Eudoria's mysterious departure occurs on the morning of Enola's 16th birthday, and Sherlock and Mycroft return to the family's country home — in part to investigate, and in part to look after their teenage sister. 
Mycroft (Sam Clafin) is more annoyed than worried and comments upon his confusion over the situation, as he didn't know his mother was a "mad woman" and how there was "no mental illness in our family." This whole situation connects Enola Holmes to another non-canonical, modern-day reinterpretation of the Sherlock Holmes universe. On the BBC/PBS series Sherlock starring Benedict Cumberbatch, it's revealed that the detective has a sister he never mentioned — and Eurus Holmes (Sian Brooke) is evil, imprisoned, and tries to kill Sherlock's assistant, John Watson. Like Enola, whose name is "alone" spelled backward, the institutionalized Eurus was also subjected to a lot of alone time. Meanwhile, their uncommon first names are similar — Enola is not that different from Eurus, which is also similar to Eudoria, the name of Enola's mother.
Where's Watson?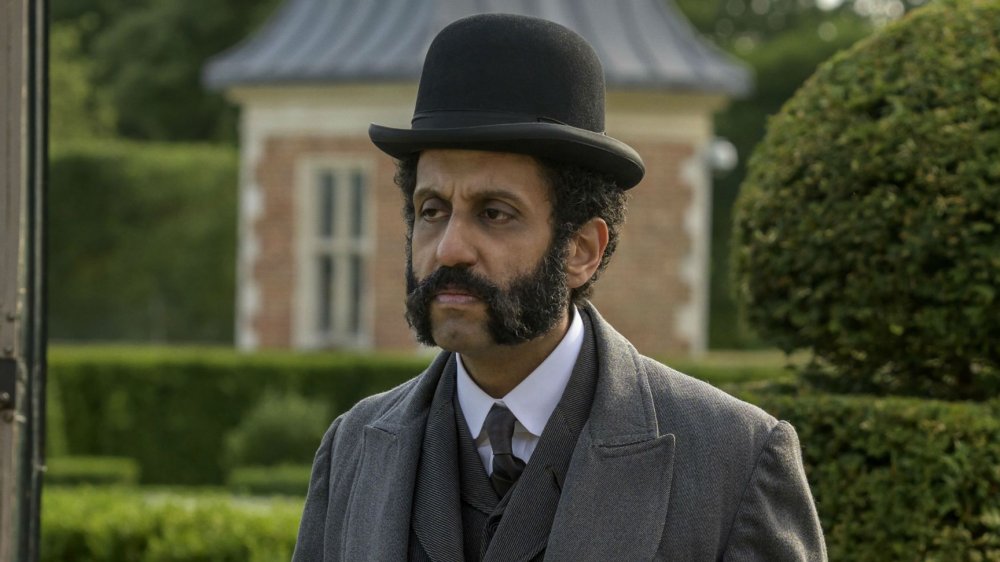 While Enola Holmes of Enola Holmes ventures into London to try to solve the mystery of her mother's calculated disappearance, she winds up trying to solve another pressing conundrum: why her potential love interest the Viscount of Tewkesbury, Marquess of Basilwether (Louis Partridge), is on the run from his family and a violent man who keeps trying to kill him. 
Presenting herself as a 22-year-old woman named May Beatrice Posey, she gains access to Basilwether by further pretending to be the assistant of Sherlock Holmes (who, as it happens, has already rejected the case). Her scheme is nearly foiled upon the arrival of Inspector Lestrade (Adeel Akhtar), the Scotland Yard detective who is Sherlock Holmes' contact in the English police system. He calls out the so-called Miss Posey on her claim to be Holmes' assistant, stating that the detective works alone. This isn't exactly true, however — Holmes may do his mystery-solving mostly in his own head, but he has to work with Lestrade to obtain cases. Holmes additionally famously does have a helper, just not May Beatrice Posey — it's Dr. John Watson. This means that, in the Sherlock Holmes chronology, Enola Holmes takes place after Sherlock Holmes becomes the toast of London, but before he meets his assistant, closest thing to a friend, and partner in crime-solving.
The references are afoot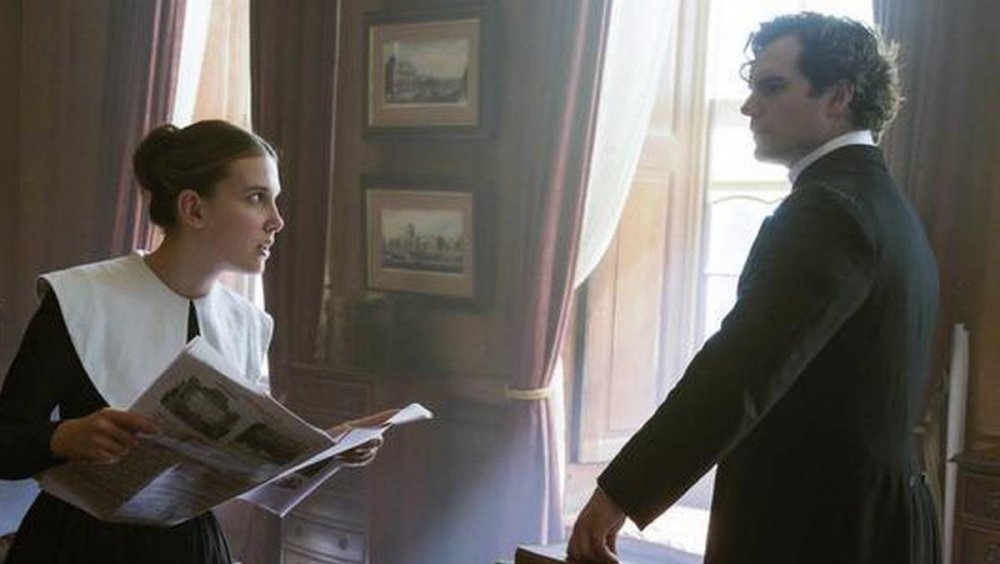 Though dozens of movies, television shows, books, and stories, the world of Sherlock Holmes has entertained millions for well over 100 years. Enola Holmes is the latest high-profile take on the literary creations that Arthur Conan Doyle brought to life in the late 1800s. And even though it focuses on a relatively new character this world — Enola Holmes, created by author Nancy Springer for the The Enola Holmes Mysteries — the movie pays homage, however subtle, to its predecessors. When Enola runs off to follow a lead on a case, a pivotal moment in the film, she declares, "The game is afoot!" This is a phrase coined by William Shakespeare, but closely associated with Enola's brother Sherlock, uttered when he became excited by a development in a difficult-to-solve case.
One of the most famous and prolific onscreen portrayers of Sherlock Holmes is actor Basil Rathbone, who played the detective in 15 movies in the 1930s and 1940s. The people behind Enola Holmes threw out a nod to the star, using his first name as part of a character's family name: Enola Holmes helps out the distressed Marquess of Basilwether. Rathbone starred in an adaptation of one the best-known Sherlock tales, The Hound of the Baskervilles. Enola Holmes shouted out its own mysterious dog — Dash, a toy the title character played with as a child.
How to tell when Enola Holmes is set
Dates flash onscreen quickly in Enola Holmes, so it's easy to miss exactly when the film's storyline takes place. Audiences with at least a passing familiarity with the Sherlock Holmes stories can tell that the movie, like most other fiction about the character, takes place in London during the reign of Queen Victoria in the Industrial Age, sometime between the 1800s and the turn of the 20th century. A couple of small clues from the political climate that forms a backdrop of the plot of Enola Holmes indicates to the audience that the film takes place precisely in 1884. 
The two cases Enola Holmes pursues — the disappearance of her mother, and the reason for the attacks on the Marquess of Basilwether — ultimately dovetail. Enola's mother Eudoria takes off for London to help persuade Parliament's House of Lords to pass a sweeping, progressive law that will expand the voting franchise. The Marquess, meanwhile, inherited a seat in the House of Lords from his deceased father, and parties opposed to that new law aim to make sure he doesn't vote in favor of it — specifically by killing him before he has the chance. Not many details of this law are provided, but Enola Holmes speaks of the Representation of the People Act of 1884, also called the 1884 Reform Act, which expanded voting rights throughout the United Kingdom.
Enola and the Marquess are kindred spirits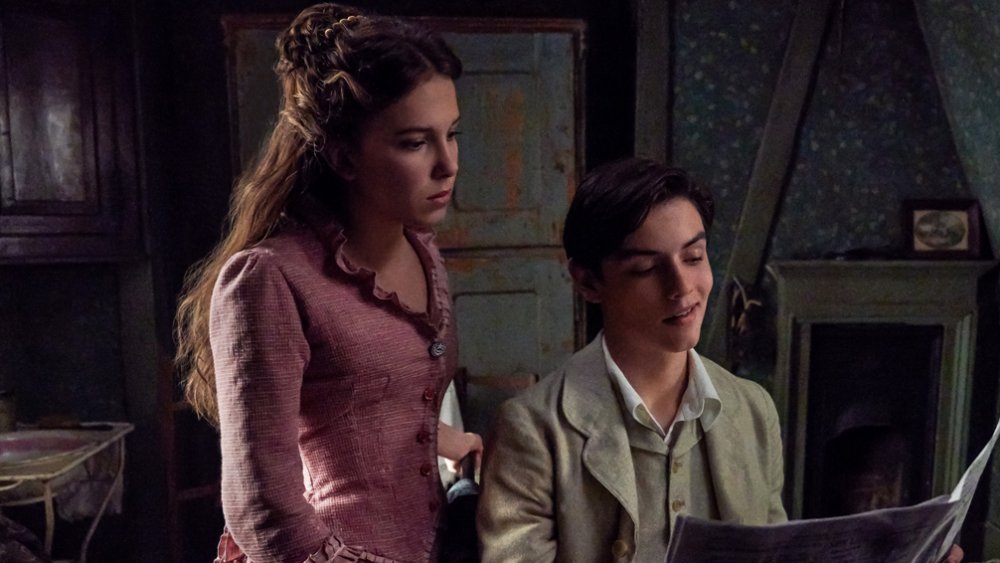 The plot of Enola Holmes grows more complicated when Enola, who becomes a newly minted detective out of necessity when her beloved mother goes missing, gets sidetracked with the situation involving the ridiculously named Viscount Tewkesbury, Marquess of Basilwether (Louis Partridge). After Enola discovers him hidden in a piece of luggage in her train compartment, they jump off the moving locomotive together to escape a hitman trying to kill the young nobleman. Enola vows to help determine why exactly her new friend is a boy with a bounty on his head, and here and there she abandons her just-as-pressing quest to locate her mother. 
It's a little curious as to why Enola Holmes would take this path, and something as simple as a crush on the Marquess feels far too basic for such a self-assured, independent character. The real reason Enola Holmes helps the Marquess is because she sees a lot of herself in him. By helping him, she's helping herself, in a way. After poking around his family's estate, she finds the Marquess' treehouse refuge, and it's clear that his happiest moments as a child were spent in the countryside, bopping around the woods outside the well-appointed home of a rich, prominent family. Enola experienced a similar upbringing — she was a "wild child," raised in a country home of the rich, prominent Holmes family.