Why Antebellum Is The Perfect Psychological Thriller For Right Now - Exclusive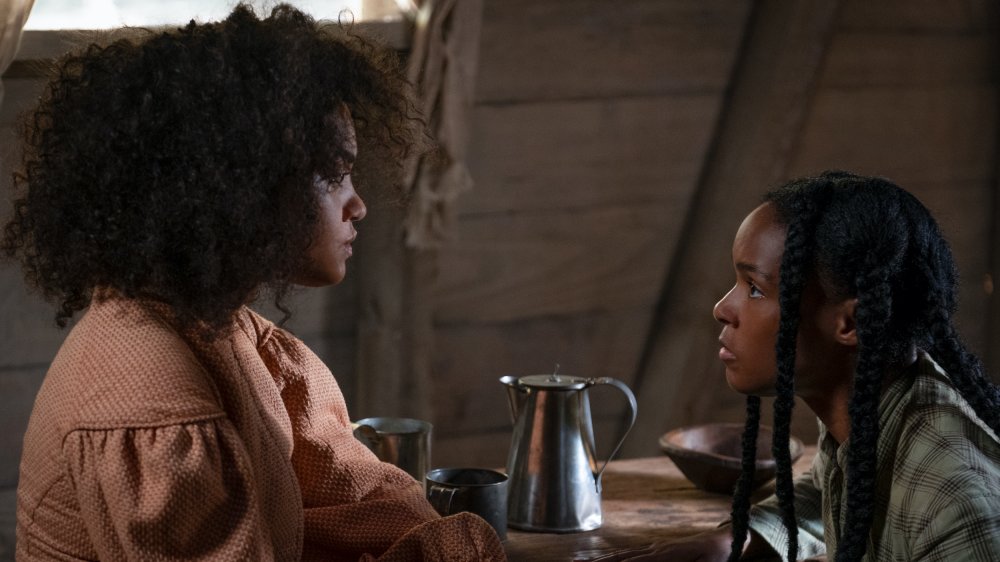 Matt Kennedy/Lionsgate
The soon-to-debut psychological horror-thriller Antebellum splits its story between the Deep South during the Civil War and New York City in the modern day, messing with the audience's sense of reality, identity, and time in the process. Led by singer-actress Janelle Monáe, the movie's ensemble cast includes Kiersey Clemons, Gabourey Sidibe, Jack Huston, and Jena Malone. 
The horror of American slavery is front and center in the script by writer-director duo Gerard Bush and Christopher Renz, who make their feature film debut courtesy of QC Entertainment (the production team behind Get Out and BlacKkKlansman). Ahead of Antebellum's release on September 18, 2020, Variety's Peter Debruge declared the film "stunning" and "timely" in an enthusiastic review, writing, "The terrifying social thriller Antebellum lands like an explosive mortar — a potent, politically charged cross between The Handmaid's Tale and an M. Night Shyamalan movie."
As America continues to grapple with its complicated history of racial injustice, the arrival of Antebellum indeed feels timely. In an exclusive interview with Looper, actress Jena Malone, who plays one of the film's villains, opened up about why Antebellum is the perfect psychological thriller for right now.
A bridge from the past to the present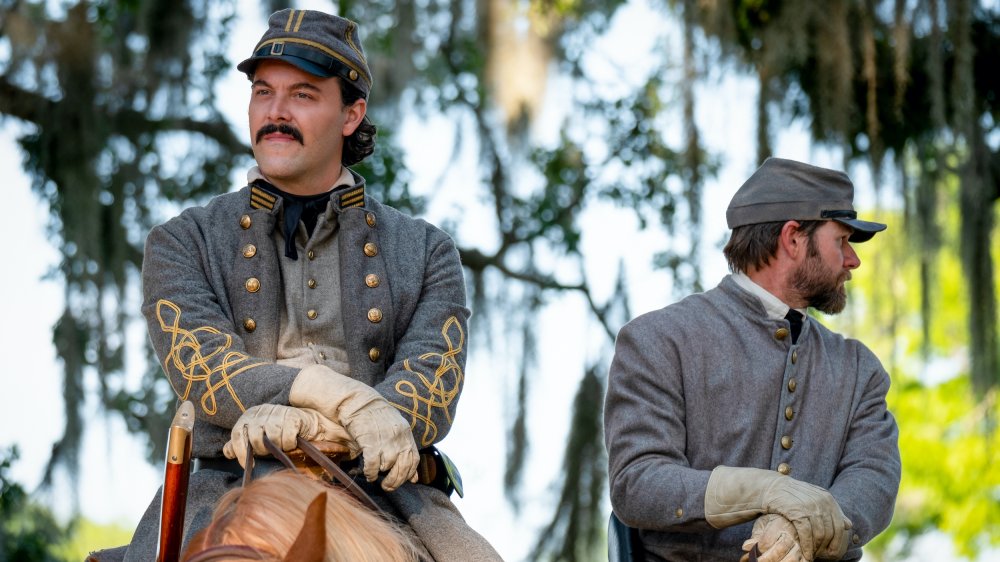 Matt Kennedy/Lionsgate
Antebellum serves up its social messaging with visceral performances and stunning imagery. The movie's writer-directors are well-versed in the visual medium, as they previously directed music videos and luxury ad campaigns together as "Bush + Lenz" — working with the likes of Porsche, Harry Winston, and Jay-Z. Monáe appears as both Eden, a woman subjugated on a slave plantation, and Veronica Henley, a successful author making a huge name for herself. Malone's character Elizabeth is present in both environments as well, and the dual settings connect the dots between the worst abuses of America's past with the activism, unrest, and calls for reform of the present. 
"It fits so perfectly for this watershed moment that we're all experiencing, but also, films [can be] bridgework," Malone explained to Looper. "It helps us get from one place to another. And I think that this is such an important time to have a very clear, well-understood bridge from our past to where we are now. I mean, even just in the examination of slavery, I love that we're finally talking about how the police system and the criminal justice system were so tied to [it] — and [how] those ideologies built these systems that we're still interacting with, funding, and supporting today." 
Pinpointing the kind of movie Antebellum really is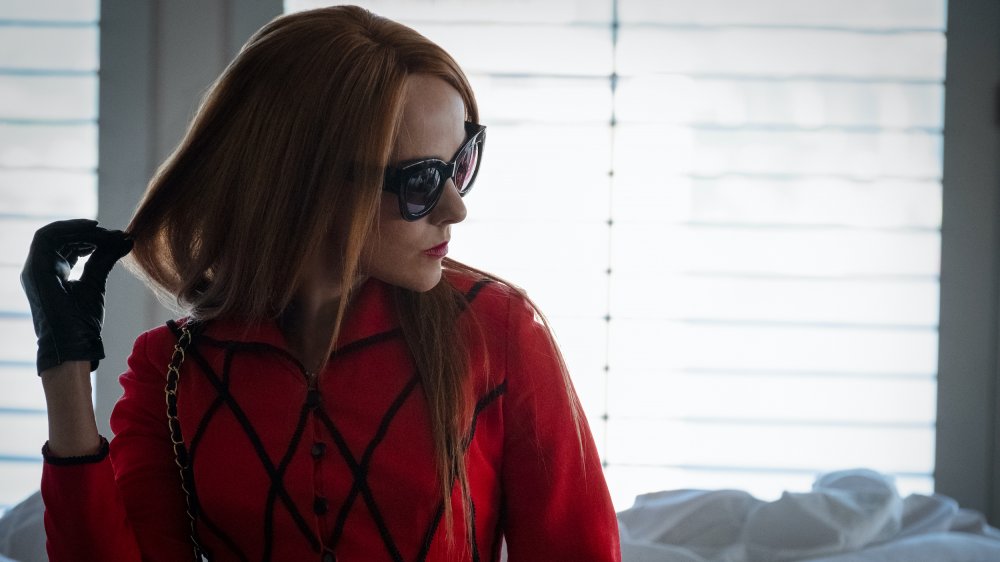 Matt Kennedy/Lionsgate
A menacing, tension-building score and truly brutal scenes of violence, combined with the filmmakers' purposeful obfuscation of the movie's reality (in early scenes), would seem to put Antebellum squarely in the "surprise-horror" category. Is Antebellum a time-travel movie? Is it all in the protagonist's imagination? Which of the two settings is real — both, or neither? It isn't clear at first, though the puzzle does come together eventually.
"I find it easier to talk about it as a psychological thriller," Malone offered. "Because sometimes I find calling something a horror film — particularly in this, when you're talking about chattel slavery and Antebellum South, and it was already such a horror show — I feel like it's not enough to just call it horror sometimes, you know? Antebellum is much more in the sort of psychological thriller [genre], in that you don't know what's happening."
She added, "But those are the best movies! I mean, I love when someone's like, 'I can't tell you, just watch it.' That's kind of the best way to describe this." 
Even after audiences experience the movie's big reveal, Antebellum will warrant repeat viewings, Malone said: "I do think I can watch this again, even after knowing what happens, and still find interesting things. It's a good story. It's just good filmmaking. And that's a pleasure, no matter whether you've read the whole script, or it's completely new to you." In fact, knowing the secrets the second time through, "makes it even more enjoyable." 
Antebellum will be released in the United States via video-on-demand September 18, 2020.