How Jena Malone's Unconventional Upbringing Shaped Her Career - Exclusive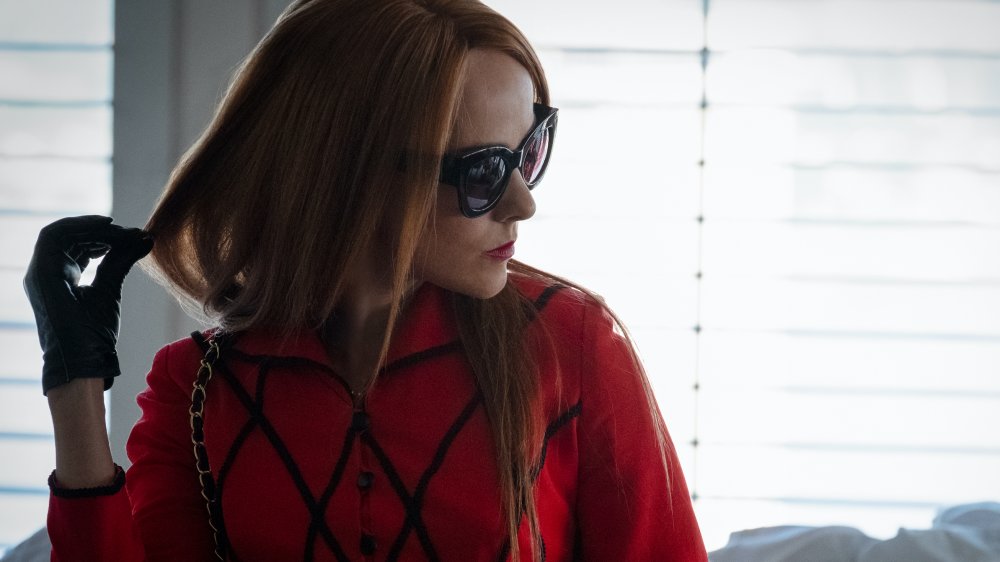 Matt Kennedy/Lionsgate
Antebellum, a psychological horror-thriller set on a Deep South plantation amidst the real-life terror of slavery, arrives as the discussion around racial injustice in America reaches a fever pitch. This fact isn't lost on the filmmakers or their cast — like actress Jena Malone, who hasn't been afraid to vocalize her views while promoting Antebellum. The directorial debut from Gerard Bush and Christopher Renz, Antebellum features Malone as Elizabeth, one of the movie's villains, who goes up against the film's hero, played by eight-time Grammy Award nominee Janelle Monáe (Moonlight). 
Malone is no stranger to films that blend entertainment with social commentary — from the Sundance Film Festival favorite Saved! (which comically skewered modern evangelicalism) to The Hunger Games franchise (set in a dystopian world of haves-versus-have-nots) to another commentary-packed horror-thriller, The Neon Demon. In an exclusive interview with Looper conducted in the run-up to Antebellum's September 18 release, Malone credited her unconventional upbringing as playing a part in her career choices that so often overlap with important cultural conversations.
For Jena Malone, Antebellum was about more than playing a villain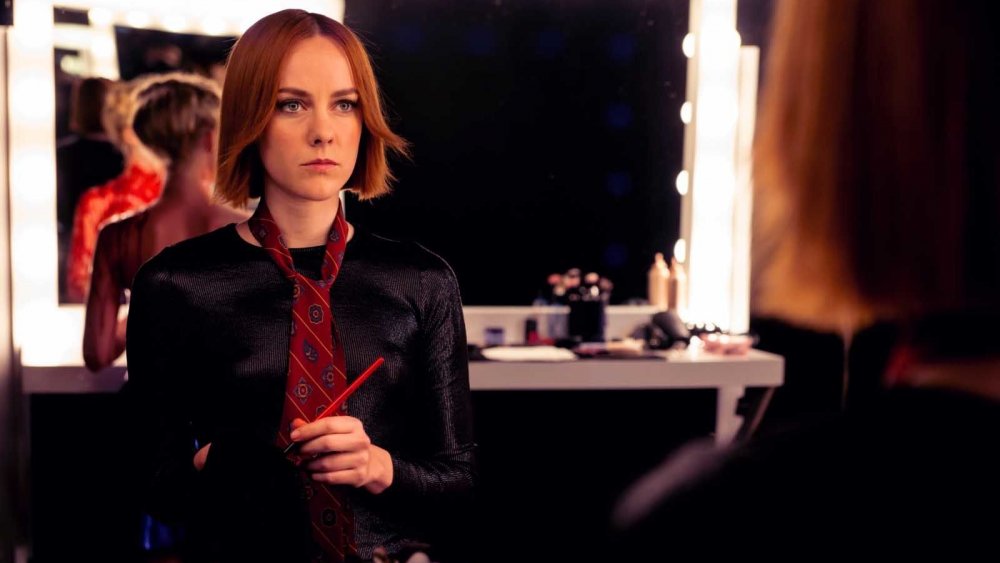 Gunther Campine/Amazon Studios, Broad Green
As the much-talked-about trailers suggest, Antebellum mines terror from confusion, with a unique narrative that regularly switches between present-day New York City and the Civil War-era South. Monáe appears as both Veronica Henley, a successful author promoting a new book, and Eden, a slave trapped among unspeakable atrocities. Malone's Elizabeth is present in both realities as well — as a mysterious businesswoman with an apparent interest in Henley's career in the present, and a plantation matriarch in the past. During Looper's conversation with her, Malone was reflective, wondering what made her so attracted to films with so much to say about important issues. 
"It's [a question] that actually has been on my brain recently, so I'm glad that you asked that," she began. "For Antebellum, I've been asked a lot about playing the villain, right? And having to embody a space that is inherently evil. How vile that is to have to do that. But then I was like, 'Huh, I've been playing a few villains lately. And then what was before that?' I don't really have a full answer, [however] the hunch that I have is that I was raised in a very untraditional way. I started acting when I was 10 years old, and I just never in my mind thought that storytelling was supposed to be easy. Storytelling felt like something that was honorable work [...] about discovering and helping people that didn't have [their stories told]. And I mean, I was raised in kind of a different way, where I had two mothers who were lovers, and we were living in our car [at various points]."
Jena had lived in 27 different places by the time she was nine years old, according to an LA Weekly profile published in October 2000. "We were sort of below middle class for sure," she told Looper. "We were even sort of 'unhoused residents' in a few spaces of my life. I think that maybe just having that lens of the world that felt less of a bubble and more like I had been given the gift of an awareness of what we perceive or verbalize as marginalized experiences [influenced me]. Those marginalized experiences were things that felt really important for me to tell. And I remember even when I was younger I told my mom I didn't want to go out on auditions for commercials anymore, because it felt so dehumanizing. I didn't want to sit in a space and pretend to like cereal. I was like, 'I want to tell a story where it's going to make you feel something.'" 
She added with a laugh, "This was at 10, so I don't know what kind of trip I was on at that age. I think I'm actually much less responsible now." Malone then shared, "I think it was just the gift. And I think it is a gift that you can give to your children, which is more of a wider lens to view humanity, instead of a bubble that sort of protects their perceived fragility." 
How storytelling helps foster empathy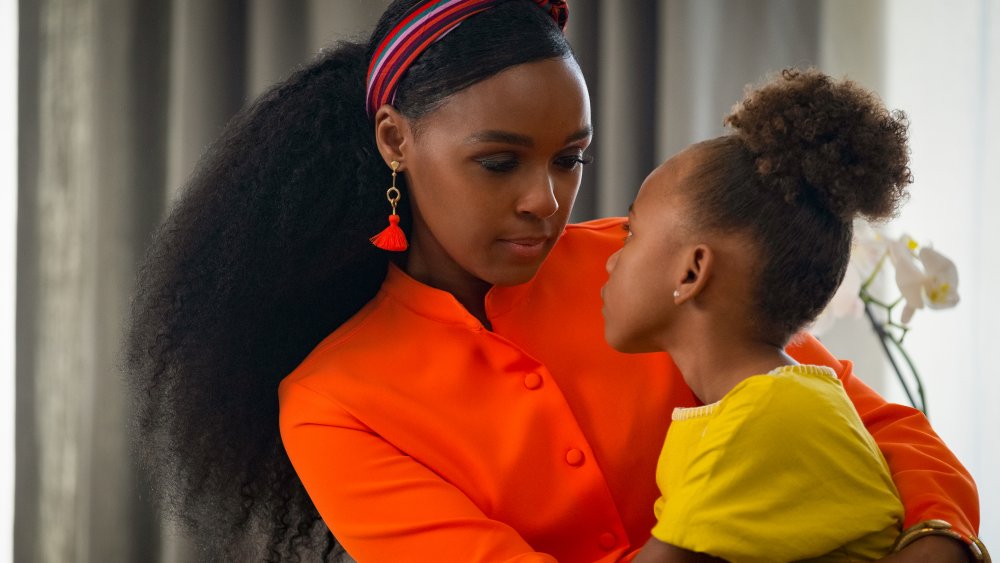 Matt Kennedy/Lionsgate
One emotional anchor in Antebellum is the relationship between Veronica and her young daughter, played by London Boyce. Malone's character Elizabeth also has a daughter in the movie; in real life, Malone is mother to Ode Mountain DeLorenzo Malone, who turned four years old earlier this year. For Malone, seeing the world through her son's eyes has been a reminder of the importance of imagination and how storytelling can help foster empathy. 
"They're these myth-makers, right?" she said of great movies, TV shows, and books. "They help us alchemize our experience here on this planet. The biggest gift for me, from having a child, is realizing how deeply they use their imagination to alchemize humanity. Sometimes they're not even being empathetical to themselves, but then they create a story that helps them understand how they fit into that story. Imagination is one of the most powerful things that we own and possess. [...] It helps us alchemize the human experience. Sometimes we need to turn our fear into a villain to understand it, and sometimes we need help turning our courage into a heroic event because sometimes it doesn't feel so courageous all to ourselves, you know?" 
For the cast and filmmakers, Antebellum is one such effort to help audiences understand the people and the world around them. 
"I think the reason why Antebellum is so important right now [is because] it's sort of poetic in every single way," Malone offered. "It fits so perfectly for this watershed moment that we're all experiencing, but also, films are bridgework. They help us get from one place to another. This is such an important time to have a very clear, well-understood bridge from our past to where we are now." 
Antebellum will be released through video-on-demand services in the United States on September 18, 2020.