How The Devil All The Time Really Cast Its Huge Stars - Exclusive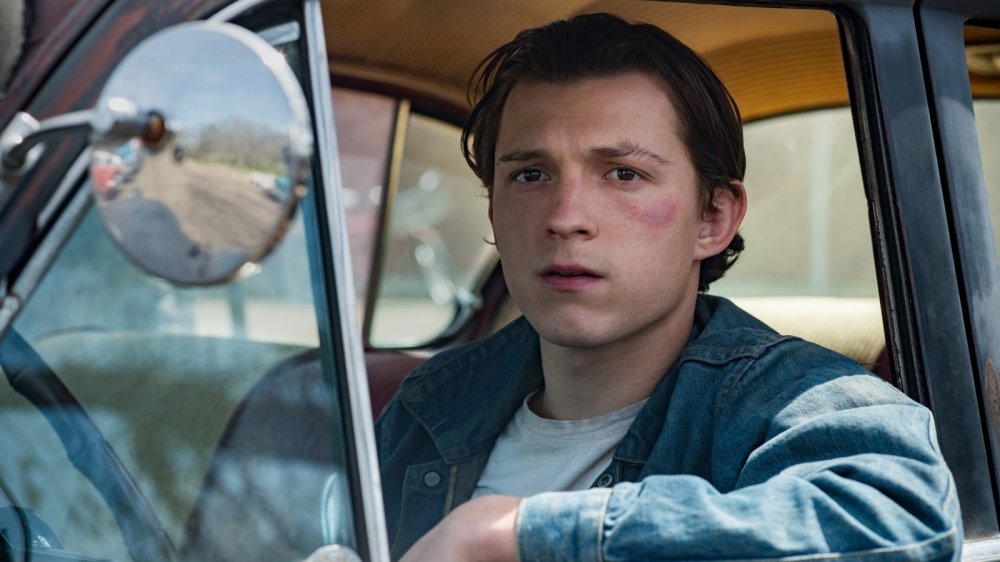 Netflix
If you're looking to see a movie where Spider-Man throws down with Batman, well, the closest you're going to get to that is with Netflix's original movie The Devil All the Time — a harrowing, Southern Gothic drama starring Tom Holland, Robert Pattinson, and the Winter Soldier himself, Sebastian Stan, plus a slew of other A-list actors.
The Devil All the Time is based on the novel of the same name by Donald Ray Pollock, and it's been adapted for the screen by writer-director Antonio Campos and his real-life brother and co-writer Paulo Campos. To say the film is grim and gritty is an understatement. Set in rural Southern Ohio and spanning between the 1940s and the mid-1960s, The Devil All the Time is a twisted sort-of soap opera that follows several damaged characters — ranging from a sleazy, two-faced preacher to a demented photographer-slash-serial killer. At the heart of the narrative is Arvin Russell, played by Holland, who viewers watch struggle growing from an orphaned boy to a mentally scarred young man determined to break free from the endless cycle of anguish he's experienced his whole life. 
These interconnecting storylines ultimately converge, and it's meticulously done thanks to the writing and directing talents of Campos. Of course, the material is elevated even more by the performances of his top-notch cast. Landing Holland, Pattinson, and Stan — not to mention Bill Skarsgård, Riley Keough, Jason Clarke, Mia Wasikowska, Haley Bennett, Eliza Scanlen, Henry Melling, and more that make up the films cast – might seem like a daunting task involving strenuous amounts of wooing, especially due to their worldwide name recognition via roles in colossal Marvel and DC Universe movies. As it turns out, however, it was pretty much smooth sailing for Campos in the casting department.
A good old-fashioned cup of coffee does the trick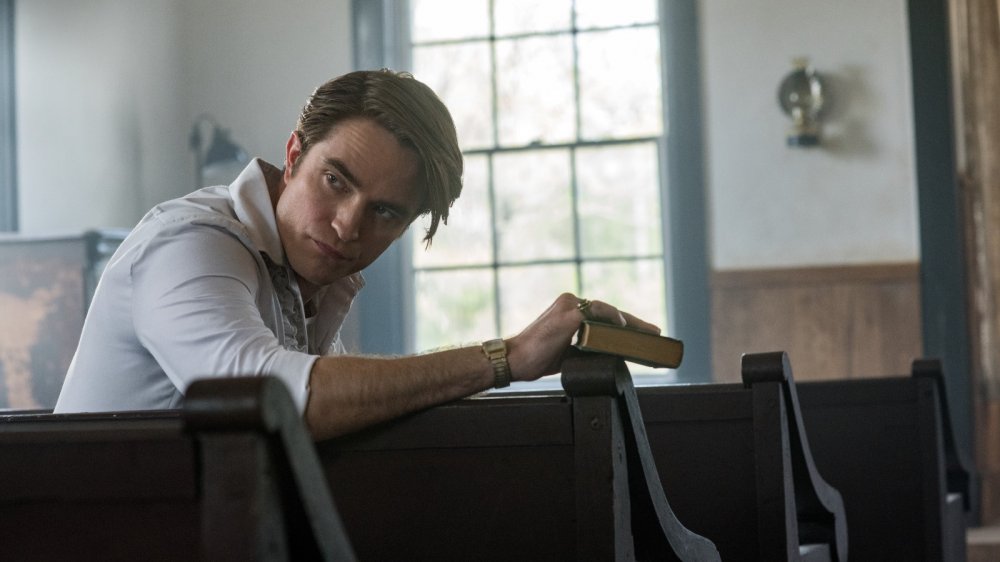 Netflix
"Everybody was a little different, but for the most part, it was very organic," said Campos during a recent one-on-one interview with Looper, adding that bringing Pattinson aboard The Devil All the Time was fairly simple given the pair's history with one another.
"Robert [Pattinson], for instance, was a friend. We have mutual friends. We got to know each other four years ago and liked each other," the director shared. "He was in the middle of making Good Time when I met him, and then I showed him an early draft of the script and he really liked the character of Preston Teagardin, and so that was it. He was the first one on board, and that was really cool."
It was equally easy to secure Wasikowska, who plays Helen Hatton in the film, and Holland for The Devil All the Time. Said Campos, "And then Mia Wasikowska and Tom Holland came on [after Pattinson]. His agent had read the script, and it was during the time that Tom had been asked to play Spider-Man. He maybe even played Spider-Man already and the movie hadn't come out at that point, but I hadn't seen him in the role yet. They just knew my work and thought I was an interesting director to work with."
In other cases, it seemed like a casual chat over a cup of coffee was the unintended key to scoring certain cast members — namely Keough, who plays Sandy Henderson, the wife of Clarke's character Carl, and Bill Skarsgård, who plays Arvin's father Willard.
"Riley Keough was someone that I had coffee with just because we really liked each other's work. And with Bill Skarsgård, it was the same thing," said Campos. "These were just general coffee meetings — they were not like, 'I got a movie for you.' It was really just kind of, 'Hey, let's get to know each other and say hi and if anything comes up in the future that might be right, let's reach out.' And that's how that happened."
Thinking about an actor's past roles is a distraction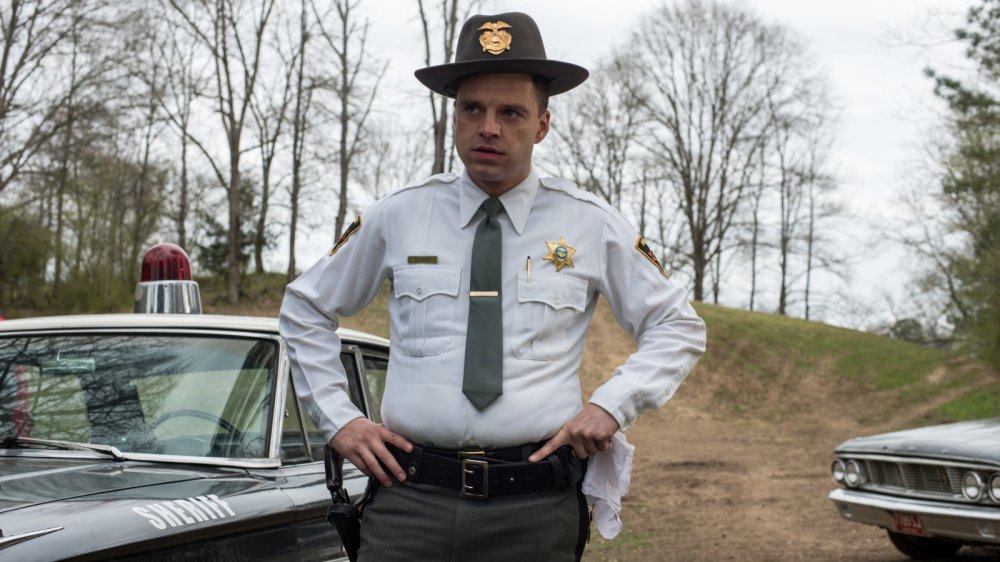 Netflix
Considering that Campos is no stranger to comic book material — he directed a 2017 episode of Netflix's The Punisher – one might assume he geeked out a bit when it dawned on him that Spider-Man and Bucky along with DC's newest Batman were all in his movie. But that wasn't Campos' reaction — it seems he chooses to not to let an actor's biggest characters distract from his current vision. 
"I don't think Robert was Batman back then. The fact that there are three people who are in one of these cinematic universes, it did not dawn on me until after the fact," said Campos. "I don't think of them as anything but the person that's in front of me. Also, if I'm working with Riley Keough, I don't think about what she did in the Girlfriend Experience, you know what I mean? I don't think about that stuff. You have to focus on the person that's in front of you and the character you're creating. If you have the baggage of other characters that they've played, it's distracting, and they don't want to do that again. They do that in those movies — they want to do something different here."
Campos also made another valid observation: The Marvel Cinematic Universe is so vast, with no sign of ceasing anytime soon, so will all of Hollywood's actor eventually be part of the MCU? 
"The thing that's funny about this, is that, at this point, I mean, The Avengers is so massive. I mean, what actor is not in there?" noted Campos. "These universes are just getting so big and they attract the best actors. It's inevitable that you're going to work with a few of them. The coolest thing about The Devil All the Time is that these actors that have been in those movies together — in the case of Sebastian and Tom — I think in this movie, they get to do more together, even though they've been in several movies together."
The Devil All the Time premiered in select theaters on September 11, and is set to hit Netflix on September 16.