Why You Should Be Excited About Netflix's The Devil All The Time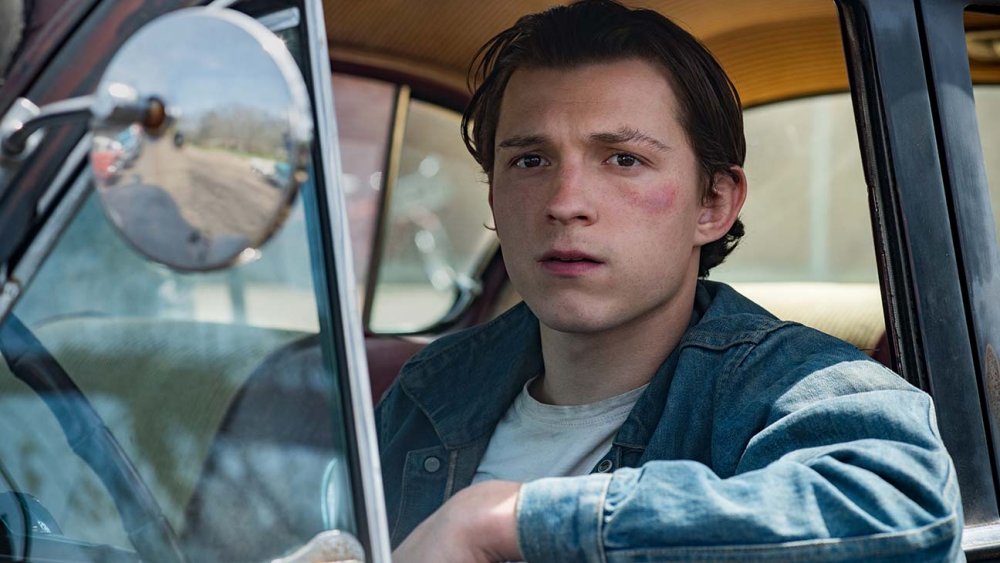 Netflix
Stop us if you've heard this one before: Spider-Man, Batman, and Pennywise the Clown walk into a bar. Is this the Marvel-DC-Stephen-King crossover the world never asked for? No, sir. It is, however, one small glimpse of the stellar lineup for Netflix's upcoming film The Devil All the Time.
As seems to be the ongoing trend while we trudge ever deeper into the unknowable, dark wood that is 2020, Netflix is looking to ensnare audiences with another tense thriller that borders on horror. Set between World War II and the war in Vietnam, The Devil All the Time is a southern gothic noir about generational trauma and a faith corrupted.
The film is based on Donald Ray Pollock's debut novel of the same name, which was published in 2011 and swarmed with critical praise almost immediately. If you're looking for the type of energy you can expect from The Devil All the Time film adaptation, you might turn to Jeff Baker's review of the novel in The Oregonian. Baker writes that the story, "Reads as if the love child of [Flannery] O'Connor and [William] Faulkner was captured by Cormac McCarthy, kept in a cage out back and forced to consume nothing but onion rings, Oxycontin and Terrence Malick's Badlands." If you're looking for the shorthand of that sentence, it says The Devil All the Time is exquisitely and existentially bleak. That kind of story can be appealing (maybe even cathartic) when you've got the right team behind it.
The Devil All the Time's cast comes loaded with big names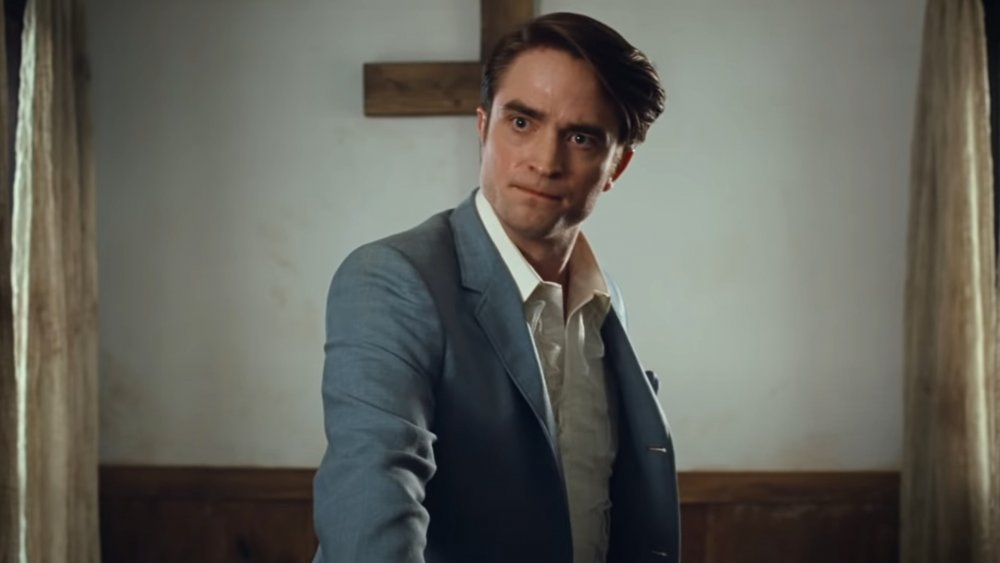 Netflix
Tom Holland, Robert Pattinson, and Bill Skarsgård are only a few of the actors who feature in The Devil All the Time, but we'll start with them because, yes, this means we're getting a movie featuring Spider-Man, Batman, and Pennywise, which is neat on its own!
"I was really eager to work with [director] Antonio [Campos] because his previous films that I've seen are very raw," Holland said in an interview with Entertainment Weekly. "I guess it was the challenge of doing a different accent, playing the rural kid, a period film, a new director. Everything ticked the boxes for me."
"Tom is a very sweet person and a very generous actor, but he's willing to go wherever he needs to go emotionally for the character," responded Campos in the same interview. "He wanted to go where he had to go. Tom's electric. He's sort of sitting there doing nothing and is immensely watchable."
Campos had similarly effusive praise for Pattinson, saying, "Rob prepared a bunch of ideas and you don't know what you're going to get but it's all interesting. The character coming to life — I saw that in front of me when we were on set."
There's a lot more to recommend The Devil All the Time just in the casting alone, as its roster also includes Sebastian Stan (Captain America: Winter Soldier), Riley Keough (Mad Max: Fury Road), and Haley Bennett (The Magnificent Seven).
So, what's The Devil All the Time about?
The Devil All the Time's tense trailer is the biggest selling point, offering up everything from horrifying crucifixions to faces covered in spiders. It's a lot, so let's try and break down the story a little.
Holland is playing Arvin Russell, a young man plagued by the shadow of his father William's (Skarsgård) misdeeds. When Pastor Preston Teagardin (Pattinson) comes to Arvin's small town of Knockemstiff, Ohio, Arvin will have to fight, according to the Netflix synopsis, "the evil forces that threaten him and his family."
We know from the trailer that whatever William did, it left Arvin an orphan, but we also know that Arvin inherited something very important from his father: A gun. If the dramatic principle that is Chekhov's Gun is anything to go by, we'll see that weapon used, potentially on Teagardin.
Another big question is how Carl Henderson (Jason Clarke) taking photos of fellow church-goers will play into the story. Is Henderson an assaulter? Worse yet, might Henderson be a killer? And if the town of Knockemstiff has secrets to reveal and exploit, how many of them does Lee Bodecker (Sebastian Stan) know about as the local law enforcement?
What are delusions and what is reality? We'll find out the answers in a few weeks' time.
The Devil All the Time is due on Netflix September 16, 2020.