The Most Iconic Chadwick Boseman Scenes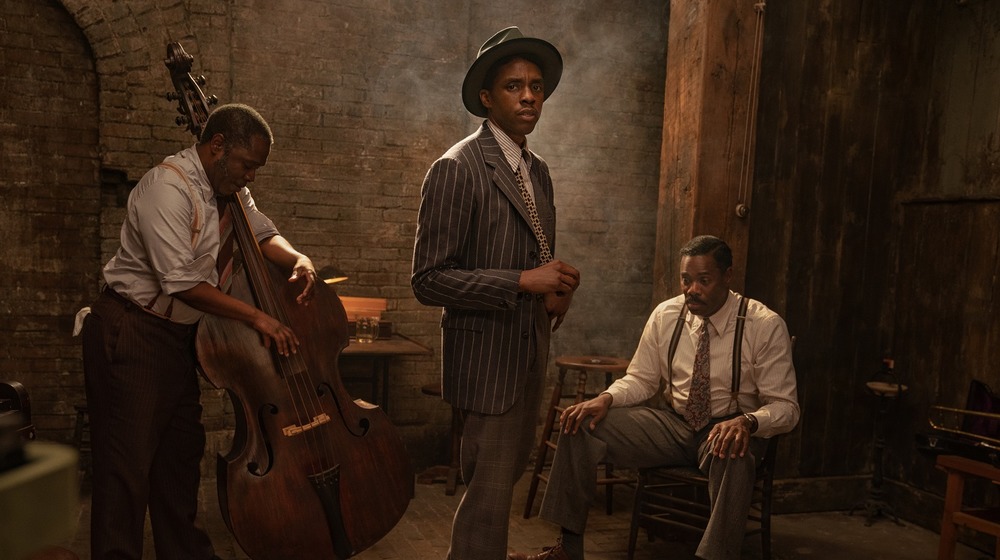 Netflix
This content was paid for by Netflix and created by Looper.
Chadwick Boseman's celebrated career is filled with chameleonic performances, as the actor always brought a distinct air of authenticity and dignity to every role he portrayed. He's played cultural icons in celebrated biopics, headlined a few action-packed blockbusters, and even been the MVP of some searing dramas that stick with you long after the credits roll. Simply put, Boseman's ability to captivate audiences was second to none.
Boseman can now be seen as the ambitious musician Levee in Ma Rainey's Black Bottom, a period film that adapts August Wilson's award-winning play of the same name. To celebrate the actor's excellence, here's a look back at some of his most iconic scenes.
The Express: The Ernie Davis Story - "My plan is to be just like you"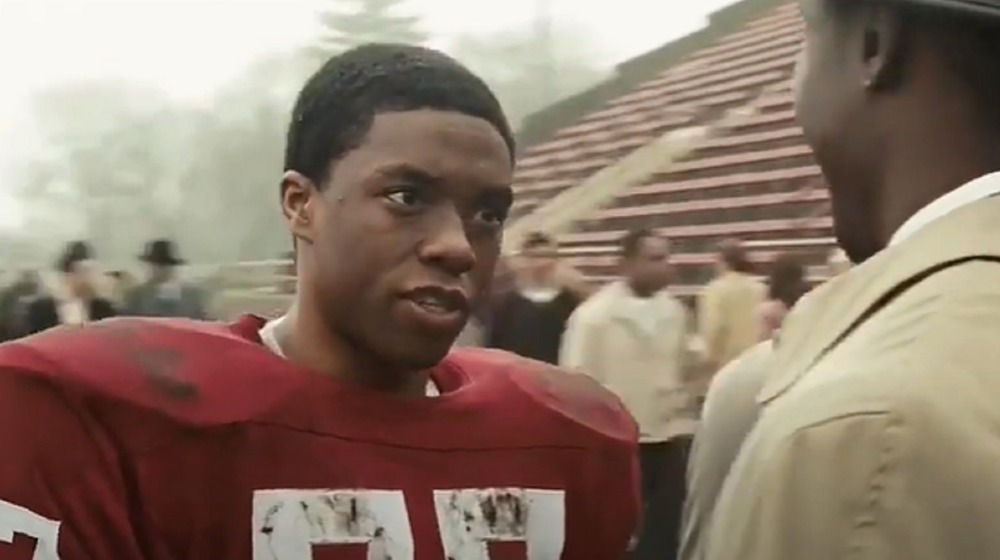 Universal Pictures
Though Boseman's career began with several small screen appearances on popular shows like All My Children, Law & Order, and CSI: New York, he made his silver screen debut in the 2008 sports biopic The Express: The Ernie Davis Story. Boseman stars in the film as the real-life football legend Floyd Little, who admires the titular trailblazer and aspires to follow in his footsteps as a major player on the field.
In one unforgettable scene from the film, young Floyd is introduced to Ernie Davis (Rob Brown) — who is at the sunset of his own career — by his old coach at Syracuse University, Ben Schwartzwalder (Dennis Quaid). While Floyd immediately impresses Ernie with his ability to recall stats, he offers the up-and-comer some hard but helpful career advice. Ernie shows Floyd an empty bottle and uses it as a metaphor for Floyd's ability to operate without labeling himself and thus limiting his own expectations and possibilities. As he receives this guidance, Boseman's reaction is brimming with exactly the kind of quiet elegance that would inform so many of his screen appearances to follow.
42 - "Thanks"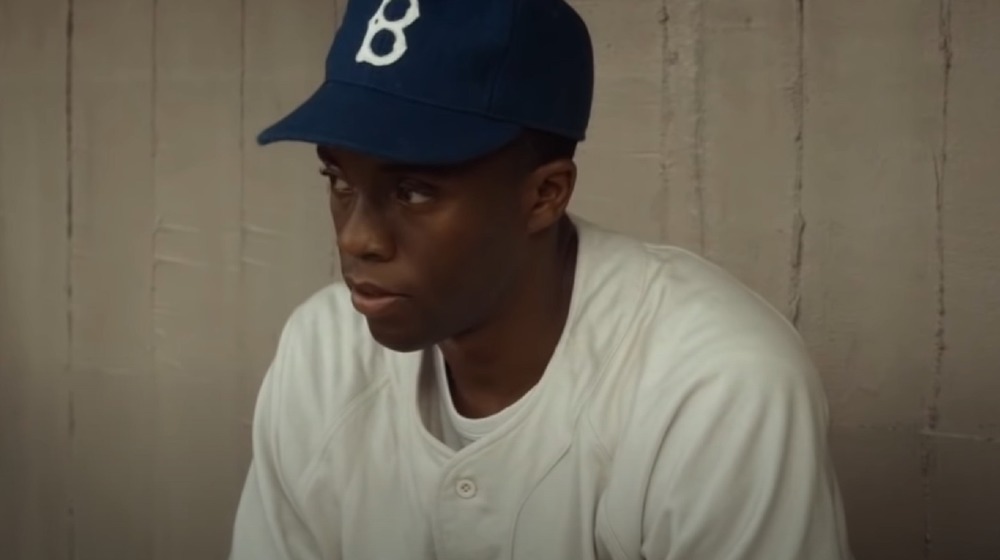 Warner Bros. Pictures
Boseman soon played another sports legend in the 2013 biopic 42, which chronicles the rise of Major League Baseball's first Black player, Jackie Robinson. Boseman stars as the eventual Hall of Famer in the Brian Helgeland film, set during a time when Robinson's integration into the league causes tensions to flare among opposing squads, their leaders, and even among his new teammates.
One scene that particularly shows off Boseman's strength as an actor is when the Brooklyn Dodgers take on the Philadelphia Phillies, and the opposing team's manager Ben Chapman (Alan Tudyk) mercilessly taunts Robinson while he is at bat using racist slurs and insults. His teammate, Eddie Stanky (Jesse Luken) finally comes out to confront Chapman for his offenses, noting that Chapman knows Robinson cannot speak up for himself at the moment. However, Robinson quietly gets revenge by successfully hitting a single, stealing second and third, and ultimately earning a decisive run. Though his critic here has hurled a lot of ugly words at him, Robinson says just one thing in the scene. Back at the dugout, he simply says "thanks" to Stanky for standing up for him. Sometimes, actions really do speak louder than words.
Draft Day - "Don't watch me -- watch him"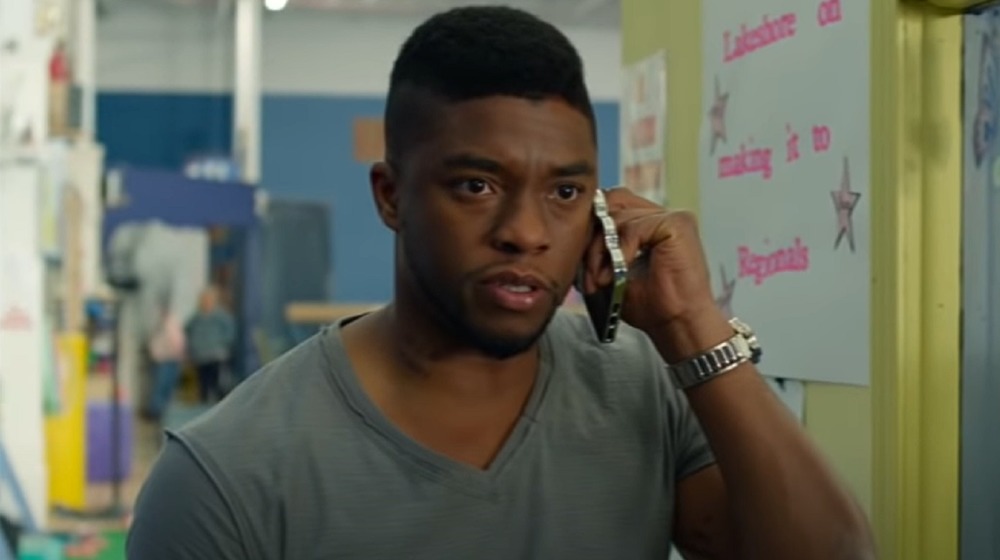 Lionsgate
Boseman didn't just command the screen with real-life athletes. In the 2014 sports drama Draft Day, Boseman portrays a fictional football star named Vontae Mack, a linebacker from Ohio State University who's being considered as a potential number one draft pick by the Cleveland Browns' general manager Sonny Weaver Jr. (Kevin Costner).
One scene that especially stands out in the Ivan Reitman film comes when Weaver is considering another top-tier contender, the quarterback Bo Callahan (Josh Pence), and Mack calls him up to state a convincing case for why Weaver should reconsider. "That boy you want to take? That there is a mistake," he says calmly, calling Callahan a "poser." As proof, Mack encourages Weaver to revisit both players' highlights reel footage from when they faced off in college, paying special attention to how much Mack's aggressive performance in the game affected Callahan's. 
"Watch it again. Don't watch me. Watch him," Mack insists. "Watch me sack him four times in one game, then watch what happens after." His confidence is both striking and completely convincing, another testament to Boseman's talent.
Get on Up - "You get my point, right?"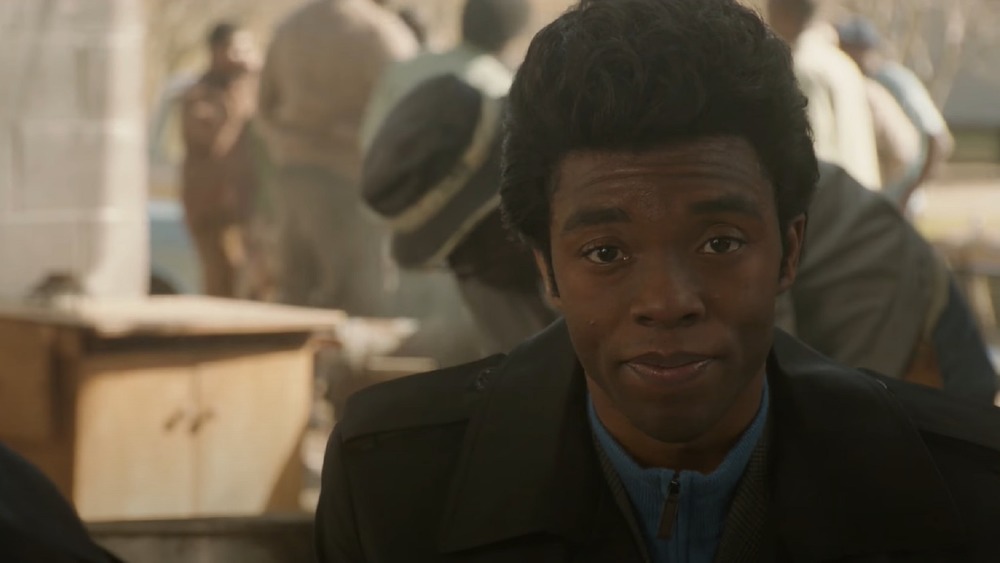 Universal Pictures
Boseman continued his streak of successfully portraying legendary figures in the 2014 musical biopic Get on Up, which features him as none other than the Godfather of Soul himself, James Brown. One of the most fun moments of the film comes when Brown challenges his manager Ben Bart (Dan Aykroyd) about why they have to pay local promoters for each of their tour venues. While Ben engages in a rambling diatribe about how that's just the way the system works, Brown takes his disagreement straight to you, the viewer.
Boseman's Brown immediately breaks the fourth wall to explain to the movie's viewers why he has a problem with that tradition and how he intends to change things up for himself. During his direct-to-audience walk and talk session, he explains that instead of using the usual promoters, he will turn to "the young cats, the hungry cats, the late-night cats" who are only in it for love of the music to take over promotional duties for his tour. It's a spirited and seamless monologue that perfectly captures the ingenuity of the character and brings its viewers right into the story.
Da 5 Bloods - "We give this gold to our people"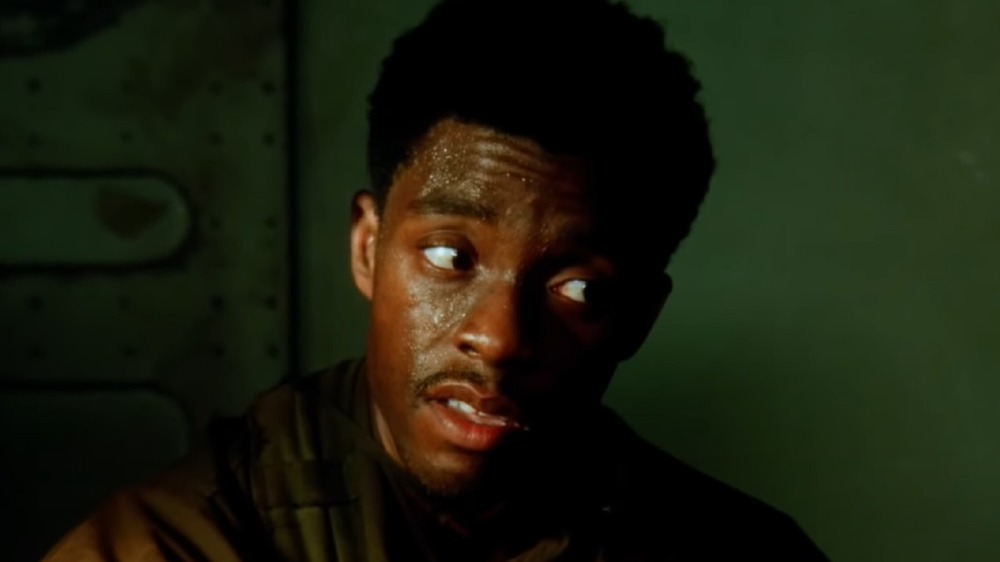 Netflix
There are a lot of stunning performances to be seen in Spike Lee's latest joint, Da 5 Bloods, not the least of which is Boseman's turn as Stormin' Norman, the de facto head of the Bloods. The film centers on a group of Black former soldiers who return to Vietnam decades after the war to recover the remains of their former leader and the gold they found and stashed away in the jungle.
Boseman's Norman is the moral centerpiece of the movie and offers many words of wisdom to his troops as they engage on their mission. And in one scene, he explains why he thinks they should keep the loot for themselves. Norman cites the long history of African Americans fighting for their country, including Crispus Attucks at the Boston Massacre, and how they have not yet received a real reward for their patriotism. "I say the USA owe us," he declares in a rousing monologue. "We built this b**** ... we repossess this gold for every single Black boot that never made it home. Every brother and sister stolen from Mother Africa to Jamestown, Virginia, way back in 1619. We give this gold to our people. You feel that?" Well, who couldn't feel that?
Captain America: Civil War - "The mantle of king"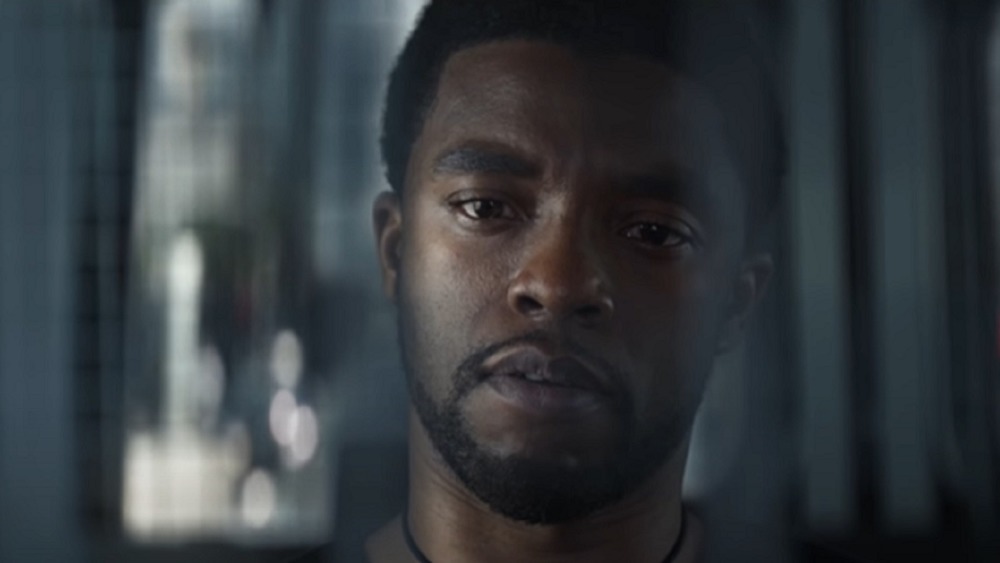 Marvel Studios/Disney
After being chosen to take on the role of T'Challa a.k.a. the Black Panther by Marvel Studios, Boseman made his MCU debut in the 2016 film Captain America: Civil War, which provides the backstory of how he becomes the rightful King of Wakanda. In the movie, his father T'Chaka (John Kani) falls victim to an explosion at the UN conference in Vienna for the Slovakia Accords, and T'Challa immediately vows revenge against the apparent bomber, Bucky Barnes a.k.a. the Winter Soldier (Sebastian Stan). As Barnes' childhood friend Steve "Captain America" Rogers (Chris Evans) continues to protect him from T'Challa and others investigating the incident, T'Challa takes his opportunity to issue a very quiet but real threat to Cap. 
"The Black Panther has been the protector of Wakanda for generations, a mantle passed from warrior to warrior. Now because your friend murdered my father, I also wear the mantle of king," he says, after Rogers tries to engage in an unrelated conversation with him about his vibranium suit. "So I ask you, as both warrior and a king, how long do you think you can keep your friend safe from me?" Considering it doesn't take long for him to ally with Iron Man (Robert Downey Jr.) in the eventual battle, T'Challa's words of warning here sure strike deep.
Marshall - "That promise has not been realized"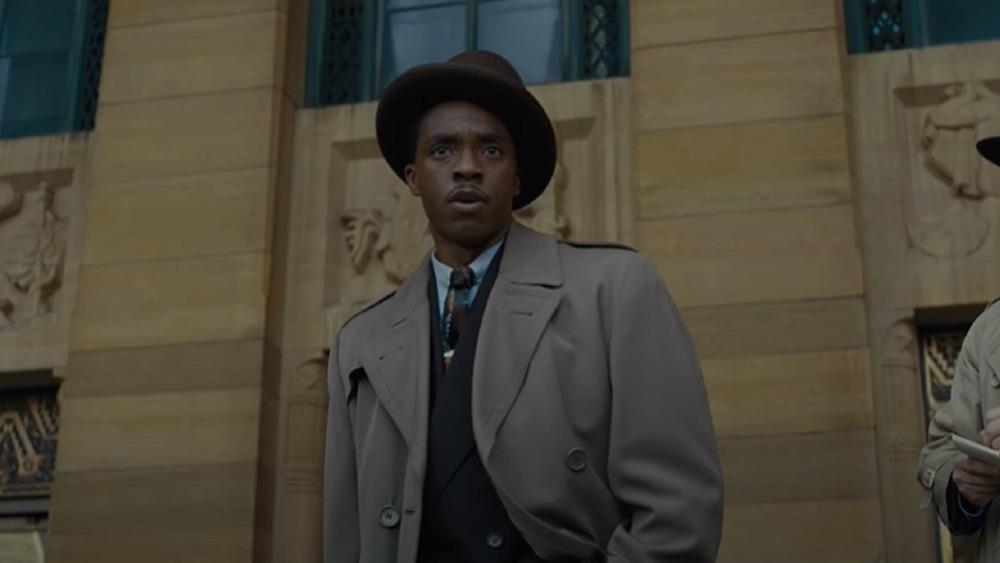 Open Road Films
Another real-life historical figure that Boseman brought to screen with his usual grit and gravitas is Thurgood Marshall in the 2017 biographical drama Marshall. Boseman plays the barrier-breaking Supreme Court justice at an early time in his career, in 1941, while he's still just a trial lawyer defending another Black man who's been falsely accused of a heinous crime. Only there's a huge hitch: Marshall is forbidden from speaking aloud during the trial and instead has to rely on his inexperienced co-counsel Sam Friedman (Josh Gad) to effectuate their case.
Once he gets the opportunity to be heard — this time, before the media outside the courtroom — he delivers his own version of a closing statement about unequal treatment of People of Color in the judicial system. "How can a man have a fair trial when he's denied counsel of his choice? When the members of his race are eliminated from service on his jury? When fear and bias against his race are the central points of the case against him?" he says. And after pointing out how powerful hatred has become in Europe at the time, he notes, "Here in America, our differences aren't supposed to matter. Here, we're promised equal protection under the law. Nothing complicated about that. That promise has not been realized, not even close." It's an enduringly relevant speech that Boseman delivers with unforgettable poise and precision.
Black Panther - "Delete that footage"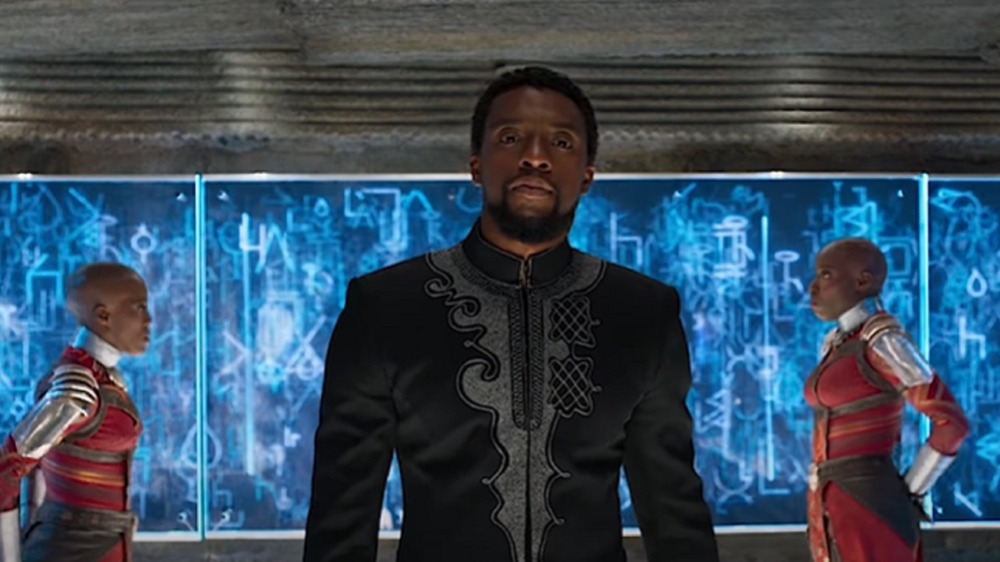 Marvel Studios/Disney
After making his grand debut in Captain America: Civil War, Boseman's T'Challa was ready for his solo feature in the 2018 blockbuster Black Panther, and what an adventure the movie is. MCU fans can probably point to at least a dozen standout moments from the film, but it's hard to beat the moment when he's first presented with his new suit by his sister, Princess Shuri (Letitia Wright). Ever the humble king, T'Challa spurns her jocular gestures of servitude for his new regal status because power has absolutely not gone to his head.
T'Challa then goes on to follow Shuri through the lab as she shows off her latest technological achievements, including a pair of new sound-absorbing sneakers and a fancy Black Panther suit that collects kinetic energy after being hit. Shuri is incensed when T'Challa kicks her creation a little too hard, so she gets her revenge on T'Challa by having him strike it again — this time, with the reaction turned on, along with her camera to capture the shot of him being flung across the room. Hey, even kings can have prankster siblings.
21 Bridges - "Your only hope"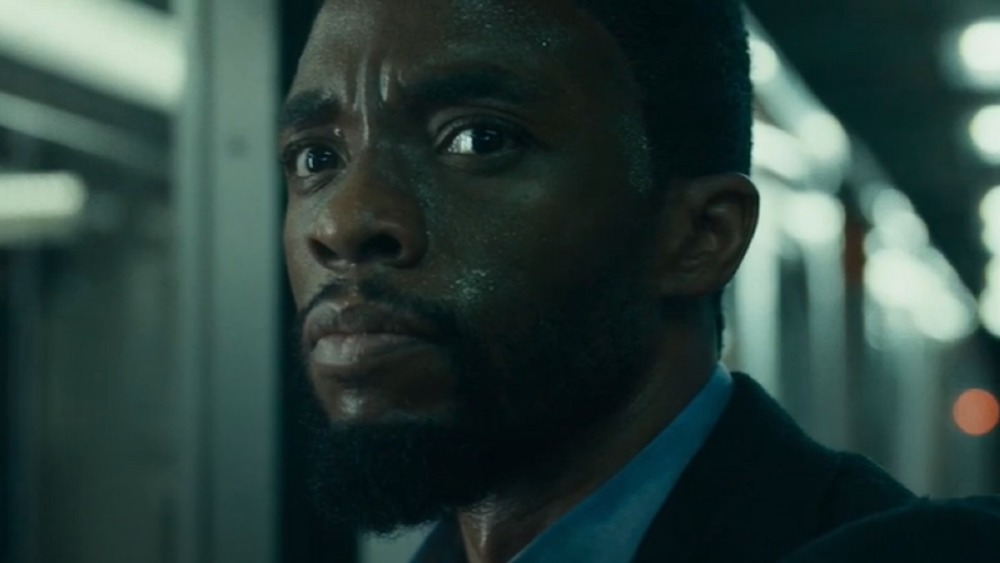 STX Films
In Brian Kirk's 2019 action-thriller 21 Bridges, Boseman plays an NYPD officer named Andre Davis who struggles with his father's legacy as a fallen officer and the creeping realization that others in his squadron are not operating within the law. When a drug bust turns deadly for his fellow officers, Davis seeks the truth about what happened that night, and he slowly discovers that the responding team may have been seeking something other than justice when they were attacked.
In one chilling scene from the film's climax, Davis confronts one of the criminals involved in the assault, knowing that he has some critical information about what others in his unit have been involved in. During the tense confrontation on a moving subway, he gamely talks the subject into relinquishing his gun, saying, "Your only hope is to tell the truth, pray to God for forgiveness, and make peace with the fact that you may die in prison." The suspect, Michael (Stephan James), is finally convinced to hand over his gun, but both he and Davis soon learn the hard way that the badge-wearing criminals won't let this man live to state his case in a courtroom. Even still, Boseman's power of stoic persuasion is unbeatable all the same.
Ma Rainey's Black Bottom - "Levee's version"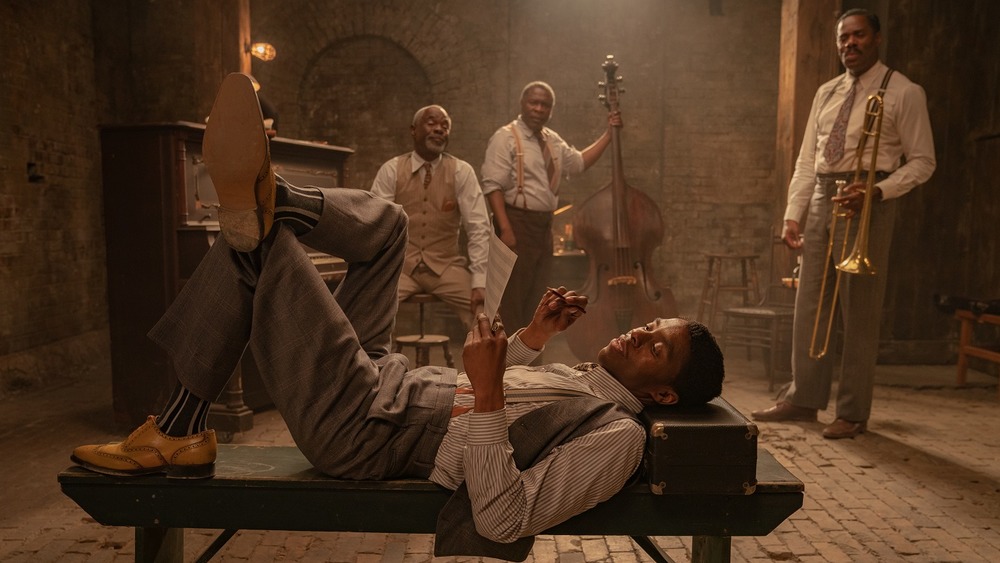 Netflix
In Ma Rainey's Black Bottom, Boseman puts on a masterclass with his performance as the chaotic and endlessly ambitious cornet player Levee. Levee is a consummate storyteller whose unwillingness to take no for an answer is clear from his very first appearance in the film, in which he shows up late after some shoe shopping. From there, he argues with his bandmates about everything from the location of a door to their future as musicians to whether they need to rehearse at all.
Things get especially feisty when Levee insists it's his arrangement of the film's titular number that they should be ready to record, and he's met with immediate skepticism by his peers. But Levee is unbothered by his doubters and smugly insists he'll be proven right just as soon as Mr. Irvin (Jeremy Shamos) shows up to confirm, which is exactly what happens. The battle of wits still continues between Levee and his bandmate Cutler (Colman Domingo), but Levee is undeterred. Once the subject of his shiny new shoes comes up again, Levee seizes on the opportunity to show off what his new kicks can do by taking them for a spin on his makeshift dance floor. It's a perfectly energizing introduction to a character that, like the musical arrangements in the film, bursts from one striking note to the next throughout Ma Rainey's Black Bottom.