The Real Reason Killer Croc Isn't Returning For The Suicide Squad Sequel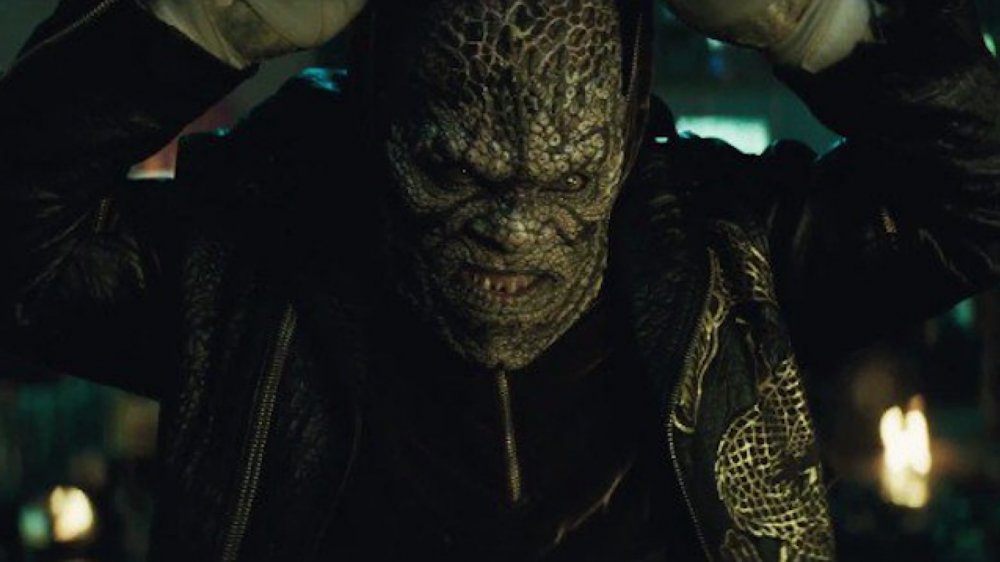 Warner Bros.
After its initial — and critically maligned — attempt back in 2016, Warner Bros. is taking another crack at a big-screen Suicide Squad adaptation. This time around, the studio opted for to approach the property in a much different way, tapping Guardians of the Galaxy mastermind James Gunn to write and direct the soft reboot project (plucking him when he was free for the taking post-firing from Disney and pre-rehiring). Gunn did what Gunn does best, and packed in the cast roster as many fresh faces as he possibly could.
However, that's not to say some fan-favorite names won't come back to lead the team. Margot Robbie's Harley Quinn, Viola Davis' Amanda Waller, Jai Courtney's Captain Boomerang, and Joel Kinnaman's Rick Flag, all of whom debuted in the first film, will indeed be back for The Suicide Squad.
Sadly, for many cast members of director David Ayer's Suicide Squad, they won't have the same opportunity to reprise their roles as their peers. While Will Smith — who played Floyd Lawton, aka Deadshot, in the 2016 feature – dropped out of the sequel by his own accord due to scheduling conflicts, a good portion of his cast mates were never even considered for The Suicide Squad. Gunn and Warner Bros. are looking for a fresh start with the IP, and that unfortunately put the bulk of the Squad's members on the chopping block. 
One of the most noteworthy names on that list is famous Batman rogue Killer Croc, who made his cinematic debut in Suicide Squad, brought to life by actor Adewale Akinnuoye-Agbaje. It's uncertain exactly why some specific members of the 2016 Suicide Squad – such as Katana (Karen Fukuhara) and El Diablo (Jay Hernandez), for example — joined the list of the DCEU's forgotten characters, but Croc's disappearance from the team lineup is justified to some extent, at the very least.
Here's the real reason Killer Croc isn't returning for The Suicide Squad.
Killer Croc won't be in The Suicide Squad because King Shark is effectively taking his place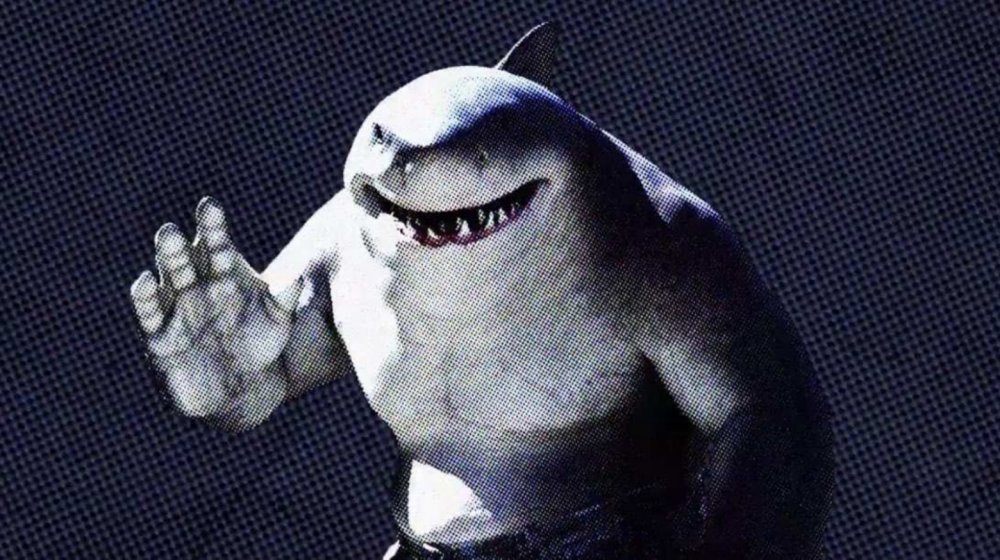 Warner Bros.
As revealed at the DC FanDome digital event, The Suicide Squad's cast is absolutely enormous, stacked to the brim with A-list acting talent across all genres. It includes action stars like Idris Elba and dramatic actors such as Peter Capaldi, as well as a host of comedians to inject The Suicide Squad with some humor. A powerhouse in that field is Steve Agee, who worked with Gunn previously on Guardians of the Galaxy; Agee will provide the motion-capture work and the voice of the humanoid shark Nanaue, better known as King Shark. The character actually nearly appeared in Ayer's movie, but the extensive CGI required led Ayer to replace King Shark with Killer Croc.
"One of the characters I was thinking about for the Squad line-up was actually King Shark. But we realized it would take a lot of work, a lot of CG work. I wasn't quite comfortable having a full-CG character," Ayer explained in a video Q&A session on Twitter back in July 2016. "We actually ended up going with Killer Croc, who turned out to be the right guy for the job."
With a budget big enough to cover the expensive CGI work needed to fully realize King Shark's debut and with confidence that a full-CGI character will work in The Suicide Squad, Gunn opted to bring King Shark into the fold for his movie, passing up on Killer Croc. And it makes sense: Killer Croc already had his time in the Suicide Squad sun, and King Shark was a character Ayer considered but didn't include. Plus, having two hulking, aquatic team members would be redundant and, quite frankly, unnecessary. That's not to say that Akinnuoye-Agbaje was underwhelming in the role in the 2016 movie or that he couldn't return as the character in a future project, but for the time being, Killer Croc will have to bide his time below the surface until his opportunity to strike comes again.
The Suicide Squad also stars Margot Robbie as Harley Quinn, Joel Kinnaman as Rick Flag, Viola Davis as Amanda Waller, Jai Courtney as Captain Boomerang, John Cena as Peacemaker, Michael Rooker as Savant, Sean Gunn as Weasel, Daniela Melchior as Ratcatcher 2, David Dastmalchian as Polka-Dot Man, Nathan Fillion as TDK, Jennifer Holland as Emilia Harcourt, Peter Capaldi as the Thinker, Flula Borg as Javelin, Alice Braga as Solsoria, Pete Davidson as Blackguard, Storm Reid as Tyla DuBois, Joaquín Cosío as Major General Mateo Suarez, Juan Diego Botto as Presidente General Silvio Luna, Tinashe Kajese as Flo Crawley, and Mayling Ng as Mongal. Taika Waititi and Julio Ruiz are in the film as well, but their characters haven't yet been announced.

Start counting down the days until The Suicide Squad strikes down in cinemas on August 6, 2021.