Why Mad Max Fans Will Love Train To Busan Presents: Peninsula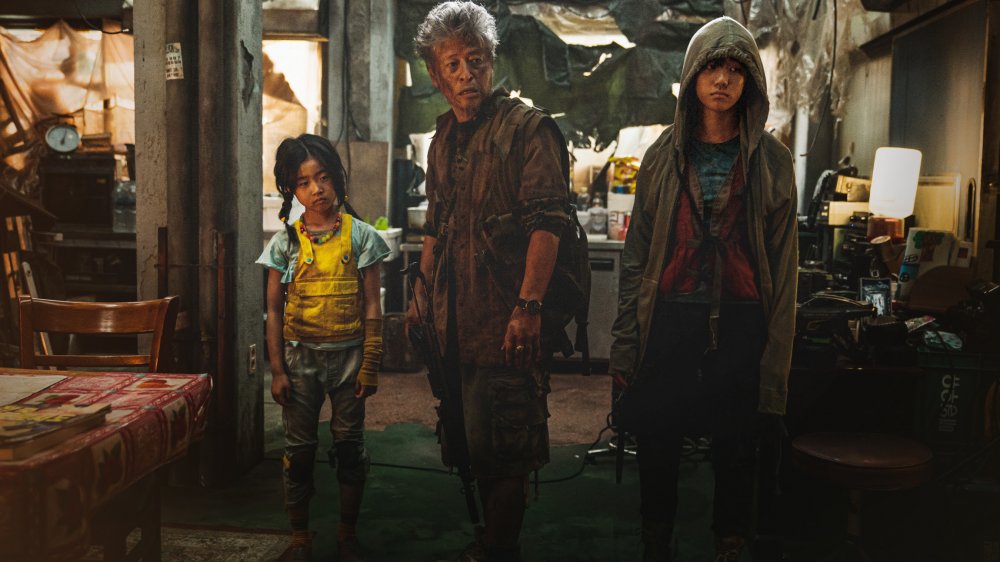 Well Go USA
Something evil stirs on the Korean peninsula, and it isn't what you think. South Korean filmmaker Yeon Sang-ho's sequel to his break-out 2016 zombie hit, Train to Busan, is primed to drop on American shores, and it's shaping up to be the perfect film for Mad Max: Fury Road fans waiting quasi-patiently to get their eyeballs on Furiosa.
This might seem counterintuitive to those in the undead-know, since the original Train to Busan was stylistically very different from Mad Max. The 2016 film takes place at the very outset of a zombie outbreak. Fans of George A. Romero's work and Walking Dead spinoff Fear the Walking Dead will understand the set-up. Train to Busan takes place almost entirely on the titular vehicle, as a group of passengers attempts to survive the zombie outbreak that has infected their train. The principal characters each serve as archetypes representing the different echelons of Korean society. Seok-woo (Gong Yoo) is a wealthy fund manager from the upper crust of the thriving South Korean financial sector. Choi Gwi-ha plays an unnamed homeless man suffering from PTSD. The point is pretty obvious: An existential calamity like a zombie outbreak on a train is an immediate equalizer, revealing the artifice of modern society's class structure and the underlying truth of our shared humanity.
Aside from the imminent danger of the zombies, the seething, claustrophobic Train to Busan bears little in common with a sprawling post-apocalyptic epic. Its action scenes are a little too frenetic to invite Alien comparisons, but it's certainly no Mad Max: Fury Road. That's all set to change, however, with the upcoming sequel: Train to Busan Presents: Peninsula.
From everything we know so far, Peninsula widens the scope of Train to Busan's worldbuilding substantially, yielding a bigger, badder film that Yeon says was explicitly influenced by prior post-apocalyptic epics — Fury Road included.
Train to Busan Presents: Peninsula is a much bigger film than the original
As the trailer embedded above makes abundantly clear, Peninsula isn't exactly a direct sequel to Train to Busan. The second film follows an entirely new set of characters, and doesn't appear to involve any trains or public transportation at all. Instead, Peninsula follows a group of zombie-outbreak refugees living in Hong Kong as they attempt to infiltrate the infested quarantine zone on the Korean Peninsula in search of a rumored treasure.
"It takes place four years after Train To Busan, in the same universe, but it doesn't continue the story and has different characters," Yeon told ScreenDaily. "Government authority has been decimated after the zombie outbreak in Korea, and there is nothing left except the geographical traits of the location – which is why the film is called Peninsula ... The scale of Peninsula can't compare to Train To Busan, it makes it look like an independent film."
We can already see images of blasted-out landscapes, decimated by the zombie horde. The entire notion of the high-tech South Korean cityscape is undercut by a desolate, deconstructed urban environment — an entire country lost to rapid decay. If these images call to mind the dusty desert roads and poisonous swamps Fury Road, there's a very good reason why. In forging a new path forward for Peninsula, Yeon looked to post-apocalyptic blockbusters like Mad Max for inspiration. 
Among the media properties Yeon mentioned explicitly as influences on Peninsula are Romero's Land of the Dead, Cormac McCarthy's The Road, the classic manga Akira, and — of course – Fury Road.

Train to Busan Presents: Peninsula is set to kick off the reopening of American theaters with a theatrical release on August 21. Mad Max fans should certainly sit up and take note.