Train To Busan 2: Peninsula - What We Know So Far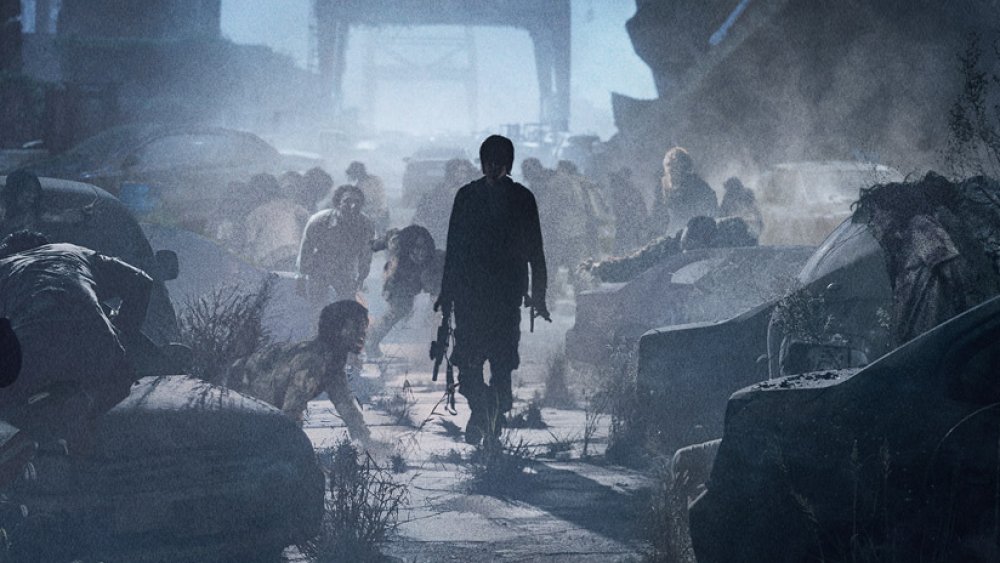 2016's Train to Busan was a South Korean zombie flick that shook the dust off of the stale genre and delivered something visceral to fans of shambling hordes of the undead. When the film premiered, it was a massive worldwide hit, breaking box office records in South Korea and receiving overwhelming critical praise. Of course, fans have been waiting patiently for a follow-up, and their wish will soon be granted.
To clear up any confusion right up top, Train to Busan 2: Peninsula – renamed Peninsula for its North American release – isn't a straight sequel, but rather a standalone film that takes place in the same universe as the first (more details on that in a minute). The hotly anticipated Korean zombie sequel is actually known by many titles, all of them equally official. Depending on the market, the film bears the title Train to Busan 2: Peninsula, Train to Busan Presents: Peninsula, or simply Peninsula. However you come to know it, the trailer — which dropped on April 1st, 2020 — is sure to have fans of zombie movies champing at the bit to see the film. Let's jump in and break down what we know about the movie so far.
When is the release date for Train to Busan 2: Peninsula?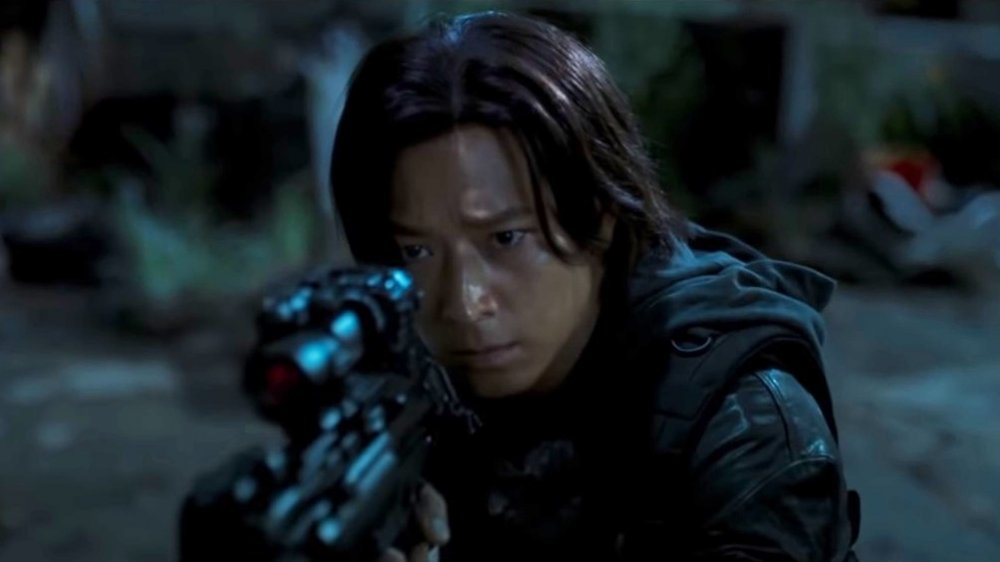 First, the good news: The film has already debuted in major Asian markets, and its success has breathed much-needed life into the suffering summer box office. Additionally, as reported by ScreenDaily, Train to Busan 2: Peninsula has already been picked up for theatrical distribution by companies around the world, including Well Go USA for release in North America. Coming off the massive success of Train to Busan, as well as other recent Korean hits such as Parasite, distributors are more than eager to bring Peninsula to theatrical audiences all over the globe. That eagerness has likely only been bolstered by the film's $20 million dollar opening weekend, anchored by $13.2 million in its native Korea (via Bloody Disgusting).
In late 2019, rumors began circulating that the film would premiere in France on August 12th, 2020 — an indication that it would likely arrive in other international markets around the same time. However, the film's South Korean distributor, NEW, disputed that date. In a statement, the distributor clarified, "Though it is true that we are currently aiming for a summer 2020 release, we have not made any decisions regarding specific details for premiere dates in or outside of Korea."
It turns out that statement may have been a bit of a feint, since Peninsula has officially been confirmed by Well Go USA to be one of the major blockbusters set to christen the re-opening of North American theaters for the tail end of the COVID-disrupted summer season. Multiple sources are now reporting that the film is set for a theatrical debut in the U.S. on August 7. Well Go USA plans to bring the international thriller to 150 theaters across the U.S. and Canada. 
"When we acquired Train to Busan back in 2016, we never imagined its success would extend beyond the genre subculture," Well Go USA CEO Doris Pfardresche said in a company statement. "Now, four years later, we have director Yeon's highly anticipated next chapter Peninsula poised to break out and achieve a level of U.S. success rarely seen with a foreign film." According to MovieWeb, Well Go USA also has plans to re-release the original Train to Busan in North American theaters complete with exclusive footage from the forthcoming Peninsula. Details of that plan were not made available, so this intel should be treated as a rumor without further confirmation. 
Many fans will likely celebrate the imminent theatrical release of Peninsula, but there's good news for viewers still reluctant to return to the public square, as well. Niche horror streaming service Shudder officially landed the first-run streaming rights for the flick, which will likely beginning streaming free for subscribers in early 2021.
Who is starring in Train to Busan 2: Peninsula?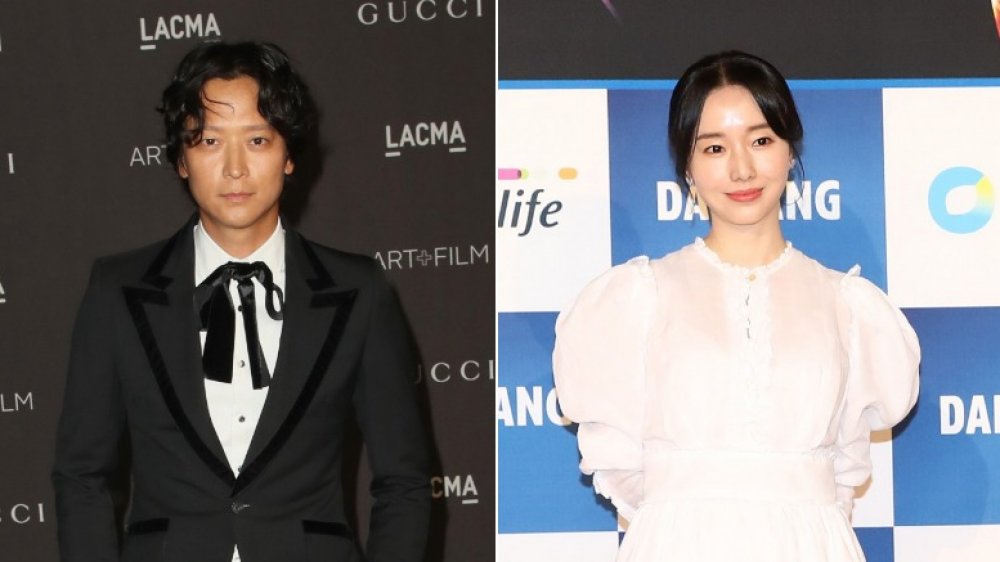 David Livingston, Chung Sung-jun/Getty Images
Given Train to Busan's high casualty rate and the fact that this follow-up isn't a direct sequel, don't expect to see many actors from the first film returning this time around. Back in the summer of 2019, rumors began floating around that the star of the first film, Gong Yoo, might return for a cameo, but it turns out he won't be making an appearance after all, and that Peninsula's cast will be made up entirely of new faces.
Stepping into the lead role is Gang Dong-won, who will play a character named Jung Suk, a former soldier who is sent on a mission back into zombie-infested South Korea after escaping the first wave of the outbreak. Along the way, he'll meet up with other survivors, which will only complicate his high-stakes quest to retrieve something valuable from inside the containment zone. As an actor, Gang has a long career in South Korean cinema, including roles in the political drama 1987: When the Day Comes and the action thriller Golden Slumber, and will be making his Hollywood debut in the forthcoming disaster flick #tsunami.
Gang will be joined by actress and pop star Lee Jung Hyun in the role of Min Jung, a leader running her own crew of survivors who is relentless in her ongoing fight against zombies. Since her acclaimed film debut at the age of 16 in the movie A Petal, Lee has experienced great professional success, working steadily as both an actress and celebrated singer in South Korea.
Who else is in the cast of Train to Busan 2: Peninsula?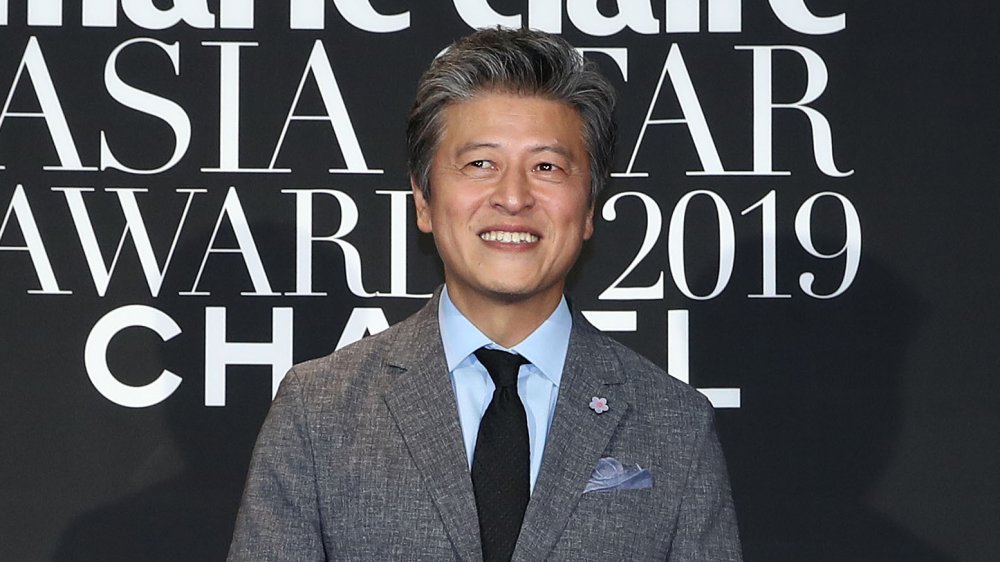 Chung Sung-jun/Getty Images
Much like the first film, Peninsula will feature a strong ensemble in addition to its two leads. Joining Gang Dong-won and Lee Jung Hyun are Kwon Hae-hyo, Kim Min-jae, Koo Kyo-hwan, Lee Re, and Lee Ye Won. Not much is known about any of their characters, although we do know a little about what to expect.
Kwon will be playing a character named Kim Noh In, the oldest member of Min Jung's crew. Despite the dire circumstances in which the characters find themselves — not to mention the ongoing four-year zombie apocalypse — Kim Noh In remains optimistic, and hasn't yet lost hope that he will eventually be rescued (via Soompi). Meanwhile, as if the world of Train to Busan isn't already tense enough, Kim Min-jae and Koo Kyo-hwan will both only be ratcheting the nail-biting tension higher as the leaders of the Korean Peninsula's surviving military units, each harboring secret ambitions of his own.
Rounding out the cast are child actresses Lee Re and Lee Ye Won. Little has been revealed about Lee Ye Won's role, but Lee Re will play another member of Min Jung's crew in what is likely to be a scene-stealing role. According to director Yeon Sang-ho, her turn in Peninsula could make her "more [popular] than Ma Dong-seok [aka Don Lee] in Train To Busan" (via ScreenDaily). Ma Dong-seok, of course, went on to become one of the most popular actors in South Korea following Train to Busan, and most recently landed a role in the upcoming MCU film The Eternals, making this high praise indeed.
What is the plot of Train to Busan 2: Peninsula?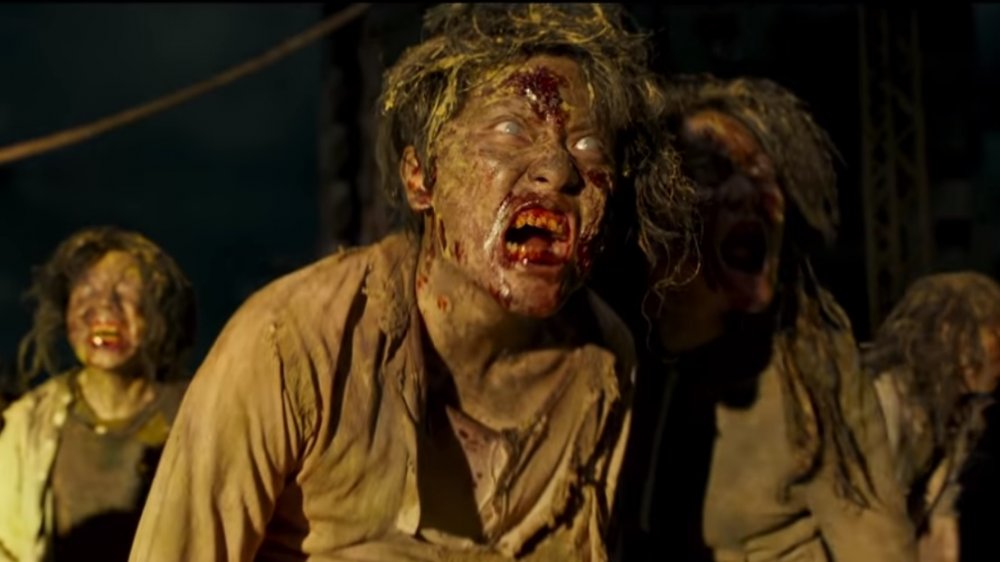 Before the Asian release of Peninsula, we had to rely on this ScreenDaily interview with director Yeon Sang-ho for tidbits about the sequel's plot. According to Yeon, while the film is set in the same world four years after the events of the first movie, you shouldn't expect to see any continued storylines or characters — this is more of a spiritual sequel than a direct continuation of the original's story.
The movie takes place in the ruins of the Korean Peninsula (hence the title), which has seen civilization collapse in the wake of the zombie outbreak introduced in the first film. In the world of the film, the peninsula has been completely blocked off by the rest of the world to try to contain the outbreak, and the plot will follow a former soldier (Dong-won Gang) who has escaped from the containment zone, but must return to retrieve something important.
Another important detail is that the scope of this film will be much larger than the deliberately small scale of its predecessor. Yeon pointed to action blockbusters like George Romero's Land of the Dead and Mad Max: Fury Road as influences on the sequel, which were very evident in the film's first trailer.
Since the film's recent release, reviews and plot synopses have poured in from around the media ecosystem. Fair warning that spoilers lie ahead. 
Per Variety's comprehensive review, Peninsula drops us into an abandoned and desolate Korea, certainly reminiscent of Fury Road. The modern cityscape that we have come to associate with the metropolises of South Korea have been reduced to apocalyptic rubble. Welcome to the port city of Incheon, a broken urban landscape, flattened by rampaging zombie hordes and littered with the desiccated remains left by their path of destruction. Four Korean refugees fleeing Hong Kong attempt to infiltrate this deadly city and retrieve a truck containing $20 million in good ol' American greenbacks. Believing that the zombies occupying Korea suffer from night-blindness, the four refugees embark on their mission under cover of darkness, a decision that proves foolish almost once they've reached the point of no return. Apparently, human aggressors present as much — if not more — of a threat to the band of protagonists than the undead this time around.
It's certainly a different set up than the original Train to Busan, but Yeon did promise that this time around he was going to go bigger.
Is there a trailer for Train to Busan 2: Peninsula?
Eager fans got their first look at the movie on April 1, 2020, when an international trailer was released. The bombastic teaser does a fantastic job of setting up the tone and scope of the film. It has a very dark visual palette, which is an effective way to indicate that we're looking at the ruins of a civilization where things like electricity have gone away, and we get several cool aerial shots of the movie's desolated cityscape setting.
Snippets of high intensity action sequences follow, including plenty of shootouts and car chases, both with approximately a bajillion zombies onscreen at all times. The most intriguing set piece we get a look at appears to be in an abandoned mall which has been repurposed into some kind of gladiator-like arena. With cheering onlookers crowding the upper mezzanines, a group of survivors are led into a fenced off area, where after a moment of confusion they are met with a horde of zombies flowing in from the other side. In addition to all the action, there is a clear sense that the movie wants to explore the human response to such an event — and this zombie mall Thunderdome appears to be a part of that.
The trailer doesn't give away too many specific details, though, so it wasn't surprising when another trailer dropped on June 16, 2020 — teasing more of the plot and giving fans a bit clearer of an idea of what to expect from the flick.
Fans looking to remain unspoiled before seeing Train to Busan 2: Peninsula should give the first teaser a watch, those looking for a little more info can view the second trailer, and all can get excited for the film's rapidly approaching domestic release.
The team behind Train to Busan is reuniting for the sequel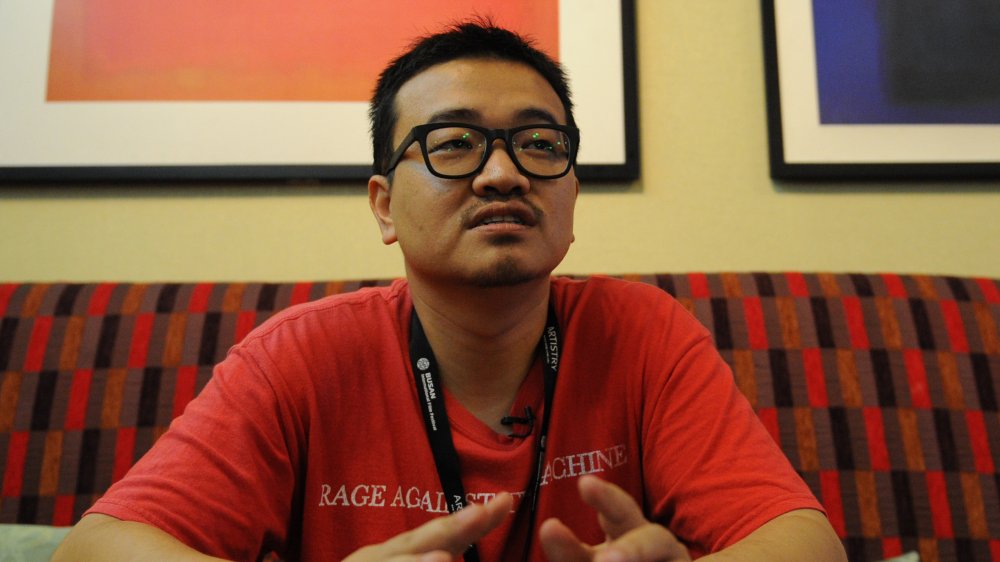 Ted Aljibe/Getty Images
While none of the cast of Train to Busan is expected to return for the sequel, the same cannot be said of the folks behind the camera. Yeon Sang-ho is back in the director's chair for Peninsula, and is also penning the script again alongside co-writer Park Joo-Suk, who also helped write the first film. After the success of Train to Busan, Yeon was initially reluctant to attempt to revisit the horrific world he'd created in the first film, afraid that he wouldn't be able to capture that same sort of cinematic magic twice. But once he realized the second film didn't have to be a direct sequel, and could instead serve as more of a spiritual successor, it opened the creative floodgates.
Speaking to ScreenDaily, the director explained, "The idea of being able to build a post-apocalyptic world — which would be sort of savage but also in a way like ancient times, or like ruined modern times, with rules of its own — was interesting to me. There could be many stories that could keep coming out of that world. Destroyed, isolated, extreme, but with hope of escape and humanism, and the way world powers would look at this place. There could be a lot of material with a lot of greater significance."
Much of the rest of his filmmaking team seems to have agreed with him, since Yeon and Park aren't the only Train to Busan creative alumni coming aboard the sequel. Also returning for Peninsula are Train to Busan's cinematographer, Lee Hyung-deok; its visual effects supervisor, Jung Hwang-su; and its art director, Lee Mok-won, ensuring that even with a brand new cast of characters, Peninsula will feel chillingly familiar.