Where You've Seen What Keeps You Alive's Jackie Before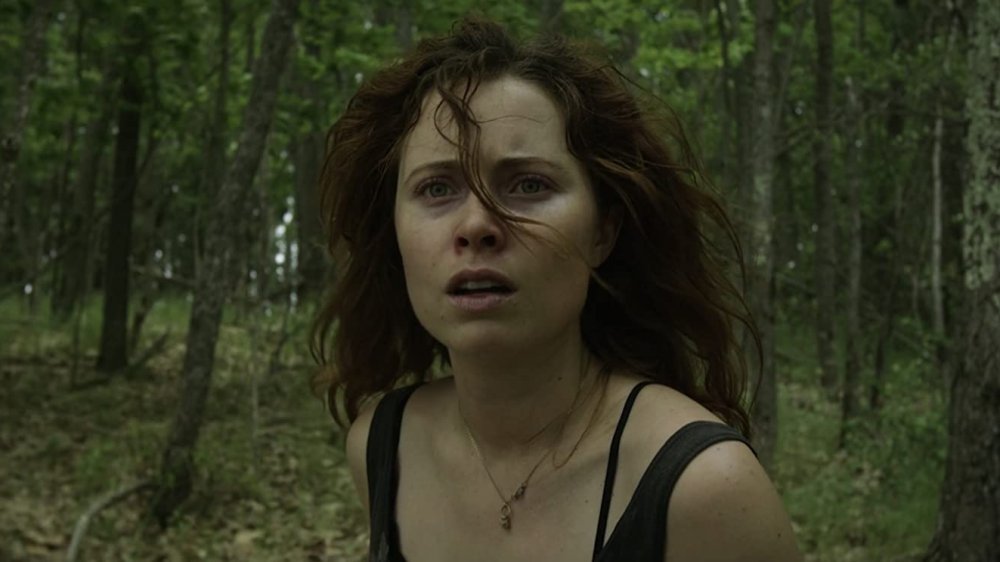 IFC Midnight
There's a chilling new horror flick burning up the charts at Netflix, and it's the perfect pairing for those warm August nights. What Keeps You Alive, a 2018 thriller out of Canada, has finally reached a wide audience via streaming. Netflix subscribers now get the chance to see what was all the rage at South by Southwest two years ago.
The film, which was written and directed by Colin Minihan, follows Jackie and Jules (Brittany Allen), a married couple who retire to a cabin in the wilderness to celebrate their wedding anniversary. Their romantic getaway takes a turn for the strange when a mysterious visitor (Martha MacIsaac) from Jackie's past turns up unannounced calling Jackie by another name. Jackie shrugs off her wife's suspicions, explaining that she changed her name by choice, but this isn't good enough for Jules. Her investigation leads her back to Jackie's old friend and her husband Daniel (Joey Klein). We don't want to spoil too much, but let's just say Jules' sleuthing takes her down some dark and disturbing rabbit holes.
The tense thriller makes excellent use of its two talented leads, one of which should look pretty familiar. The role of Jackie is played by the rising starlet Hannah Emily Anderson. Here's where you've probably seen her before.
Hannah Emily Anderson's TV career took her Gangland Undercover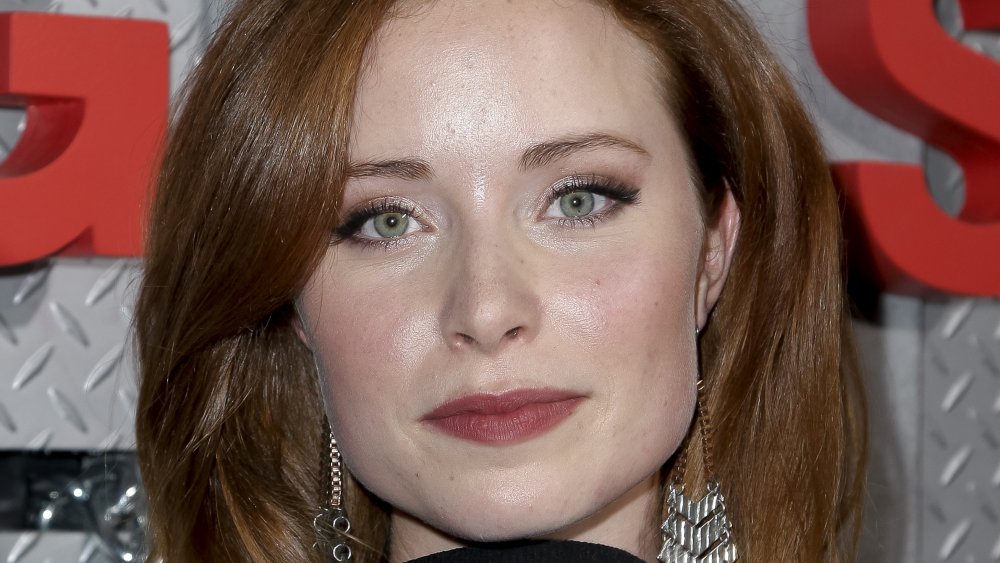 Tibrina Hobson/Getty Images
Before she became a movie star, the young Anderson got her start like so many actors on the cusp of breaking in: doing guest spots on popular TV series. Her rise to fame kicked off in 2012 with single-episode appearances on The L.A. Complex and Saving Hope. By 2013 she was working on her genre bona fides with a quick guest spot as Ruby on the CW series Nikita followed by a two-episode arc as the character Rowan on the costume drama Reign. A brief residency over at SYFY rounded out the first phase of her career, with one stop on the space western Killjoys and another on the succubus-in-the-city drama Lost Girl.
By 2016, Anderson was ready to settle into a more stable role. She took the recurring part of Sarah Jane on Gangland Undercover, ultimately appearing on 8 episodes of that series' short-lived 14. That same year she starred in the crime thriller Shoot the Messenger before moving on to the TV adaptation of The Purge.
TV may be where Anderson got her start, but it isn't where she remained. By 2017 it was obvious that Hollywood had feature-sized plans for this talent.
Hannah Emily Anderson joined the X-Men franchise in Dark Phoenix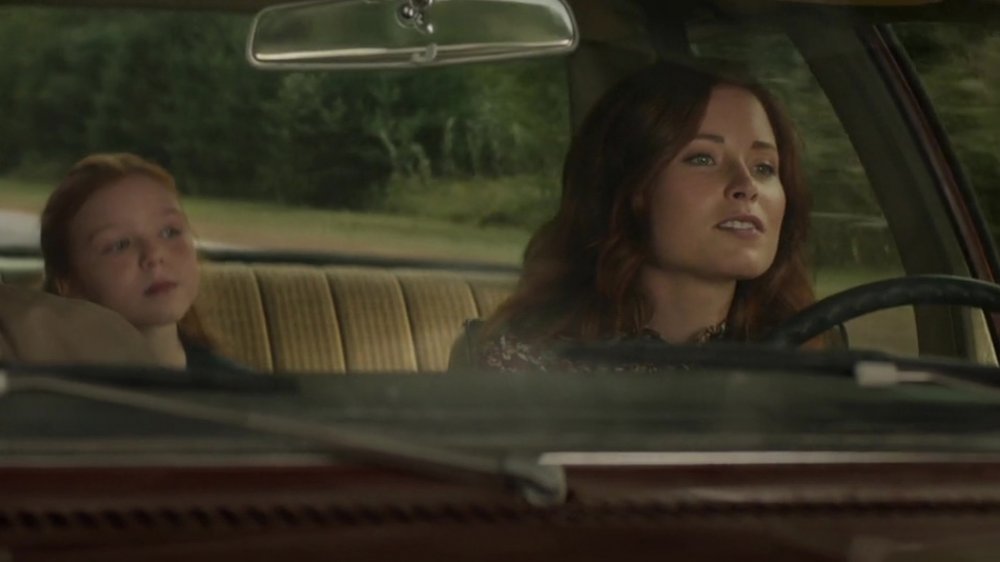 20th Century
Fox's long-running X-Men film franchise has cycled through countless reboots and iterations with mostly mixed results. Entries like Logan and Days of Future Past drew widespread acclaim from critics and fans alike, whereas entries like Dark Phoenix ... didn't exactly soar. Despite all the disdain, however, Dark Phoenix introduced a few interesting new elements and characters to the X-Men world — including Anderson's ill-fated Elaine Grey.
Elaine is first seen in the film's opening sequence, a flashback of sorts that serves as the origin story for Sophie Turner's Jean Grey — the girl who will become the titular Dark Phoenix. The young Jean's powers manifest for the first time while her parents are driving her around in the family car. She accidentally renders Elaine unconscious at the wheel, instigating a serious car accident that results in her father rendering her to Professor Xavier's (James McAvoy) care. 
Anderson's appearance in the film was certainly a brief one, but that's probably for the best considering how Dark Phoenix went on to perform at the box office.
Hannah Emily Anderson decided to play a game in Jigsaw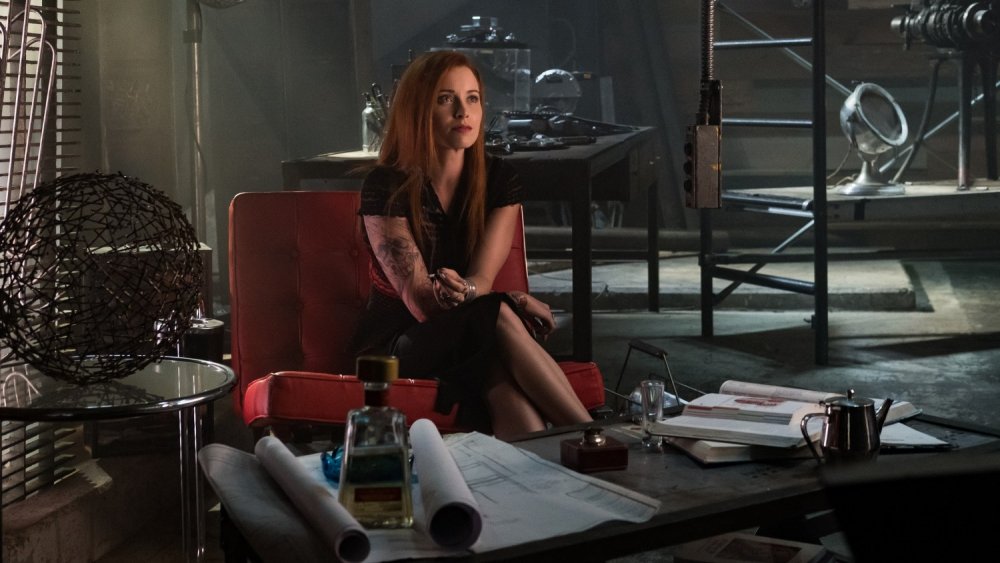 Lionsgate
Few gory horror franchises have made as much of a cultural impact as Saw. Believe it or not, 2017's Jigsaw was actually the eighth installment in the long-running film series. The movie picked up the story a decade after the death of the eponymous serial killer with a propensity for playing games, and brought along a whole crop of new talent — including Anderson.
Anderson plays the part of Eleanor Bonneville, a pathologist who comes under suspicion for the movie's focal string of killings. Eleanor is a self-professed "fangirl" of the Jigsaw Killer, which is a pretty creepy fandom to join. Her studio features elaborate recreations of some of the Jigsaw Killer's traps that long-time fans will no doubt remember from previous films. It's a hobby she understandably worries might further implicate her in the new investigation.
In a 2017 interview, she discussed what it was like inhabiting a character with such a macabre obsession. "She understands [the Jigsaw Killer], and she understands where he's coming from," Anderson said. "There's a science — there's a religion to it. And it's meticulous."
Sounds like playing Eleanor Bonneville provided relevant experience for What Keeps You Alive. Catch the film on Netflix, streaming free for subscribers.