The Hidden Meaning Behind Locke & Key's Opening Theme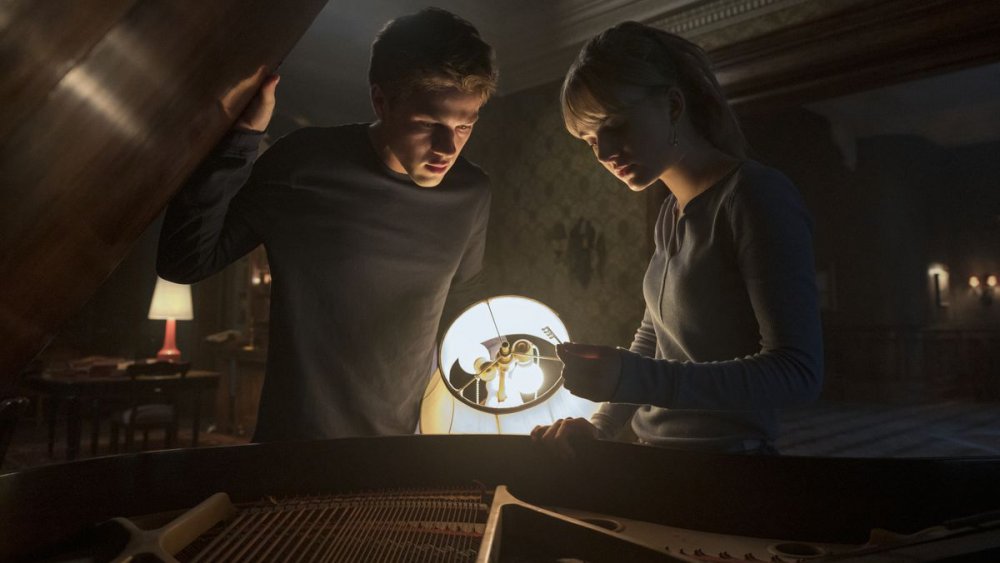 Netflix
We are currently entrenched in a veritable golden age of comic book and graphic novel adaptations — so much that it seems like every passing week brings with it news of some hot new blockbuster leaping from the panel to the screen. Netflix has certainly done their part in keeping on trend, with The Umbrella Academy (based on Gerard Way's and Gabriel Bá's books) ranking as one of their most popular shows and The Old Guard (based on Greg Rucka's book series) continuing to rack up views on the platform.
Less lauded — but no less intriguing — than those wildly popular offerings is Netflix's current adaptation of Locke & Key. Based on a graphic novel series from Joe Hill (In The Tall Grass, NOS4A2) and Gabriel Rodriguez, Locke & Key tells the tale of the Locke children. After the murder of their father, the siblings move into their ancestral home (called Keyhouse), and find magical secrets inside which can be unlocked with a series of keys hidden within its walls. And by "magical secrets" we mean portals to other dimensions, some of which are far more dangerous than others. 
Such a setup obviously made Locke & Key more adaptable than most graphic novels, if only because its "new keys, new stories" approach is rife for serialization. While Netflix didn't have quite the sensation on their hands that they might have hoped with season 1 of Locke & Key, it still made for a compelling adaptation, and there's clearly room to grow and improve in the already green-lit second season. 
One thing season 2 of Locke & Key won't need to improve on is the theme music accompanying its opening credit sequence. Crafted by composer Torin Borrowdale, Locke & Key's opening theme remains a highlight of the series, and offers sonic insight into the wondrous, expansive worlds within the narrative.
Locke & Key's opening theme mirrors the expansive world of the story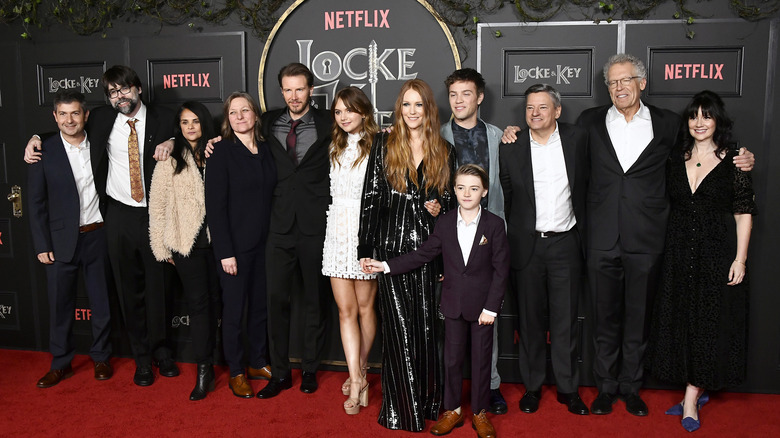 Frazer Harrison/Getty Images
In a recent chat with Gold Derby, Torin Borrowdale went so for as to offer that the Locke & Key main title theme is actually a direct reflection not just of the awe-inspiring wonder unlocked in the kids' discovery, but also the endlessly unfolding nature of the worlds the Locke children end up exploring.
"As it gets bigger, that's you realizing the full potential of these keys and using the Anywhere Key to go around the world or all these crazy transformations."
One listen to the theme will be enough for anyone to grasp Borrowdale's intentions, as the piece opens quietly with a gently tinkling piano before expanding into wildly fluttering, full orchestral arrangements. Not only does Borrowdale's approach make for a thrilling listening experience, it also sets the tone for the onscreen magic to come, and does so while also slyly alluding to the boundless mysteries that accompany the discovery of every new key.
It's a deft bit of scoring, and Borrowdale (who wrote the music for all ten episodes of Locke & Key's first season) went on to tell Gold Derby he followed a similar track for the entire series. "I wanted to make sure the score had the breadth and the scope of this epic series. I didn't want to limit the sound of the score so I wanted it to be a classic orchestra."
If you've already completed your Locke & Key binge, you know how successful that approach is, with Borrowdale's emotive works bolstering the show's already dense emotional undercurrents. That Borrowdale's music simultaneously alludes to the ominous edges of Locke & Key's narrative, as well as its awe-struck sense of pure wonder, is nothing short of miraculous. 
We can't wait to see (and hear) Borrowdale bring that same dexterous sonic energy to the series' second season.