Why You Should Be Excited About Joe Manganiello's Archenemy
Hey, you there. Do you like superhero movies? Sure — who doesn't? How about inventive original properties with streaks of intensity, crafted by visionary genre filmmakers with blood-soaked, grindhouse sensibilities? Well, we've got just the film for you: Archenemy.
On Thursday, July 23, 2020 during the hustle and bustle of Comic-Con@Home, SpectreVision and Legion M dropped the first teaser trailer for Archenemy, starring Joe Manganiello as an entirely different kind of superhero. Written and directed by Adam Egypt Mortimer, Archenemy co-stars Skylan Brooks (The Darkest Minds), Amy Seimetz (Pet Sematary), Zolee Griggs (Wu-Tang: An American Saga), and Glenn Howerton (It's Always Sunny in Philadelphia).
In Archenemy, Manganiello leads as Max Fist, a man who claims to be a super-powered crime-fighter from another dimension. He can't exactly prove it, though, because in our dimension, he's been de-powered. The only people who believe him are a teenager named Hamster (Brooks) and his sister Indigo (Griggs), who enlist Max to help take down a local gang of drug dealers (via Variety).
The Archenemy trailer doesn't expand on that synopsis, nor does it hint at any other plot points, motivations, or characters. Through its amazingly gritty and often brutal imagery, the footage seems meant to communicate the feel of the film — and it succeeds smashingly in that endeavor. The story sounds really cool, and Manganiello is always great, but it's the creative minds behind Archenemy that have us truly excited for the flick. 
Archenemy has a very interesting cinematic pedigree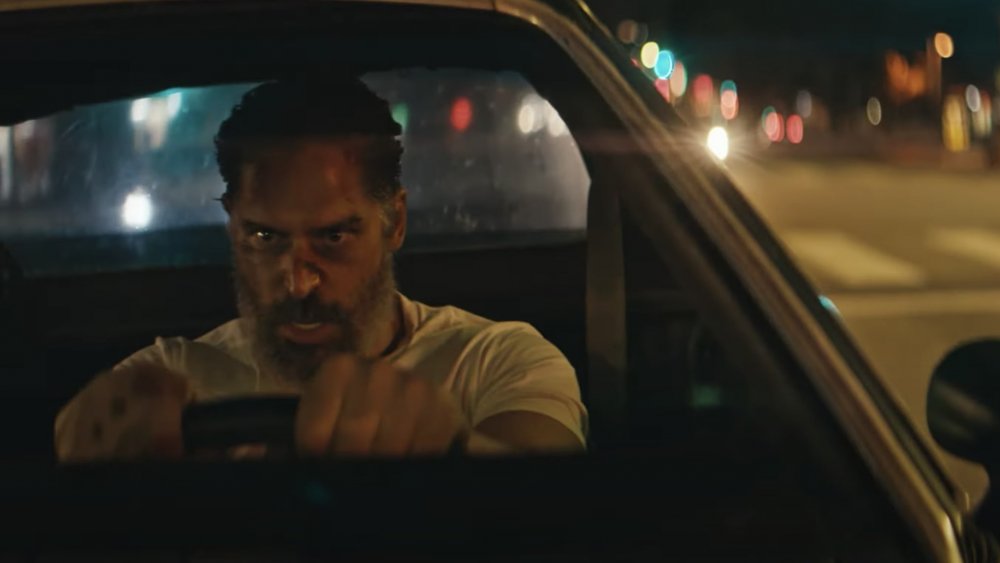 SpectreVision/Legion M
Archenemy writer-director Adam Egypt Mortimer is a guy whose name you'll probably be hearing a lot more often in coming years. He specializes in atmospheric, grimy supernatural horror; along with the "New Year's Eve" segment of the awesome horror anthology flick Holidays, Mortimer co-wrote and helmed 2015's Some Kind of Hate and 2019's Daniel Isn't Real, both of which are criminally underrated films.
In addition, Archenemy's producers should be raising your eyebrows all the way to the ceiling. SpectreVision, which is co-owned by Lord of the Rings franchise royalty Elijah Wood, traffics in elevated genre fare that's typically the singular vision of a talented creator. One of SpectreVision's first major productions was Ana Lily Amirpour's incredible Iranian vampire spaghetti western A Girl Walks Home Alone at Night; the production house is also responsible for the absolutely bonkers Nicolas Cage revenge thriller Mandy from 2018. Additionally, SpectreVision produced Daniel Isn't Real, and re-teamed with Cage for the 2019 H.P. Lovecraft adaptation Color Out of Space.
Also, interestingly enough, funding for Archenemy was partially provided by Legion M, which bills itself as the first fan-owned entertainment company. Since its inception in 2016, Legion M claims to have raised over $10 million from 25,000 investors; its previous feature projects include Mandy, the David Tennant starrer Bad Samaritan, and Kevin Smith's Jay and Silent Bob Reboot.

All of this is to say that Archenemy will probably be even more of a super-violent, crazily creative take on the superhero genre than that trailer makes it look like, which is really saying something. The flick doesn't yet have an official release date, but it's expected to drop sometime in 2021.