The Truth About The Old Guard's Epic Airplane Fight Scene - Exclusive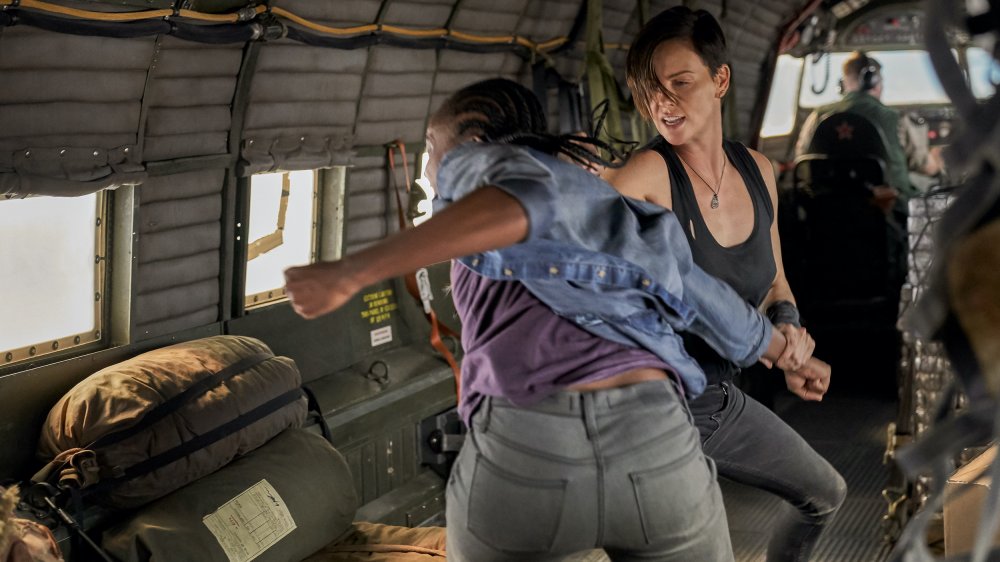 Aimee Spinks/Netflix
The Old Guard quickly shot to No. 1 on Netflix shortly after it was released on July 10, likely thanks to its stellar cast (led by Oscar-winner Charlize Theron) and Certified-Fresh reviews. The comic book movie's biggest advantage, perhaps, is the killer action — all filmed with a gritty realness. In an exclusive interview with Looper, The Old Guard's fight coordinator Daniel Hernandez broke down one of the most epic scenes in the movie.
When the members of the titular Old Guard — immortal warriors who utilize centuries of experience to protect innocent people — do battle against bad guys (and occasionally each other), it's often in close quarters. One of the most intense hand-to-hand battles in The Old Guard happens between Theron's Andy and KiKi Layne's Nile as the two soar above the desert in a beat-up cargo plane. Grappling with the realization that she's an immortal, Nile uses all of her Marine training to try to best Andy, a battle-weary warrior who's been fighting for well over 6,000 years.
A veteran stuntman and fight coordinator whose credits include the John Wick franchise and the two most recent Avengers movies, Hernandez praises the actors, the rest of his team (which includes Jeff Habberstad and Brycen Counts), and their commitment to the stunt work.
"Given that [the characters] were all coming from different backgrounds and time periods, we had to research all different kinds of martial arts," he tells Looper. Those styles included HEMA (Historical European Martial Arts), Krav Maga, and Arnis, from the Philippines, among others. Hernandez adds, "I love having the actor do 100 percent of their fights, and not putting doubles in. I like the audience to really be in tune and really see the actor not only perform but also physically act."
That attention to detail was crucial in order to make The Old Guard's airplane fistfight as awesome as possible. 
The filmmakers decided to get one of the most challenging scenes out of the way first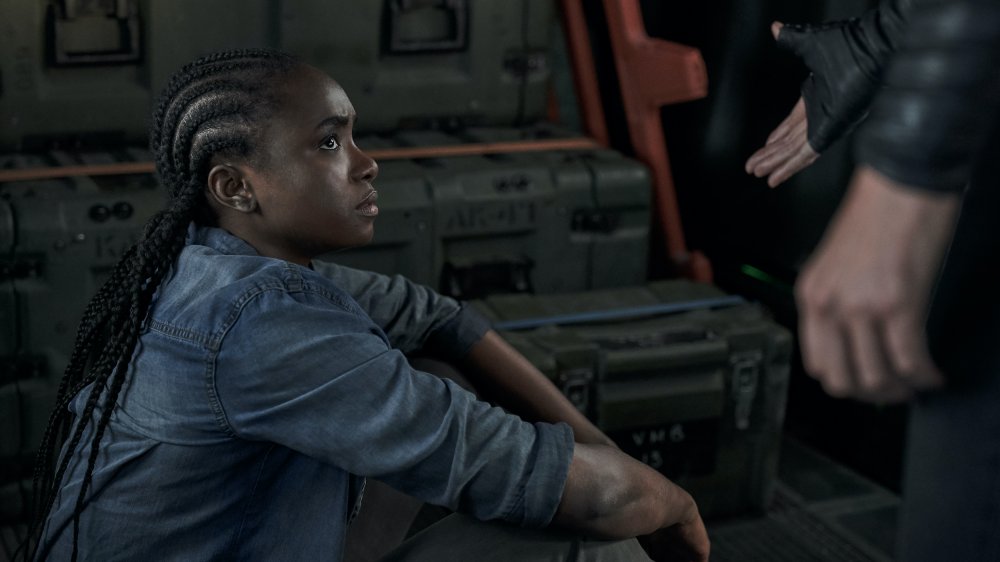 Aimee Spinks/Netflix
The Old Guard director Gina Prince-Bythewood is best known for helming acclaimed dramas like Love & Basketball, but as a huge action movie fan (with a particular fondness for The Raid), she was eager to prove her chops with The Old Guard. The visceral bathroom brawl between Henry Cavill and Tom Cruise in Mission: Impossible – Fallout was the standard she aimed for with her action debut. To build trust with the actors and crew, she opted to start shooting the plane fight sequence on day one.
As Hernandez explains during our chat, "We had a lot of elements to deal with, so we really hit it hard right away with that." He also notes that th scene required the most planning and training for the two leads: "Actor versus actor, in a close space, on a gimbal, on a plane that tilts side to side... We were already conceptualizing and choreographing right away with that. We broke it up into segments for Charlize and KiKi and just trained them until they were able to get the whole thing."
Handheld cameras were key to capturing the battle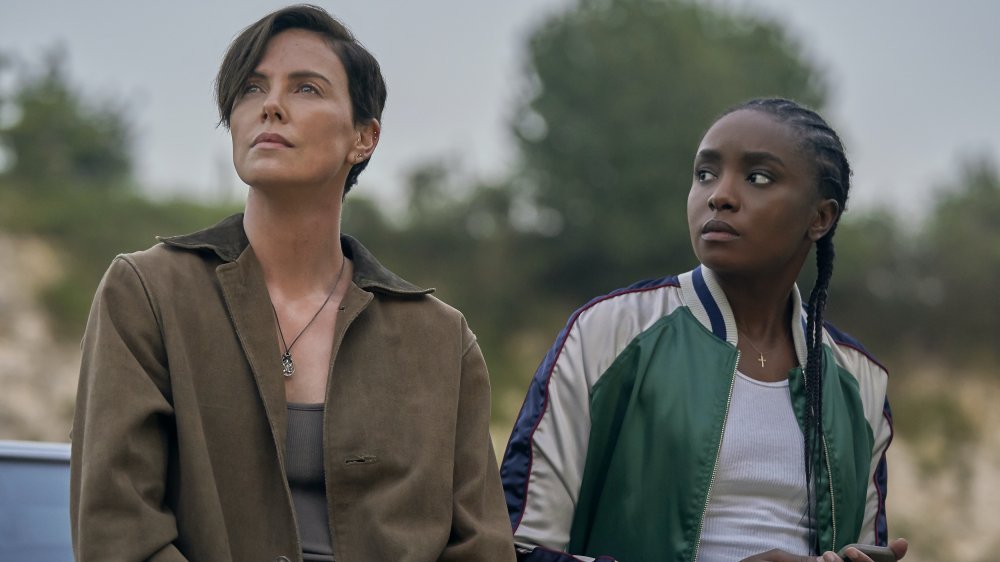 Aimee Spinks/Netflix
The Old Guard fight team had many conversations with Prince-Bythewood and cinematographer Tami Reiker, who previously worked with the director on the 2014 movie Beyond the Lights and the pilot episode of Marvel's Cloak & Dagger series, about concepts and execution. 
"It [was] such close quarters. 'What can we do in there? How can they do the fight scene and also film it with cameras inside of there?' — those are obstacles we had to deal with in there," notes Hernandez. "But we were able to pull it off with a lot of preparation, especially conceptualizing with Gina and Tami, like how to put the cameras in them go at it, and to have them do it 100 percent." 
Crucial to that was the decision to go hand-held, even with heavy 65mm cameras. The willingness of A-list actor Theron and newcomer Layne to go all-out was the most important element of all.
What Charlize Theron and Keanu Reeves have in common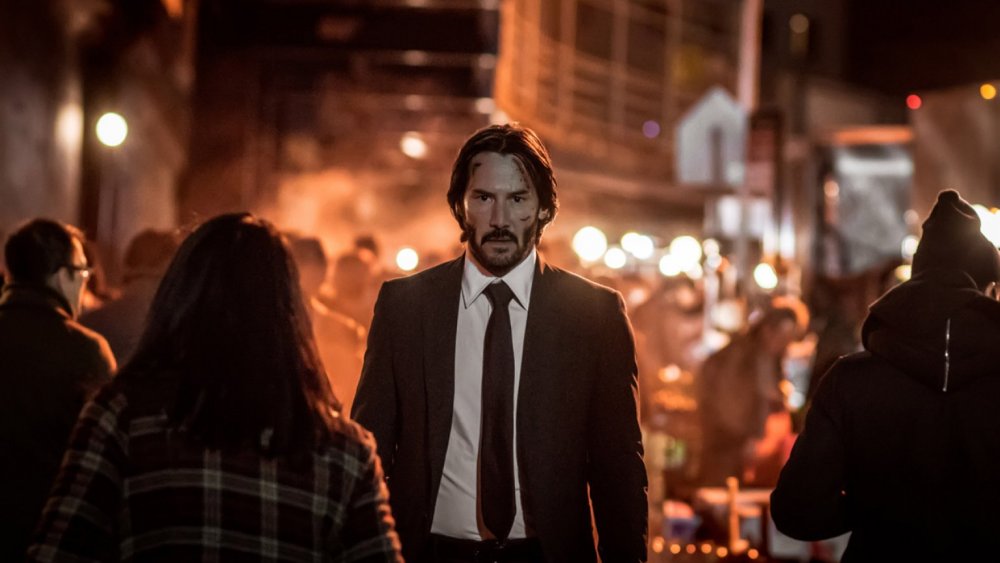 Niko Tavernese/Lionsgate
As a veteran of the John Wick franchise, Hernandez is uniquely qualified to comment on the similarities between Keanu Reeves and Charlize Theron, particularly in terms of passion and commitment.
"If I could pick two favorites to work with, it would be her and Keanu for sure," he says. "Their willingness and their wanting-ness to learn — but not just specifically to learn moves just to learn the moves, they really want to learn martial arts. They really were in it. They really enjoyed it. [...] They were actually throwing people and really doing actual martial arts."
Hernandez says of working with Theron on The Old Guard, "To have that type of person was so special — definitely very, very cool. I can't explain how happy I was to work with her with that."
As much fun as he had working on movies like Avengers: Endgame, Avengers: Infinity War, and Thor: Ragnarok, as an action movie junkie, Hernandez particularly enjoys what he calls "the raw and nitty-gritty stuff" in R-rated action movies like Atomic Blonde, John Wick, and The Old Guard. 
"I'm a really big fan of that, because you're actually really seeing and producing actors doing longer fight scenes," he tells Looper. "I feel more satisfied and complete when dealing with real stuff, like real martial arts and real hand-to-hand combat, and able to express my choreography directing that."
The Old Guard is streaming on Netflix now.