Rachel Brosnahan's New Role Is Nothing Like Midge On The Marvelous Mrs. Maisel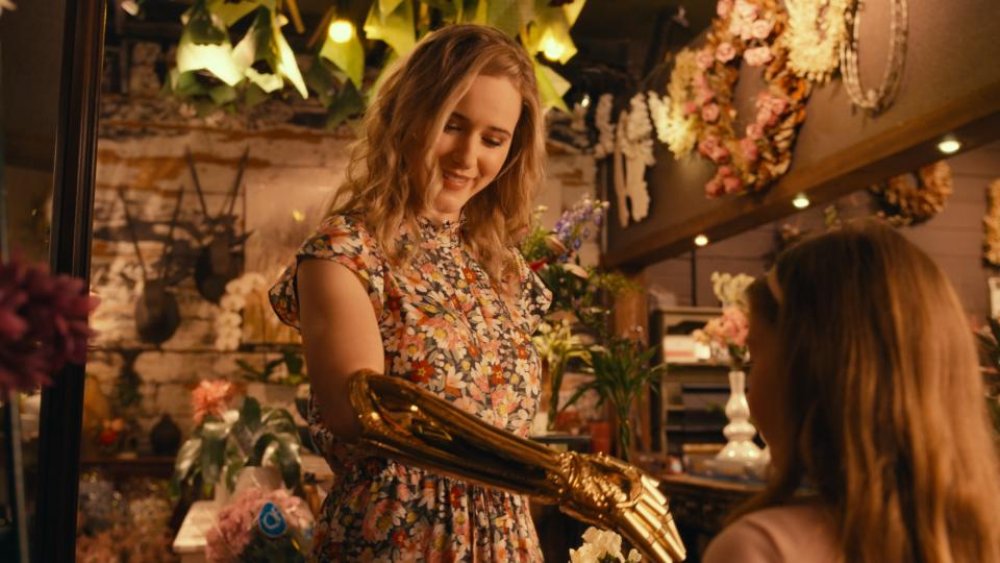 Quibi
This content was paid for by Quibi and created by Looper.
Rachel Brosnahan's latest character is nearly unrecognizable.
You might know this emerging star from her leading role on Amazon's The Marvelous Mrs. Maisel, which won the Emmy for Outstanding Comedy Series in 2018 and has snagged an Emmy and two Golden Globes for Brosnahan thus far. But now, the fresh comedic actress is branching out into something incredibly different. Far from the chipper, cheery demeanor of Midge Maisel, a talented stand-up comedian making her way through the comedy landscape of New York City in the 1950s, Brosnahan's newest character has plenty of secrets to hide ... as well as an extraordinarily distinctive physical feature.
After Quibi – the new streaming service that offers up bite-sized, ten-minute content across a variety of genres — launched in April 2020, it premiered new shows and films at a rapid-fire pace. That quick-fire rollout included the new anthology horror series 50 States of Fright from scare-master Sam Raimi. Bringing American folk tales to life on short episodes, Raimi's 50 States of Fright explores all kinds of stories featuring stars like Emily Hampshire (Schitt's Creek), Asa Butterfield (Ender's Game, Sex Education), and, of course, Brosnahan. Her role on 50 States of Fright is an enormous departure from her signature role on The Marvelous Mrs. Maisel. Here's why.
Warning: Spoilers are ahead!
Rachel Brosnahan's newest role is nothing like Midge Maisel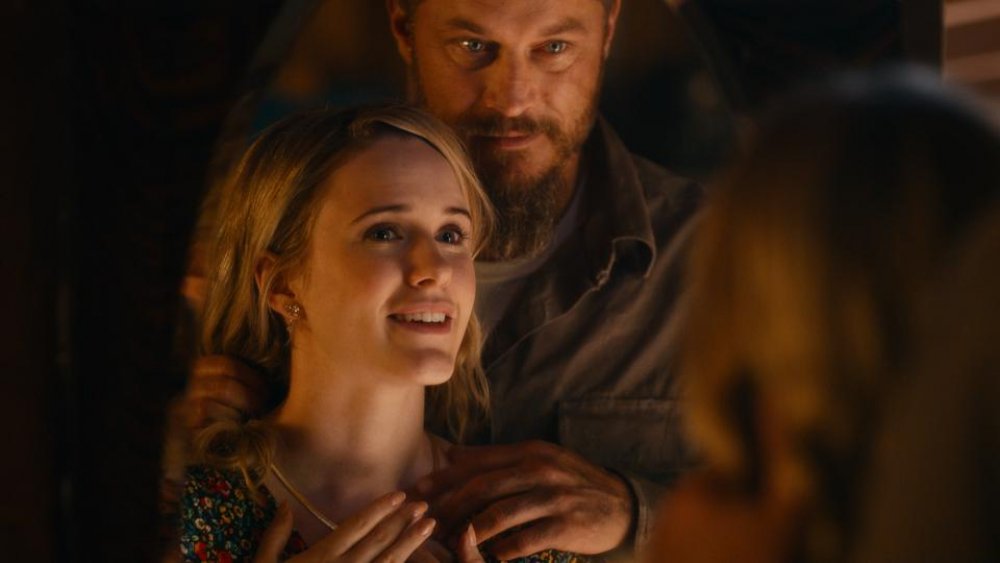 Quibi
On 50 States of Fright, Rachel Brosnahan appears on a three-episode arc called "The Golden Arm," set in Michigan. Directed by Sam Raimi and written alongside his brother Ivan, "The Golden Arm" tells the story of Heather, a woman unwilling to let go of a very important part of herself: her golden arm.
Based on a classic folktake — also called "The Golden Arm," which was made famous by authors like Mark Twain and tells listeners to respect the dead and control their greed — the story focuses on Heather, a vain young woman who plunges her loving husband (Vikings' Travis Fimmel) into debt by requesting a custom golden arm after she loses her real arm in a horrible accident. However, Heather faces a unique problem when she discovers that her arm is making her sick. As her doctor tells her, she has "pulmonary gold disease" and she'll only live if she removes the arm entirely, something Heather is unwilling to do. Ultimately, Heather chooses to die, and commands her husband to bury her with her beloved golden arm as she passes away. Following her death, Heather's husband steals the arm from his wife's grave to help pay his bills, and is then haunted — and murdered! — by Heather's angry ghost, who reminds him of his promise. (Serves him right, don't you think?)
Despite the roles being vastly different in terms of characterization and the general tone of the projects on which they appear, there's a common ground between The Marvelous Mrs. Maisel's Midge and 50 States of Fright's Heather: There's a certain sort of sparkling charm about them, which Brosnahan captures with ease, and as she does on Mrs. Maisel, Brosnahan fully commits to the role, bringing depth to the entire story.
Rachel Brosnahan is one of Hollywood's biggest rising stars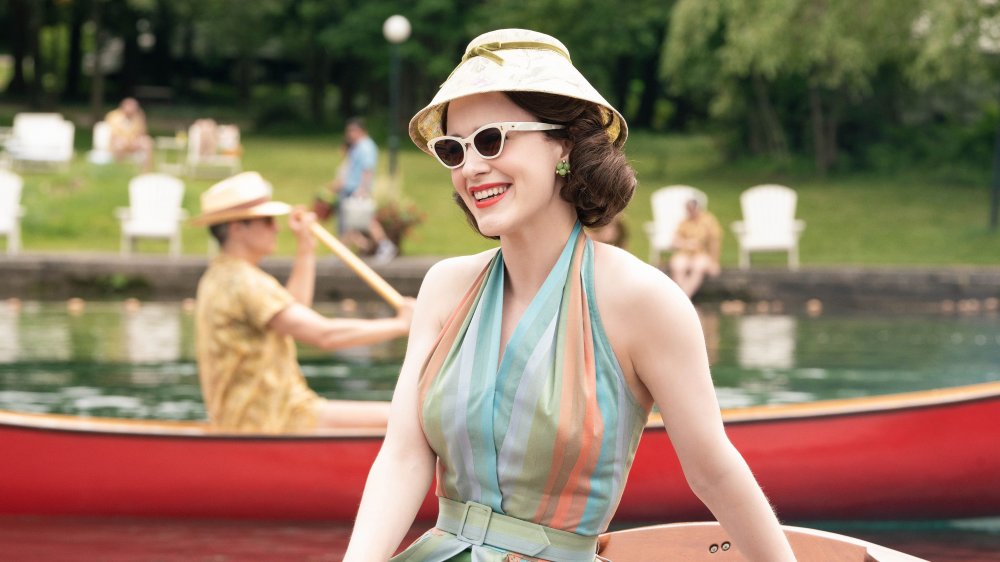 Amazon Studios
Headlining part of a Quibi anthology series is a solid move for an actress like Rachel Brosnahan, who spent years paying her television dues with small gigs before snagging the leading role on The Marvelous Mrs. Maisel.
Prior to the Amazon Prime Video series premiere in March 2017, Brosnahan got her start with short-lived appearances on shows like Gossip Girl, Orange Is the New Black, Grey's Anatomy, and The Good Wife. She then booked a more prominent role as Abby Isaacs on Manhattan, a WGN series about the Manhattan Project, which lasted only two seasons. Viewers may also remember Brosnahan from her 19-episode supporting turn on House of Cards. From 2013 to 2015, Brosnahan played Rachel Posner, a sex worker who helps Frank Underwood (Kevin Spacey) bring down one of his political rivals. However, like so many others on House of Cards, Rachel ultimately met a tragic end.
After House of Cards, Brosnahan made a huge pivot to broad comedy as Midge Maisel, a Jewish housewife in the 1950s whose presumably loving husband Joel (Michael Zegen) announces that he's leaving her for his secretary. With nowhere else to turn, Midge finds herself at the comedy club where Joel frequently performs (poorly). There, she delivers a knockout first set — attracting the attention of Susie Myerson (multiple Emmy-winner Alex Borstein), who takes Midge under her wing and becomes her manager. Beyond all this, Midge must carefully hide her comedy career from her parents, Rose (Marin Hinkle) and Abe (Tony Shalhoub).
"The Golden Arm" arc of 50 States of Fright is yet another unique turn for the versatile actress, whose A-list career is clearly just beginning. 50 States of Fright is available on Quibi now.