The Marvelous Mrs. Maisel's Alex Borstein Wins Supporting Actress In A Comedy Series At 2019 Emmys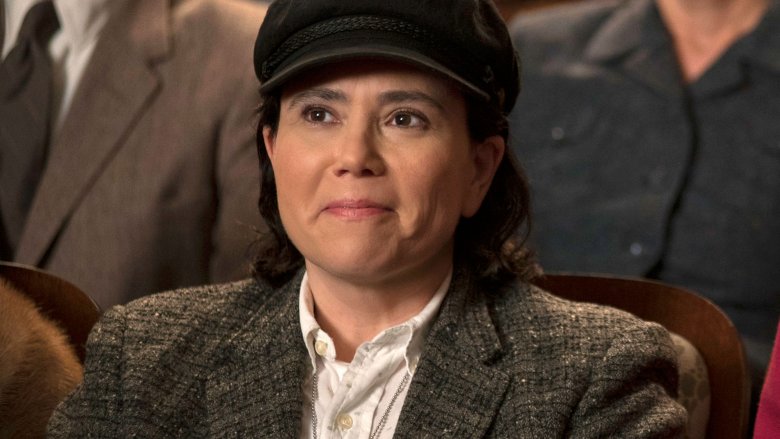 Nicole Rivelli/Amazon
We bet she's feeling pretty marvelous right about now. 
At the 71st annual Primetime Emmy Awards on Sunday, September 22, Alex Borstein took home a glittering golden statue for Outstanding Supporting Actress in a Comedy Series for her work as Susie Myerson on The Marvelous Mrs. Maisel. 
An employee at the Greenwich Village coffeehouse the Gaslight Cafe and the gruff manager of the series' titular Miriam "Midge" Maisel, played by Rachel Brosnahan, Borstein's Susie Myerson has captured the attention of many viewers since The Marvelous Mrs. Maisel premiered its first season on Amazon Prime on March 17, 2017. The actress' star has only shone brighter since Mrs. Maisel has scored more seasons, making her an awards season darling.
Borstein beat out a number of incredible performers to bag the Supporting Actress in a Comedy Series Emmy this year. Barry's Sarah Goldberg, Fleabag's Sian Clifford and Olivia Colman, GLOW's Betty Gilpin, Saturday Night Live's Kate McKinnon, and Veep's Anna Chlumsky were all up for the award — as was fellow The Marvelous Mrs. Maisel actress Marin Hinkle, who portrays Midge's mother Rose Weissman on the series.
Alex Borstein gave a powerful speech at the 2019 Emmys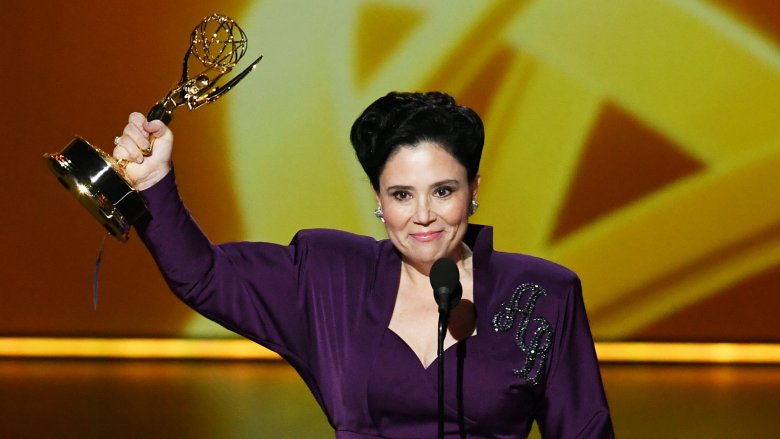 Kevin Winter/Getty Images
Borstein's win was sweet, and her acceptance speech was strong. She began with a joke — just as she did at the 2018 Emmys, where she also won Outstanding Supporting Actress in a Comedy Series — and then got serious.
"Wow. I know a lot of people were upset last year because I wasn't wearing a bra. I apologize," joked Borstein. "Tonight, I'm not wearing any underwear, so you're going to want to throw out that chair, or clean it. It looks pretty on TV, but it's like a hot yoga class in here."
The actress shifted gears thereafter, urging women in attendance at the Emmys and those watching at home to believe in their own strength, just as the women in her life have done. 
"To the strength of women, to [The Marvelous Mrs. Maisel writer-director Amy Sherman-Palladino], to every woman on the cast and crew, to my mother, to my grandmother ... My grandparents are immigrants. They are Holocaust survivors," Borstein stated. "My grandmother turned to a guard – she was in line to be shot into a pit — and she said to a guard, 'What would happen if I stepped out of line?'  "He said, 'I don't have the heart to shoot you, but somebody will.' And she stepped out of line. And for that, I am here. And for that, my children are here. So step out of line, ladies. Step out of line!"