Fight Scenes In Netflix Movies You Need To Watch At Least Once
This content was paid for by Netflix and created by Looper.
Everyone loves a good fight — at least when it comes to film. A well-done brawl can get your adrenaline pumping, even while you're sitting on your couch with a bowl of popcorn in your lap.
There's nothing like the first time the first punch gets thrown in a film. Maybe it was expected, and the guy — or girl — had it coming. Or maybe it came clear out of the blue. Either way, watching that initial blow land can make you flinch and let out a yelp as if you were right there in the scene. It can be a real rush — particularly since it doesn't actually involve you.
Yes, there's something to be said about being a spectator. You get to experience all the excitement without getting a scratch on you. But once the movie ends, you can't go back and pretend it's the first time you're watching it again. You know what's going to happen, and your reaction is just a little bit different.
If you want to find that thrill of the first punch again, Hollywood's given us a treasure trove of heart-racing action-adventure films, thrillers, and everything in between — all at our fingertips. But where do you start when it comes to unearthing fresh new fights? How about right here, with these Netflix films featuring fight scenes you need to watch at least once.
The prison library brawl in Spenser Confidential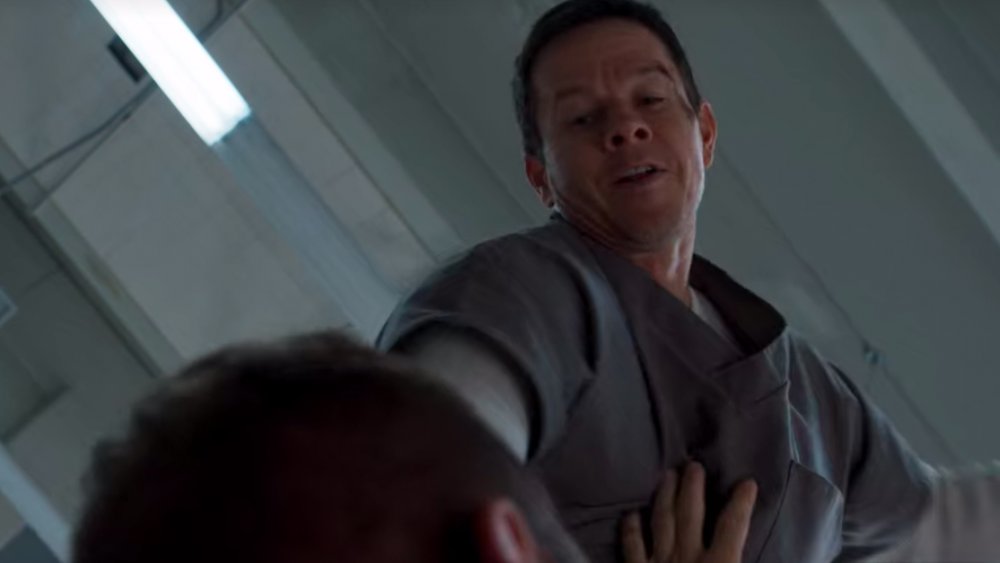 For anyone looking for nonstop action, Spenser Confidential is filled with fight scenes. So many, in fact, it's hard to pick just one. But if you've ever wanted to see tatted up rapper Post Malone get punched, this is the movie for you.
Spenser Confidential follows ex-con ex-cop-turned-private investigator Spenser, played by a still-ripped-at-almost-50 Mark Wahlberg, as he tries to solve the double murder of two Boston police officers while figuring out who framed him five years earlier.
Within the first five minutes of Spenser Confidential there are two fight scenes, one of which involves Wahlberg and Malone in a prison library skirmish. In his first acting role, Malone plays fellow inmate Squeeb, who has a message from the outside for Spenser right before he's released from prison: Get out of town and don't come back.
To back up his threat, Malone's character summons his Aryan Nation goons — including UFC fighter Donald "Cowboy" Cerrone, who lands a few kicks to Spenser's ribs. "Did you just kick me, bro?" asks Wahlberg incredulously before putting his foot in Cerrone's groin. When Squeeb jumps on Spenser's back, Spenser quickly throws him off, but not before Squeeb leaves him with a little present: a shank in the lower back. "Gotcha!" laughs Malone with a wink and a smile.
The cheeky three-against-one scene sets up the rest of the film, which offers plenty of laughs alongside its virtually constant altercations in which Spenser often finds himself in sticky situations.
The car wash beat-down in Point Blank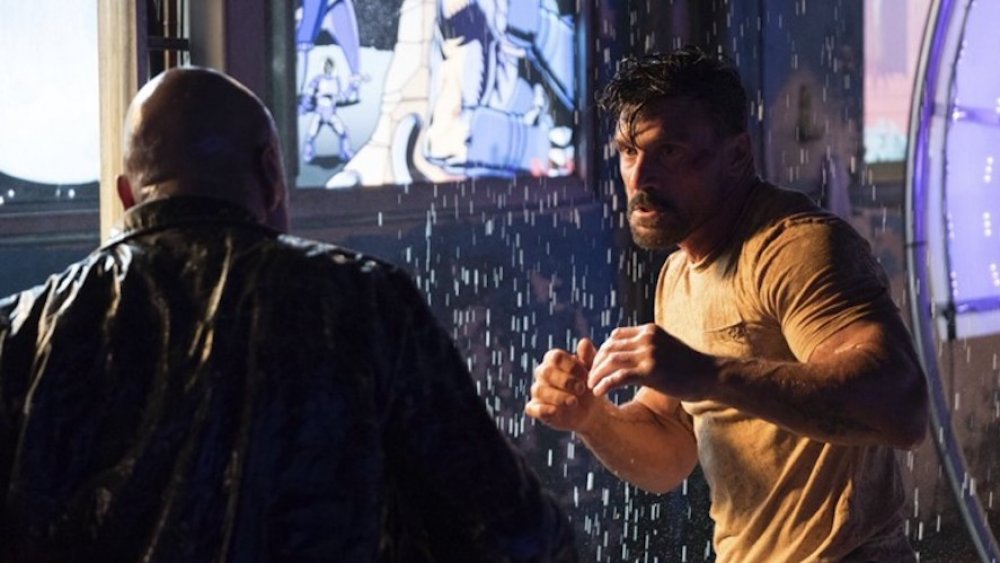 Ever wondered what it would be like to step out of your car while driving through an automatic car wash? Well, look no further than Point Blank, in which a car wash fight scene gives a whole new meaning to cleaning someone's clock.
The film, a remake of the 2010 French film of the same name, stars Anthony Mackie and Frank Grillo, who first came to blows in Captain America: The Winter Soldier as onscreen rivals Sam Wilson (a.k.a. Falcon) and Brock Rumlow (Crossbones), respectively. This time, they're an ER nurse (Mackie) and a career criminal (Grillo) who become entangled in taking down a cluster of corrupt cops.
Grillo plays bad guy Abe Guevara, who finds himself in the hospital after fleeing a murder scene. Meanwhile, Mackie is mild-mannered nurse Paul Booker, who is thrown into the middle of things when Abe's skittish brother (Christian Cooke) kidnaps his pregnant wife in order to force him to smuggle Abe out of the ER. The two form an unlikely alliance, and soon Paul is reluctantly hitting and even killing cops in order to ensure his wife's safety.
The soundtrack to Point Blank stands out for its incongruity — at one point Grandmaster Flash and the Furious Five's "The Message" plays while a tense Paul prepares to bust Abe out of the hospital. But one place the oddball choice in music works is the car wash fight scene, as a soaking wet Grillo gets pummeled by soap and spinning brushes while beating up a bad cop to the tune of "The Rain" by Oran "Juice" Jones. Turns out an oblivious old lady is listening to the song in her car while the brutal bashing takes place all around her.
Will Smith kicks some elfin rear in Bright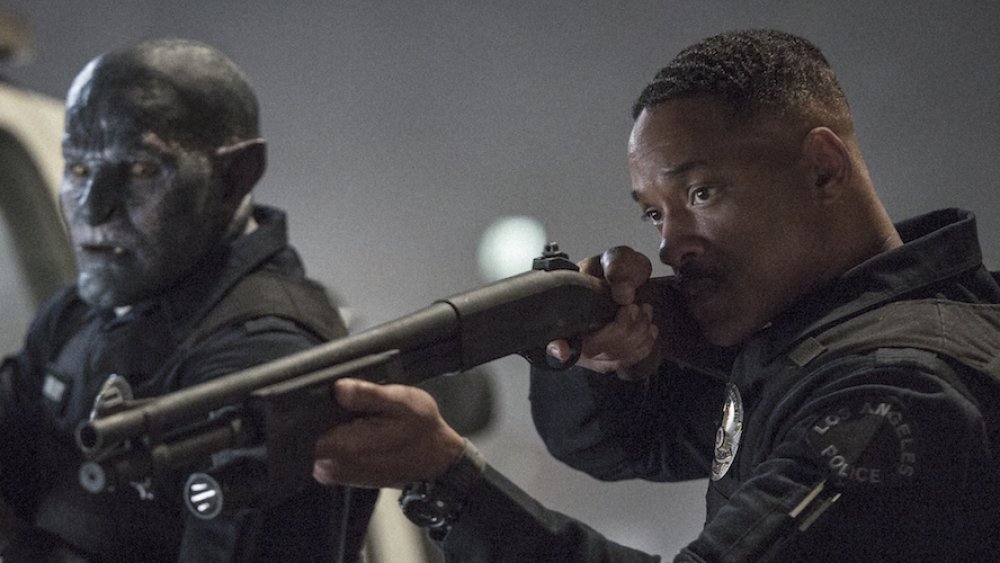 Humans and orcs and elves, oh my! Bright is a fantastical tale of two LAPD police officers set in an alternate reality in which humans and mythical creatures such as orcs, elves and fairies co-exist.
The urban fantasy action film follows human cop Daryl Ward (Will Smith) and the nation's lone orc officer Nick Jakoby (Star Wars' Joel Edgerton) as they protect a magical elf (Lucy Fry) and the wand she wields. Everyone wants to get their hands on the wand, even if it means killing for it — sending the partners on the run, evading fellow police officers and a gang of elfin extremists who want the wand in order to summon the Dark Lord to take over the world.
After numerous car chases and shootouts, Bright culminates in an all-out brawl between the officers and the evil elves, with one badass Noomi Rapace leading the pack as Leilah. Ambushed and out of ammunition, the officers use whatever they can to combat the enemy, from foosball tables to refrigerators, but Leilah is still standing. Ultimately, Smith's character must choose between saving his own life and saving the life of the elf he's sworn to protect.
While it's not Smith's first foray into action-cop status, it's always worth the price of admission to watch him get down and dirty — even if it's with orcs and elves.
Noomi Rapace proves that women are just as strong as men in Close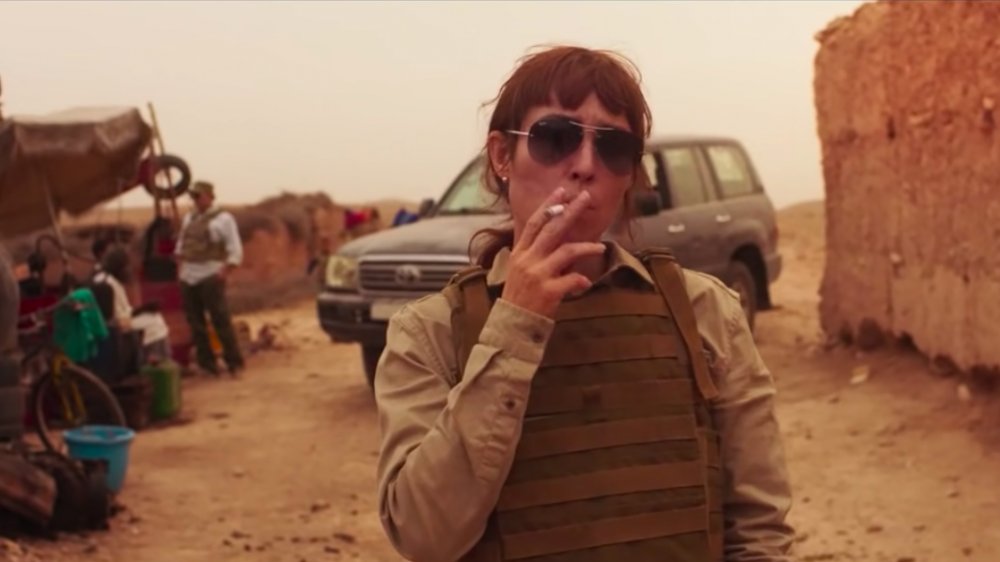 It's still somewhat of an anomaly for a woman to star in a violent action film and not be sexualized or play the damsel in distress, which is what sets Close apart from other movies in the genre. And what makes it equally intriguing is that it is loosely based on the life of Jacquie Davis, one of the world's top female bodyguards who has protected the likes of Justin Bieber, Nicole Kidman, and members of the British royal family.
Close stars Noomi Rapace as Sam, a close protection officer (CPO) assigned to protect a mining heiress named Zoe (Sophie Nélisse) who inherits billions of dollars worth of shares when her father dies. But just days after Zoe learns of the endowment, a group of men attempts to kidnap her, killing everyone in their path. Because of Sam's extensive skills, she and Zoe are able to escape — but not for long.
With several high-octane action sequences, including an underwater fight featuring hundreds of fish, Close delivers the goods. But the scene that will really make you hold your breath is when the kidnappers track down Sam and Zoe in a seedy hotel and snatch Zoe. "Fight back!" yells Sam as they whisk Zoe away.
But while Zoe may not be equipped to take on her kidnapper, Sam is. With both hands tied behind her back, Sam manages to kick, stab, shoot, and kill one of the attackers, leaving him in a blood-soaked pile on the floor. Then, of course, she's off to rescue the damsel — who, yes, eventually learns to fight back.
The mile-high fight scene in The Old Guard featuring Charlize Theron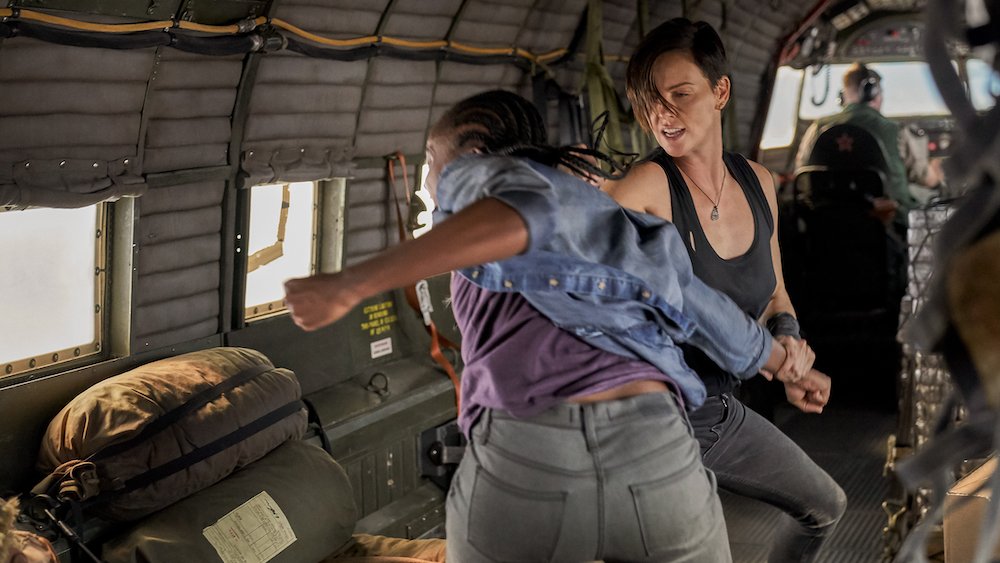 Aimee Spinks/Netflix
Immortal vigilantes walk among us, according to action-packed superhero film The Old Guard (based on the comic of the same name), and Charlize Theron is leading the charge. As the mythological Andromache of Scythia — or just Andy, for short — Theron and her small, secret army have made it their mission to battle evil in the modern-day world. But just as their cover is blown and Andy's faith in their operation is waning, a new immortal emerges.
Even though it may seem like a dream come true, finding out you're indestructible is rough at first. Just ask newcomer Nile Freeman (Kiki Layne), who discovers she can't be killed while serving as a U.S. marine. After being shunned by her fellow soldiers when she doesn't die from having her throat gruesomely slashed during a mission, Nile is tracked down by Andy. But she doesn't go peacefully into her new everlasting life.
Finding herself on a drug-smuggler's plane with few answers, Nile takes things into her own hands, literally, by throwing the first punch. "You really want to do this, kid?" asks Andy with a smirk. And with that, it's go time.
As the fists fly and the plane rocks back and forth, Andy and Nile engage in a no-holds-barred battle. In the midst of all the action, Andy gets a smile on her face as she spits out blood — this girl has potential! But eventually Andy tires of the cat-and-mouse game, declaring, "We're done." But Nile doesn't stop, so Andy egregiously breaks Nile's arm and leg to slow her down. Don't worry, she'll heal — immortals always do.
The street fight from Extraction starring Chris Hemsworth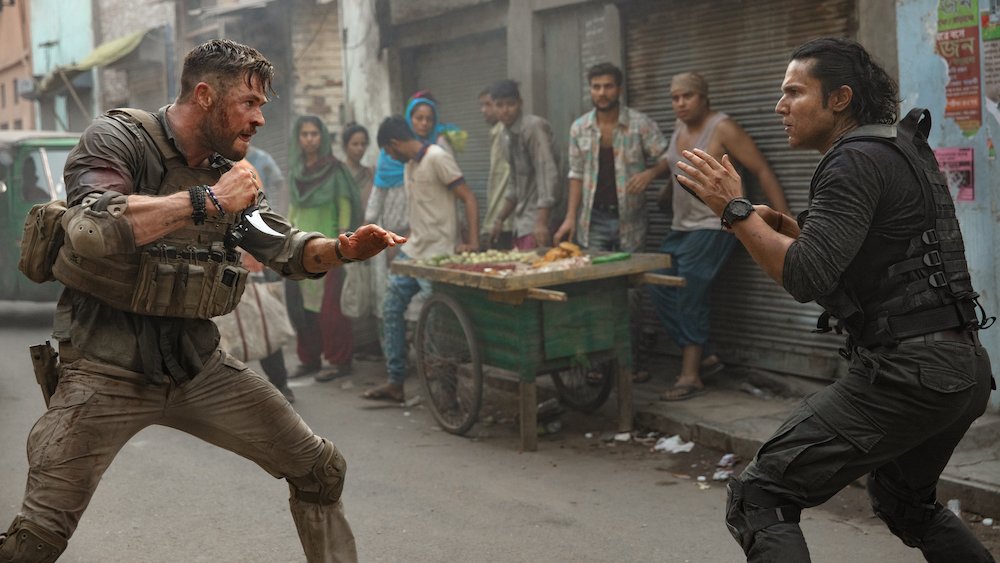 Jasin Boland/Netflix
Chris Hemsworth is a one-man army in Extraction, a nonstop run-and-gun action-thriller in which his character, Tyler Rake, is hired to rescue the kidnapped son of an imprisoned Indian gangster. But as soon as the boy is retrieved, things go awry when one of his father's henchmen, Saju (Randeep Hooda), violently attempts to intercept the extraction in order to avoid having to pay Rake.
Of course, Rake isn't having any of it. After annihilating the kidnappers and the corrupt police officers trying to capture the boy, Rake must face off against Saju.
The confrontation takes place on the streets of Dhaka, where Rake encounters Saju in a rundown apartment building before fisticuffs cause the pair to fall to the grimy pavement below. As bystanders gawk and vehicles cut through, the two men draw knives on each other and start punching and jabbing. As soon as Rake disarms his opponent and lands a kick that sends Saju flying, he's forcefully struck by a car. Hey, that's one way to end a fight.
But Extraction, which is based on the graphic novel Ciudad, doesn't stop there — and neither does Rake. But not only must he continue to evade Saju's attempts to swipe the crime boss' son, he must also shield the boy from a $10 million bounty put on his head by the rival crime boss who had ordered his kidnapping.
Kevin James gets tough in True Memoirs of an International Assassin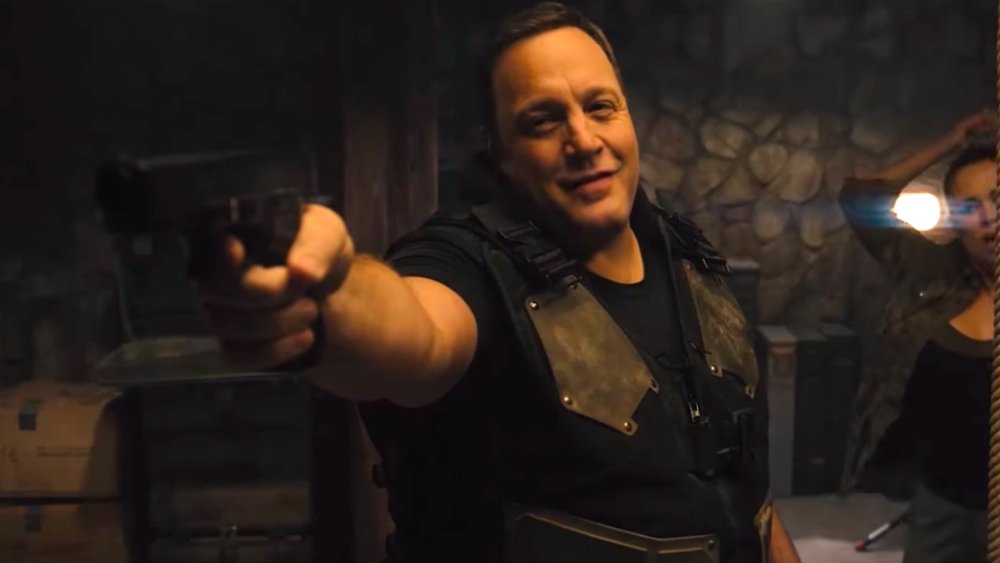 Who knew funnyman Kevin James could throw a punch? That's the takeaway from True Memoirs of an International Assassin, starring James as meek accountant-turned-writer Sam Larson, who's mistaken for a ruthless assassin after his bestselling fantasy crime novel is labeled as nonfiction.
James dodges bullets, effortlessly takes down bad guys in hand-to-hand combat, and even gets blown to bits by a rocket-propelled grenade. But it all happens in Sam's head as he role-plays the elusive Ghost, the character from his book.
True Memoirs of an International Assassin has multiple scenes when James kicks butt and takes names, but the first scene is the most memorable — mainly because you just don't think of James as an action hero. The comedian is best known for the hit sitcom The King of Queens and movies like Paul Blart: Mall Cop and Grown Ups, not for euphemistically serving someone's head on a platter.
But in True Memoirs of an International Assassin, James engages in fistfights to save the girl and jumps out of moving helicopters, all while taking out scoundrels left and right and envisioning himself as the Ghost. Back in the real world, Sam is kidnapped by terrorists who want to kill the president of Venezuela and think he's the man to do it. Sam bumbles along through the process with the help of a rogue DEA agent named Rosa (Zulay Henao). By the end, he discovers that there may actually be a little piece of the Ghost in him.