Why Squeeb From Spenser Confidential Looks So Familiar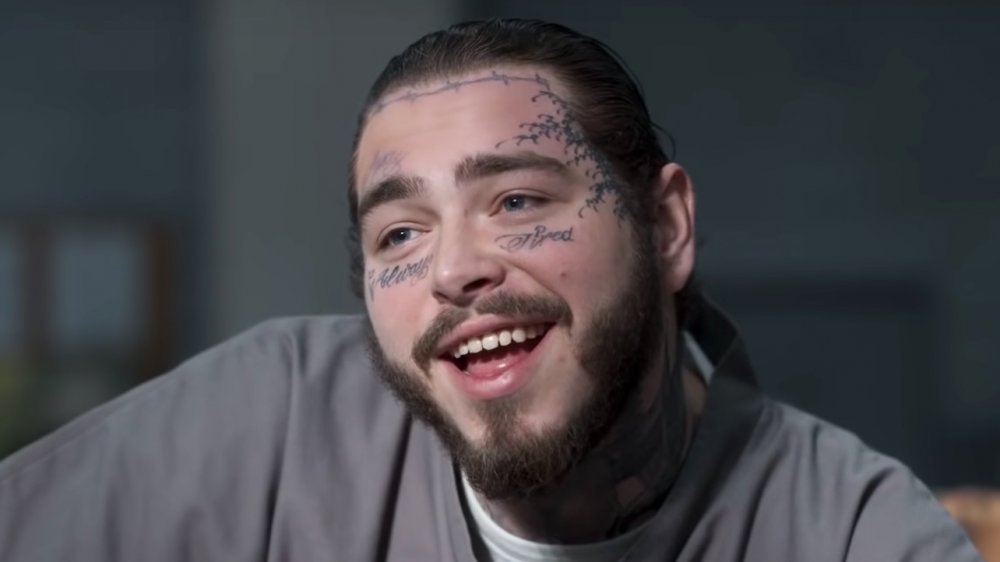 If you're one of the tens of millions of people who have watched the Netflix original film Spenser Confidential, you probably thought at one point, "Where have I see that guy before" — not about Mark Wahlberg, who plays lead character Spenser, but about the bad guy with the face tattoos. That actor's name is Austin Post, also known as rapper Post Malone, who makes his acting debut in the film.
Spenser Confidential, which drew in 85 million households in its first month available on Netflix, follows Wahlberg as ex-con ex-cop Spenser as he tries to crack the case of two murdered Boston police officers while uncovering who framed him five years earlier. After serving time in prison for assault, Spenser pairs up with a no-nonsense but quietly mindful MMA fighter (Winston Duke) to take down a ring of dirty cops and drug dealers.
In addition to starring Wahlberg and Duke, who's best known for portraying M'Baku in Black Panther and the Avengers franchise, the cast includes Academy Award winner Alan Arkin (Little Miss Sunshine, Argo) as Spenser's father-figure friend Henry, and standup comedian Iliza Shlesinger as Spenser's girlfriend Cissy.
But Malone may have one of the most memorable moments in Spenser Confidential as a heavily tatted-up inmate named Squeeb who tries — and fails– to beat up Spenser on his last day in prison in order to send him a message. It's a bit part, but it's a foot in the door for Malone to pursue acting, if he wants, and it all started because he's a friend of Wahlberg, who pushed for the rapper to land the role.
"I had never seen him act," Wahlberg told USA Today. "I didn't know if [he] was going to be good. He was a little nervous. But he had a great time. The sky is the limit for his acting career."
While it may be Malone's first acting gig, it's probably not the first time you've seen him around. Here's why Squeeb from Spenser Confidential looks so familiar.
Post Malone is a successful musician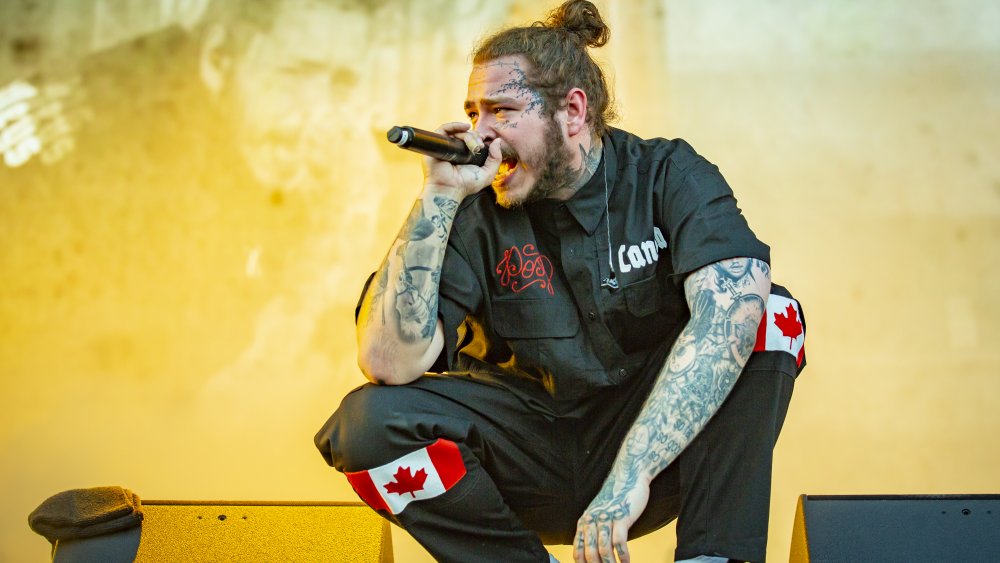 Mark Horton/Getty Images
Post Malone has made quite an impact on the music industry since crash-landing on the scene with his self-released debut single, "White Iverson," in 2015. The singer-songwriter-rapper melds R&B, hip-hop, rock, and country into his own unique sound that has spawned two No. 1 albums and four No. 1 songs on the Billboard charts, and racked up numerous awards, including six Grammy nominations.
Malone broke records with his 2016 major-label debut album, Stoney, which went triple-platinum and surpassed Michael Jackson's 1982 masterpiece Thriller for most weeks in the Top 10 of Billboard's Top R&B/Hip-Hop Albums chart. The album houses the hit single "Congratulations," featuring Quavo from the hip-hop trio Migos, which has racked up over 1.2 billion YouTube views and gone 10-times platinum.
Malone's second album, 2018's Beerbongs & Bentleys, also broke records, garnering almost 50 million streams on Spotify in its first day of release and landing nine simultaneous entries in the Top 20 of the Billboard Hot 100 songs chart. The album debuted at No. 1, featured two chart-topping singles, "Rockstar" and "Psycho," and earned four Grammy nominations.
That same year, Malone reached a new level of success when he collaborated with Swae Lee on the song "Sunflower" for the soundtrack to Spider-man: Into the Spider-verse. The track skyrocketed to No. 1.
Then, in 2019, Malone released his third album, Hollywood's Bleeding, which also debuted at No. 1 and featured his fourth chart-topper, "Circles." He was crowned Billboard's Top Artist of the Year later that year, and "Circles" broke the record for most weeks on the magazine's Hot 100 songs chart, spending 38 weeks in the Top 10.
In his short time on the scene, Malone has racked up American Music Awards, Billboard Music Awards, and MTV Video Music Awards, all for his "genre-less" sound. "Music is becoming so genre-less and so liquid and anything can be anything," he told Insider. "Just stepping out of comfort zones and maybe doing rock, maybe doing country, maybe putting it all together with all different sorts of genres I think is cool — there is no genre and it's just music at that point."
Post Malone had a tiny part in Spider-Man: Into the Spider-verse, and a huge hit song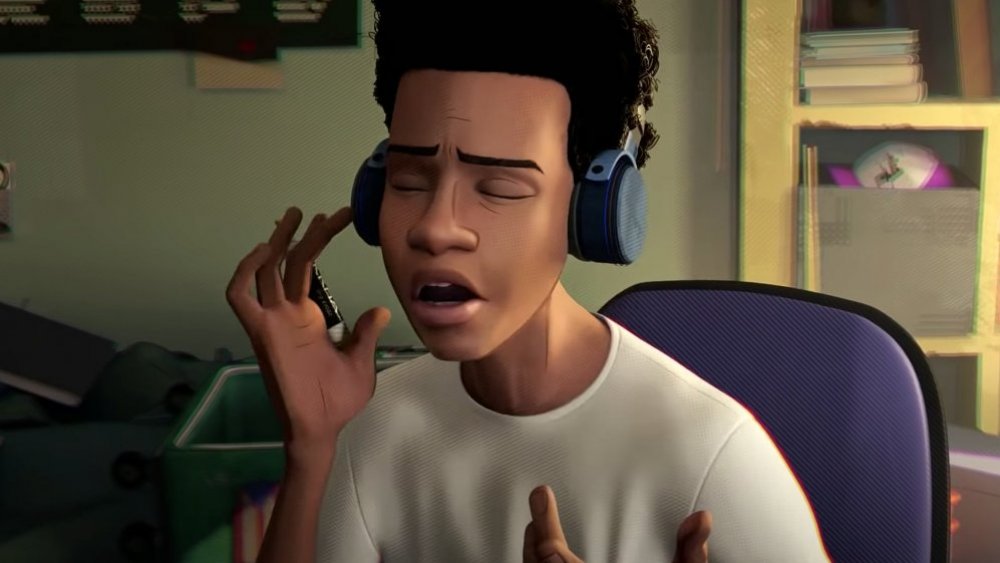 Sony Pictures
Post Malone first dabbled in the acting world when he made a tiny voice-over cameo in the 2018 animated film Spider-Man: Into the Spider-verse. It's a single blink-and-you'll-miss-it line as a "Brooklyn bystander," but, hey, everyone has to start somewhere.
The line is dropped when Miles Morales (Shameik Moore) is running from Prowler (Mahershala Ali) and passes a lamppost that was warped by Kingpin (Liev Schreiber)'s dimensional machine. During the scene, a bystander, voiced by Malone, can be heard saying, "I think it's a Banksy," in reference to the famous graffiti artist who often vandalizes public property.
That simple line "made the movie," according to co-director Rodney Rothman, who posted a photo of himself with Malone on his Twitter account during a special May 2020 watch party for Spider-Man: Into the Spider-verse. "He drank beer and had so much fun," he wrote of directing Malone, who called him "Dad."
Perhaps Malone's biggest contribution to Spider-Man: Into the Spider-verse, however, is his musical collaboration with Swae Lee, "Sunflower." The song appears at the beginning of the film when we first meet Miles, who's singing along before heading out to school.
Surprisingly, though, it wasn't the filmmakers' top pick for a theme song to Spider-Man: Into the Spider-verse. The movie's co-writers, Rothman and Phil Lord, told Vulture they were originally going to use Childish Gambino's "Redbone," but because it had already appeared in 2017's Get Out to similarly introduce a character, they opted against it.
Eventually, they settled on "Sunflower," which they felt helped perfectly establish Miles' character.
"We liked the metaphor: Miles is singing a song that theoretically he's a little too young for and he doesn't know the words yet. That's the metaphor ... for most of the rest of the movie. He's going to be asked to step into shoes that he feels he's not ready for, he's not going to know the words, and he's going to feel very self-conscious and nervous about that."
It was a wise choice: "Sunflower" went on to top the Billboard charts and was nominated for two Grammys.
Post Malone has appeared on TV shows and awards shows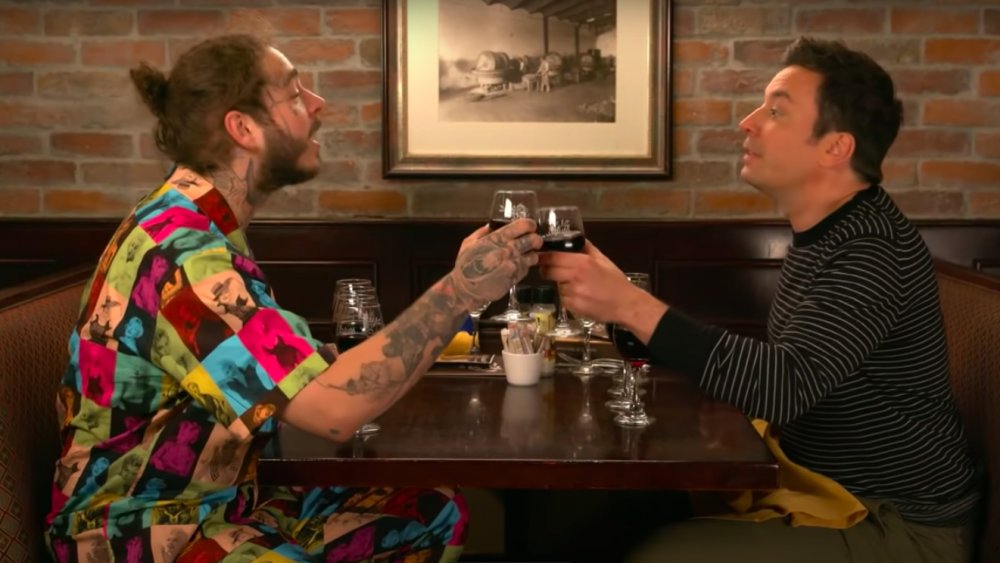 Thanks to his numerous face tattoos, it's hard to forget Post Malone. He has barbed wire inked across his forehead, a sword on his right cheek, the words "Stay Away" above his eyebrow, and "always" and "tired" underneath both eyes, among others. He also has multiple tats on his neck, hands, arms, and body. So, if you've seen him once, you'll always remember him.
Since bursting onto the music scene in 2015, Malone has been the musical guest on several late-night talk shows, including Jimmy Kimmel Live, Late Night with Seth Meyers, and The Tonight Show Starring Jimmy Fallon. On the latter, he has taken Fallon to Olive Garden and Medieval Times, and drank beer while singing Irish folk song "Seven Drunken Nights" with the talk show host.
Malone has also appeared on many of the telecast music awards, such as the Grammys, the MTV Video Music Awards, and the American Music Awards. At the 2019 AMAs, he dramatically performed "Circles" and "Take What You Want" with Travis Scott and Ozzy Osbourne.
In 2019, Malone did a duet of Elvis Presley's "Baby, What You Want Me to Do" with country singer Keith Urban on the televised Elvis All-Star Tribute concert. Wearing a decorated yellow rhinestone suit, Malone surprised both fans and critics alike with his stripped-down versatility. In 2020, he headlined Dick Clark's New Year's Rockin' Eve with Ryan Seacrest while wearing a purple pleather suit and showing off a new face tattoo of a spiked ball and chain.
Malone, however, doesn't just stay in his lane as a singer. He has branched out into other types of TV, having appeared as himself on MTV's Ridiculousness, VH1's Martha and Snoop's Potluck Party Challenge, and the Travel Channel's Ghost Adventures.
So, if you did a double-take during Spenser Confidential, chances are you saw Post Malone's unforgettable face somewhere before.