The Mark Wahlberg Box Office Flop That's Dominating Netflix Right Now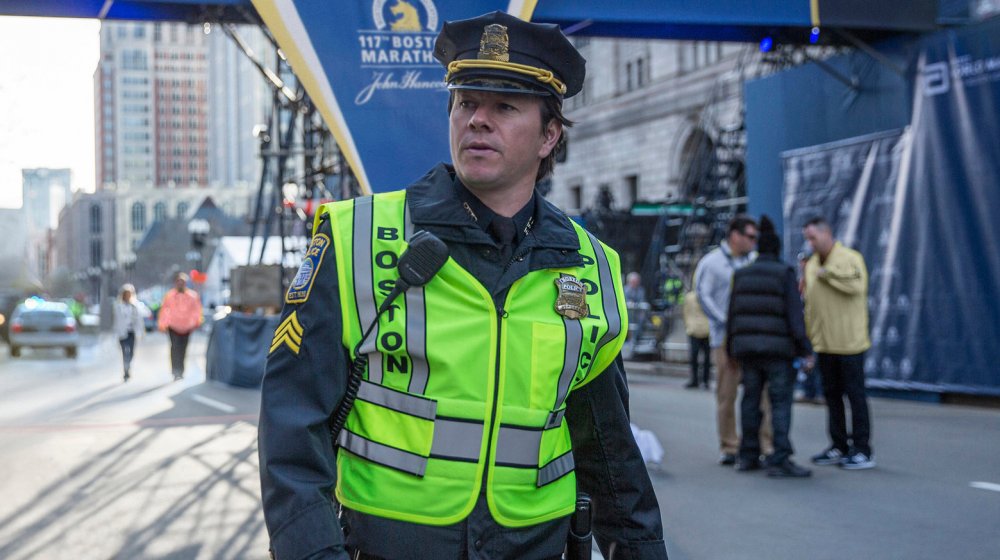 Lionsgate
It may not have made much of an impact at the box office, but Patriots Day dominated Netflix over the Fourth of July weekend.
A fictionalized account of the 2013 Boston Marathon bombings, the Mark Wahlberg-starring, all-star-cast-sporting historical drama has raced to the very top of the streamer's Top Ten list. Its surprising performance virtually guarantees that more people watched the flick over the last few days than during its theatrical run, because Patriots Day — the third collaboration between Wahlberg and director Peter Berg — was a massive flop when it was released in 2016.
The film was one of several projects competing to be the first onscreen depiction of the horrifying events of April 15, 2013, when two bombs that detonated near the finish line of the Boston Marathon killed three and injured hundreds more. Patriots Day came to fruition when studio CBS Films acquired the rights to the 2015 non-fiction novel Boston Strong from Fox, which had been developing its own version of the film (a take that would have focused on real-life Boston police commissioner Ed Davis).
It's pretty easy to see why Patriots Day caught everyone's attention recently. First, the movie tells a story of American heroism in the face of disaster at a time when we could all use a little of that. And, of course, it rose to dominate Netflix over the weekend of that most patriotic of holidays, Independence Day. It's also a pretty darn good flick — sharply directed and well-acted, and did we mention that cast? Aside from Wahlberg, Patriots Day stars Kevin Bacon, Michelle Monaghan, John Goodman, Lana Condor, J.K. Simmons, Melissa Benoist, Jimmy O. Yang, and Alex Wolff, just to name a few.
What is Patriots Day about?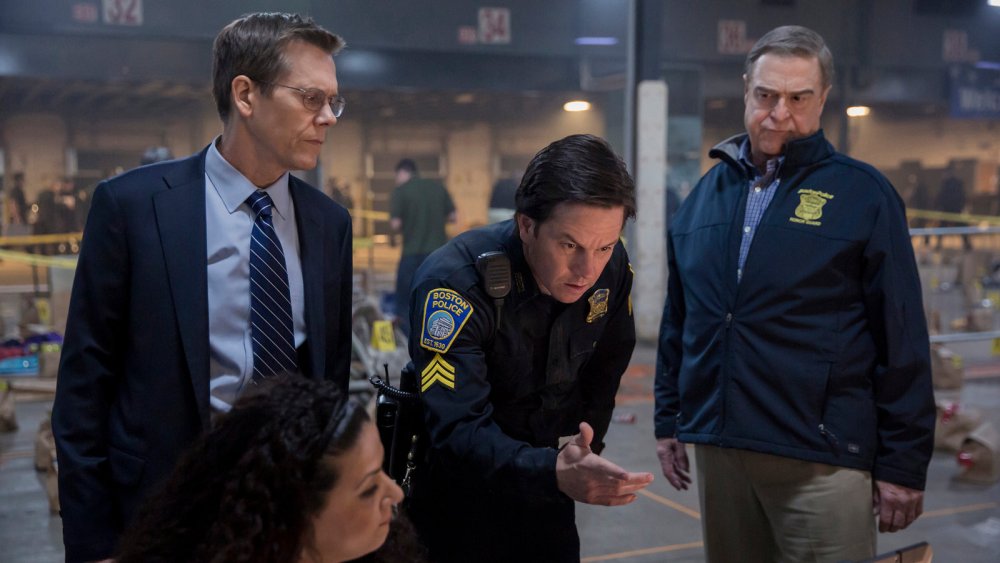 Lionsgate
Patriots Day cuts right to the chase in its first act: The Tsarnaev brothers (Wolff and Themo Melikidze) detonate the bombs, causing abject chaos and devastation in downtown Boston. The movie follows a number of ancillary characters as they deal with their injuries and search for lost family members, but at the center of the narrative are FBI Agent Richard DesLauriers (Bacon), Commissioner Ed Davis (Goodman), and Boston Police Department Sergeant Tommy Saunders (Wahlberg), who gathers evidence while helping some of the characters we've met reunite with their loved ones.
A concurrent narrative thread follows the bombers as they attempt to evade justice — killing an MIT police officer and carjacking a young student named Dun Meng (Yang), with whom they share their plan to head to the Big Apple to carry out another bombing. Meng proves instrumental to Saunders' investigation, as he manages to escape and provide valuable information to the cops who are on the bombers' trail. The ensuing manhunt and its resolution are depicted with decent accuracy — and also plenty of suspense and tension, thanks to an economical script, Berg's assured directorial hand, and excellent efforts all around from that cast. 
Patriots Day received positive reviews from critics and audiences alike, so the film's financial failure wasn't by any means due to it being awful. It was released just over three years after the harrowing events it depicted, so it wasn't a matter of its subject material being irrelevant either. So, why didn't Patriots Day rake in the box office bucks?
Why did Patriots Day flop at the box office?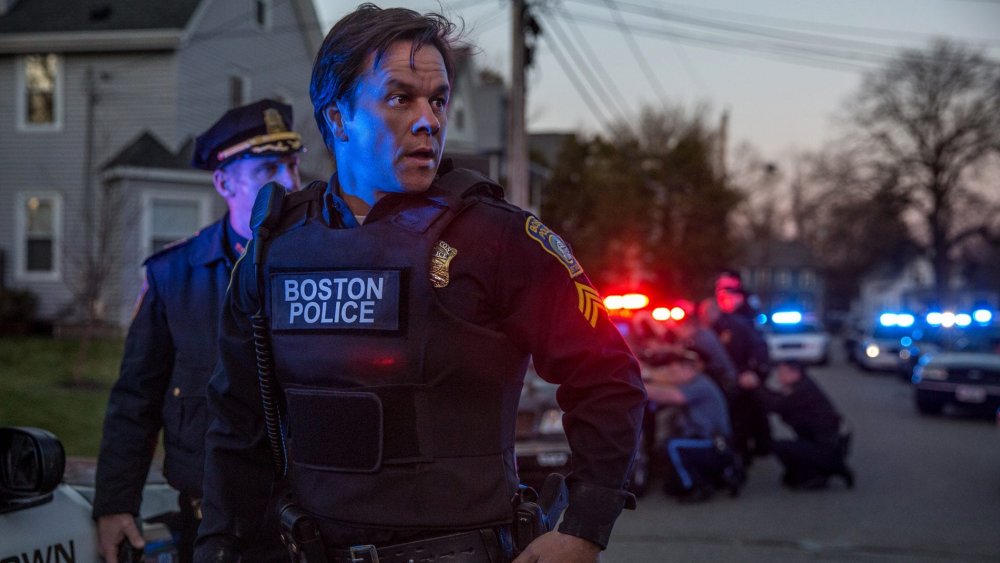 Lionsgate
As it happens, Patriots Day actually may have suffered from being too timely, and from a marketing blitz that likely backfired. 
The $45 million picture was promoted with a saturation campaign that cost roughly the amount of its budget (via Bomb Report), meaning that there were very few Americans who were unaware of it. However, it stands to reason that, with the actual bombing so fresh in the minds of so many, a good number of moviegoers simply weren't ready to relive the experience in fictionalized form just yet.
It's also worth mentioning that while the film was released to a limited number of theaters in late 2016, it opened wide on January 13, 2017 — over the Martin Luther King Jr. holiday weekend, which may also have been a questionable strategy. Additionally, Patriots Day hitting thousands of screens just a week before the inauguration of President Donald Trump could have worked against it, since some Americans were potentially looking for a shot of escapism at that time. The frame during which Patriots Day opened wide offered audiences plenty of other choices in that respect: the Ben Affleck gangster flick Live by Night (the follow-up to his Best Picture winner Argo), the Jamie Foxx thriller Sleepless, and the goofy comedy Monster Trucks, and M. Night Shyamalan's Split, which debuted the following weekend.
Patriots Day ended up grossing only $52 million globally during its theatrical run — a fate it didn't deserve. It's finally getting its due, thanks to Netflix viewers. If you're in the market for a ripped-from-the-headlines story of American heroism, you could do a heck of a lot worse than this pic.