The One Scene That Anna Kendrick Refused To Film For Dummy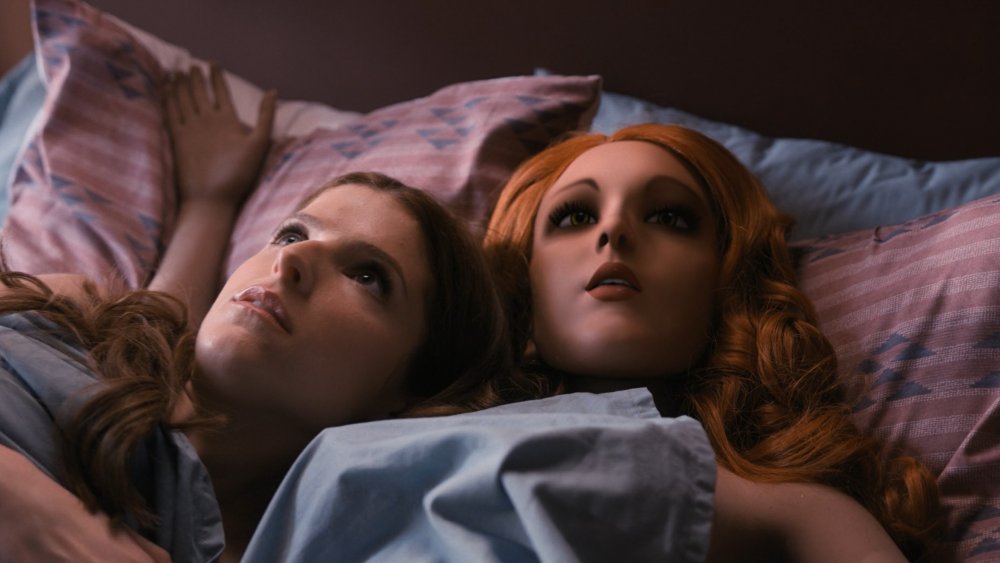 Quibi
This content was paid for by Quibi and created by Looper.
Quibi (short for "quick bites"), the streaming service specifically designed for cell phone use, debuted April 6, 2020. Included among the list of impressive launch content was the Anna Kendrick-starring series, Dummy. Dummy is — essentially — a story about a woman who befriends her boyfriend's love doll. They fight together, they write together, and they go on epic road trips together. Oh, and the story is (loosely) based on real events.  
The show stars Anna Kendrick as Cody and — to a much lesser extent — Donal Logue as Dan. Dummy was created by off-beat comedy genius Cody Heller (Wilfred, Deadbeat), significant other to Community and Rick and Morty creator, Dan Harmon. The series begins with Cody's discovery of Dan's love doll, an experience literally ripped from the headlines of Heller's relationship with Harmon — hence, the un-subtle character names. We assume Harmon's love doll didn't talk, however.
Given the subject matter, Kendrick had to push pretty far beyond her comfort zone for much of the series' filming, though there was at least one idea of Heller's she considered a bridge too far.
Dummy and the sex scene we didn't quite get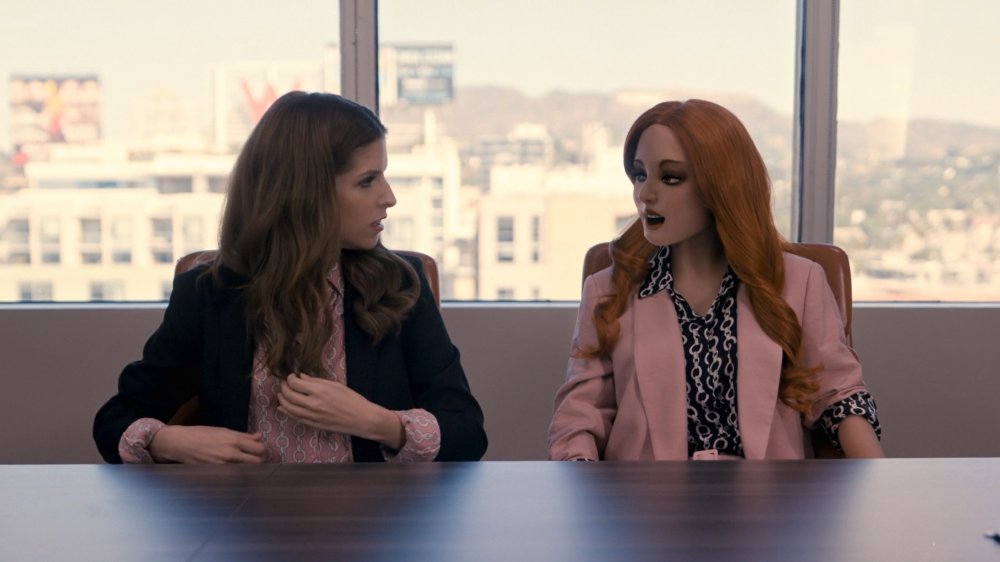 Quibi
In an Instagram interview to promote Dummy, Heller and Kendrick spoke about all the different aspects of the series. At one point, they discussed a scene that Kendrick was unwilling to perform. "What was the thing I wanted to shoot?" asks Heller, "that you were, like, 'get me a bottle of wine and maybe.'"
"We shot a version of the scene where I kiss the doll," Kendrick explains. Heller jumps in, adding, "I wanted Anna to do a sex scene that was more of a sex scene. It winded up not needing it and it was classier."
For reference, on the penultimate episode of Dummy,"Paraben-Free Lube," the love doll, Barbara (Meredith Hagner), is hanging out with Cody on their balcony when a young man, Jaxon (Gustavo Escobar), steps out of the apartment complex's communal pool. Barbara is "romantically" excited, let's say, about Jaxon, even though he is just a boy — an eighth grader to be exact. Barbara coaxes Cody into dressing her up in lingerie and getting Jaxon into a bedroom so that he might be tempted to be intimate with Barbara. The situation does not go well, and the interaction causes Cody and Barbara to reveal their mutual jealousies over each other's bodies. Eventually, the talk turns into touching and an intimate smooch as the Counting Crows song "I am Ready" plays and the scene fades out. The implication is obvious.
Apparently, Heller had a vision to make this scene far more sexually explicit. On Dummy's final episode, entitled "Plus Size Plus One," Cody does tell her therapist that she and Barbara "did everything" before rattling off a list of intimate acts performed off-screen with the doll.
The Dummy scene we did get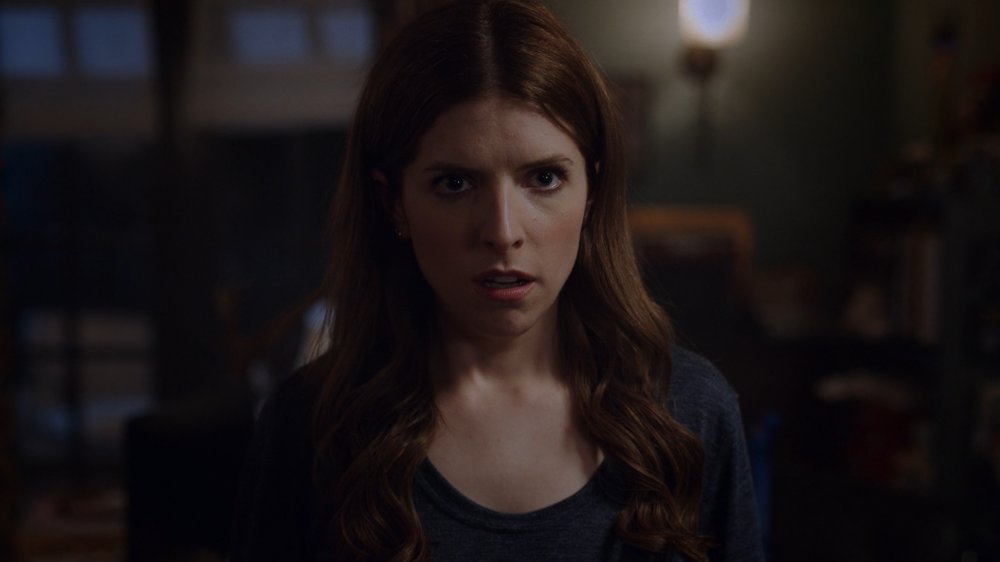 Quibi
"I feel like you just wanted to make me do a sex scene," Kendrick said, laughing. Heller didn't deny it, and the long arc of the series' first season includes several other moments that suggest the expansively erotic nature of Cody's relationship with the anatomically correct doll — even if the two are never depicted in the throes of passion. 
If there's one thing that's evident at this point, it's that subtlety is not always Heller's goal with Dummy. One of the hallmarks of Heller's writing is a willingness to put private, human moments on screen in all their glory — like several bathroom scenes from Dummy that feature an excreting Kendrick sitting on the pot. Leaning into the concept of "bathroom humor," Heller wanted Kendrick's scenes on the toilet to sound just as realistic as they looked. This was another instance when the star pushed back, but this time the creator had the last laugh thanks to the magic of post-production.
"My other favorite thing is when I made you fart in sound effects," revealed Heller. "You didn't allow it on set and I was, like, 'I'm gonna add a fart in post' and you were, like, 'don't you dare' and, did I anyway? Yeah, I did."
"I dunno," admits Kendrick, "farts never make me laugh! But you love it and Meredith loves it and [director] Tricia [Brock] loves it, so I was outvoted. So that's the great news — there is fart humor in the show." Great news, indeed.
Dummy is actually a lot more sophisticated than we're making it sound in this article. Sure, there's plenty of doll romance and fart jokes, but there's also an interesting meta-textual narrative going on here about self love. Something for everyone, in other words. The entire series is available to stream on Quibi.