The Most Difficult Thing For Ashleigh Cummings To Do On NOS4A2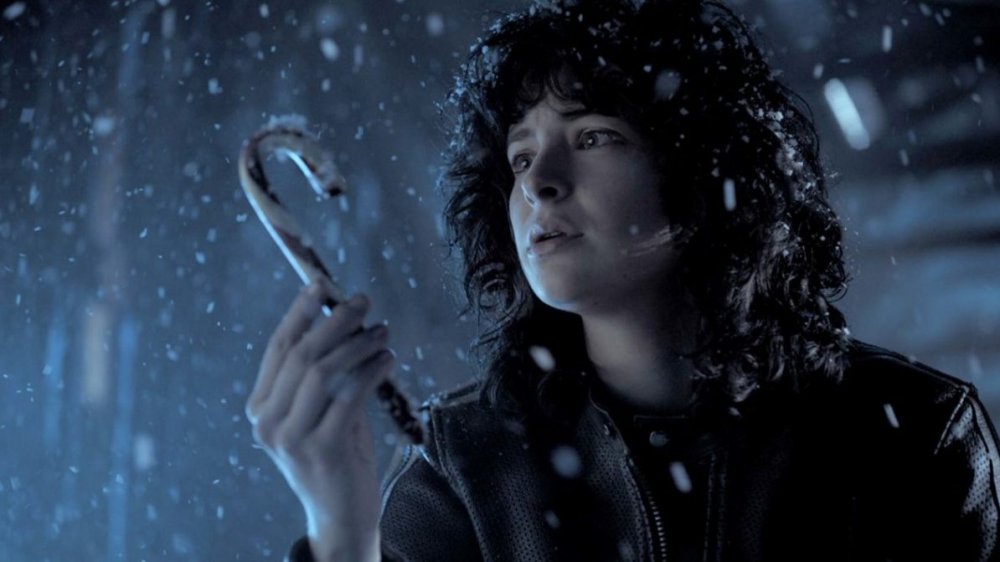 AMC
Joe Hill is having a bit of a moment on television right now. The Netflix adaptation of his beloved comic series Locke and Key is the only surviving project from the streamer's deal with IDW, and AMC's adaptation of his 2013 horror novel, NOS4A2, is finally back on the air for a second season. Set some eight years after the conclusion of season 1, the latter show picks back up with now-mom, Vic McQueen (Ashleigh Cummings), as she hears the disconcerting news that her one-time nemesis, Charlie Manx (Zachary Quinto), is officially dead.
Vic should be happy — not only is Manx gone, but Vic's son, Wayne (Jason David), seems perfectly healthy and safe. Everything should be great for Vic, but it isn't. She's convinced that Manx can't really be dead, and she has good reason. According to Maggie's (Jahkara Smith) magical Scrabble tokens, Vic is supposed to be the one to kill him, and Maggie's tokens are usually right. Armed with the rediscovery of her "knife" (a motorcycle that gives her the power to travel anywhere across a magic bridge), Vic begins to investigate — and drink. 
Unfortunately, Vic appears to have picked up her father's drinking problem in the interim between seasons. Maybe worse still, Manx's right-hand man, Bing Partridge (Ólafur Darri Ólafsson), is looking to resurrect Manx's Rolls Royce Wraith (and Manx with it). Also, Manx's vampiric children are seeking to escape Christmas Town and inflict their bloodthirsty desires on the world, so she's got a bit to be getting on with.
Any one of those issues could be the most difficult part of Vic's life, but the actor who plays her has a much more mundane concern. According to Ashleigh Cummings herself, the most annoying part about playing Vic on NOS4A2 is ... a helmet.
Vic McQueen's arch nemesis: the motorcycle helmet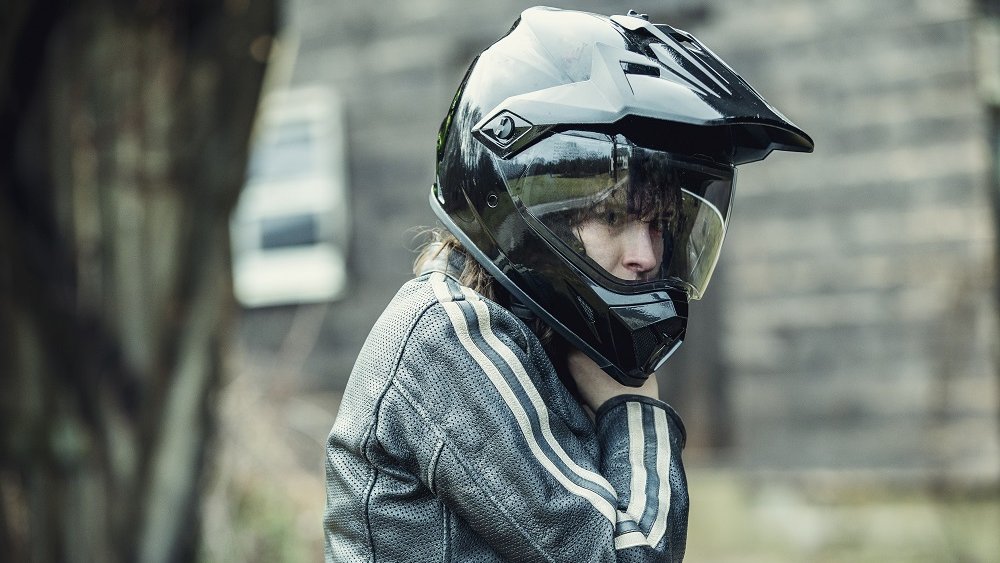 AMC
In an interview with Decider, Cummings was asked how many times she's filmed taking off Vic's motorcycle helmet. "I'm so glad you asked this question," replied Cummings, "because it was the bane of my existence during that period of time ... there would be so many scenes where I'd have to launch into action."
Cummings has to explain her helmet challenges to each new director. "'You want me to launch into action and just storm off in this kind of fury and immensity of feeling and emotion and hop on my bike and go, but what's actually going to happen is I'm going to start storming off," said Cummings. "I'm going to take about five minutes to put this helmet on, and then I'm going to have to put the gloves on, and I'm going to have to do it up. It just takes a really long time, so it's really going to kill the moment.'"
Helmets create costume challenges for more than just the performer wearing them. For hair and makeup people, for example, there's a need to touch up every time the helmet comes off. Similarly, the continuity person on set has to make sure nothing looks glaringly out of place with the gear between when one shot ends and the next picks up.
In the end, there may be many dangers for Vic McQueen to be wary of, but for Cummings the greatest danger of all isn't baby vampires — it's motorcycle safety gear. 

NOS4A2 airs Sundays at 10/9c on AMC, and is streaming now.