Stephen King Says NOS4A2 Is 'Balls To The Wall Scary'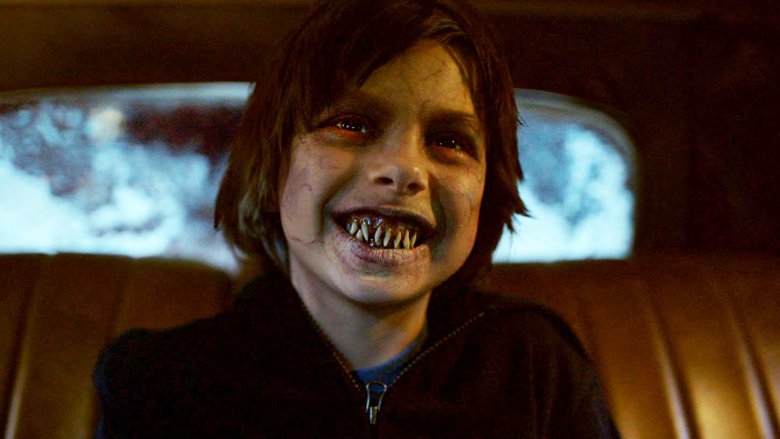 AMC
Know nothing about NOS4A2? You'll want to sink your teeth into the strangely titled series after you hear this. 
AMC's forthcoming adaptation of the best-selling horror novel of the same name, NOS4A2 has Emmy Award-nominated American Horror Story alum Zachary Quinto on board in the lead role, a sterling ensemble cast to join him, and a chilling story straight from the mind of author Joe Hill — who just so happens to be the son of legendary horror novelist Stephen King. According the man himself, Hill's NOS4A2 lends itself perfectly to a silver screen translation and delivers spooks aplenty. 
Speaking on a recent episode of Mick Garris' Post Mortem podcast, King revealed that he watched footage from the NOS4A2 series, set to premiere on AMC on June 2, and was blown away by the adaptation of his son's novel. 
"I've seen some of the footage cut together and I'll tell you what, they're not playing games with that. That's balls to the wall scary," said King. 
With a premise like NOS4A2's, it would be difficult for the series not to be the stuff of nightmares. The story centers on a young artist named Victoria "Vic" McQueen (played on the show by Australian actress Ashleigh Cummings) who is surprised to find that her gifts in life extend into the supernatural: she can locate things of all sorts — from physical objects to long-sought-after answers to impossible questions. Riding her bike across the rickety Shorter Way Bridge, Vic can teleport to the places where each missing thing is located. 
Vic's path soon crosses with that of Charles "Charlie" Manx, a seemingly immortal child abductor who possesses supernatural abilities of his own. Manx drives his sleek 1938 Rolls-Royce Wraith — complete with a vanity plate that reads "NOS4A2," a nod to the 1922 German horror film Nosferatu that unofficially adapted Bram Stoker's famed vampire novel Dracula – around town, snatches up children as he pleases, and takes hidden roads that allow him to duck out of plain sight and into a dark and twisted place known as "Christmasland." Every day is Christmas, happiness is a requirement, sadness is punishable by law, and there's a lingering scent of gingerbread-flavored anesthetic in the air — but Christmasland isn't all that cheery. In actuality, it's the dumping ground for the remains of the children off whom Manx feeds. He eats their souls and then deposits them into Christmasland. 
Vic's ability to locate anything makes it easy to track down Manx, and her brush with the sinister man comes in 1986. She manages to escape Manx's terror, but it still left with the mental trauma. Jump ahead 22 years to 2008, and Vic is all grown up with a family of her own. Though she wants to rid her mind of the memories of Manx, he hasn't forgotten about her. Back in his sleek Wraith, Manx rides across his favorite roads once more and finds a new passenger to pick up — Vic's son. Can Vic save her child and revive Manx's other victims, or will his evil ultimately be insurmountable?
Judging by what King said of the upcoming series, learning the answer is going to be a journey in itself, as NOS4A2 will take its viewers on a literal thrill ride that hits the horror beats hard and heavy.  
It can't be easy to live up to the massive shadow King casts, especially in the very same genre he made his name and gained his fame, but by and large it appears that Hill has created something unique — and every bit as scary as his father's works — with his NOS4A2 novel and the adaptation that he executive-produced. Though it remains to be seen how closely the series follows Hill's novel, those who have read NOS4A2 have offered overwhelmingly positive thoughts on it. Many reviewers agree with King's assessment that NOS4A2 will make your blood run cold, and have argued that Hill "deserves to be in a class all of his own."
"Riveting, atmospheric, imaginative, and an amazing lead woman. All of the stars," one reader wrote. "Better than some Stephen King books ... Can't wait for the AMC adaptation coming out June 2nd!"
Another said of Hill's work, "I cannot recommend this book highly enough ... anyone who can owes it to themselves to read the new great modern horror novel. He's proven that he has all of his father's skill much earlier in life, and writes better endings as well ... Yes, this is a horror novel, no question, and it's one of the best I've ever read."
Find out exactly how scary NOS4A2 is when the series premieres on AMC on June 2.