How Chance The Rapper Really Feels About Those Punk'd Pranks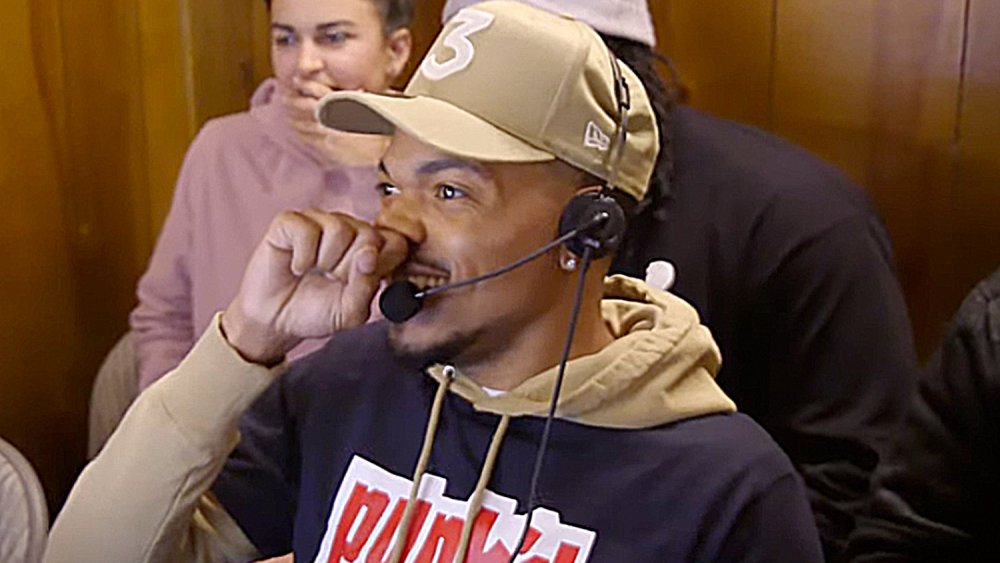 Quibi
This content was paid for by Quibi and created by Looper.
As television's latest prankster-in-chief, Chance the Rapper has a lot of feelings about his new job. In April of 2020, the multi-talented performer officially became a part of the Quibi family, signing on to work on a reality show reboot as a part of the new streaming platform's lineup of programming.
If you're not familiar with Quibi, this ultra-specific platform offers programs of every kind, from comedies to dramas to news to reality shows, with one caveat: All of Quibi's programming is offered in episodes with a run time of 10 minutes or less. Its a "quick bite" form of entertainment optimized for the viewer on the go. An innovation from Jeffrey Katzenberg, the former chairman of Disney, Quibi has plenty of stars on its roster, from Chrissy Teigen (who runs a courtroom reality show) to Anna Kendrick (who appears on the new comedy Dummy) to John Travolta (who plays an integral role in the action spoof Die Hart). In other words, Chance is in excellent company.
Chance, for his part, is heading up the latest reboot of MTV's Punk'd, which famously starred Ashton Kutcher as Hollywood's most notorious prankster. Here's how Chance really feels about some of his biggest pranks, and what it's like to take the reins of a show as infamous as Punk'd.
How Chance really feels about some of the most brutal pranks on Punk'd
Quibi
Whether he's unleashing a gorilla on Megan Thee Stallion or tricking Lil Nas X, Chance has somewhat mixed feelings about his new job. The incredibly earnest rapper told Entertainment Weekly in an exclusive interview about the Punk'd reboot that, at first, nobody even knew what was going on with the show.
According to Chance, when filming began, "No one ever figured out that it was Punk'd because when we were shooting it, it wasn't announced yet. The craziest part was me having to come out and be like, 'Ah, I got you.' And they're like, 'Why are you here, Chance?' ... Even if they thought that something was up, it wasn't that they thought they were on a prank show, they were just like, 'Whoever I'm dealing with right now is the worst at their job or an ass****.'"
It only made things more difficult when Chance would end up with limited windows in which to prank people: "Sometimes I would have something specific for [Megan Thee Stallion] or for DaBaby or somebody that I knew, and then they couldn't make it that day so I had to do it on somebody that I didn't know personally." Apparently, Chance found it even more difficult to trick strangers, saying, "Those were the hardest ones because I just feel way worse doing that s*** to somebody that's not my friend." Such a moral dilemma!
Apparently, one of the friends Chance did end up punking got pretty mad, which the host took in stride, saying, "It's such a sensitive thing. Because it's like — man, I hate using the word lying, but it's like you are lying to people."
What Chance the Rapper was up to before Punk'd
Kevin Mazur/Getty Images
Before he joined the Quibi lineup with Punk'd, you probably knew Chance best from his imperial music career. Since his breakout 2013 mixtape Acid Rap, Chance — whose real name is Chancelor Johnathan Bennett — has become one of the most popular rappers in the industry. In 2016, Chance released his first full-length album, Coloring Book, and ultimately scored three Grammy Awards for his effort, including Best Rap Album. Before releasing that first LP, Chance also gained fame and acclaim thanks to his work with mentor Kanye West, on whose album, The Life of Pablo, he made multiple guest appearances, and with whom he co-wrote several songs. 
Chance might be king of the pranks now, but he normally spends his time doing good deeds for others. Throughout his career, the performer has cultivated a reputation as an activist for plenty of amazing causes, working to combat gun violence and help underprivileged youths in his hometown of Chicago. In 2017, Chance even donated $1 million to Chicago's public schools, and after several years of philanthropic projects, the performer is set to receive UNICEF's Humanitarian Award in Chicago whenever a gala can safely be held.
Whether you loved the original version of Punk'd or you can't get enough of Chance the Rapper's lighthearted, joyful demeanor, Quibi has you covered. You can stream Chance's take on the classic prank show in ten-minute bites right now on Quibi.