The Truth About Post Malone's Spider-Man: Into The Spider-Verse Cameo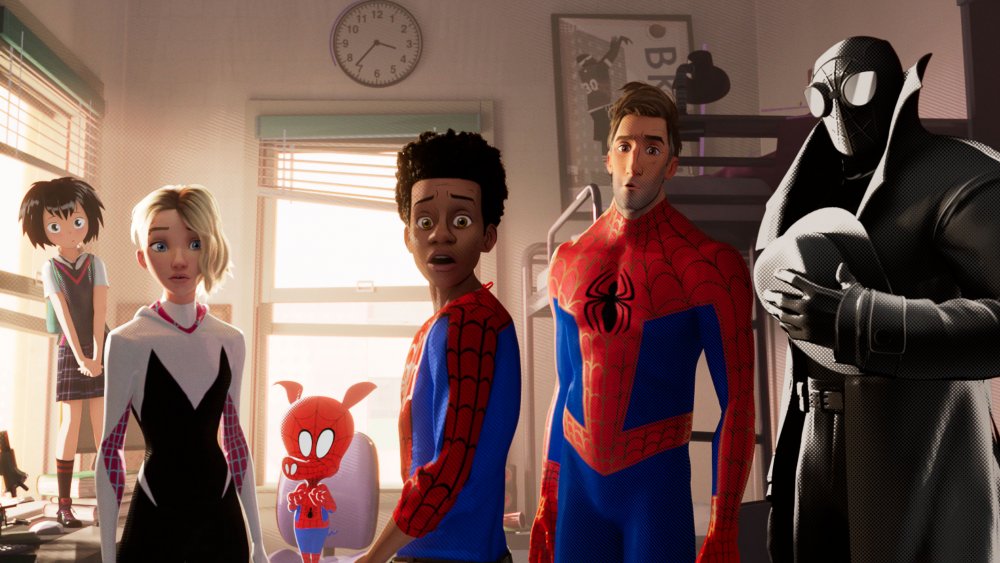 Sony Pictures
When it comes to things to admire, Spider-Man: Into the Spider-Verse is an embarrassment of riches. The film's distinct visual style, cast of engaging characters, and the plethora of fun easter eggs are all astounding. One of the most praiseworthy aspects of the film, however, is its top-rate voice cast. From relative newcomer Shameik Moore to industry vets like Chris Pine, Mahershala Ali, Nicholas Cage, and Lily Tomlin, the film is full of talented performers who imbue their characters with humor and humanity.
Not only is the cast talented, but it's also stacked with stars. In addition to all the main players, even most of the bit parts and cameos are voiced by industry heavyweights. One of those celebrity cameos is none other than rapper and face tattoo enthusiast Post Malone. Not content to merely team up with Swae Lee to contribute the song "Sunflower" to the movie's soundtrack, he also has a blink-and-you-missed-it role in the film, itself.
During a special interactive screening of Spider-Man: Into the Spider-Verse, co-director Rodney Rothman took to Twitter to give some behind-the-scenes details on Post Malone's cameo in the movie.
Post Malone's Spider-Man: Into the Spider-Verse cameo "made the movie" for co-director Rodney Rothman
If you're wondering where you heard Post Malone in Spider-Man: Into the Spider-Verse, think back to the scene in which Miles Morales (Shameik Moore) is on the run from Prowler (Mahershala Ali), about 30 minutes into the movie. As Miles traverses the streets, he passes a lamp post that was spectacularly warped when Kingpin (Liev Schreiber) initiated his dimension-bending Super-Collider. After he's gone, we get a brief flash of a bystander on the street looking at the lamp post and commenting, "I think it's a Banksy," a reference to the world-famous guerrilla street artist.
That bystander was voiced by Post Malone. During the special screening of the film, Rodney Rothman posted a picture of himself and the rapper taken during the recording of the cameo. "'I think it's a Banksy' made the movie. I still can't believe it. And it is performed by [Post Malone]," the co-director said, adding, "Here is a photo of me directing him where I cropped out my end-of-production gut. He drank beer and had so much fun. He called me 'Dad.'"
Maybe now that he's gotten friendly with the film's co-director, there will be a bigger part for Post Malone in the upcoming Spider-Man: Into the Spider-Verse sequel.