Why Quynh From The Old Guard Looks So Familiar
The Netflix original film The Old Guard is taking the streamer by storm with its heady brew of ingredients: a centuries-spanning story, plenty of butt-kicking action, and a surprisingly soulful examination of what it means to be human, thanks in large part to a brilliant lead performance by the great Charlize Theron. She portrays Andromache of Scythia (but you can just call her Andy), an immortal warrior who has seen it all, done it all, and frankly, is a little sick of it all. Andy and her fellow immortal mercenaries — Joe (Marwan Kanzari), Nicky (Luca Marinelli), Booker (Matthias Schoenaerts), and newbie Nile (KiKi Layne) — have been fighting for the future of humankind over hundreds of years.
When the bunch are hired to rescue a group of schoolchildren who have been abducted in Sudan, a new challenge arises in the form of a mysterious enemy who knows of their existence and is bent on putting an end to it. Lest we lose sight of the dramatic stakes, flashbacks reveal that it's possible for even an "immortal" to be killed. Sometimes they even suffer a fate worse than death, such as the one that befell Andy's one-time significant other, Quynh.
We only see Quynh briefly, but we're betting that you may have found her face to be a bit familiar. The actress who plays her, Veronica Ngo, has amassed a pretty respectable body of work in recent years. Here's why Quynh from The Old Guard looks so familiar.

Veronica Ngo has had a long career in Vietnamese cinema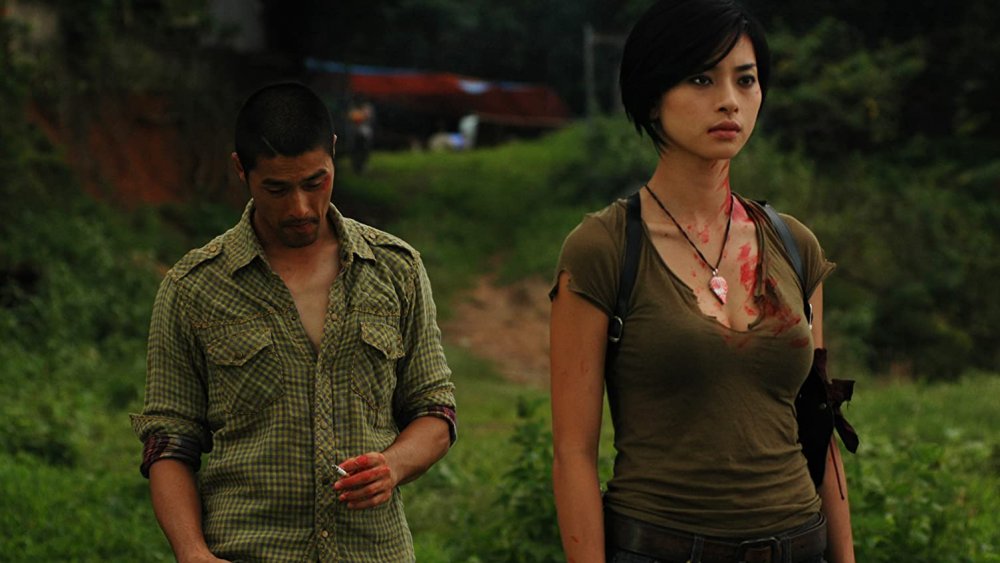 Vivendi Entertainment
American audiences may just be starting to become aware of Ngo, but she's been a major star in Vietnam for the better part of two decades. Under her given name Ngô Thanh Vân, she got her start as a model and pop singer, and in that latter field, she had quite a bit of success. Between 2002 and 2008, she released six albums which yielded a slew of hit singles. That success became her springboard to Vietnamese cinema.
After making her first appearance outside of her native country with the MTV Asia series Rouge in 2004, she starred in a number of features including 2007's The Rebel, which attracted a combined crowd of over 20,000 people during its opening weekend — resulting in record attendance for a Vietnamese-made film up to that point in time. 
In 2019, Ngo starred in Furie  – a hard-hitting, martial-arts-driven gangster flick that cleaned up at the Vietnamese box office to become one of the country's biggest pictures of all time, and in the intervening years, she starred in no fewer than ten feature films. Ngo's first major role outside of Vietnamese productions didn't come until 2016, but it ensured that her stateside profile would be significantly raised.
Veronica Ngo starred in the sequel to a classic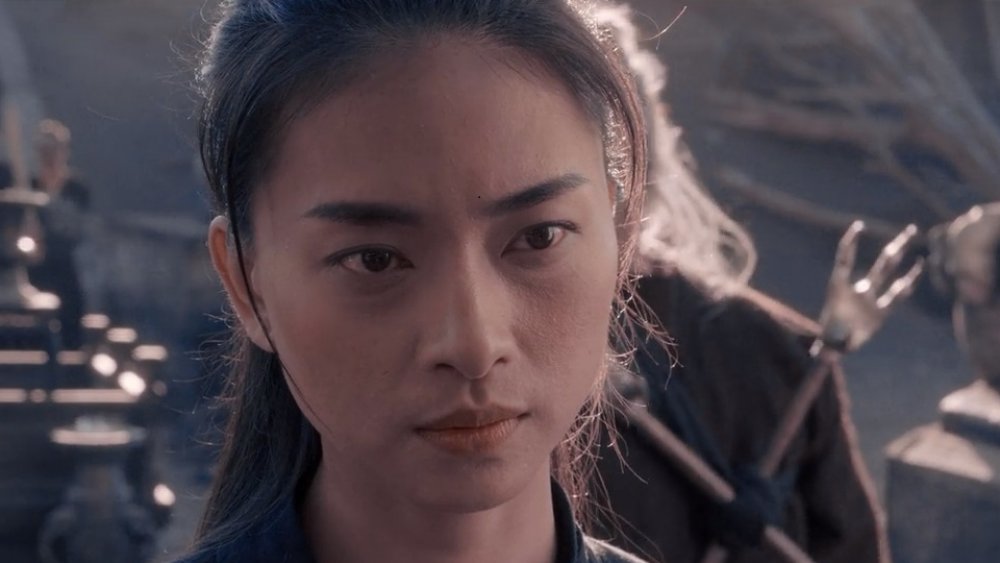 Netflix
Ang Lee's 2000 masterpiece Crouching Tiger, Hidden Dragon had a seismic impact on the collective awareness of Asian cinema in the North America. Not only did the film help to introduce Western audiences to the great Chinese actor Chow Yun-fat (a frequent collaborator of the iconic action director John Woo) and make a star out of Michelle Yeoh, it cemented Lee's reputation as a major talent, paving the way for an extremely successful run in Hollywood over the next dozen years. It's one of only a handful of foreign language films to have been nominated for an Academy Award for Best Picture — and while its belated 2016 sequel Crouching Tiger, Hidden Dragon: Sword of Destiny didn't exactly make as big a splash, one could largely chalk that up to a poor release strategy.
The flick's stateside distribution rights were acquired by Netflix, which chose to release it simultaneously on the streamer and on select IMAX screens. American theater chains, however, simply refused to play ball, figuring that reserving valuable IMAX real estate for a picture that Netflix subscribers could watch on their phone for free wasn't a winning strategy. In the end, the movie was only released on roughly a dozen IMAX screens domestically. Netflix audiences got a kick out of it anyway (pun absolutely intended), and Ngo's hard-hitting performance as the deadly warrior Mantis was cited by some stateside critics as one of its best parts.
Veronica Ngo made a big stateside splash in 2017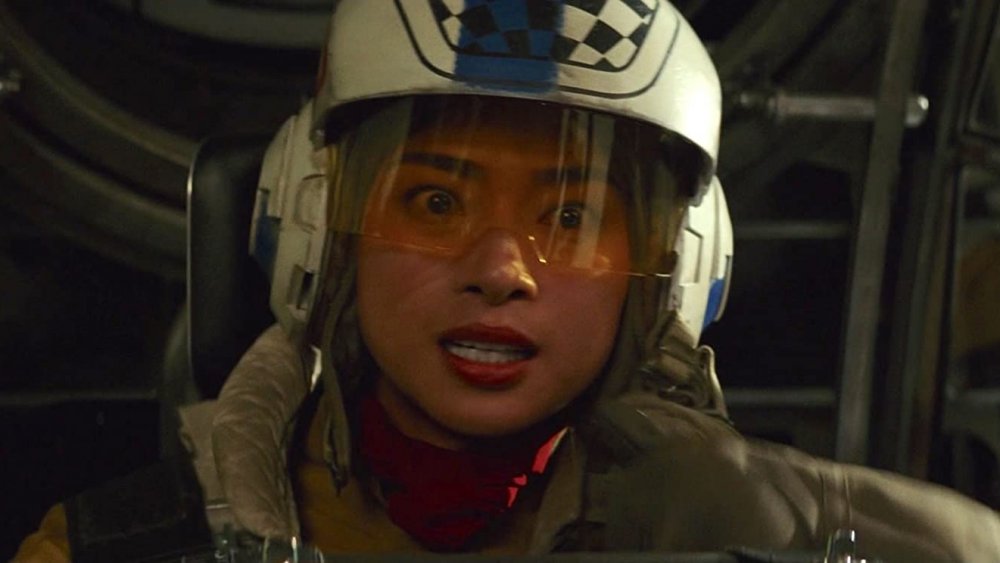 Lucasfilm / Disney
The following year saw Ngo make her most high-profile American appearance yet — because while her role was small, the film was huge. She portrayed Paige Tico, the sister of Kelly Marie Tran's Rose Tico, in the opening moments of Star Wars: The Last Jedi — the memorable sequence in which a Resistance force led by Poe Dameron (Oscar Isaac) takes down a First Order Dreadnought ship in defiance of General Leia (Carrie Fisher). Paige is a Resistance gunner, and it's her heroic act of self-sacrifice that saves the operation from becoming a complete disaster. Her death serves as a driving force (no pun intended this time) for Rose for the rest of the film.
That same year, Ngo starred alongside megastar Will Smith in the Netflix original film Bright as Tien, an enforcer in the employ of the flick's Big Bad, Leilah (Noomi Rapace). Most recently, she popped up in yet another Netflix original: She appeared as the real-life Vietnamese radio personality Trịnh Thị Ngọ, better known as Hanoi Hannah, in Spike Lee's Vietnam War drama Da 5 Bloods.
While Ngo doesn't currently have any Hollywood projects on tap (at least none that have been made public), it's safe to say that Tinseltown's casting directors are beginning to take note of her talents — and that American audiences can expect to see a lot more of her in the near future. She's equally likely to make you cry, make you dance, or kick your butt. For our part, we're hopeful that her roles only get bigger from here on out.