Why Ruth From Ozark Looks Familiar
This content was paid for by Netflix and created by Looper.
Intelligent, driven, and ambitious, Ruth Langmore is definitely someone you don't want to mess with, as Jason Bateman's Marty Byrde found out firsthand during season 1 of Ozark. Ruth can be, well, ruthless, but she also has a tender side, a combination that has made audiences fall in love with the character over the course of Ozark's three seasons.
Whether she's knocking down sleazy old wheelchair-bound men or hatching schemes as Marty's reluctant partner in crime, Ruth has the rare ability to drive a scene — and she can swear up a storm doing it. That's all thanks, of course, to the dedication and talent of actor Julia Garner. 
Ozark wasn't Garner's first rodeo, and if you feel like you've seen her before, well, you're probably right. Here's why Ruth from Ozark looks so darn familiar.
Early film roles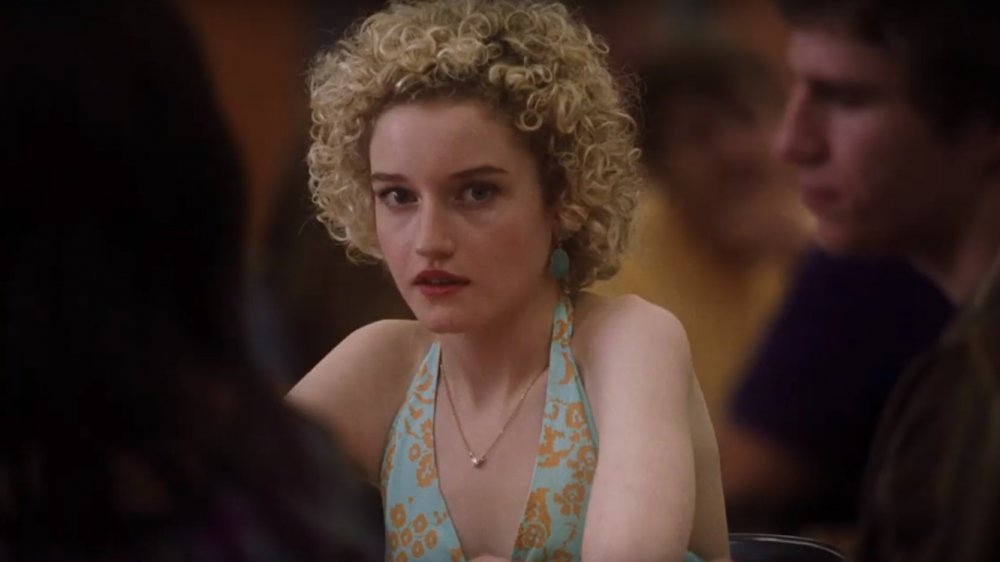 Long before she made a name for herself in gritty small-screen dramas, Julia Garner was a fixture on the silver screen. After appearing in two short films in 2010, Garner was cast in a role in 2011's Martha Marcy May Marlene, starring Avengers: Endgame's Elizabeth Olsen and American Horror Story's Sarah Paulson. The film, about a woman struggling to re-enter society after living in a cult, saw Garner in a small role as one of the cult members.
Although only about 17 at the time Martha Marcy May Marlene was released, Julia Garner nonetheless proved that she could hold her own in a feature production, and it wasn't long before more — and more diverse — roles came her way. Over the next few years, Garner played a cannibal in We Are What We Are, a waitress in Sin City: A Dame to Kill For, and the friend of a demonically possessed girl in The Last Exorcism: Part 2.
In 2012, Garner snagged a small role in the indie hit The Perks of Being a Wallflower, based on the book of the same name by Stephen Chbosky. Playing a classmate of the main character, Charlie, Garner's Susan didn't get much screen time, but definitely shone in the few scenes in which she appeared.
The Americans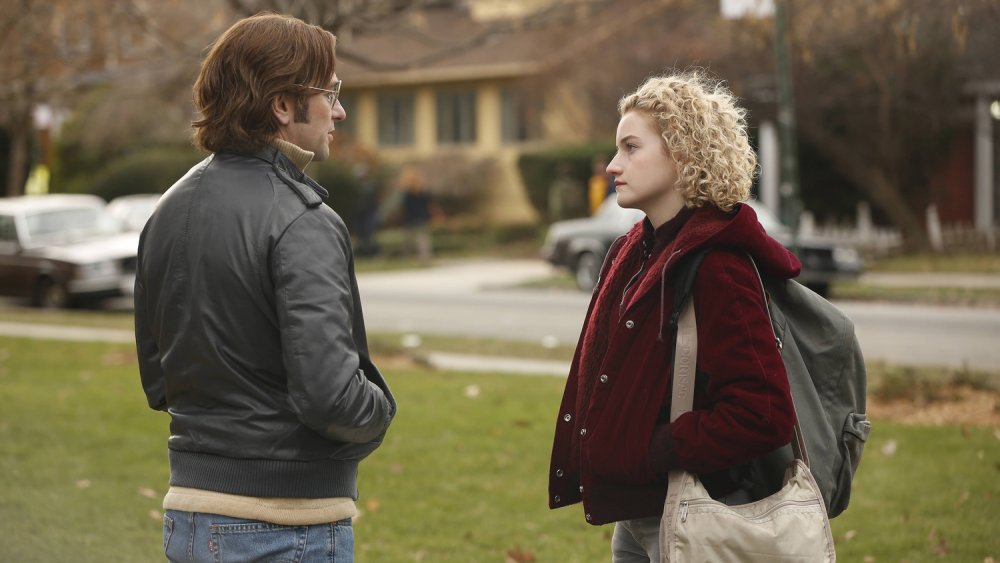 After spending several years landing brief but memorable roles in indie films, Julia Garner landed a meaty — but downright uncomfortable — role on FX's thriller The Americans. The show takes place in the Washington D.C. suburbs during the Cold War, and centers on two KGB spies posing as a regular American family. The Americans ran for six intense seasons, and during that time it laid serious claim to the title of "best show on television."
Though she was 21 at the time, Julia Garner portrayed 15-year-old Kimberly Breland, who gets targeted by Soviet agent Philip Jennings in season 3. Over the course of her ten-episode run, Garner's character led Jennings, and viewers, down a wholly unsettling road of "will-they-won't they" that left audiences squirming far more than any of the murders Jennings committed throughout the show.
Speaking with Variety about what led to the decision to cast Julia Garner in the role, showrunner Joel Fields explained, "It was a hard role to cast. We were discovering through the casting process what our level of comfort was and what would be right and wrong. [...] The truth is as soon as we brought Julia in it felt right — in the sense that it felt wrong."
Anyone who tuned into The Americans during Kimberly's tenure was no doubt forced to agree, but this was just the beginning of a long path to stardom where Garner was concerned. And it's worth noting that season 3 was the only season to land a perfect 100 percent on Rotten Tomatoes. Coincidence? Maybe, maybe not.
The Get Down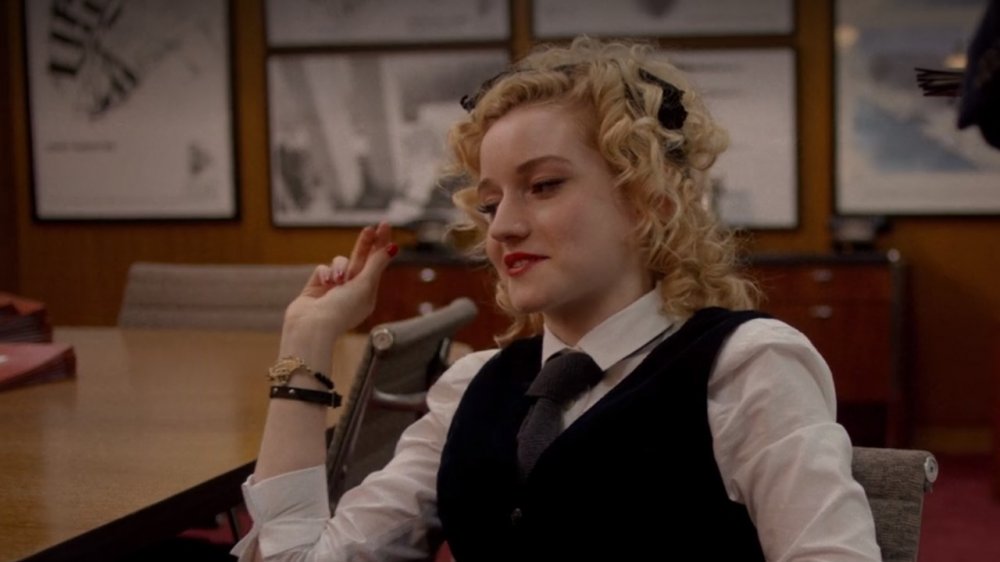 While engaging in a game of cat and mouse with a Soviet-era spy, Julia Garner also took some time to play Ramones-obsessed teen Claudia Gunns in the Netflix original series The Get Down. First appearing in the Part 1 finale in 2016, Claudia is the rich, privileged daughter of Herbert Gunns, and her interaction with Zeke in her father's mansion provides a striking counterpoint to the violence and poverty Zeke is used to seeing.
The series, set in the Bronx during the '70s, chronicles the rise of hip-hop through a gripping narrative, and received plenty of critical acclaim during its brief run.
Claudia showed up again in the Part 2 episode "Unfold Your Own Myth," appearing near the end in a scene set in her father's boardroom. Although there wasn't much to her role, it's clear that this young up-and-comer was already getting attention at Netflix, since the first season of Ozark debuted just a few months after that.
Waco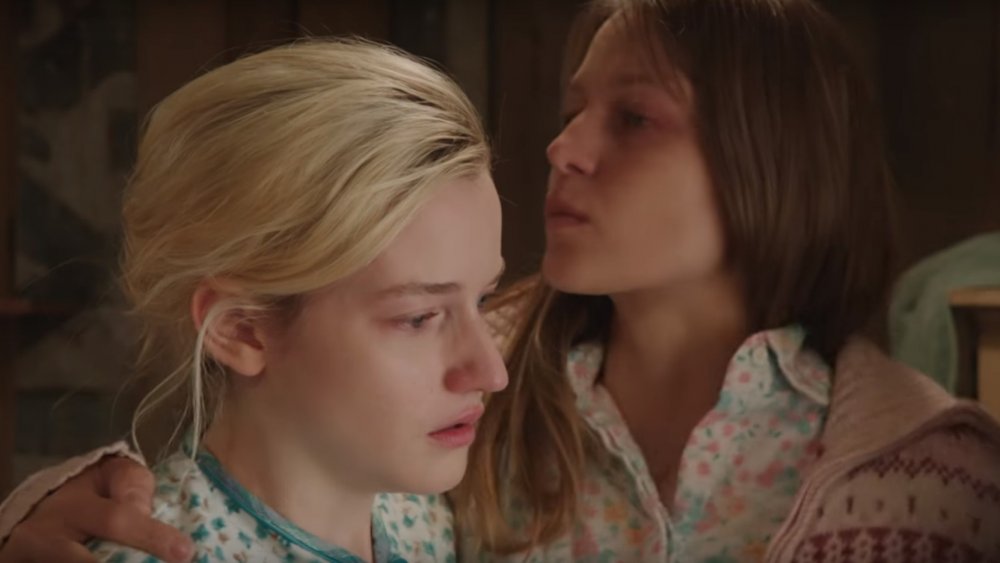 In an interview with The New York Times, Julia Garner explained that she was well aware of her habit of taking on roles that have to do with cults, saying, "A journalist once described me as, 'go-to cult girl Julia Garner,' and I thought that was really funny. Those are the interesting parts! Everyone is interested in cults."
That certainly proved to be the case when over a million viewers tuned in to the premiere episode of Paramount's miniseries Waco, according to numbers compiled by ShowBuzz Daily. Centered on the infamous standoff between the Branch Davidian cult and the FBI in 1993, Waco saw Garner take on the role of Michelle Jones, one of the sister-wives to cult leader David Koresh.
Landing a year after the first season of Ozark, Waco gave Garner a chance to practice a different type of character. Viewers expecting the no-nonsense hellfire of Ruth instead got a complex portrait of a woman who was torn between following what she'd been taught to believe in and what her heart was telling her to do.
Although the six-episode miniseries received mixed reviews, it garnered an Emmy nomination for supporting actor John Leguizamo, and pushed Garner further into the spotlight as a versatile talent.
Dirty John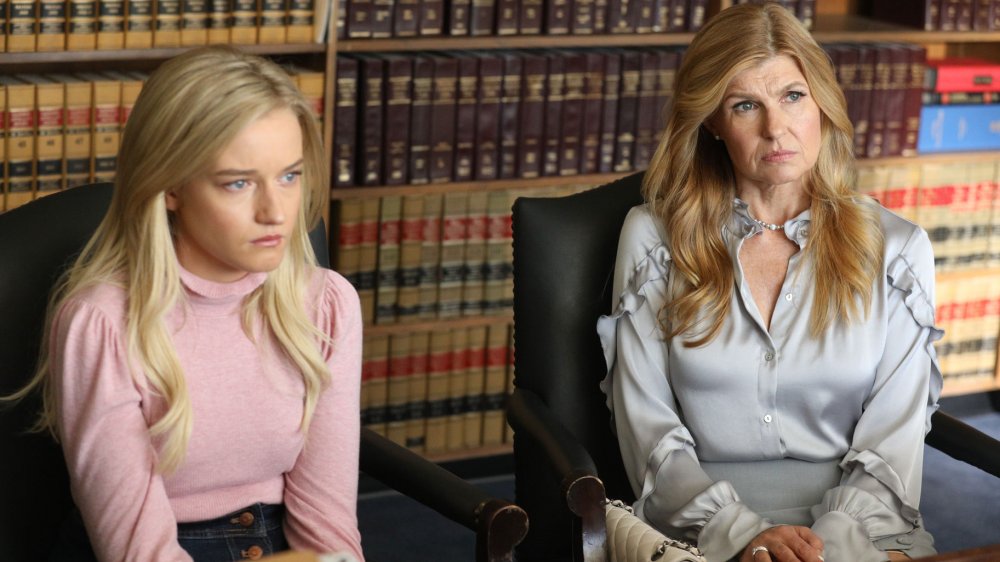 In 2018, Julia Garner ditched her curly locks and appeared in the series premiere of Dirty John. Bravo's thrilling true crime series is about a con man named John Meehan who manipulated multiple women into starting relationships with him, only to attempt to swindle them out of their money... and worse. The show follows the horrifying crimes of the real-life Meehan and one of his victims, Debra Newell. As detailed by Harper's Bazaar, Meehan met Newell just two days after being released from prison, a fact he hid as their relationship developed. The whole terrifying story came out in a series of articles published by the Los Angeles Times and a companion podcast.
In the show, Garner plays Debra's youngest daughter Terra, who is suspicious of her mom's new boyfriend — and later husband — and who is one of the few to see the psychopathic side lurking underneath Meehan's charming exterior. Garner co-starred in all eight episodes of the series, alongside Eric Bana and Connie Britton.
As for what drew her to the role, Garner explained to Bravo, "As soon as I got the email, I started listening to the podcast. I read the script. I listened to the podcast in like one day, just so quick. [...] It's such a good podcast that I was like, 'wow.' And the script was amazing, too."
Maniac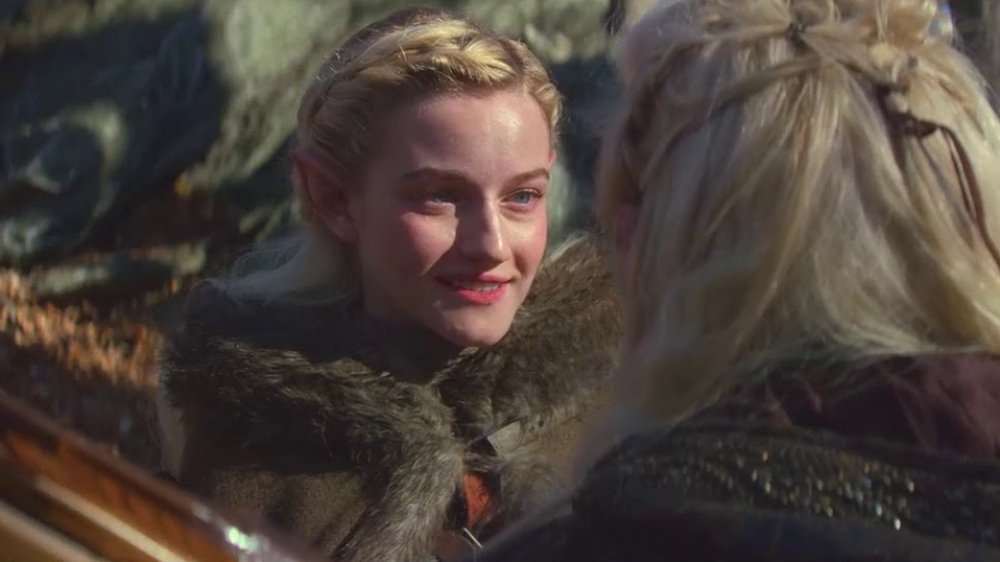 Netflix viewers who tuned into director Cary Joji Fukunaga's trippy mind-bender of a series Maniac were in for a heck of a ride. Following Jonah Hill's Owen and Emma Stone's Annie across a dreamlike journey through time and space, there wasn't a lot of time to stop and take in the scenery. Essentially, Maniac follows Owen and Annie as they participate in an experimental drug study that somehow links their minds and sends them through a series of shifting realities.
Garner took on the pivotal role of Annie's sister, Ellie Landsberg. It was a role that required her to do everything from dying in a car crash in Salt Lake City to navigating a fantasy world as an elven princess. Yeah, it's the kind of show you have to watch to understand, and even then nothing's guaranteed. As Fukunaga put it in a candid interview with IndieWire, "I like actually shifting gears and unsettling audiences and then bringing them back in. And just kind of making the ride rompus on purpose."
Although she isn't the main character in the series, Ellie serves as the emotional fire that forges Annie's story, becoming the emotional catalyst for nearly everything Annie does. In her third outing with Netflix, Garner once again proved that she has what it takes to become a household name.
The Assistant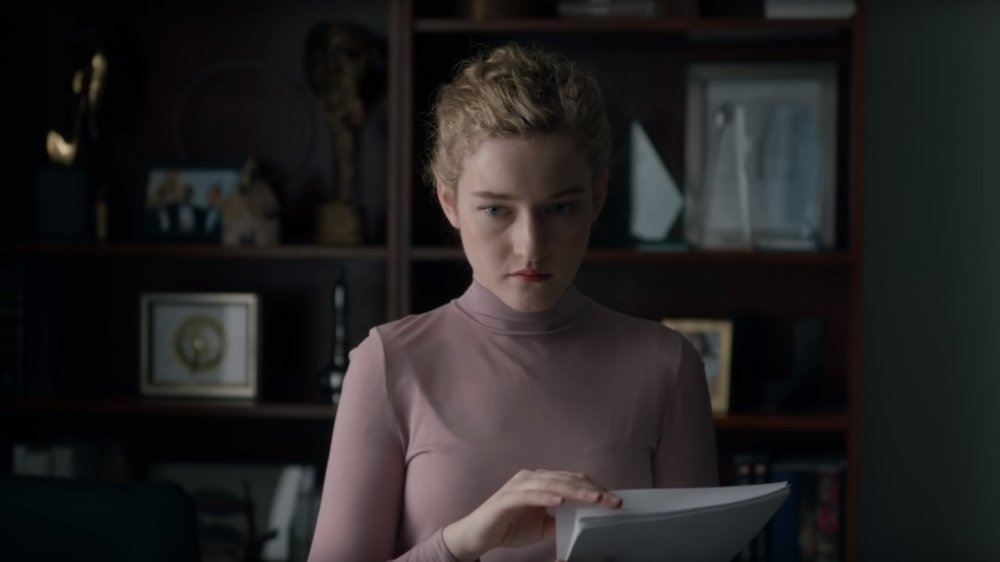 In 2020, Julia Garner stepped away from the small screen for a starring role in the feature film The Assistant, a drama written and directed by Kitty Green, who also helmed the original Netflix documentary Casting JonBenet. In the film, Garner plays Jane, a young woman who gets a job at a film production company as an executive's assistant.
While it feels like the opportunity of a lifetime at first, Jane soon becomes aware of the culture of abuse and discrimination that pervades the office. When she tries to speak up about it, she becomes a target herself. It's a timely and unflinching look into the very real issue of finding yourself in a toxic and demeaning workplace, particularly in the scandal-ridden film industry. As Kitty Green put it in an interview with Vox, "If it was just Harvey Weinstein that was the problem, well, then, it would be fixed. We'd all be fine. But it's not. The system is rotten."
Considering her roles in productions such as Waco and Dirty John, to name a few, Garner is clearly no stranger to tackling difficult, real-life issues, and her performance in The Assistant garnered high praise. Deadline's review called out her subtlety as one of the film's strengths, saying, "Garner is simply superb, resisting any opportunity to ever let us see her acting. [...] This movie will stay with you and make you think."
Clearly, Garner is only getting started.
Back to the Ozarks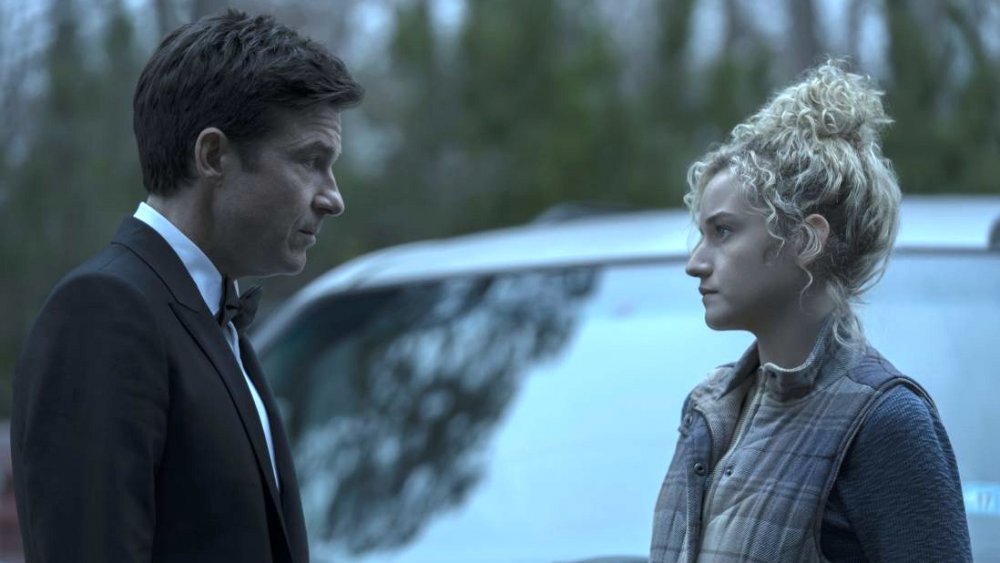 The first two seasons of Ozark firmly established Julia Garner as an acting powerhouse, someone who could steal a scene even alongside veterans Jason Bateman and Laura Linney. The fact that she nabbed an Emmy win for her performance in season 2 came as a surprise to no one, and she's continuing that hot streak with season 3 of the acclaimed series.
While season 2 settled into something of a plateau, the third season gets back to what made Ozark such a hit in the first place — Marty and Wendy Byrde on a slow descent into destruction. According to IndieWire, the season finds Ruth running the Byrdes' riverboat gambling operation, while their uneasy peace with the Kansas City mob threatens to boil over into violence.
So far the show has garnered two Emmy wins (and a slew of nominations) and two Golden Globe nominations, and much like the career of the person portraying fiery Ruth Langmore, it only seems to keep getting better.
Inventing Anna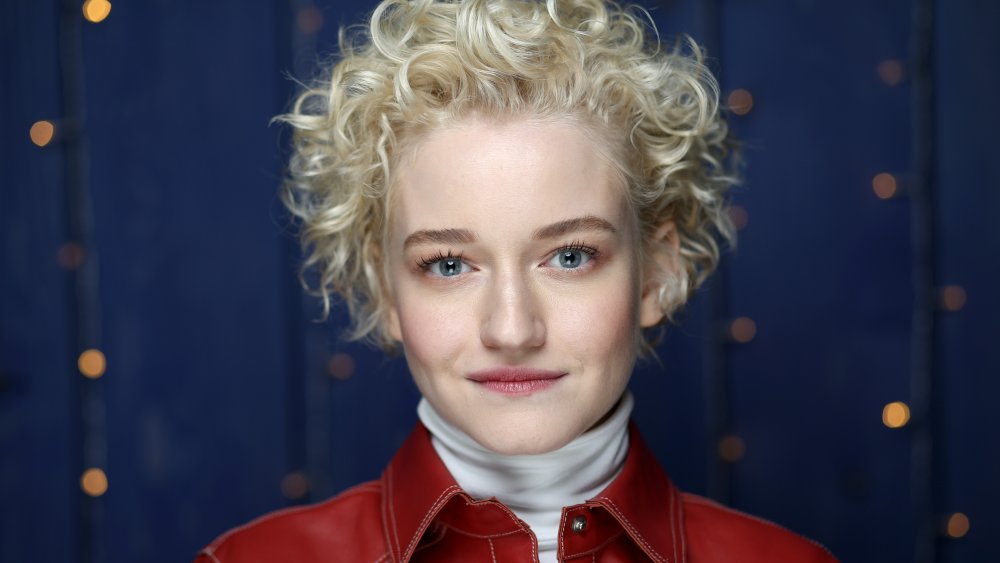 Rich Polk/Getty Images
Remember Anna Delvey? If you missed the story, that's okay. But fair warning: it's wild. Her real name is Anna Sorokin, and she conned her way into the upper social circles of New York City by pretending to be a multimillionaire German heiress named Anna Delvey. Of course none of it was true, but she managed to get away with her con from 2013 to 2017, when she was finally brought down on half a dozen charges of grand larceny.
If that story sounds ripe for a televised adaptation, you wouldn't be far off the mark. Inventing Anna is being created by Grey's Anatomy showrunner Shonda Rhimes as a limited series for Netflix, and stars Julia Garner and Anna Chlumsky (who you may know from Veep).
Garner plays none other than Anna Sorokin herself, no doubt with plenty of the bravado that made her such a breakout star on Netflix. The series is still in production, but you can no doubt look for the 10-episode series to arrive sometime soon.
As for what's on the table for Julia Garner after that, well, we'll just have to wait and find out. But with a lifetime ahead of her and a fresh Emmy under her belt, there's no doubt we'll continue to see great things from this young actor.